Hiking is an intimate way to immerse yourself in the outdoors, discover flora and fauna and connect with nature at your own pace. It's also an activity that, with a little planning and preparation, is an option for all fitness levels. In Western Montana you can quickly and easily access trails from pretty much anywhere. If you've never hiked before but your curiosity is piqued, let us help you plan your first excursion for a phenomenal experience.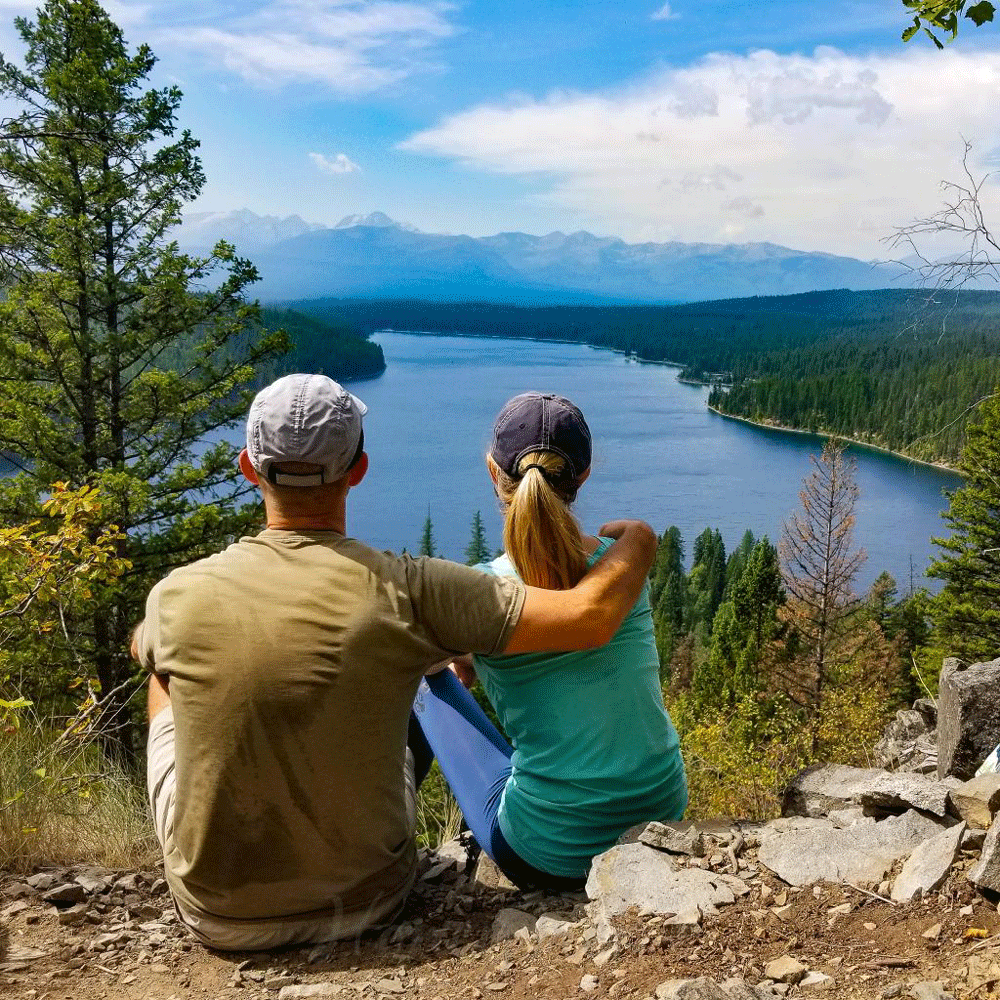 PLAN A HIKE
For your first hike we recommend you go with a friend. Or, plan a hike with a Glacier Country outfitter; our knowledgeable guides are experienced in assisting first-time hikers on the trail.
Trails abound here, with Glacier National Park alone boasting more than 730 miles of trails. Many resources are available to help you find the perfect trail. Peruse our hiking page, featuring treks all over Western Montana, log on to the AllTrails popular hiking app, or stop at a local bookstore to grab a local hiking guidebook. Here are tips for choosing an appropriate first hiking route:
Distance and fitness ability: Stick to a hike that fits your skill and fitness level. Start with a short distance hike and work your way up.
Elevation gain: Elevation gain is one factor in determining how difficult a hike will be; make sure to check trail elevation when planning a hike. For reference, a trail that gains 1,000 feet in 1 mile is considered very steep.
Time and weather: Think about the time of year; some trails may have snow on them until late spring. Plan to be back before the sun sets so you are not caught out in the dark. Always check the weather forecast before heading out.
Logistics: Plan to carry a map with you while hiking or download a map or GPS tracker to your phone that can be used offline. Plan for some areas to have little to no cell service.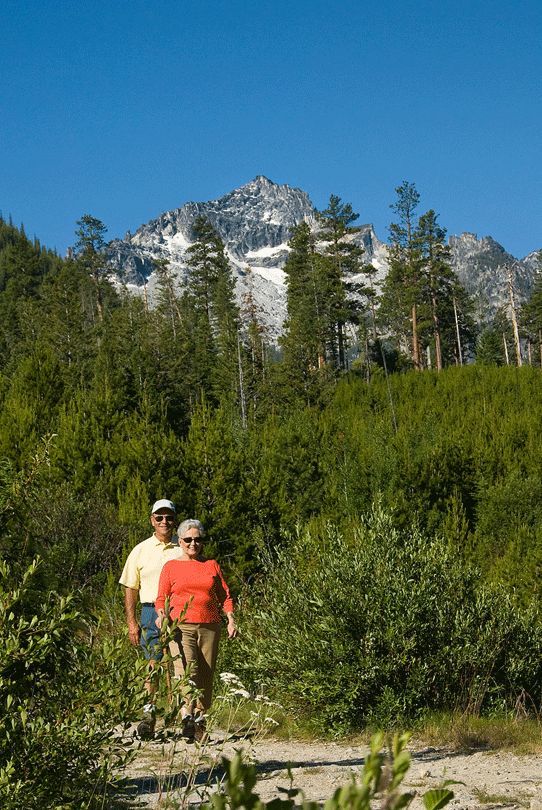 GEAR UP
The safety gear every hiker should carry is called the Ten Essentials. Grab a backpack and borrow/purchase these compact items that can be essential in an emergency.
Navigation map, compass, altimeter, or GPS device (useable offline)
Headlamp plus extra batteries
Sun protection, sunglasses and sunscreen
First aid, including foot care and insect repellent
Small pocketknife
Matches, lighter, and/or tinder
Shelter carried at all times (can be a light emergency bivvy)
Extra food beyond what you plan to consume
Extra water beyond what you plan to consume
Extra clothes
BONUS: When recreating in Western Montana, carry bear spray and know how to use it.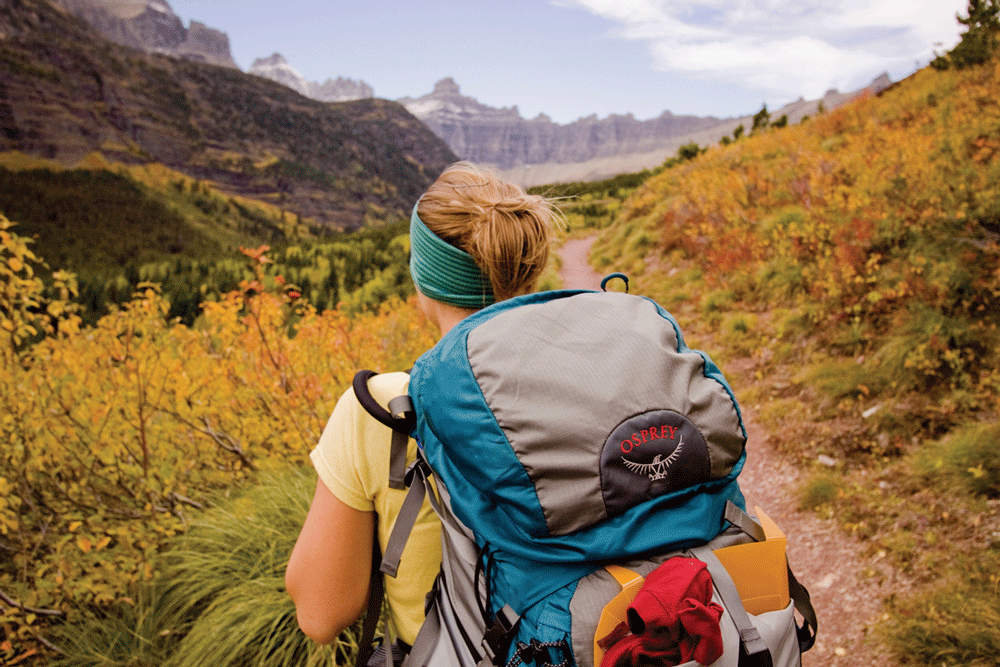 When hiking in Montana, wear layers; mornings and afternoons can be cool or cold with daytime temperatures drastically higher. Check the weather, then pick clothing that is appropriate to the highs and lows of that day. Wear moisture-wicking fabrics, avoiding cotton and denim. It's wise to carry a lightweight waterproof jacket even if you're not expecting rain. Appropriate footwear is a crucial factor for an enjoyable hike. Which shoe to wear is a personal decision as to what feels supportive and fits your foot well. However, on some trails it may be appropriate to wear sneakers, while in other areas a supportive over-the-ankle boot may be best. Whatever you choose, make sure your shoes are well broken-in and comfortable for the long haul.
LEAVE NO TRACE AND RULES OF THE TRAIL
Leave No Trace is the most widely used stewardship education program for public lands; the program created a set of principles intended to reduce human impact on the outdoors. It's imperative that all of us do our part to preserve Western Montana's outdoors, and while most of us don't intend to harm our natural surroundings, we may not realize our behaviors may be doing so. Learn the seven principles and take the free online course.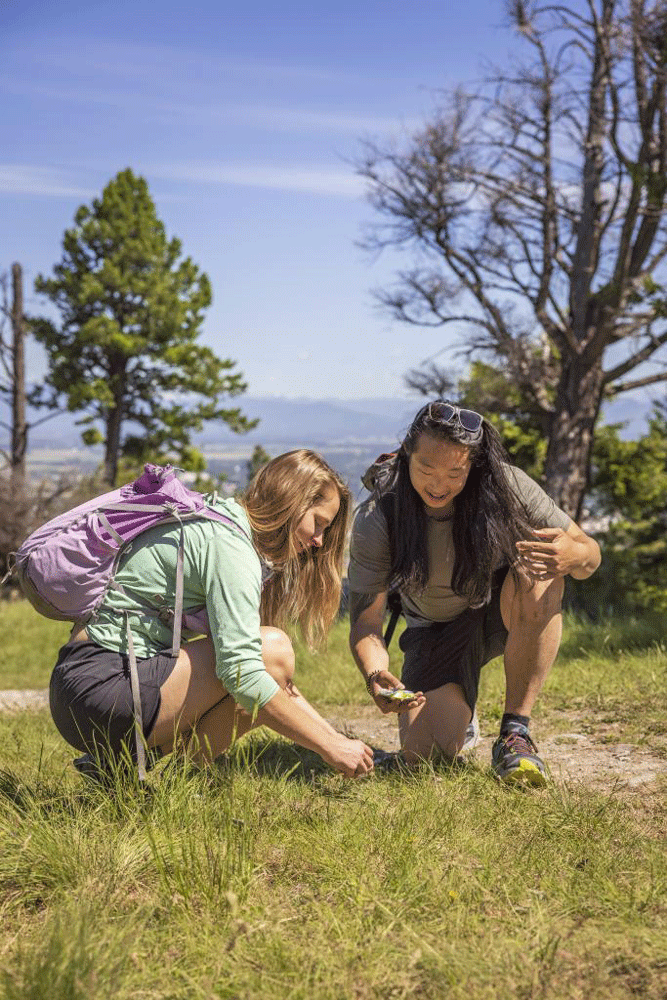 TRAIL ETIQUETTE
Yes, there is such a thing as trail etiquette, and to make it easy we've listed out the rules for you. Right of Way: What to do when passing others.
Hikers vs. Hikers: Hikers going uphill have the right of way.
Hikers vs. Bikers: Mountain bikers are generally expected to yield to hikers.
Hikers vs. Horses: Horses get the right of way. Provide a wide berth when you're passing each other and don't make abrupt movements.
HIKING WITH DOGS
If you're bringing your four-legged friend, it's important to be a responsible pet owner, plan ahead and know before you go. First and foremost, dogs are not allowed on most trails in Glacier National Park. If you are planning on traveling in other parts of the region with your dog, check to make sure that trail allows pets and if a leash is required. Bring dog waste bags and pick up dog waste promptly. Always dispose of waste in proper receptacles, which you'll often find near trails. If you don't find a proper receptacle, you'll need to carry the waste out with you. Make sure your dog doesn't chase wildlife; this could harm wildlife, your dog, or even you—or your dog could get lost.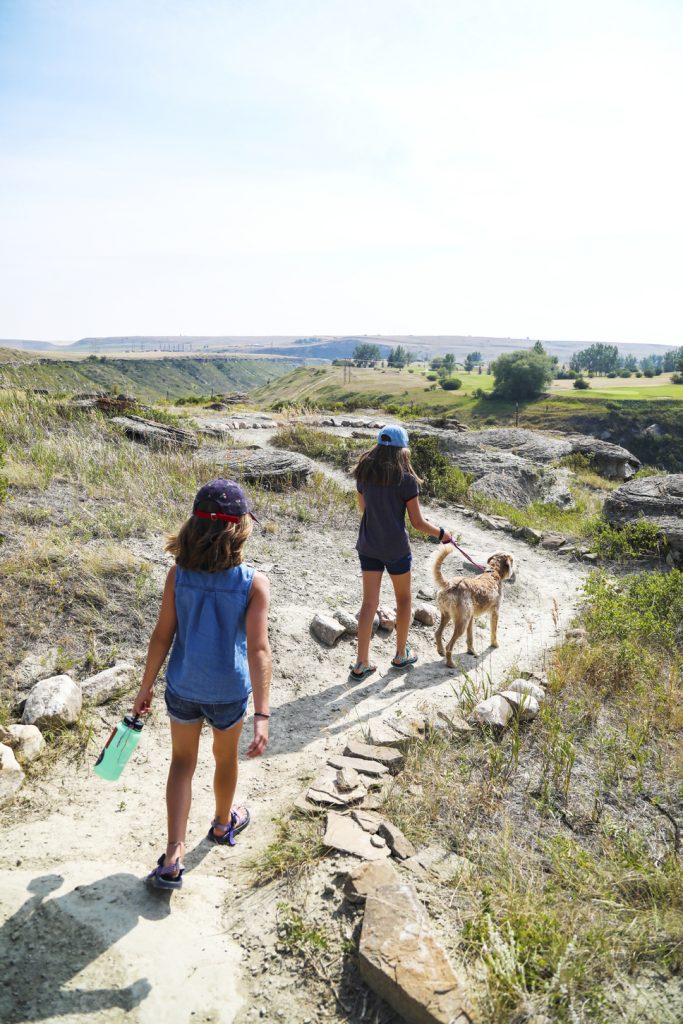 To get your started, here are 7 easy spring hikes and accessible recreation hikes in Glacier Country. Happy trails!
Please note: We ask that all our visitors and residents Recreate Responsibly by being mindful of the following: practice physical distancing; know before you go; plan ahead; play it safe; leave no trace; tread lightly; and build an inclusive outdoors. Travel responsibly by reviewing Western Montana COVID-19 information and guidelines at SafetyFirstMT.com.
March 21, 2022
Related: Fall Fun, Guided Tours, Hiking, Montana, Outdoor Fun, Recreate Responsibly, Spring Fun, Summer Fun, Vacation