Motorboating is a classic summer pastime in Western Montana as we have lots of water to make waves in. Each of our stunning lakes is uniquely beautiful—from Flathead Lake, the largest freshwater lake West of the Mississippi, to Lake Como, a mountain lake surrounded by alpine forests—our waters are some of the wildest and most serene parts of our region. To help you plan your next trip we've rounded up a list of our favorite lakes to motorboat. See you soon!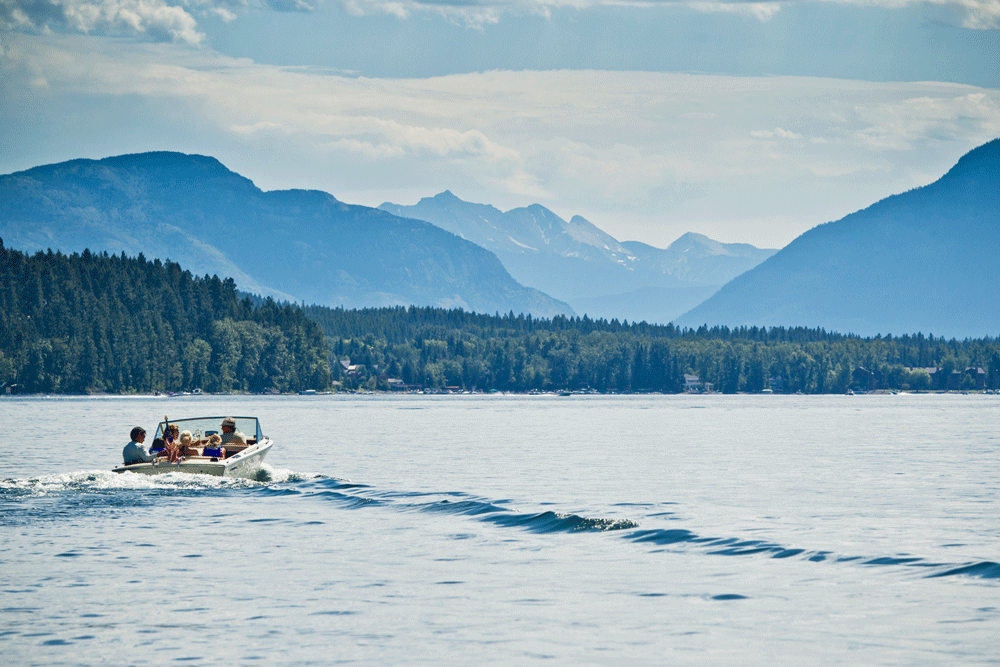 FLATHEAD CORRIDOR
Flathead Lake is 30 miles long, nearly 15 miles wide, and with 180 miles of shoreline it's no surprise Flathead Lake is a recreation hot spot—it's also our largest lake. Located in the Flathead Corridor, cherry orchards line the shores and the Mission Mountains can be seen in the background. Only accessible by boat, Wild Horse Island State Park is one of multiple state parks on Flathead Lake and is home to wild horses and bighorn sheep. Hiking one of the island's loops is a must.
NOTE: The southern half of the lake is located on the Flathead Indian Reservation. During COVID-19 tribal nations in Montana have extended stay-at-home orders indefinitely and continue to exercise caution to protect their elders and other vulnerable populations from the spread of COVID-19. At this time, all tribal lands are closed to visitors.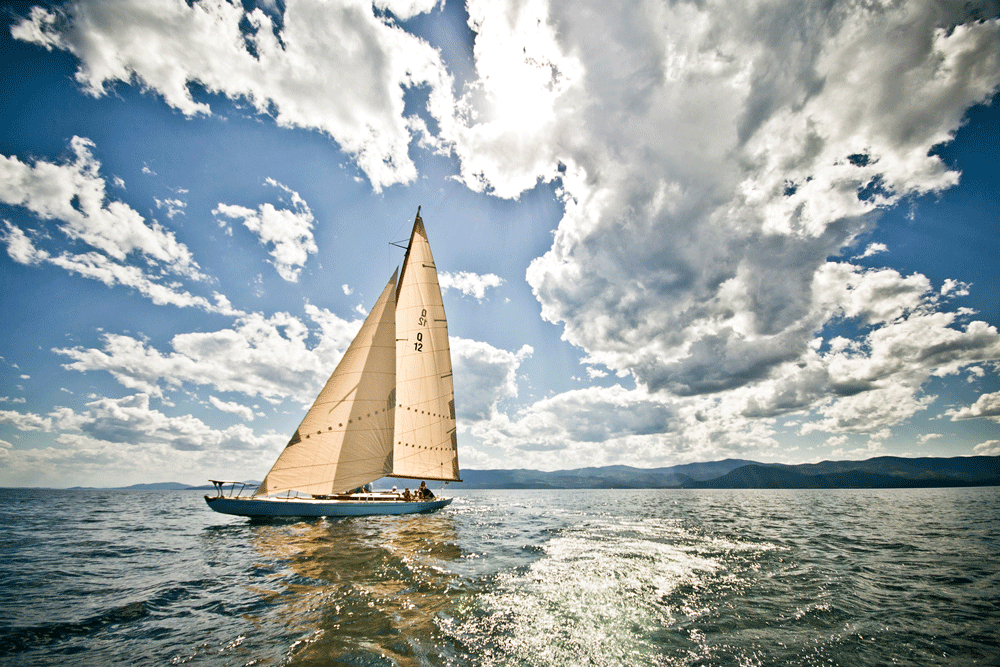 SEELEY SWAN CORRIDOR
Life on the water awaits in the Seeley Swan Corridor where the region is dotted with lakes hidden in the lush forested landscape of the Bob Marshall Wilderness. Seeley Lake, a 1,000+ acre lake, is a popular destination for water recreation and conveniently located just off Montana Highway 83. Cap off your warm summer day with a stop at The Ice Cream Place, a gem in the town of Seeley Lake. Other popular motor boating lakes in the area include Salmon Lake and Placid Lake.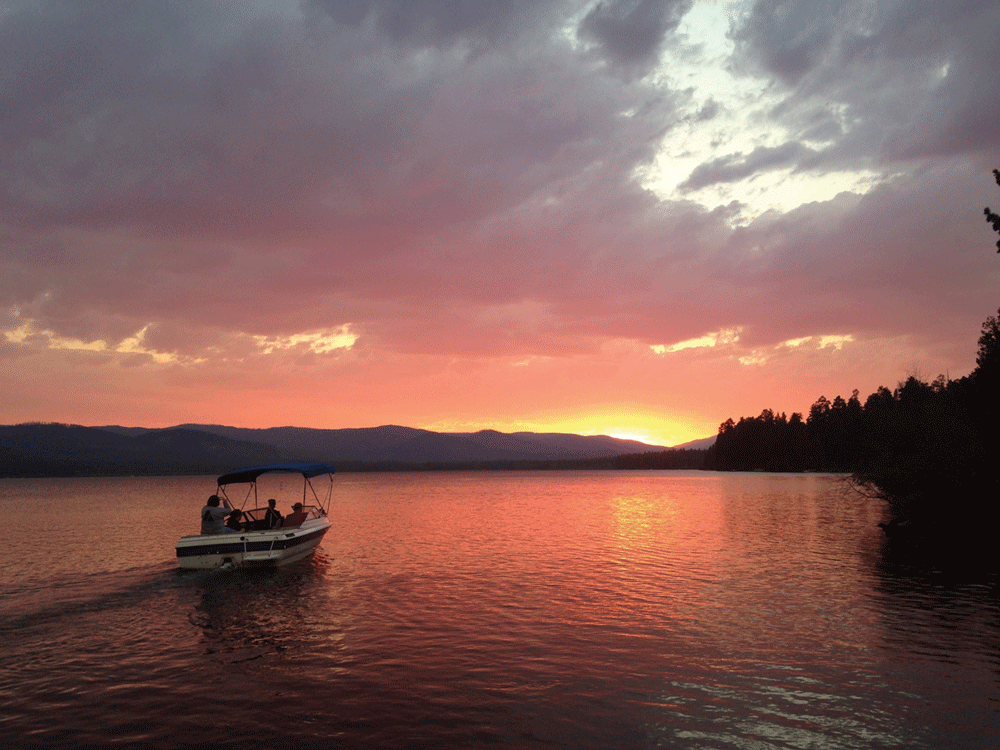 BITTERROOT VALLEY
Hidden in the Bitterroot Valley a few miles north of Darby, Lake Como is an ideal place to motorboat—and is downright breathtaking. A man-made lake constructed in the early 20th century, Lake Como is a mountain lake nestled in the alpine forest of the Bitterroot National Forest. The Lake Como Trail extends 7 miles around the lake and passes a waterfall. If you don't hike or bike the trail, you won't want to miss boating back to see the waterfall.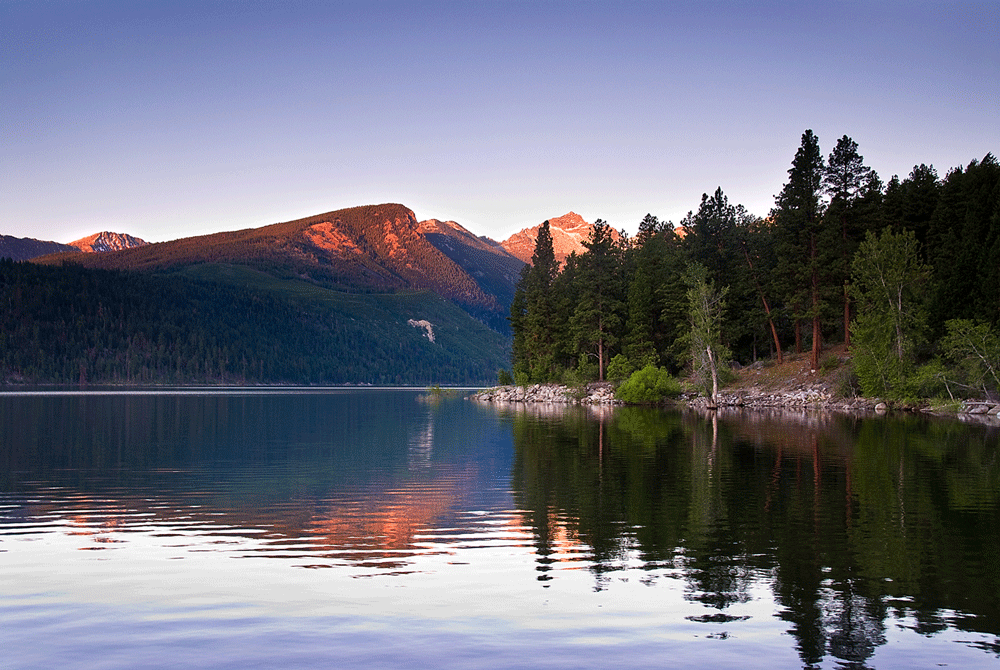 GLACIER NATIONAL PARK SURROUNDING AREA
Beginning at Hungry Horse Dam, the Hungry Horse Reservoir is fed by the South Fork of the Flathead River and encompasses 170 miles of shoreline. Cast a line and you might pull in bull trout, mountain whitefish and westslope cutthroat trout. Located only 15 miles south of the west entrance of Glacier National Park and 20 miles northeast of Kalispell, the 14 campgrounds and recreation sites around the reservoir can make a great base camp for your Glacier Country adventure.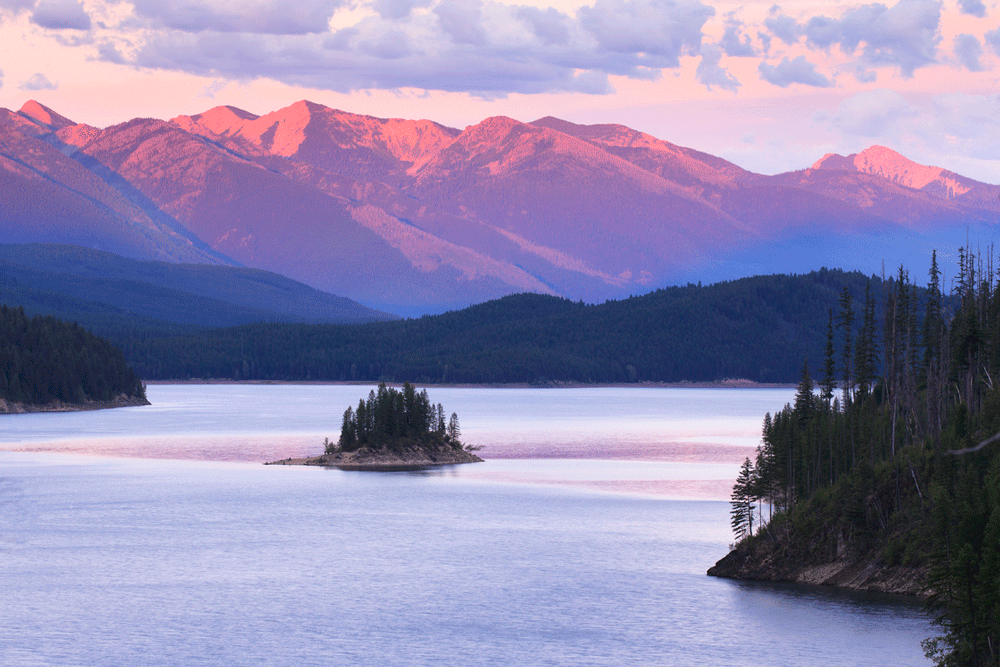 TOUR 200
Along one of Western Montana's most scenic drives, Highway 200, the Noxon Reservoir offers unrivaled motorboating fun. Water skiing, jet skiing and fishing largemouth and smallmouth bass can all be enjoyed on the 25-mile-long reservoir. This section of the Clark Fork River is also home to some of the only walleye fish in Western Montana. The Thompson Falls Reservoir is also found in the Tour 200.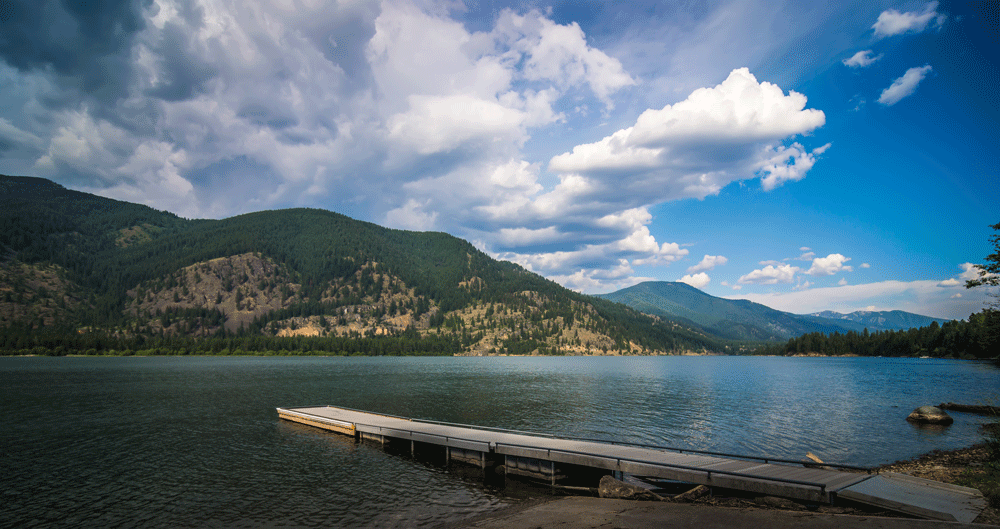 NORTHWEST CORRIDOR
Lake Koocanusa is located in Glacier Country's Northwest Corridor. This 90-mile-long reservoir straddles the U.S. and Canadian border with 50 miles of it in Montana. Known for superb rainbow-trout fishing, boaters enjoy the turquoise water, sandstone cliffs and surrounding mountain views. Campgrounds, boat ramps, recreation and picnic areas surround the lake, making day and overnight access easy. You'll also find Bull Lake in the Northwest Corridor.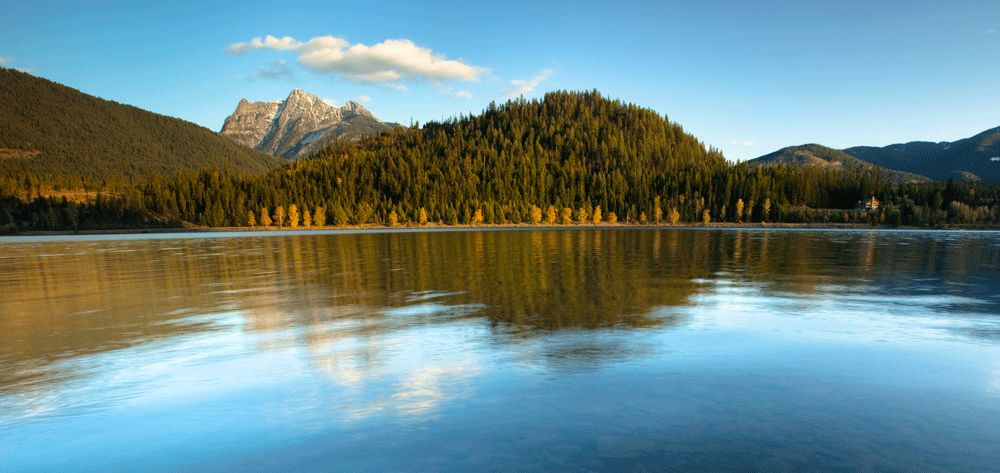 WHITEFISH
Whitefish Lake is in the quintessential ski town of Whitefish and boasts sandy beaches, beautiful state parks, and, at 7 miles long and 2 miles wide, there's plenty of space for boating. Check out the Marina at Whitefish Lake for a variety of rentals, from ski boats to pontoon boats, and more. If you want to get on the lake, but don't feel like captaining a boat, you can take a cruise on their 31-foot classic wood boat, The Lady of Lake. If you feel like exploring the town after a day on the water, Whitefish Lake State Park connects to the city's hiking and biking trail, making it easy to wander into town.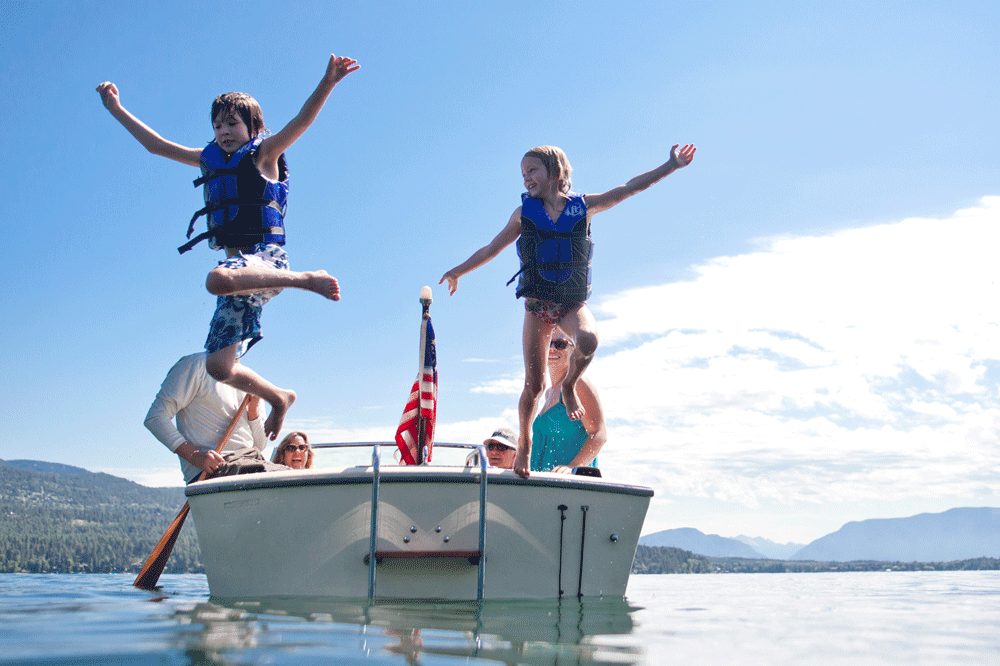 KNOW BEFORE YOU GO
Be aware of the rules and regulations in Glacier Country before you arrive. All motorboats must have a valid license and all users should wear a personal floatation device (PFD). Anyone traveling with their own motorized or nonmotorized watercraft must stop at all open watercraft inspection stations they encounter. These mandatory inspections help keep Montana's waters free of aquatic invasive species. Nonresidents must also purchase a Vessel AIS Prevention Pass. After an amazing day of fun on the water, follow the three easy steps of Clean. Drain. Dry. to help keep Montana's rivers, lakes and streams as pristine as you found them.
Renting a boat in Western Montana is easy, and our experienced outfitters are happy to answer any questions you may have on lake and fishing conditions as well as boat safety.
Please remember to travel responsibly. Face coverings are required indoors or when social distancing in groups is not possible outside. Social distancing is required to help reduce the spread of COVID-19. Thankfully, we've got plenty of space for social distancing activities and recreation in Western Montana, from hiking and biking to exploring lakes and rivers. It's vital, however, to maintain a 6-foot distance from others, even outdoors. Please be mindful of our small businesses, campgrounds, and state parks, which have had to adapt to the change and may face limitations this year—always call ahead. Take the Tourism Pledge to travel responsibly in Glacier Country.
July 27, 2020
Related: Bitterroot Valley, Boating, Clark Fork Corridor, Darby, Family Fun, Fishing, Flathead Corridor, Flathead Lake, GNP Surrounding Area, Hungry Horse, Montana, Northwest Corridor, Noxon, Outdoor Fun, Seeley Lake, Seeley-Swan Corridor, Summer Fun, Thompson Falls, Whitefish