Our winter landscapes are magnificent, and, with more than 22,000 square miles of terrain to explore, it's no surprise Western Montana is a mecca for winter adventure seekers. With so much ground to cover, make exploring easier by utilizing one of our local guides. They're ready to lead the way, from dog sledding to ice climbing and everything in between. Our experienced and knowledgeable guides will plan a seamless and memorable excursion.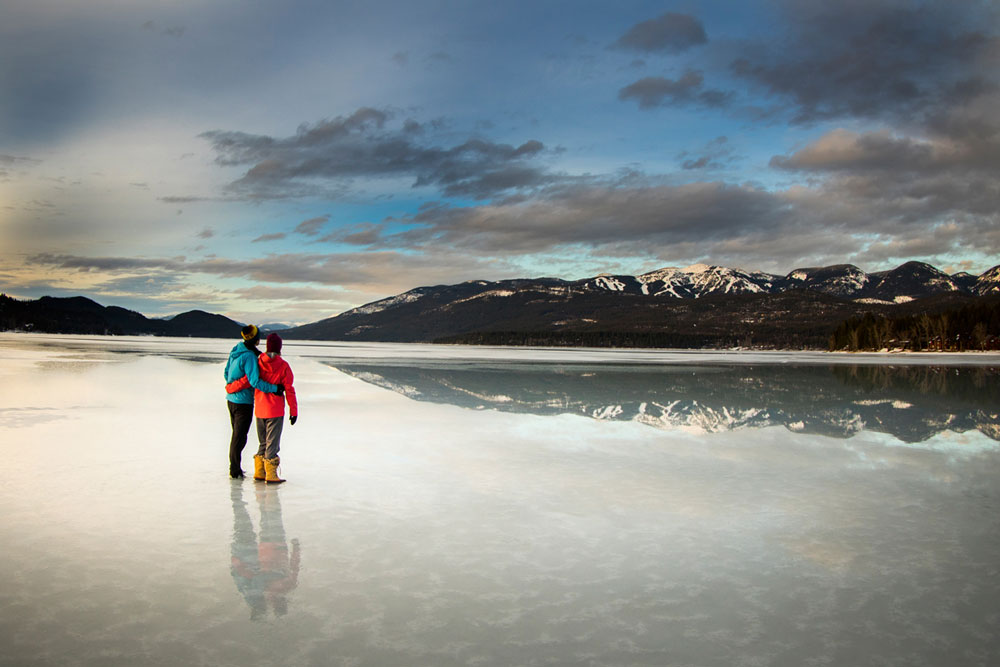 DOG SLEDDING
Travel through our winter wonderland behind a team of well-trained, snow-loving dogs, and experience the adrenaline rush of mushing you own team through miles and miles of Glacier Country. This hands-on animal encounter is for any experience level, whether you're looking for a guided half-day or full-day of fun, our outfitters can get you on a dog sled. At Base Camp Bigfork you'll ride in teams of two people per sled, one as a musher and one as a passenger. Whether you're mushing or enjoying the ride, this will be a day you won't soon forget.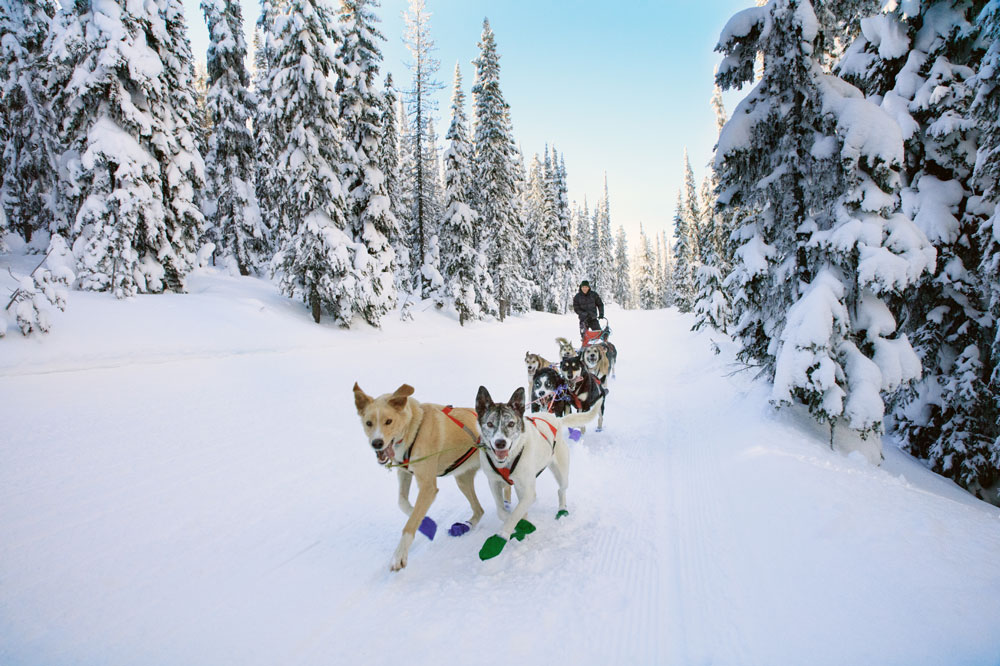 SNOWSHOEING
One of the most carefree ways to experience Glacier Country's pristine winter landscapes is to strap on a pair of snowshoes and trek the terrain. It's simple for beginners to get the hang of, which makes it a great pastime for families and groups. Discover the snowy splendor of the Crown of the Continent—Glacier National Park—when taking a day trip or overnight guided tour with Glacier Treks.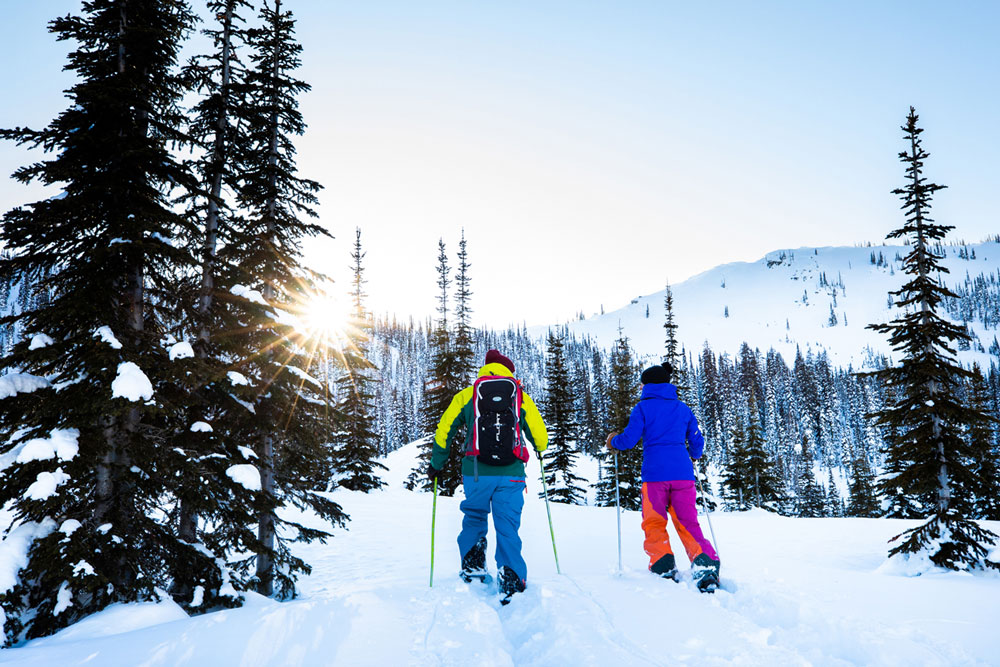 FAT BIKING
Western Montana is a prime biking destination year-round, and winter doesn't stop our cycling enthusiasts. When the snow flies, try your hand at fat biking, which happens to be wildly fun and is one of the fastest-growing winter activities. Fat bikes are equipped with extra-wide tires, perfect for snowy road and trail conditions. Biking is always a great way to cover ground and take in the breathtaking views as you weave through alpine forests and sweeping mountain meadows. It's also a great family activity with no experience necessary—if you can ride a bike you can ride a fat bike. Whitefish Bike Retreat Lodge and Campground is a great base camp before fat biking on The Whitefish Trail. Stay the night, then rent a bike and their friendly staff will be happy to show you the ropes. Practice biking on a short, groomed loop before connecting with The Whitefish Trail. You can also find fat bike rentals at many local bike shops throughout Glacier Country.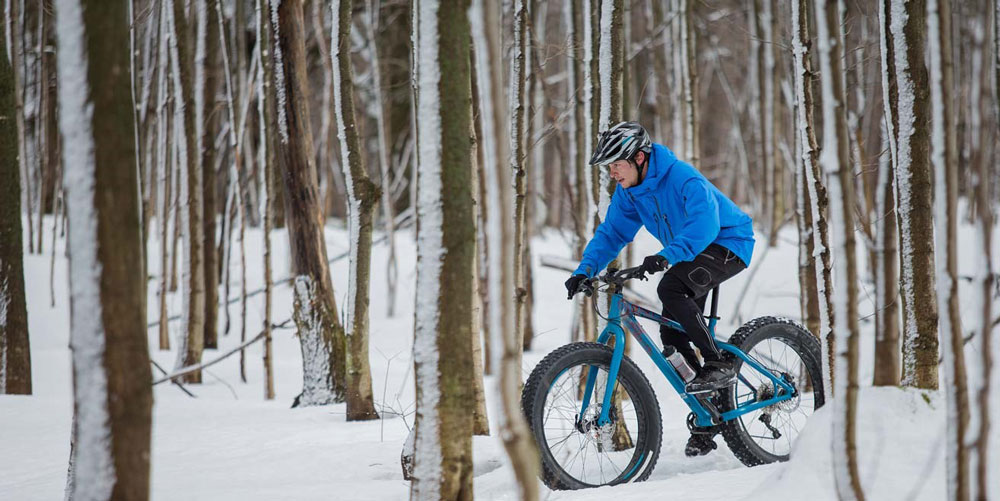 ICE CLIMBING
Western Montana's rock faces are so beguiling they draw visitors from all over the world, and winter brings a new hobby adventure seekers would be hard-pressed to pass up—ice climbing. Test your mettle, enjoy the jaw-dropping views and swing some axes up Western Montana's icefalls, frozen waterfalls and iced rock slabs. Whitefish Vertical Adventures is ready to assist your ascent up Serenity Falls, a 70 foot frozen waterfall with awe-inspiring views.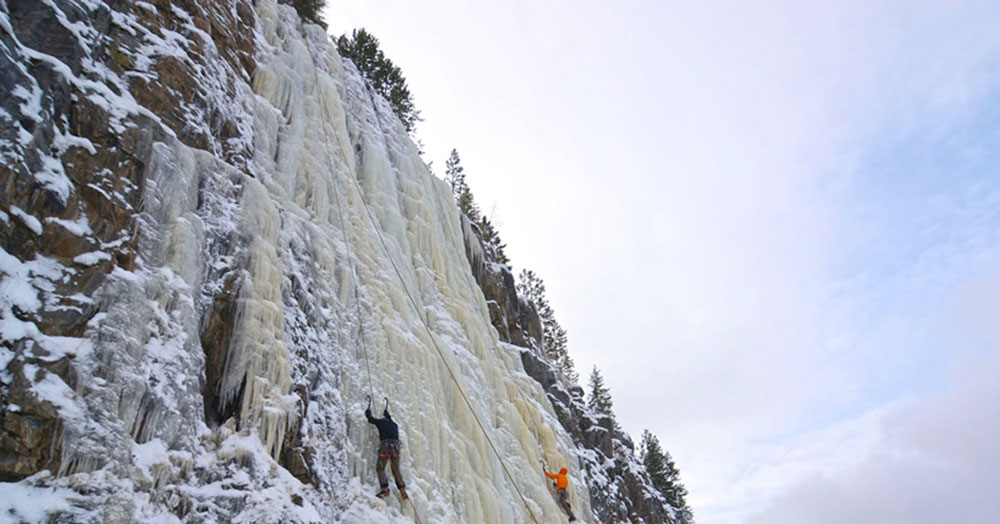 NORDIC SKIING
Experience the magic of winter and glide through miles of pristine snow. Nordic skiing is a popular way to spend a day in the snow, and Glacier Country boasts hundreds of kilometers of corduroy and classic tracks. Glacier National Park and Garnet Ghost Town are unrivaled Nordic skiing destinations. Nordic skiing is one of the most intimate ways to take in our serene wilderness, and possibly spot some wildlife. Glacier Adventure Guides has the equipment and experience to help all levels enjoy a cross-county ski outing.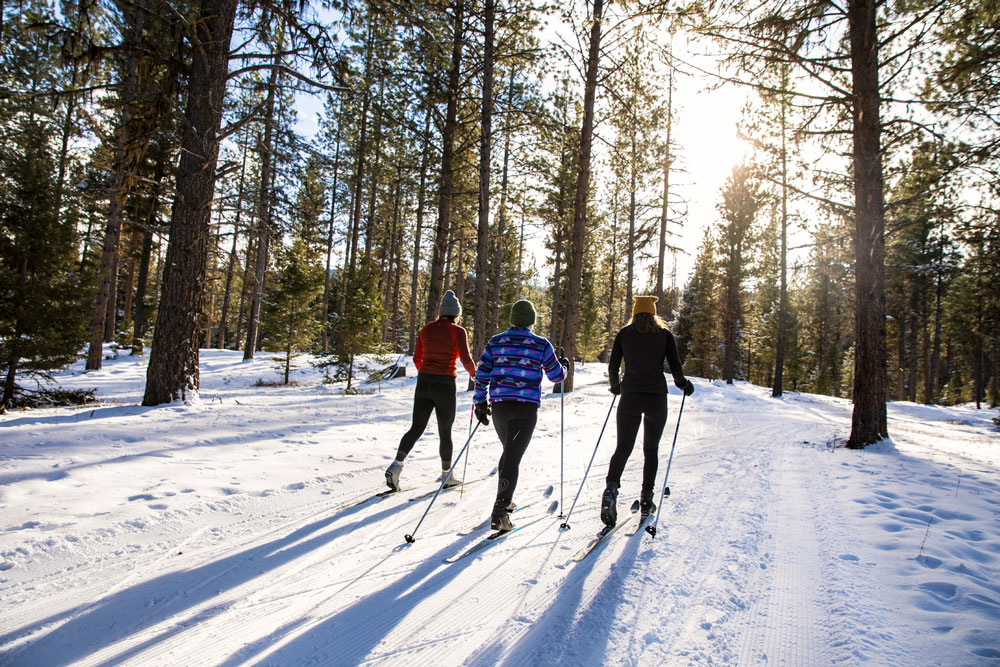 SNOWMOBILING
Slay the snow and sled miles and miles of legendary winter terrain when you snowmobile in Western Montana. It's downright thrilling whipping past snow-dusted trees and across frozen lakes at high speeds. With 4,000 miles of groomed trails plus untouched backcountry playgrounds, it's no surprise that Glacier Country is a world-class snowmobiling destination. Sled the Burn, an area encompassing thousands of acres between Seeley Lake, Ovando and Lincoln, boasts a pristine snowmobiling landscape. Northwest Montana Adventures is ready to help you explore our steep climbs and flat trails, no matter your skill level.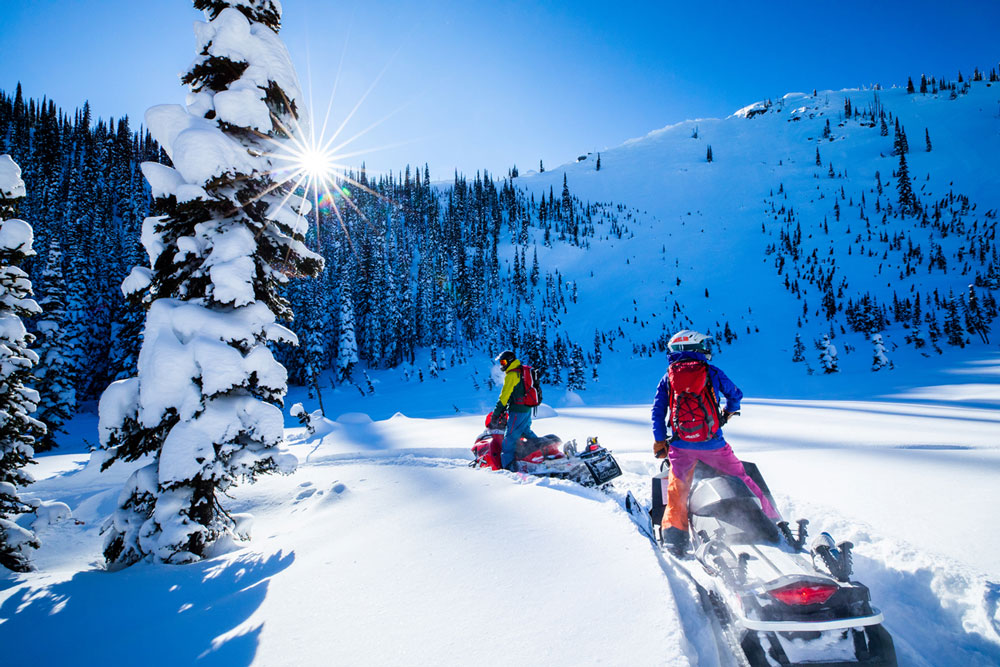 GLACIERS TO GEYSERS
Many travelers to Montana plan their trips to include both our national parks: Glacier and Yellowstone. To help you make the most of your time, we've put together several road-trip itineraries. From the rush of downhill skiing and snowmobiling to Nordic skiing or winter adventures like fat biking and sleigh rides, we've got you covered with authentic park-to-park experiences, where winter days are followed by hot-spring soaks and fireside relaxation.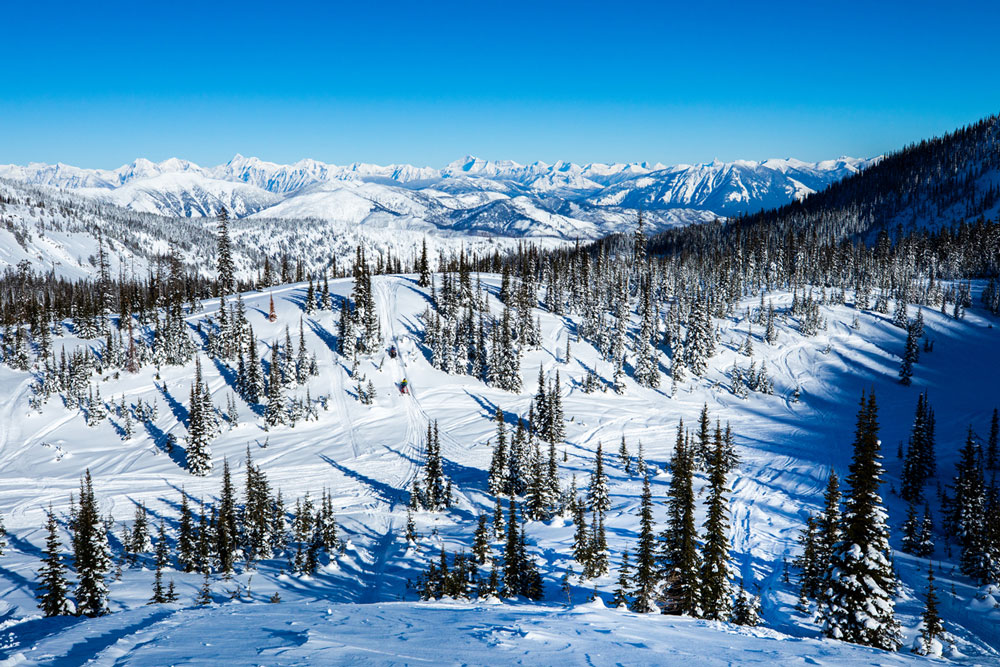 January 13, 2020
Related: Bigfork, Dog Sledding, Fat Biking, Glacier National Park, Greenough, Guided Tours, Ice Climbing, Montana, Nordic Skiing, Outfitters, Ovando, Seeley Lake, Seeley-Swan Corridor, Snowmobiling, Snowshoeing, Whitefish, Winter Fun