Hiking is one of the most peaceful ways to discover Western Montana's landscapes—and fall is an especially stunning season to do so. Explore our sweeping meadows, alpine forests and mountain waterfalls all cast in autumn's golden hues. To help get you on the trail we've put together our top six fall hikes. Don't forget your camera, you'll want to capture the majesty.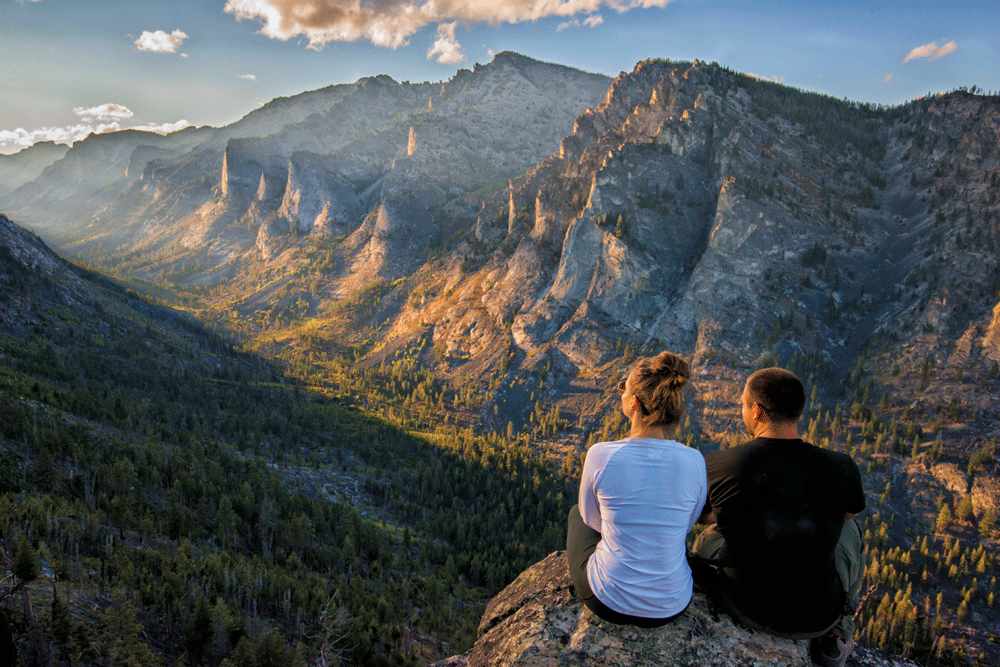 BLODGET CANYON OVERLOOK
The Bitterroot Valley is chock-full of drainages from the Bitterroot Mountain range and boasts miles upon miles of hiking trails. One of the most popular and picturesque is Blodget Canyon Overlook, near Hamilton. While there are many hikes up Blodget Canyon, the overlook is an easy 3-mile round-trip hike that dishes up spectacular views of the surrounding peaks with little elevation gain and benches along the way to rest.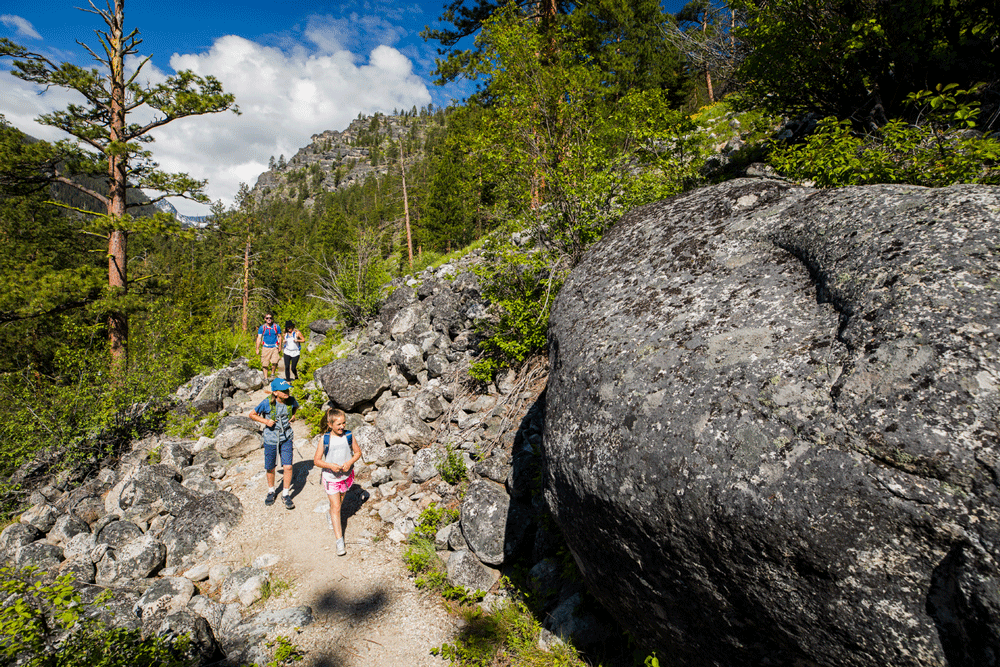 EDDY PEAK LOOKOUT
Near Thompson Falls, Eddy Peak Lookout is a fire lookout at an elevation of 6,957 feet. The lookout is accessible by vehicle on a one-lane, 8-mile dirt road. Numerous hiking trails break off from the main road, letting you explore the mountainside. At the summit of Eddy Peak, enjoy panoramic views of Sanders County, the Clark Fork River and the Mission Mountains. From the top, the brave-hearted can choose to trek down a steep trail that leads to a trout-filled lake. You're bound to see wildlife in this area.
MOUNT SENTINEL
You can't get the full Missoula experience unless you hike the iconic "M"—a Missoula landmark since 1908—on Mount Sentinel. Situated above the University of Montana, the trail zigzags up 11 switchbacks gaining 620 feet of elevation in under a mile. It's a bit challenging, but the many benches along the way make this a family friendly hike. Once you reach the "M" you'll be rewarded with unmatched views of the Missoula Valley.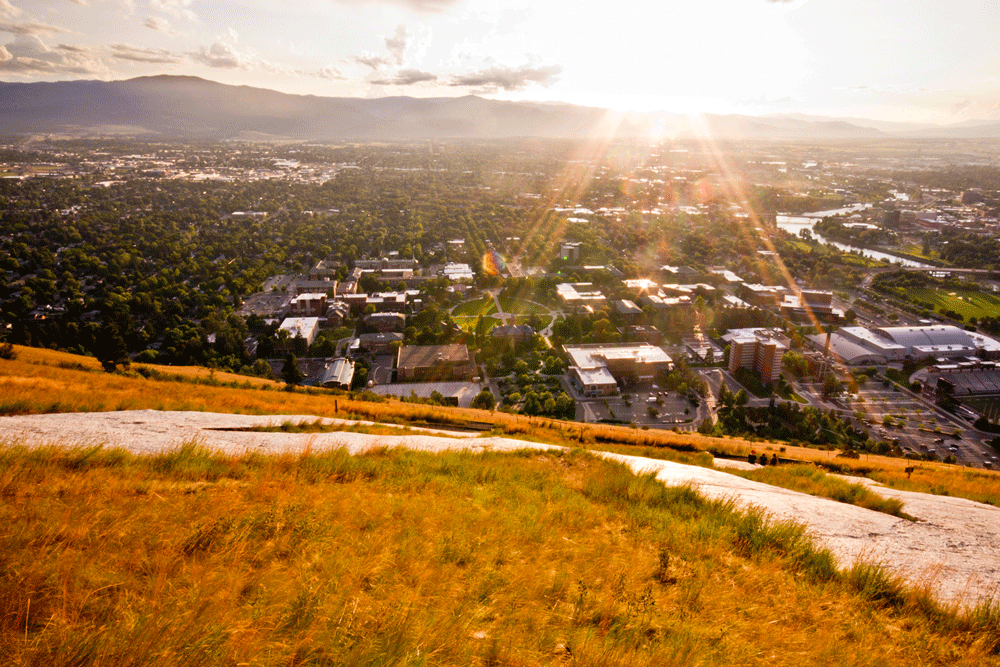 DOLLAR LAKE LOOP
A breathtaking hike that won't actually take your breath away, the newly built Dollar Lake Loop Trail is just outside Whitefish and a part of the 43-mile-long Whitefish Trail system. Dollar Lake Loop is a relatively easy 3-mile hike through the forest providing waterfront views of three secluded mountain lakes. Anglers, bring your fishing rods and try to reel in a lake trout, or pack in binoculars to spot swimming loons.
KOOTENAI FALLS/SWINGING BRIDGE TRAIL
If you're looking for a quick hike to a scenic waterfall, look no further than the Kootenai Falls and Swinging Bridge Trail near Troy. Traverse this short 1.6-mile round-trip hike, taking in mesmerizing views of the Kootenai River gorge and falls. The swinging bridge is not only fun and adrenaline pumping to cross, it's also a picture-perfect stop. If crossing the bridge isn't your jam, you can still view the 30-foot Kootenai Falls from the trail.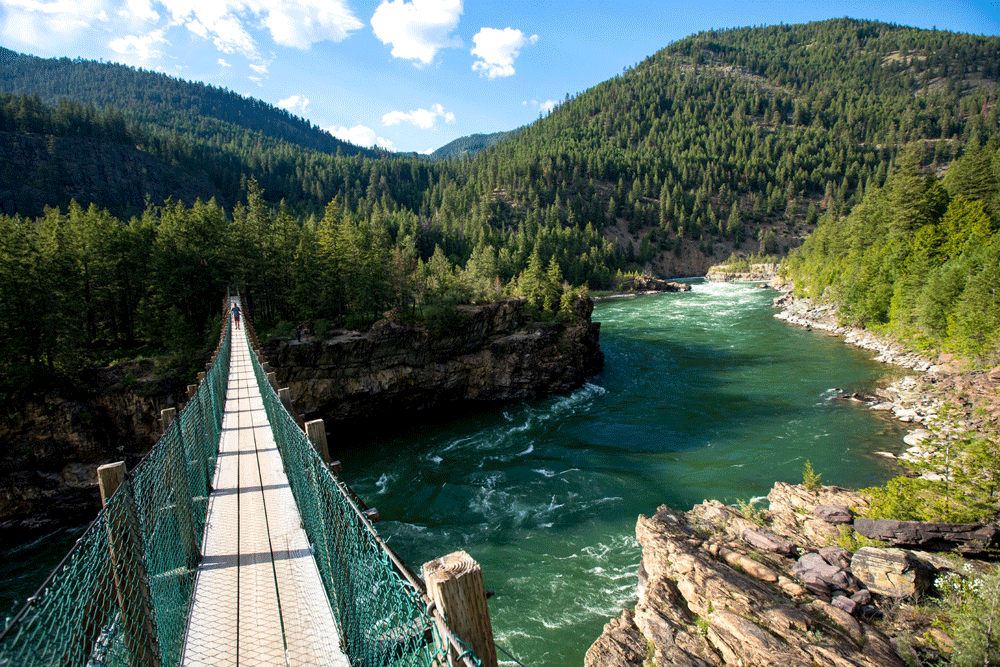 HOLLAND FALLS NATURE TRAIL
Another waterfall you won't want to miss is the Holland Falls Nature Trail, located in the beautiful Seeley Swan Valley. Weave along the shoreline of Holland Lake through the tamarack and alpine forest until you reach the base of an immense 40-foot waterfall. Around every corner are jaw-dropping views on this 3.3-mile round trip hike.
TIPS FOR THE TRAIL
+ Hunting is a way of life in Western Montana, and beginning in September you'll see hunters out and about. Consider wearing orange, especially on backcountry trails, and always stay on the trail.
+ It's always a good idea to dress in layers, and during fall that's more important than ever. The weather can change in an instant, so plan for all kinds.
+ Wear appropriate hiking boots, and for more extensive hikes, bring the proper gear, plenty of water and snacks.
+ Stay on the trail. With so much room to roam it can be tempting to wander, but going off-trail is a danger to you, and against the Leave No Trace principles.
+ If you're hiking alone, let someone know where you're going.
+ When you hike in Montana, you are hiking in bear country. Carry bear spray and stay at least 100 yards away from bears and 25 yards away from all other wildlife.
+ When recreating in Western Montana plan ahead and check the weather, fire status and air quality.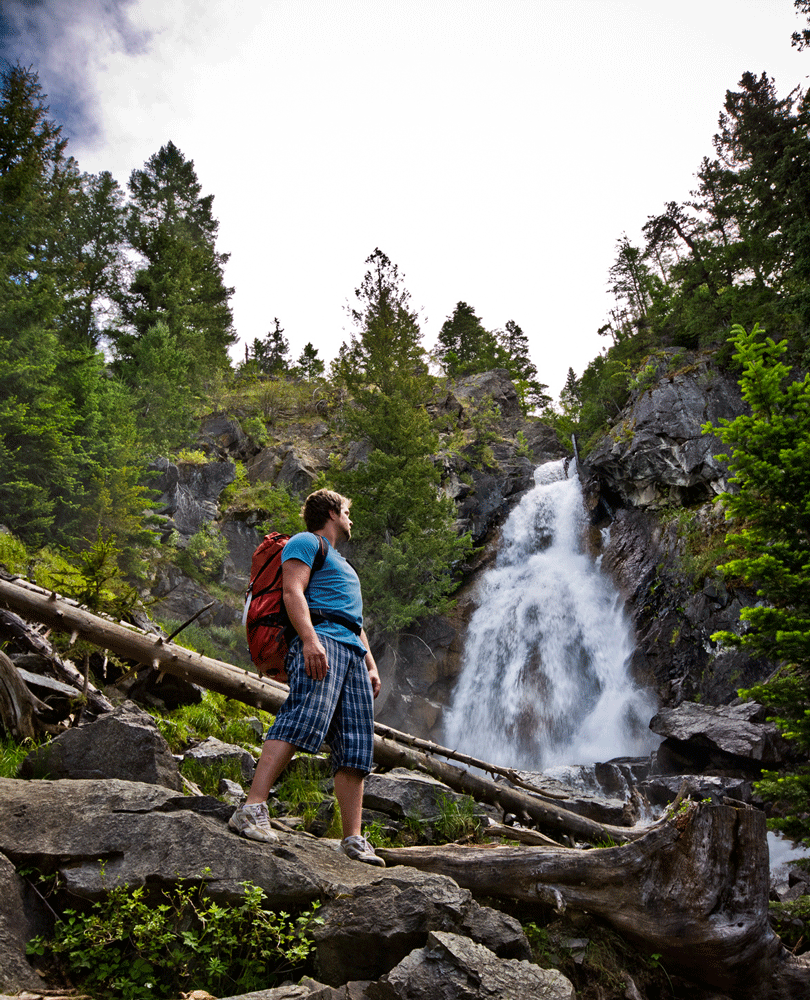 Please remember to travel responsibly. Face coverings are required indoors or when social distancing in groups is not possible outside. Social distancing is required to help reduce the spread of COVID-19. Thankfully, we've got plenty of space for social distancing activities and recreation in Western Montana, from hiking and biking to exploring lakes and rivers. It's vital, however, to maintain a 6-foot distance from others, even outdoors. Please be mindful of our small businesses, communities and visitor centers, which have had to adapt to the change and may face limitations this year—always call ahead. Take the Tourism Pledge to travel responsibly in Glacier Country.
October 5, 2020
Related: Bitterroot Valley, Fall Fun, Hamilton, Hiking, Missoula, Montana, Outdoor Fun, Seeley Lake, Seeley-Swan Corridor, Thompson Falls, Troy, Whitefish