Western Montana's cinematic landscapes have long inspired film producers, setting the stage for legendary films like "A River Runs Through It" and binge-worthy TV shows like "Yellowstone." As we shelter in our homes and practice social distancing, we may find ourselves in need of a distraction. To help you escape, we've rounded up famous movies and shows filmed in Western Montana. Grab some popcorn and plan a virtual movie date with a friend or a movie-marathon stay-cation in your living room. We hope you enjoy these films and find some inspiration for your next dream trip to Glacier Country—you'll be amazed by what the camera couldn't capture.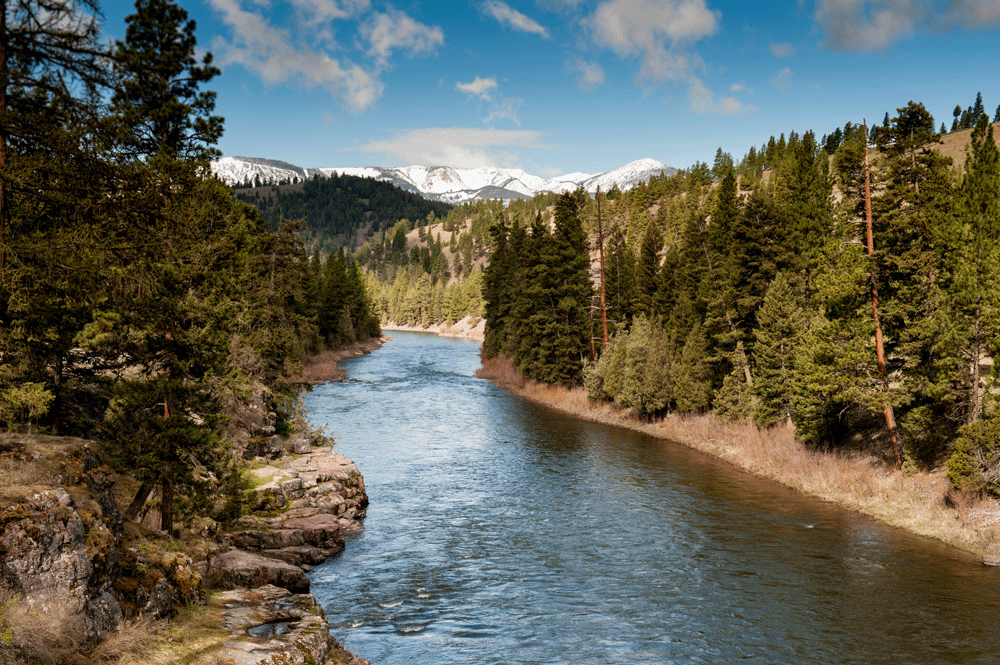 A RIVER RUNS THROUGH IT
One of the most famous movies to come out of Western Montana is "A River Runs Through It." If you haven't seen it yet, this is a must-watch-before-visiting movie. Based on the book written by Norman Maclean, a former Missoula resident, the movie follows the life of a stern minister's two sons growing up in rural Montana. It stars Brad Pitt, and it won an Oscar for Best Cinematography. Filmed almost entirely in Montana, you won't want to miss the iconic scene locations. Channel It: Plan to fly-fish the Blackfoot River and feel wild and free in Western Montana.
+ Blackfoot River, Clinton
+ First Presbyterian Church, Missoula
+ University of Montana, Missoula
+ Lolo Hot Springs, Lolo
FOREST GUMP
A beloved American classic, the tale of "Forrest Gump" details the presidencies of Kennedy and Johnson, events of Vietnam, Watergate and more through the eyes of an Alabama man. Although Forrest has an IQ of 75, he doesn't let that stop him from being a college football star, fighting in Vietnam, captaining a shrimp boat, or loving Jenny, his sweet but troubled childhood friend. Forrest inspires people with his optimism. Forrest Gump won six Oscars: Best Picture, Best Actor in a Leading Role, Best Director, Best Writing, Best Film Editing and Best Visual Effects. Channel It: Plan to take a step back in time at a museum or historical site in Glacier Country.
+ Blackfeet Indian Reservation
+ Glacier National Park
THE SHINING
Although we certainly don't want your trip to Western Montana to be like "The Shining," fans of horror movies must watch this cult classic. A writer, Jack takes on a caretaker job at a remote hotel in Colorado, hoping to cure his writer's block. He brings his wife and his son, who begins to have disturbing psychic premonitions. As Jack discovers the hotel's dark secrets, he begins to have homicidal thoughts of his family. Channel It: Plan to visit Garnet Ghost Town and get your spook on.
+ Going-to-the-Sun Road, Glacier National Park
+ St. Mary Lake, Glacier National Park
HIDALGO
Set in 1890, "Hidalgo" is the tale of Frank Hopkins, a rugged cowboy and expert horseman who enters the deadly cross desert horse race in Arabia. Riding his American mustang against the best riders and horses in the world, he races to win for the sake of his reputation, and his life. Channel It: Plan to take a guided horseback ride in Western Montana.
+ Blackfeet Indian Reservation
+ Glacier National Park
+ Kalispell
NARNIA: THE LION, THE WITCH AND THE WARDROBE
An Oscar winner for Best Achievement in Makeup (no small feat, if you've seen the movie), the magical story of Narnia has enchanted all ages since its release. Four children are sent away to the countryside during wartime and find a magical wardrobe that leads to another world, Narnia. Here they discover their destiny is tied with Narnia's freedom from the White Witch, under the guidance of a mystical lion. Channel It: Plan to visit Glacier National Park and let your imagination roam; it's not hard to picture it as another world completely.
+ Glacier National Park
THE REVENANT
Set in the 1820s, "The Revenant" is based on the book of the same name written by Missoula resident, Michael Punke, and is filmed in part in northwestern Montana. The movie is about the true story of Hugh Glass, a trapper who embarks on a fur trading expedition. While scouting he is mauled by a grizzly bear, and though he is not expected to survive, his company orders two men to stay behind and tend to Hugh as he dies. Instead, the men abandon him. Driven by revenge, Hugh becomes determined to live so he can find the men for retribution. Starring Leonardo DiCaprio, "The Revenant" won three Oscars: Best Performance by an Actor in a Leading Role, Best Achievement in Directing and Best Achievement in Cinematography. Channel It: For a bit of an adrenaline rush, plan to visit the Kootenai Falls Swinging Bridge, a suspension bridge located above Kootenai Falls near Libby.
+ Kootenai Falls, Libby
YELLOWSTONE
A fictional drama television series set in Montana, "Yellowstone" details the life and challenges of a ranching family who owns the largest contiguous ranch in the U.S. At opposition with political and social forces, John Dutton (played by Kevin Costner), the patriarch of the family, is in a constant struggle to defend his land. Channel It: Plan a getaway at a dude ranch in Western Montana.
+ Darby
April 20, 2020
Related: Clinton, Darby, Film, Fishing, Garnet Ghost Town, Glacier National Park, Guest Ranch, Horseback Riding, Hot Springs, Kalispell, Libby, Lolo, Missoula, Museums