Winter in Glacier Country is for adventurous powder plungers, downhill dreamers and paradise seekers looking for a peaceful escape in an enchanting frosty forest of white. We have activities year-round here, but winter is one of our best seasons for adventure. Exploration is exponential this time of year, and it's one of our favorite seasons to recreate in Western Montana.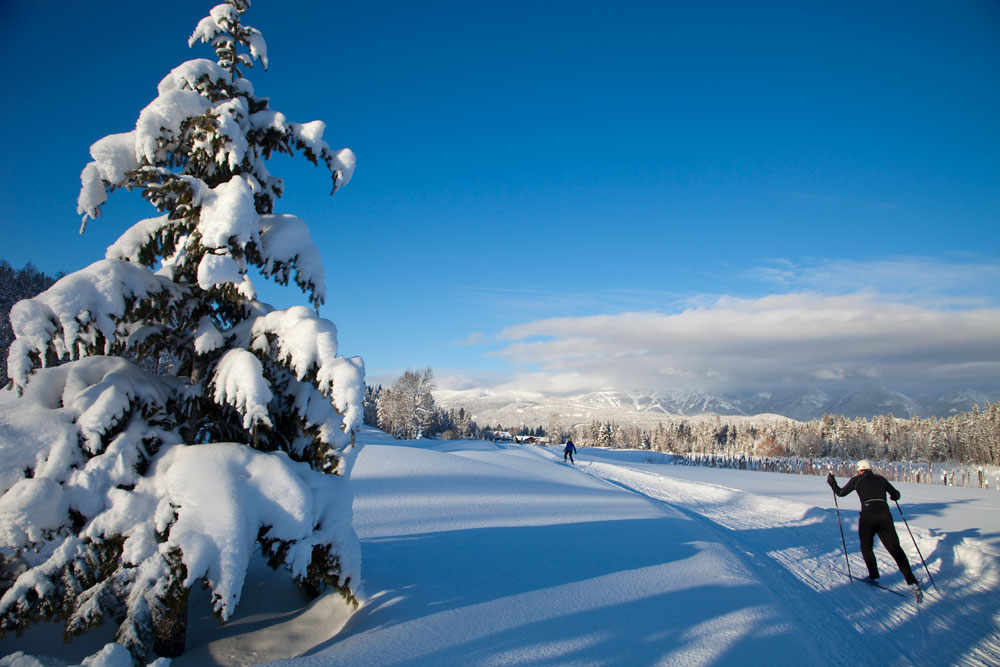 CROSS-COUNTRY SKIING
Let's face it, cross-country skiing is one of Montana's favorite winter pastimes. Cross-country skiing makes it possible to head into backcountry quiet places that might not be otherwise accessible this time of year. You'll find easy access to groomed trails all over Western Montana that allow you to tour the terrain in an intimate way. Trails off the beaten path are in the Bitterroot, Lolo, Kootenai and Flathead Nationals Forests. The Izaak Walton Inn in Essex offers 20 miles of sheltered trails that wind through forested terrain and offer views of Glacier National Park.
DOG SLEDDING
Travel at the speed of a dog and experience the adrenaline rush of mushing your own team of Inuit sled dogs through miles of terrain and across frozen lakes. Choose between guided half-day tours or a multinight excursion; many companies in Glacier Country offer dog sledding, but one of our favorites is Base Camp Bigfork.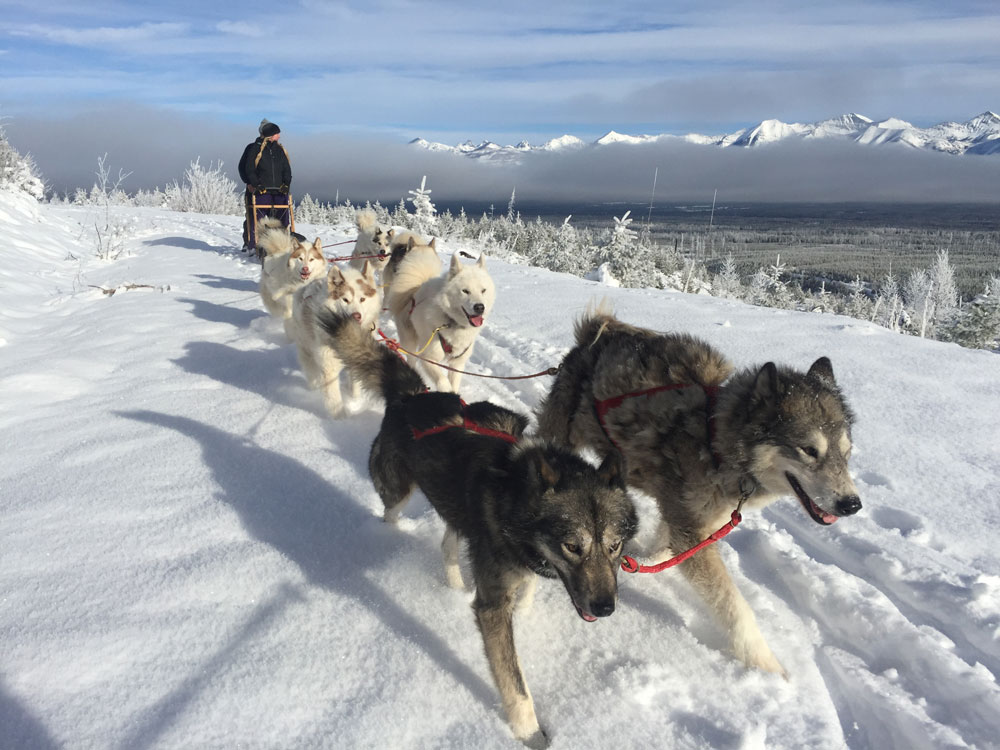 ICE FISHING
Montana is a dream destination to drop a line in any of our four seasons—our fish bite year-round. Ice fishing in Western Montana can be a true test of skill and a whole lot of fun. So bundle up, review fishing regulations and, for phenomenal fishing, visit Flathead Lake, Whitefish Lake or any one of the lakes that dot the Seeley-Swan Valley.
SLEIGH RIDES
There isn't a more authentic way to experience the magic of our enchanting winter wonderland than dashing through the snow in a horse-drawn sleigh. It's also one of our coziest winter activities if you are ready to bundle up and relax. Glide across the snow with a sleigh ride from Bar W Guest Ranch in Whitefish, Double Arrow Lodge in Seeley, or Cripple Creek Horse Ranch in Trego.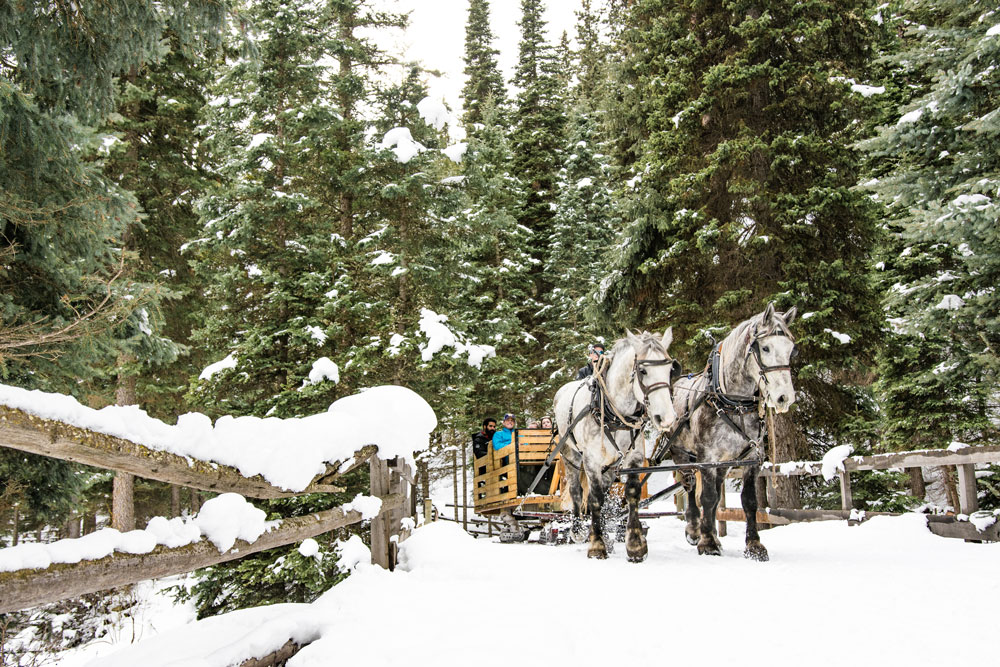 ICE SKATING
When our lakes freeze over, we don't just admire them from afar. We lace up our skates and head out to enjoy the crisp mountain air. This peaceful winter activity is ideal for all ages, with indoor ice rinks available throughout the region as well.
FAT BIKING
Embrace all that is winter in Western Montana with this wildly fun activity that is quickly gaining in popularity. Fat biking includes riding a bike with oversized tires that make it easy to move across the snow. You can rent a fat bike and access groomed trails, snow-packed roads or the Whitefish Trail (which is ungroomed) from Whitefish Bike Retreat.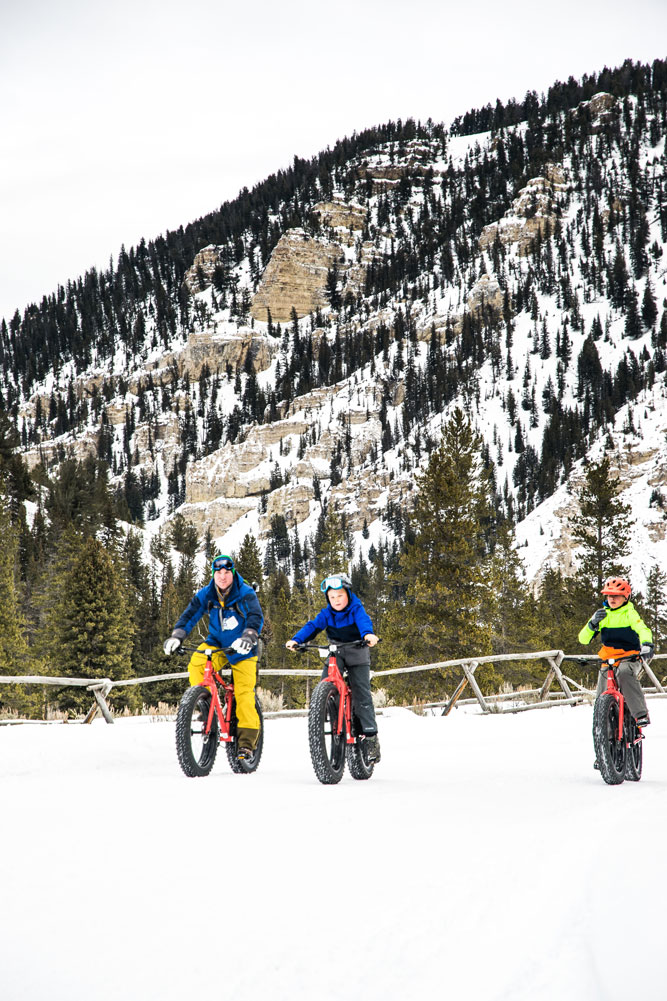 HOT-AIR BALLOON RIDES
A hot-air balloon ride is a great way to make magical winter memories. Enjoy the crisp mountain air and breathtaking scenery while staying toasty—the hot air will ensure it. Panoramic views of never-ending bluebird skies against pure white sparkling snow are what dreams are made of. The hot-air balloon company Mountain Butterfly provides rides throughout Glacier Country with liftoffs from Glacier National Park to the Bitterroot Valley. During the summer and fall, Fantasy Flights and Phoenix Balloon Flights air up for rides around Glacier National Park.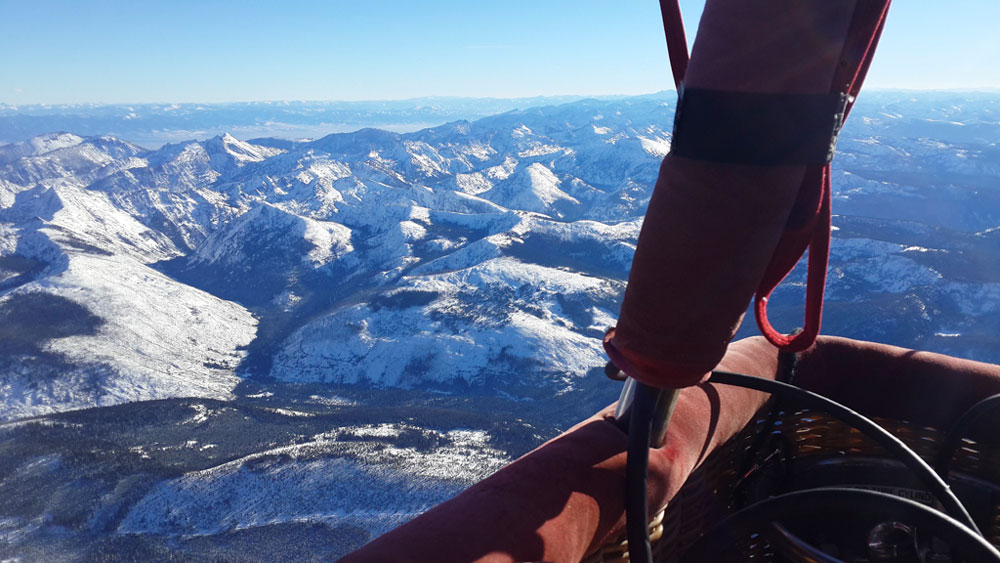 SNOWSHOEING
Taking a walk in the snow is high on our list of things we love. This quintessential winter pastime is one of the easiest ways to play in pristine Montana powder. Our favorite place to snowshoe in Western Montana is Glacier National Park, although there are many places throughout the region. In the park, popular places to don your snowshoes include the Going-to-the-Sun Road and trails at Marias Pass and Lake McDonald.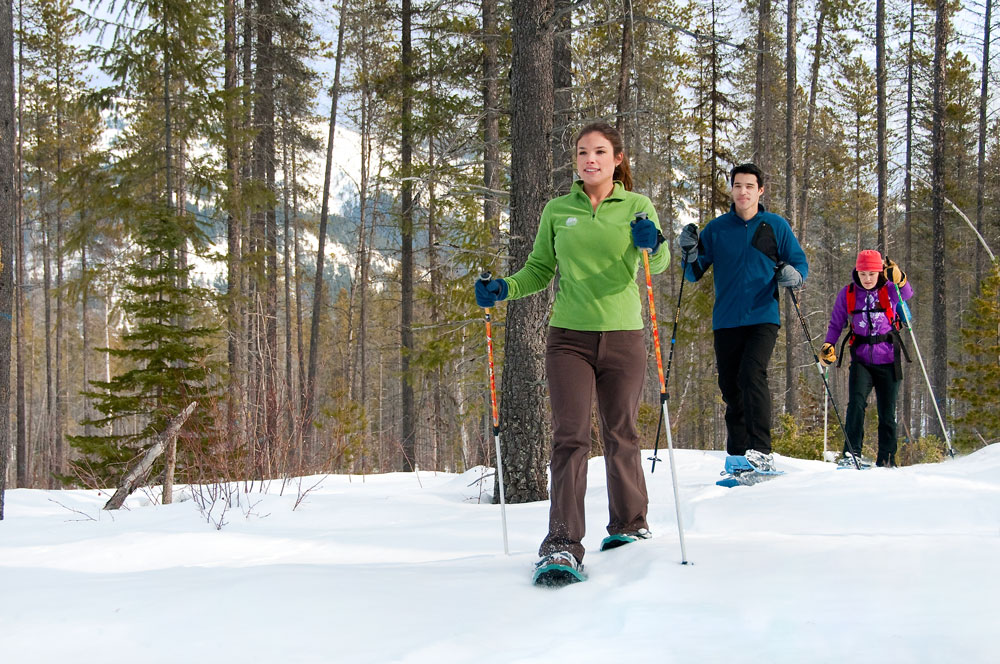 Visit glaciermt.com for additional information about these activities, including safety, equipment rentals, lodging and more.
December 17, 2018
Related: Aerial Tours, Bigfork, Bitterroot Valley, Dog Sledding, Family Fun, Fat Biking, Fishing, Flathead Corridor, Glacier National Park, Guest Ranch, Lolo, Montana, Nordic Skiing, Outdoor Fun, Seeley Lake, Seeley-Swan Corridor, Snowshoeing, Trego, Whitefish, Winter Fun