Spring is the time for renewal and rediscovery, and Glacier Country—with unique adventures and room to breathe—is the perfect place to experience it. Hiking and biking trails are clearing from their blanket of snow, and the landscape is livening up with wildflowers, wildlife, rushing rapids and waterfalls. Come find the magic of spring in Western Montana, where songbirds and big blue skies are waiting.
Bitterroot Valley
Follow in the footsteps of Lewis and Clark at Travelers' Rest State Park in Lolo, where you'll find the only archaeologically verified campsite of the Corps of Discovery Expedition. From birding and biking to history and hiking, this is one springtime activity the whole family will enjoy. Stop in at the visitor center and museum for a fascinating look at Lewis & Clark Expedition replicas, Salish culture, American Indian handcrafts, hands-on history display for kids, and more.
The Lee Metcalf National Wildlife Refuge in Stevensville offers excellent birding and gorgeous views of the Bitterroot Mountains. A 30-minute drive south of Missoula and a few minutes from Stevensville, this 2,800-acre refuge is home to a variety of wildlife and birds, as well as an extensive trail system for nature walks. You can also drive Wildfowl Lane 3 miles through the southern half of the refuge. Added bonus this time of year: ducklings!
Hiking in the Bitterroots is another springtime favorite. Easily accessible from Stevensville, trek the Kootenai Creek Trail along a gorgeous creek made even more scenic by high water flows, thanks to springtime runoff. The trail is 19.4 miles out and back, but most people turn around after two miles or so. Or, set your sites on a waterfall—Sweathouse Falls is especially scenic in the springtime. Near Victor, this beautiful trail is 5.1 miles out and back. You're likely to still see some snow on these trails in the springtime, so plan ahead with proper footwear.
Bike the Bitterroot Trail, a flat, family-friendly paved path that parallels U.S. Highway 93 and connects the entire Bitterroot Valley from Lolo to Hamilton (though the trail actually begins in Missoula). This is a great way to tour this gorgeous valley from end to end.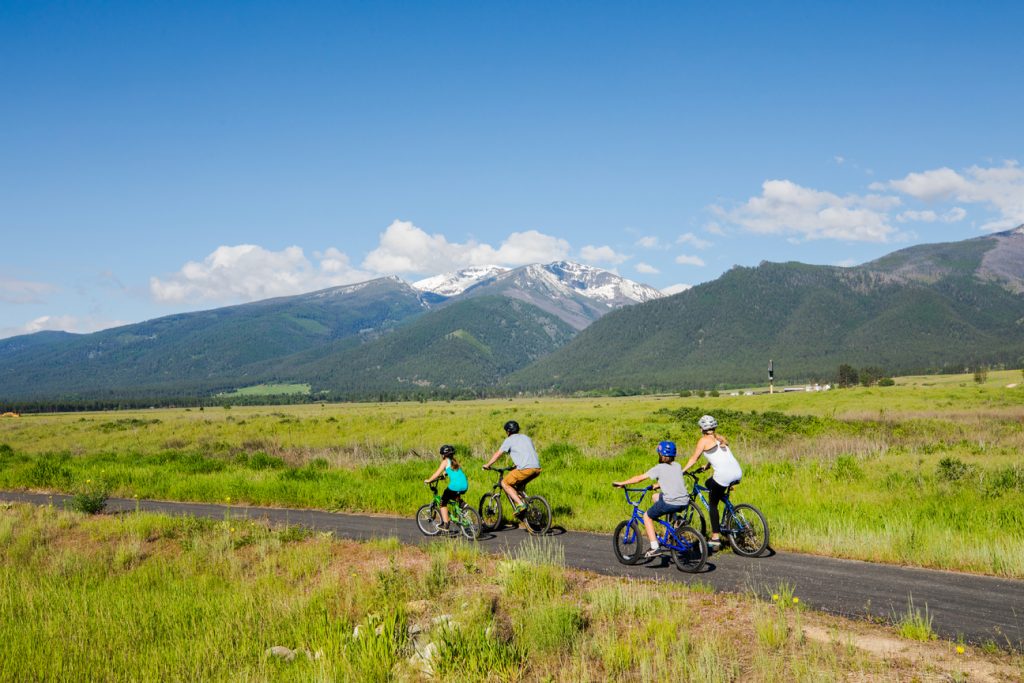 Make it an overnight with a stay in an updated historic farmhouse at Teller Wildlife Refuge and enjoy the tranquil setting and pristine beauty of your surroundings.
Flathead Valley
Have you heard of our famously delicious Flathead cherries? Cherry orchards line Flathead Lake, and when the trees are in full bloom—early to mid-May—it's an extra special time to circle the lake. We recommend a drive on State Highway 35 from Polson to Bigfork for the best orchard views.
At the base of the Mission Mountains in Moiese, the Bison Range offers breathtaking views and wildlife watching including baby bison! Travel along the West Loop in early spring. Red Sleep Drive (the 19-mile-long one-way drive that winds through the range) opens in early May. Photo Op: Spring is the time to capture a photo of bison against the backdrop of the snowcapped Mission Mountains. Please remember to recreate responsibly by keeping a safe distance from all wildlife.
Stay in Charlo at the Ninepipes Lodge, known for its incredible views of the rugged Mission Mountains. The in-house Allentown Restaurant serves up a delicious experience with great food, a comfortable atmosphere and warm hospitality.
Seeley Swan Corridor
Bigfork is a bucket-list must. Located on the bay of Flathead Lake, this storybook village has fun shops and galleries, and easy access to hiking trails and water fun. Stroll the quaint downtown and check out multiple art galleries, like Bjorge Gallery, and the restaurants that call this charming town home. We recommend dinner and drinks at The Sitting Duck. If you're looking to land a fish, book a trip with Wild Trout Adventures. Or contact Backcountry Flying Experience for breathtaking aerial views of nature's most stunning landscapes on a scenic floatplane charter.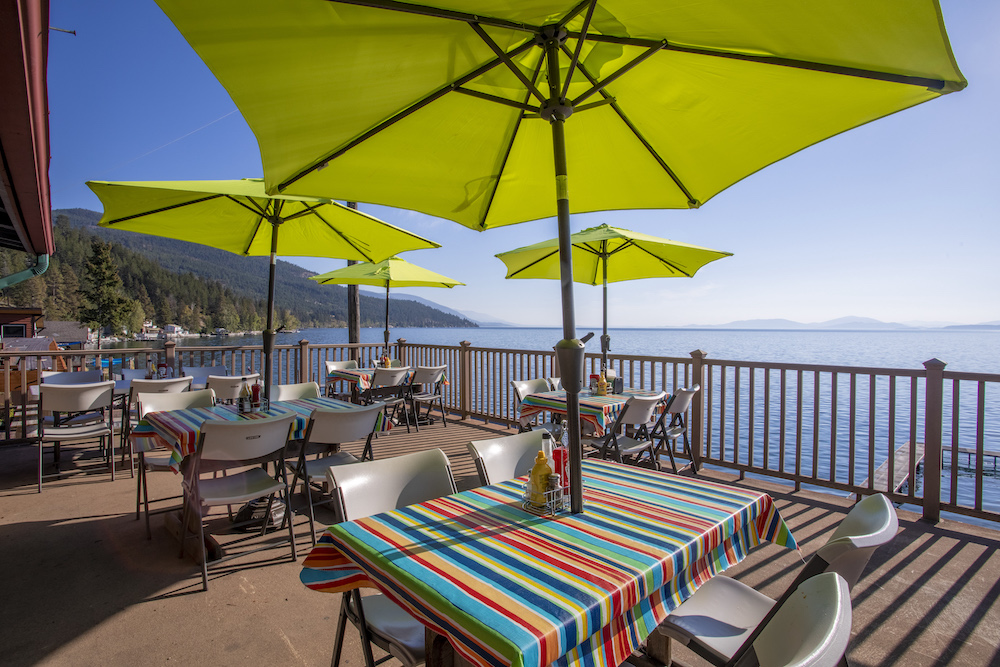 Make it an overnight at The Nest on Swan River—a serene river setting—or The Inn on Bigfork Bay, with three decks overlooking the bay.
From Bigfork, drive south on State Highway 83 (just under two hours) to hike Morrell Falls. This 2.7-mile (one-way) out-and-back trail offers jaw-dropping views of the Swan Mountains from Morrell Lake, and the falls are spectacular this time of year when they're gushing. Again, plan ahead for snow on the trail.
Blackfoot Corridor + Missoula
What's a getaway in Montana without fly-fishing a blue-ribbon trout stream? That's where Rock Creek comes in. This little gem is Montana fly-fishing at its finest, where anglers flock to reel in cutthroat, rainbow, bull and brown trout, as well as whitefish. Though it's famous for its salmon fly hatch at the end of May into June, the second week of March offers phenomenal dry-fly fishing when the stoneflies and mayflies hatch. Once spring runoff is over, usually by late May, fish the Blackfoot River, made famous by Norman Maclean's "A River Runs Through It."
Spend the night at Bearmouth Chalet and RV Park in Clinton, or stay in Missoula—Western Montana's arts and culture hot spot—with the Clark Fork River flowing through the heart of downtown. In late May, hike Waterworks Hill to look for Montana's state flower—the Bitterroot—and Missoula phlox flowers growing alongside the trail.
Another favorite spring pastime in Western Montana is golf, and Missoula boasts seven courses. Pack your clubs and tee up just as the landscape begins to green up.
Overnight at The Wren, Residence Inn by Marriott Missoula Downtown, the AC Hotel Missoula Downtown or Holiday Inn Missoula Downtown.
Glacier National Park
The park is open year-round, but spring is one of the quietest and loveliest times to visit the Crown of the Continent. There are plenty of opportunities to play in Glacier National Park this time of year.
Biking the iconic Going-to-the-Sun Road tops the list. Bicyclists are drawn to this famously scenic road in the springtime as they've got early access before it opens to vehicular traffic. Rent an eBike from Flathead Outdoors for a fun alternative to traditional pedaling. Biking Camas Road is also popular this time of year, and families are drawn to the Apgar Bike Path.
You can also hike the Going-to-the-Sun Road, and many other places in the park. Stick to lower elevations and around the edges of the park, which are usually clear of snowpack by the end of April, but plan ahead for snow and mud. Popular spring hikes include the Apgar Lookout, Lake McDonald's West Shore, Fish Creek Trail, Trail of the Cedars, Johns Lake Loop, McDonald Creek, Beaver Pond Loop from the historic ranger station, St. Mary-Virginia Falls and the Red Eagle trail. Please note: The Going-to-the-Sun Road is closed to vehicles and recreation due to road construction from Apgar to Lake McDonald Lodge until May 15. Beginning May 26 you will need a vehicle reservation, in addition to a park pass, to enter the park.
For a springtime adrenaline rush, book a guided whitewater rafting adventure with Great Northern Whitewater Raft & Resort. Runoff is raging in the springtime and these expert guides are ready to show you the rapids.
Beyond Glacier National Park
Just outside the park is just as lovely this time of year. The world-famous Polebridge Mercantile opens in April, and if you haven't tasted one of their huckleberry bearclaws you haven't had the full Glacier experience. The North Fork area around the mercantile is also a peaceful and pretty place to explore in the springtime.
In Kalispell, explore the historic downtown with shops, galleries and eateries galore, and taste the authentic Montana flavor of local craft beer at Bias Brewing.
Camp Scout + Gather (opening in May in Columbia Falls) lets the kids get their mini golf game on. Shop the on-site modern mercantile for home and lifestyle goods and enjoy delicious food at Scouts Grill.
Overnight outside the park at the modern, boutique hotel, Après Whitefish, and enjoy their thoughtfully-curated aesthetic and community-centered feel.
Please note: We ask that all our visitors and residents Recreate Responsibly by being mindful of the following: know before you go; plan ahead; play it safe; leave no trace; tread lightly; and help build an inclusive outdoors.
April 3, 2023
Related: Bigfork, Biking, Bison Range, Bitterroot Valley, Blackfoot Corridor, Breweries, Charlo, Columbia Falls, Coram, Dining, Fishing, Flathead Corridor, Flathead Lake, Glacier National Park, Golfing, Hiking, Kalispell, Lolo, Missoula, Moiese, Outdoor Fun, Polebridge, Polson, Seeley-Swan Corridor, Spring Fun, Stay, Stevensville, Victor, Water Fun, Whitefish, Wildlife