Oh hey guys, I didn't see you there. Mainly because I've been missing…from the blog. But I have to tell you, it wasn't intentional. It's just that I've been out living. A lot.
The last two weeks of my life have been filled with road trips, huckleberry delights, laughs, solid human beings and my ever-steady love, Montana. I've been on the road driving more than I've been home, but I've felt my creativity growing as I've been outside soaking up the fresh Rocky Mountain air, having meaningful conversations and taking in as many Montana moments as possible.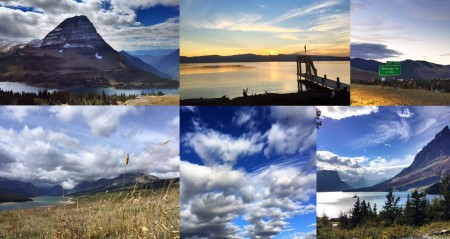 Why have I been doing this? Well, the truth of the matter is this: I'm not always present.
To which I'm sure you may be thinking (or yelling at your screen), "Tia, you silly girl you LIVE in Montana! How can you not be just soaking up every moment?"  And I don't really have a good answer, except for this: I'm trying to do better.
Now, I don't want you thinking that I don't know how lucky I am to live, work and play in Montana. That, my friends, is something I definitely don't take for granted. Every time I cruise Highway 93 and see the peaks of the Mission Mountains, I'm stunned by their beauty. And no matter how many times I drive Glacier National Park's Going-to-the-Sun Road, the majesty of that place blows me away. But for me, it's not quite enough. I've come to realize that I need to stop and enjoy every minute (or at least most of them: I'm never going to enjoy the dentist) of my happy, full, blessed, silly, wonderful life because life is made up of moments. Moments that come together to create a beautiful story, one that—if you're doing it right—is written with family, friends, kindness, love, adventures, good food, hugs, travel, experiences and the chance to wake up each day and remember how amazing this life is.
Here's to life and the moments that create it.
xo,
TT
October 2, 2015
Related: Uncategorized