It's no secret that Montana is a pretty big place with plenty of room to roam. We like to take advantage of all that gorgeous open space and cover as much ground as we can, especially in winter when we can power up our sleds and snowmobile miles and miles of bragworthy winter-wonderland terrain.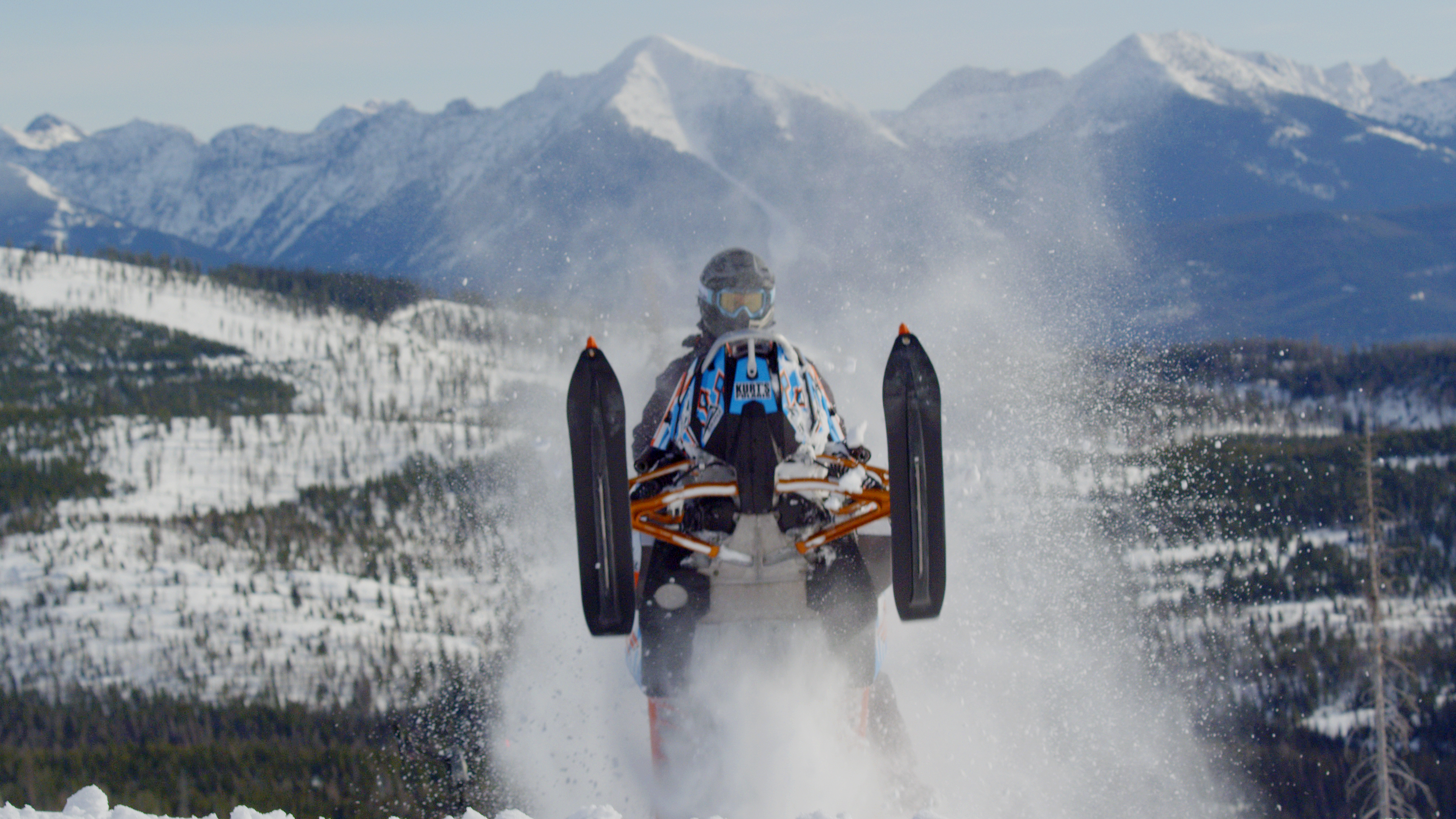 4,000 miles of scenic groomed trails crisscross Montana, and untouched backcountry powder playgrounds are too many to count. You'll find world-class snowmobiling under our famously big blue skies, with some of the best riding in the state right here in Western Montana's Glacier Country. Mesmerizing woodland landscapes are interwoven with premier mountain towns, where charm and hospitality are in abundance, and an obsession with snow is palpable. More than 300 inches of powder falls annually around these parts, and you've got easy access to trails and open space.
Though snowmobiling within Glacier National Park is prohibited, the beauty and sheer wild wonder of the park can be viewed for miles beyond, and the charming small towns just outside the park are open year-round and always at the ready to host winter outdoor lovers with warm lodging and inviting amenities. Test your mettle in Montana's rugged and remote Marias Pass Trail Complex, or head beyond the park's surrounding towns, where there's much more riding to be had.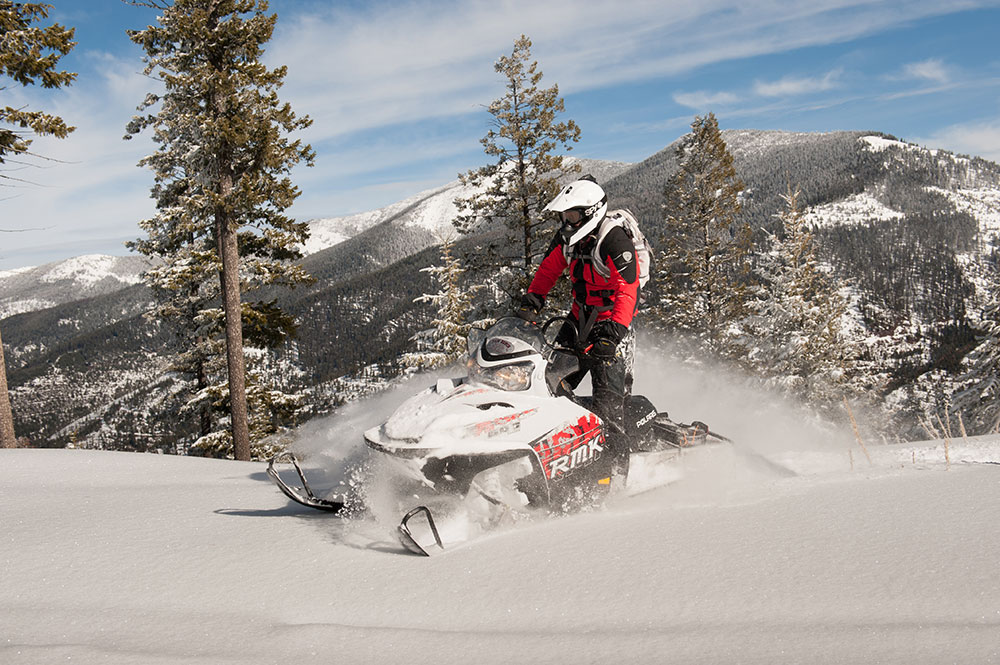 Discover the recreation wonderland of Western Montana's Flathead Valley, explore extensive family-friendly trails in the Haugan area, crush a ride in scenic Kootenai Country, slay the Skalkaho Pass in the beautiful Bitterroot Valley, or fan out from a Missoula basecamp and explore Lolo Pass or the Garnet Ghost Town trail system. There's brand new terrain to be explored in Glacier Country, too. In the summer of 2017 two wildland fires burned areas in Seeley Lake, Ovando and Libby, making way for new riding terrain. Come Sled the Burn.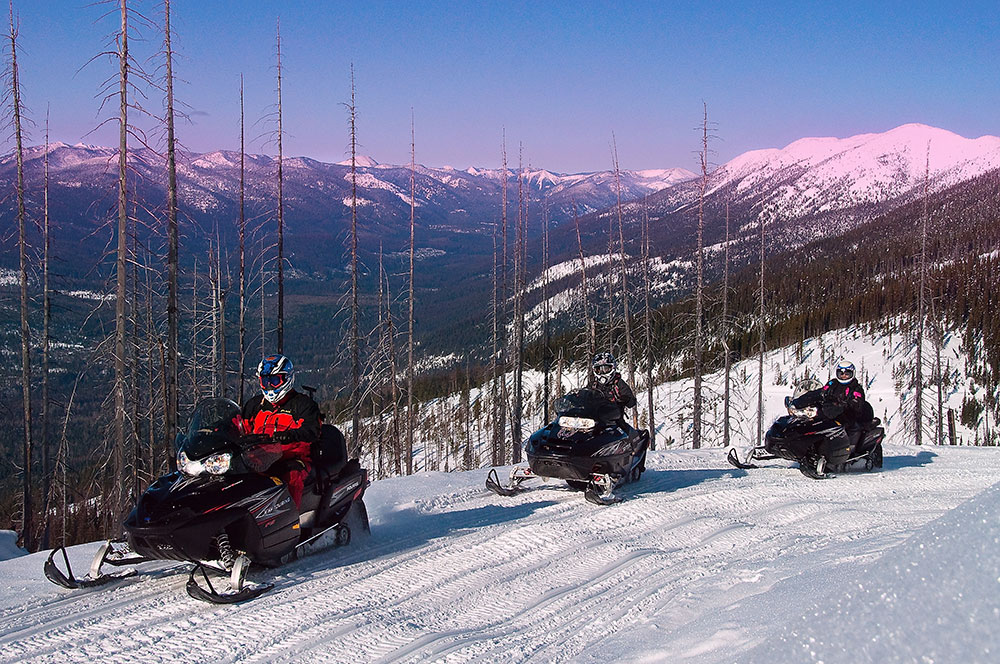 Snowmobiling in Western Montana's Glacier Country is matched only by that of snowmobiling in Yellowstone Country Montana. The sledding opportunities in these regions are renowned, and the season here is quite long. For a park-to-park adventure, take a Glaciers to Geysers sled tour. Find itineraries, trails, resources and snowmobile club information all on our new and very helpful glacierstogeysers.com website.
Part of the beauty of a "sledventure" in Glacier Country is the post-sled revelry. Did you know Montana ranks 4th in the nation for breweries per capita? Countless breweries and distilleries dot the region. When it's time to power down, pull up a barstool for a finely crafted beer or a whiskey made from glacial waters and locally-sourced ingredients. You'll find yourself in the midst of a community of fellow sled heads, all with a tale to tell of a killer day in unfathomably deep, fresh powder. Our downtown regions focus on authentic experiences, where food and drinks are a priority, lodging is exceptional, and there are plenty of places to fuel up on caffeine before a day of snow play.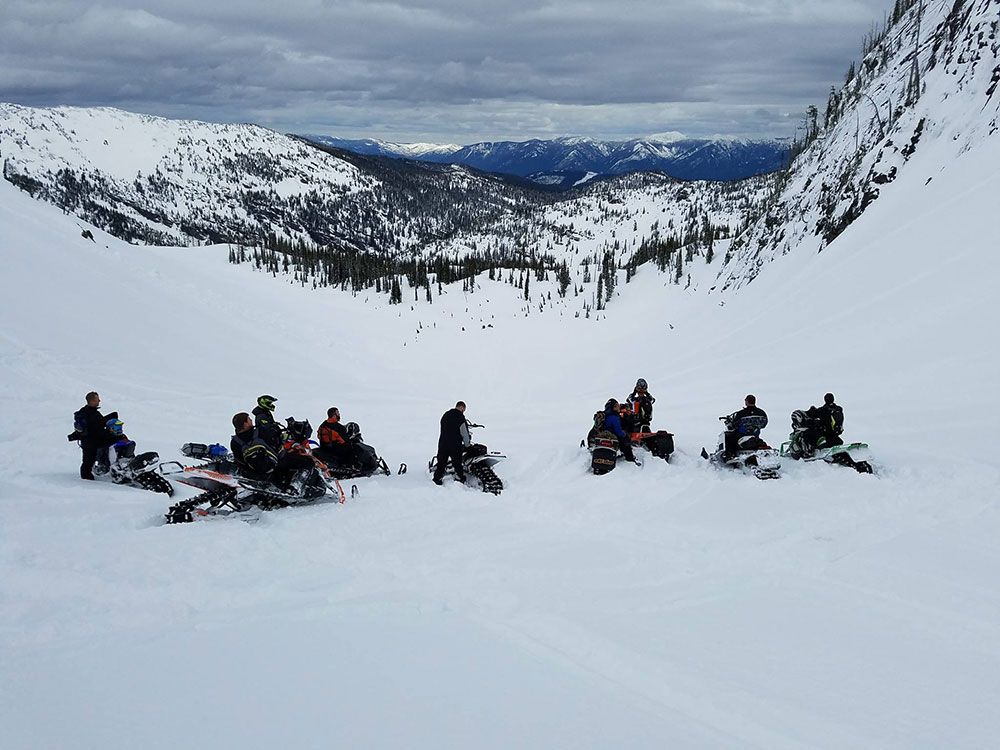 Beginners to expert sled heads will all find their place here, and there are plenty of guides and outfitters available to help you out. Plus, local snowmobile clubs are always at the ready to hook you up with trail details.
For groomed trail information as well as information on passes and permits, visit Glacier Country Tourism and Glaciers to Geysers. As always, sled safe and check avalanche reports before you power up.
Order your free Montana Snowmobiling Guide and trail map.
December 3, 2018
Related: Bitterroot Valley, Flathead Corridor, Haugan, Libby, Ovando, Seeley Lake, Snowmobiling, Winter Fun