Autumn anglers, this one's for you. Fall fishing is upon us in Western Montana's Glacier Country, and we're chomping at the bit. While fishing the pristine waters of Montana's rivers, lakes and streams is phenomenal year-round, autumn offers an incredibly authentic angling experience: fewer folks on the water, quieter rivers, and—spoiler alert—October and November offer some of the year's best trout fishing, and hardcore anglers know it. We may as well call it "trophy trout season."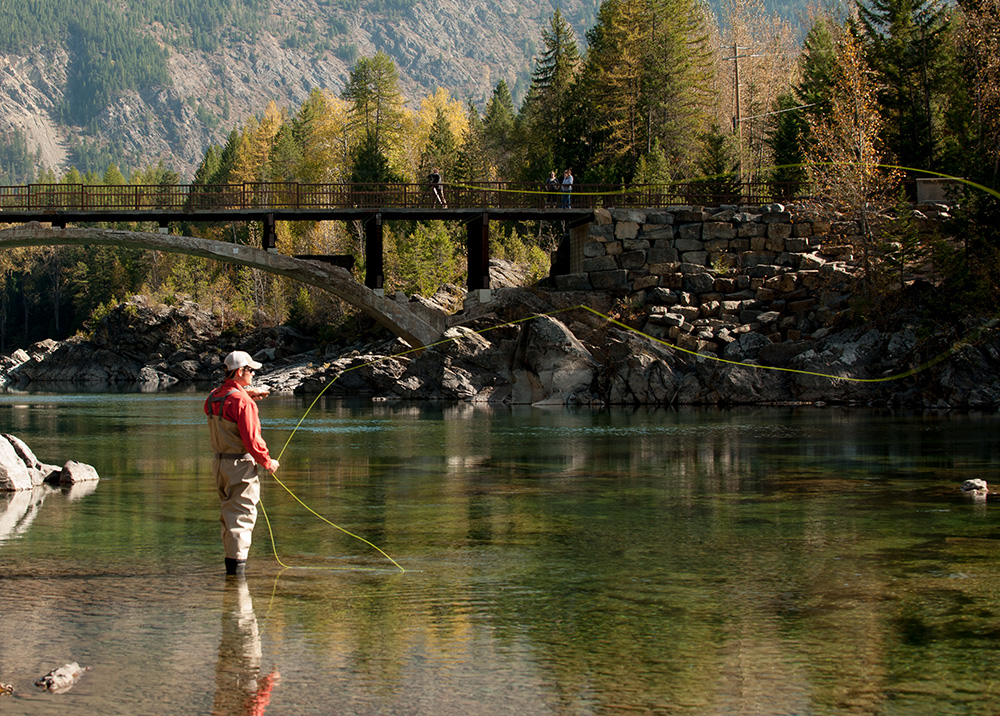 RIVERS + FISHING ACCESS SITES
If casting a line in a river or stream meandering peacefully through fall's golden landscape, breathing in the cool mountain air, and hearing the bugle of a bull elk sounds like paradise to you, then grab your waders and come on over to experience the solitude of the season. Good hatches are on tap and monster brown trout are spawning—we wait all year for fall lake runs.
Fish the magical blue-ribbon trout waters of the Blackfoot River, made famous by Norman Maclean's "A River Runs Through It" and offering some of Montana's best fishing. Get out your mahoganies, midges and blue-winged olives for fall fly-fishing here, as well as on the Clark Fork River where rainbows are on the rise and fall colors are in full effect. Or, find multiple fishing access site along the winding and scenic Bitterroot River, flowing through the beautiful Bitterroot Valley and ready for your mayflies, hoppers and worms.
For experienced anglers who know how to navigate big rivers and plan to fish with streamers up to five inches long, the Kootenai River below Libby Dam offers huge rainbow trout, a boat ramp and easily accessible shorelines.
Up north near Glacier National Park, the Middle Fork of the Flathead River provides a scenic 9-mile fall float from Moccasin Creek to West Glacier—which takes about four hours this time of year—in stunning emerald-colored waters full of cutthroat trout.
Multiple fishing access sites are available throughout the the state. Consult Montana's Fishing Access Sites Field Guide for maps, species and land information.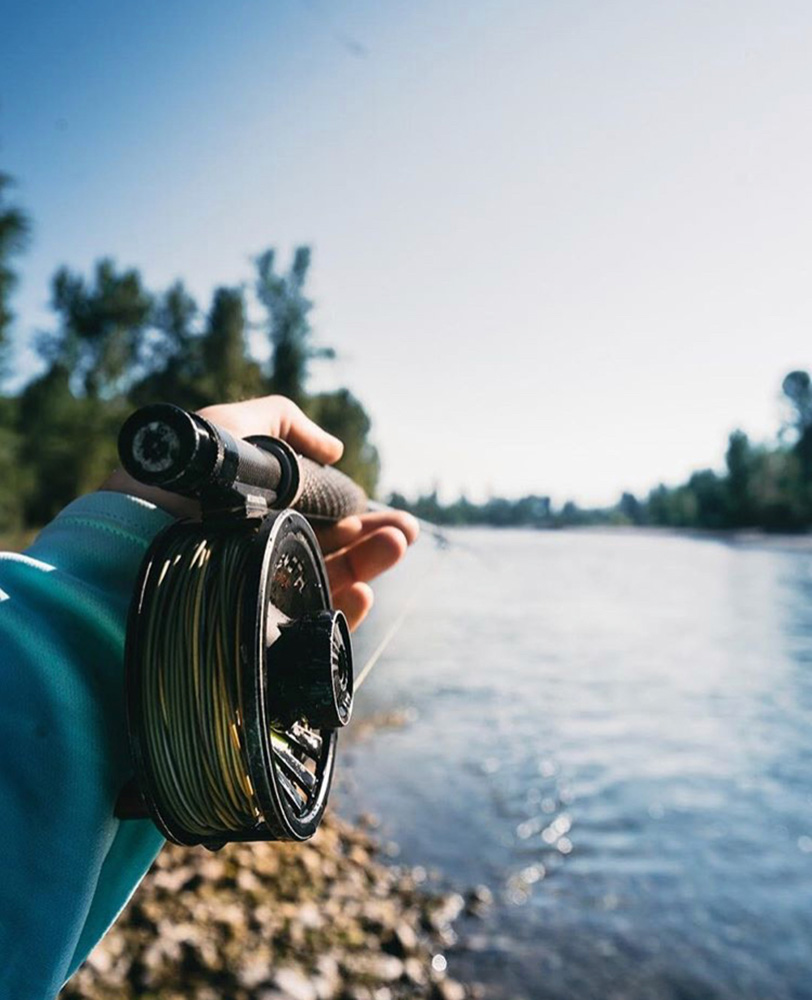 LAKE FISHING IN MONTANA
Fishing in Montana usually conjures up images of casting a fly rod in an idyllic river setting, but Western Montana boasts some pretty phenomenal lake fishing. The deep, cold waters of Flathead Lake—the largest freshwater lake west of the Mississippi—offers cutthroat and lake trout as well as whitefish and yellow pike. The Mission Mountain scenery is incredible and western hospitality abounds in the surrounding communities. Seeley Lake is a year-round recreation destination, offering stunning views of the Swan and Mission ranges and excellent bass fishing.
Straddling the U.S.-Canada border in the northwest corner of the state, the 90-mile-long Lake Koocanusa reservoir has been known to produce 10-pound rainbow trout in the fall—one of our best-kept secrets. Lake Como, a few miles north of the quintessential Old West town of Darby, is quite a popular fishing spot in the warmer season. Fall provides an opportunity to fish this local's favorite with a little more solitude—and bask in the beauty of autumn in the Bitterroot Valley while you're at it.
Jigging is our preferred method for deep lake fishing, and heavily-weighted jigging spoons your best bet. If you're stillwater savvy, you might consider lake fly-fishing. Some of the largest fish you'll find by fly may actually come out of a lake. Make sure to use a special stillwater indicator.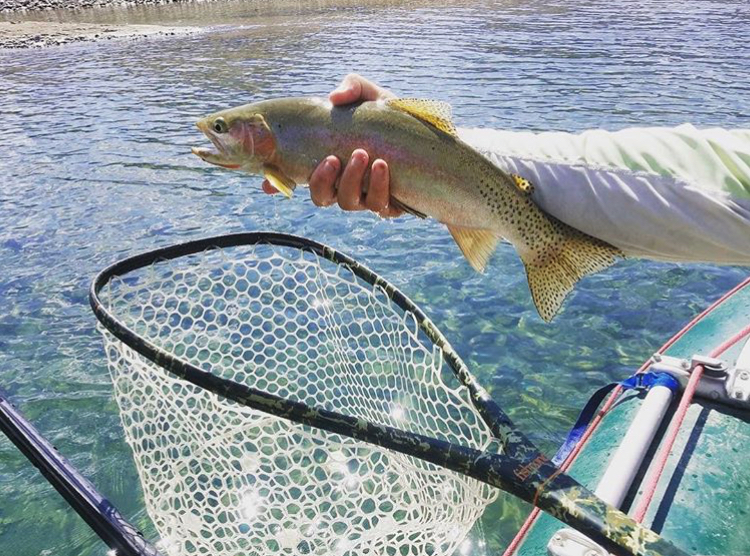 GLACIER COUNTRY FISHING GUIDES
World-class fly-fishing tends to attract world-class fishing guides, and Glacier Country is chock-full of experienced and friendly outfitters and guides with the local knowledge and inside scoop on fishing in Western Montana. They're always ready and eager to take you out to their favorite fishing spot and help you land the big one. From finding the right fall fly, to steering you toward the best stream, to guiding you down the river on a daylong or overnight float trip, this is their life's work, and they love every second of it—you will, too.
While wade-fishing is the most common way to fish Western Montana's rivers and streams, float fishing is becoming increasingly popular, especially on larger rivers, and hiring a guide is your best bet for a successful float-fishing adventure.
Another reason to go with a guide? Western Montana boasts endless off-the-beaten path "secret spot" streams, trickling mountain creeks and hidden alpine lakes. The best way to find these local treasures is to go with a guide who'll happily share their spot.
For more information on outfitters and guides, visit the Montana Outfitters and Guides Association at montanaoutfitters.org.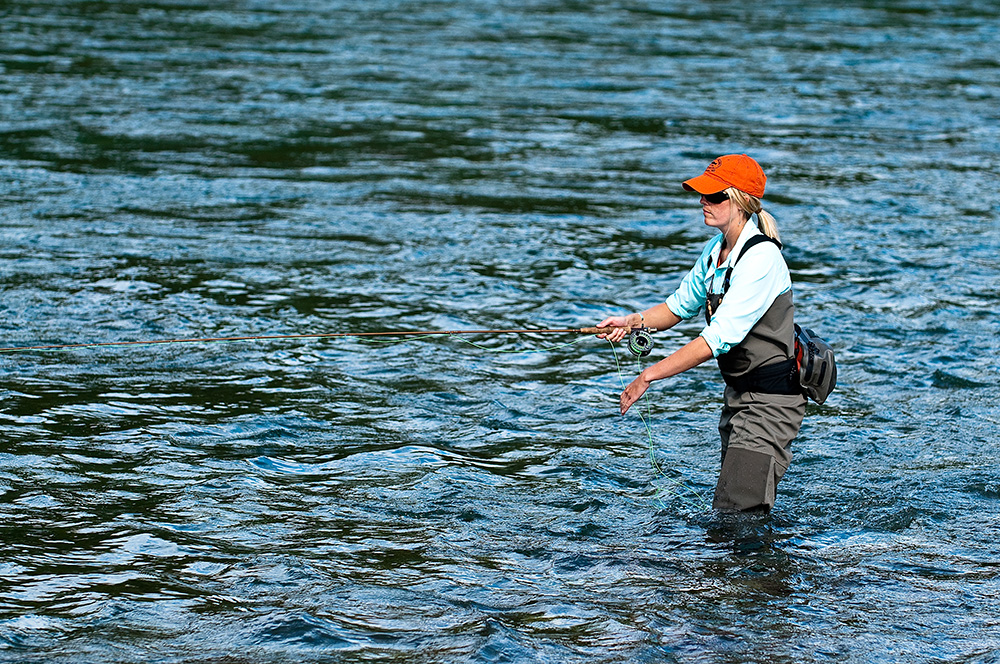 FALL FISHING TIPS + TRICKS IN WESTERN MONTANA
Fish the fall run. Stripping big streamers will bring in the biggest brown trout during their fall run mid-October through November or early December. Find a stretch of river downstream of the spawning run of a lake or larger river.
Head for the hatch. November's baetis (blue-winged olive) hatch offers excellent fall dry-fly-fishing at a time when most of our rivers are experiencing low to no fishing pressure.
Be prepared for any kind of weather and dress accordingly. We can't say it enough: Montana's fall weather can have a flair for the dramatic. You could wake up to fresh snow and be fishing in a T-shirt by noon. Or vice versa. Check weather reports before you head out, and always be prepared. Base layers are essential this time of year, especially when wade fishing in a cold stream.
Permits, rules and regulations. A valid fishing license is required for all types of fishing on state waters. To fish in Montana, most anglers need two licenses: a conservation license and a fishing license. Visit Montana Fish, Wildlife & Parks for state fishing regulations—including catch and release guidelines and daily possession limits.
Fishing on tribal lands. Western Montana is home to two Indian reservations—the Confederated Salish and Kootenai Tribes of the Flathead Reservation and the Blackfeet Tribe of the Blackfeet Reservation. Special rules and regulations apply when recreating on tribal lands. If you're planning to fish Blackfeet Nation Indian Reservation land, visit Blackfeet Fish and Wildlife Department. For Flathead Reservation fishing regulations, visit the Natural Resources Department of the Confederated Salish & Kootenai Tribes.
For more information on autumn angling adventures in Western Montana, click here or contact Montana Fish, Wildlife & Parks.
October 15, 2018
Related: Fall Fun, Fishing, Flathead Lake, Outdoor Fun, Outfitters, Water Fun