We have plenty of hidden treasures here in Western Montana, and sometimes the best—and only—way to discover them is to go off-road into our beautiful backcountry and heavenly high country. You can cover quite a bit of ground when you get off the main roads and explore our pristine alpine lakes, lush forests and mesmerizing mountain meadows. From technical to family-friendly rides, alpine all-terrain vehicle (ATV) adventures abound in Glacier Country.
It's time to revel in the rugged—here's a handful of our favorite rides.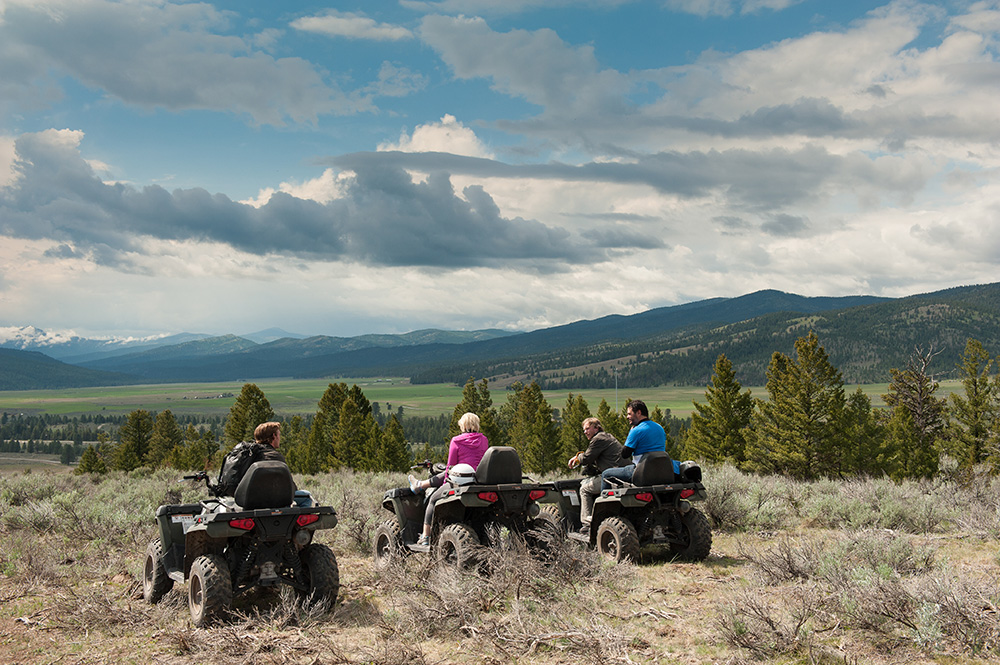 ASHLEY LAKE ATV TRAIL #812
Open: June – October
This local's favorite west of Kalispell is popular in the summertime, but if you're looking for a quieter ride, venture over in the late spring or early fall before big-game hunting season begins. The trail—just north of Ashley Lake—offers 7 miles of scenic ATV terrain, and the lake itself provides off-trail recreation like swimming, fishing and camping. Pitch a tent on one of three campgrounds and reel in one of the huge rainbow-cutthroat trout hybrids the lake is known for. GETTING THERE: From Kalispell, take U.S. Highway 2 west for 4 miles, turn onto Ashley Lake Road (Forest Service Road #912) for 15 miles, then turn onto Forest Service Road #10236 for about 4 miles. The trailhead is marked with signs.
BLUE MOUNTAIN ROAD
Open: May – November
For picture-perfect views of the Missoula Valley as well as the Sapphire and Rattlesnake Mountains, Blue Mountain Recreation Area boasts about 15 miles of motorized vehicle trails, four of which are open to ATVs. There's a fire lookout tower in service from July – August, and you can climb to the top for stunning views of Lolo Peak, the Selway-Bitterroot Wilderness and the Mission Mountains. Be sure to pick up an off-road sticker (available at the Missoula County Courthouse) before hitting Blue Mountain on your off-highway vehicle (OHV). GETTING THERE: From Missoula, head south on U.S. Highway 93 for about 2 miles, making a right (north) onto Blue Mountain Road for 1.4 miles. Turn left onto Forest Service Road 365 for 1.2 miles, and the staging area will be on your left.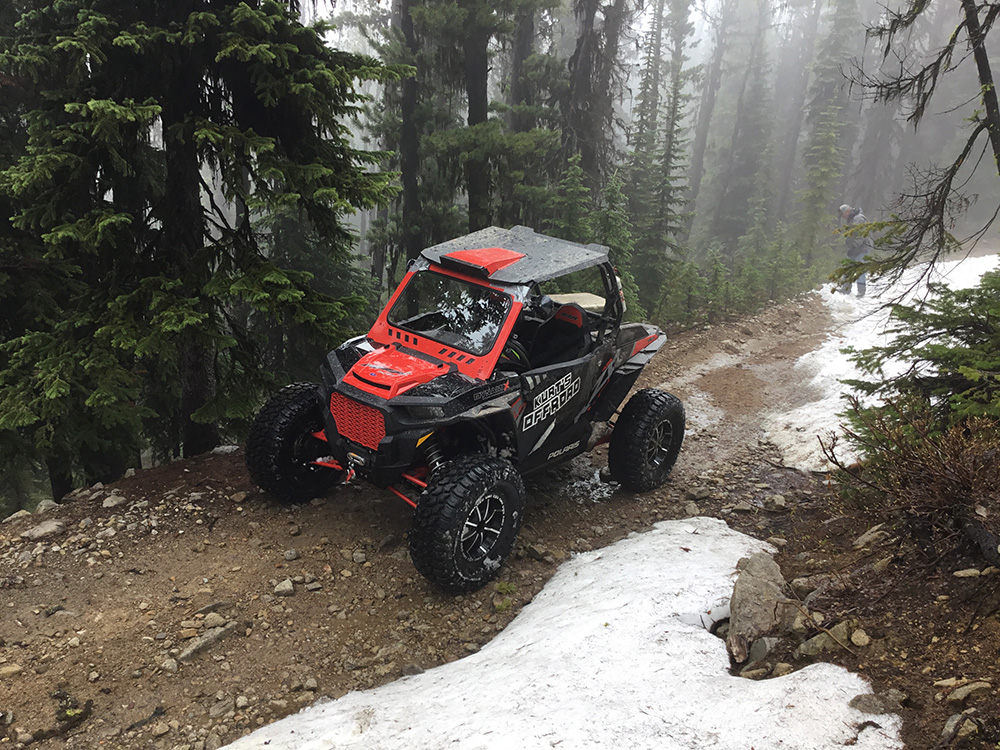 HUNGRY HORSE MOTOCROSS TRACK
Open: Year-round (weather dependent)
Just east of Columbia Falls in Hungry Horse, Montana, this natural terrain track is open to ATVs and packs a punch with steep and challenging elevation gains. You'll also find camping and other adventures at nearby Hungry Horse Dam. Time your trail trip right and you'll get to see a race event held by the High Country Motocross Association. GETTING THERE: From Columbia Falls, take U.S. Highway 2 east for about 6 miles. When you see the Forest Service station on your right, turn south onto Colorado Boulevard for about 1.25 miles. Look for a gravel road on the left and turn there. The track is about a half mile down on the right. 
KOOCANUSA SAND DUNES AND TRAIL SYSTEM
Open: Year-round (weather dependent) 
Sand dunes in Montana? Don't mind if we do. Mix things up off trail in the dunes and play pits of this large open area at the northeast corner of the Koocanusa Reservoir, best accessed late March through late June when the water levels are low. You'll also find 20 miles of trails that lead into the woods surrounding the reservoir. Fun Fact: This is the original site of the city of Rexford. You'll discover American Indian burial grounds in the area, which are well marked and closed to riding. GETTING THERE: From Eureka, take U.S. Highway 93 north for 5 miles to State Route 37. Take a left on MT-37 for 2.2 miles, then veer right onto Douglas Hill Road for half a mile, turn right onto Sophie Lake Road for 1 mile, veer left onto Iowa Flats Road for .1 miles, and then turn right onto Sophie Lake Road for 3.5 miles toward the lake.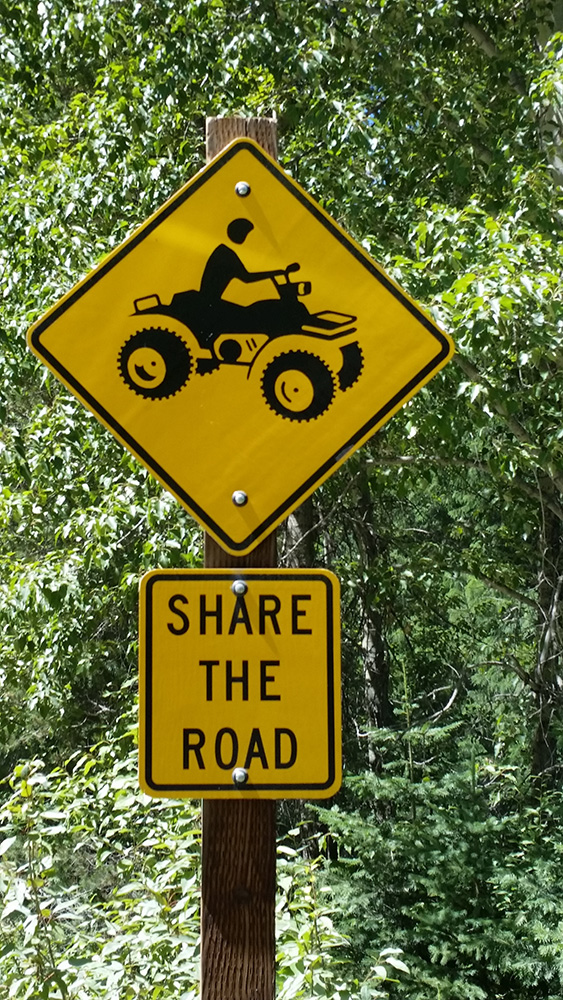 OVERWHICH FALLS TRAILS 182 + 248
Open: December 2 – October 14
South of Darby past Painted Rocks Lake, this "destination ride" offers a scenic 8-mile excursion to Overwhich Falls. This easy ride does have a few steep, rocky sections to be aware of, and encounters with horses, hikers and mountain bikers are possible, but the views—and the falls—are worth it. GETTING THERE: From Darby, head south for 4.3 miles. Turn right onto West Fork Road, heading south past Painted Rocks Lake to Forest Service Road #5703, where you'll head east for about 2 miles to Forest Road #5706. Turn north and follow this road to the trailhead. There is a good turnaround and parking for vehicles and trailers about 7 miles from the trailhead in NW Section 17, west of Gentile Creek.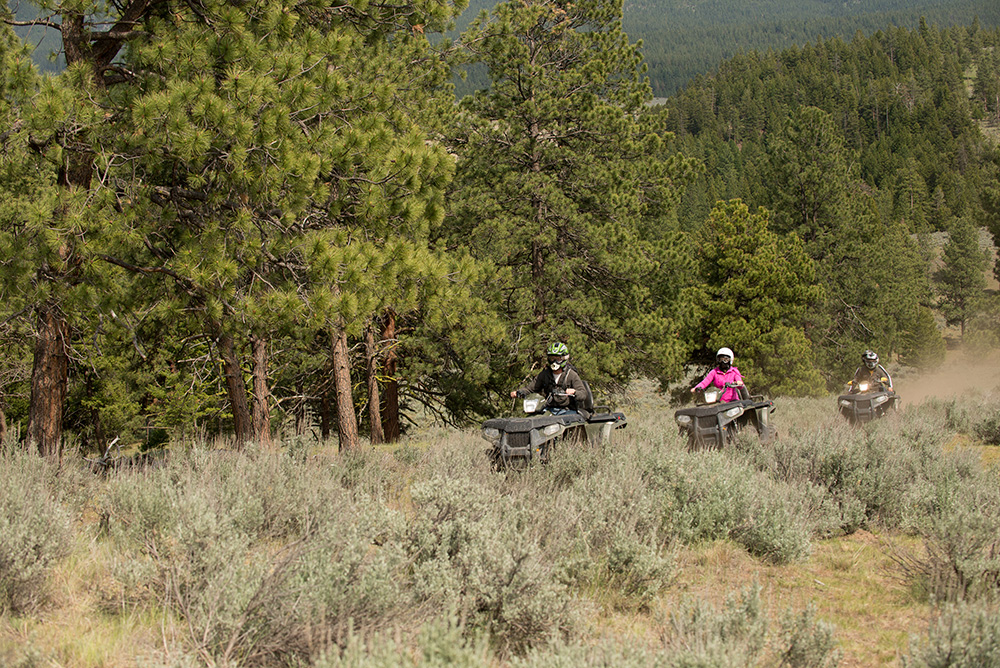 BONUS: DARBY TRAILS – BITTERROOT NATIONAL FOREST
Just last summer, the Bitterroot National Forest opened 50 miles of trails to ATVs, including two loops—#1, a 28-mile loop and #2, a 15-mile loop—on the old Darby Lumber Lands, also south of Darby. This new trail system is popular with beginner and intermediate riders, and, as always, the views are spectacular. GETTING THERE: From Darby, head south on U.S. Highway 93 for about 4 miles and take a left on Rye Creek Road. For Loop #1, take Rye Creek Road for 4 miles to North Fork Rye Creek Road/North Fork Road, where you'll take a left and drive for about 6 miles until you reach Road #1127 and the trailhead. For Loop #2, take Rye Creek Road for 6 miles. Before the Rock Creek Road divide, you'll see a parking area on the left with signage for Loop #2. 
KNOW BEFORE YOU GO, and ride safely. For information on road designations, conditions and closures, as well as registration (resident and nonresident), permits, maps and off-roading laws, visit Montana State Parks.
TRIP TIP: Did you know? It's legal to drive ATVs on roads and highways, as long as they're equipped with "street kits." This means that all public-land roads are open for riding!
September 4, 2018
Related: Bitterroot Valley, Columbia Falls, Darby, Eureka, Fall Fun, Family Fun, Flathead Corridor, Getting Around, GNP Surrounding Area, Hungry Horse, Montana, Northwest Corridor, Outdoor Fun, Parks, Rexford, Spring Fun, Summer Fun