Thinking about "The Great American Vacation" often calls to mind images of hitting the road in an RV, moving at your own pace, camping at RV camps with stunning views and a friendly gathering of like-minded individuals. Western Montana's Glacier Country offers the classic road-trip experience complete with world-class outdoor fun. Nine scenic travel corridors lined with vibrant small towns crisscross the Glacier Country landscape, and limited to full-service RV parks dot the region. Plus, businesses in Western Montana rent RVs, so you can embark on an RV adventure even if you don't own your own. Our recommendation—reserve your summer spots now.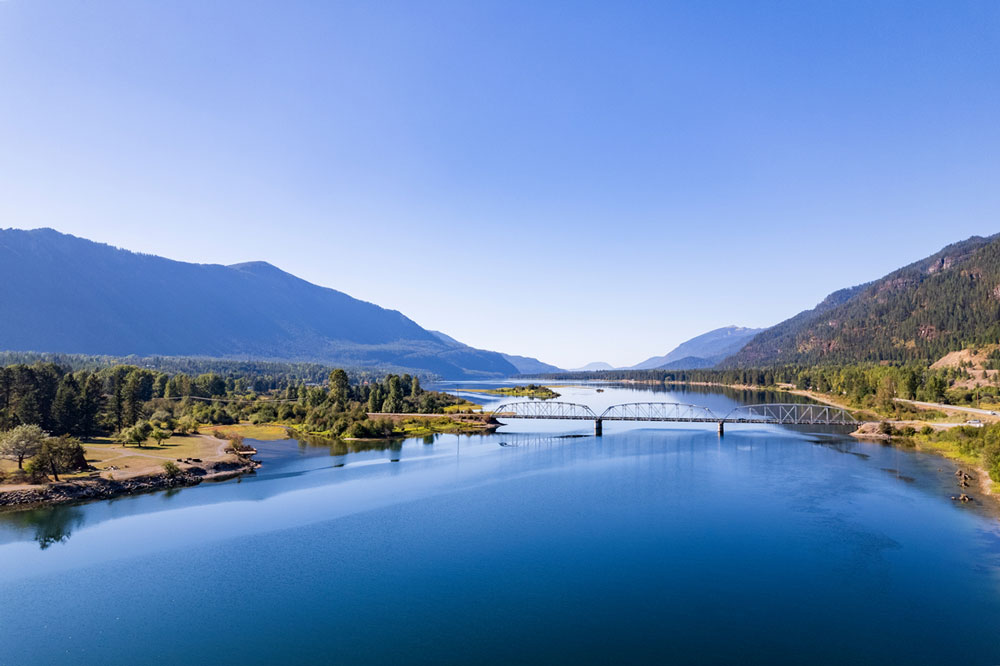 Bitterroot Valley
South of Missoula, the gorgeous Bitterroot Valley beckons with blue-ribbon trout fishing and rafting on the winding Bitterroot River, which includes multiple fishing access sites. This charming valley is also known for epic canyon hiking in the jagged Bitterroot Range. Shop in the quaint town of Hamilton before making your way to Darby, an Old West town where the Dutton Ranch of "Yellowstone" TV series fame is located.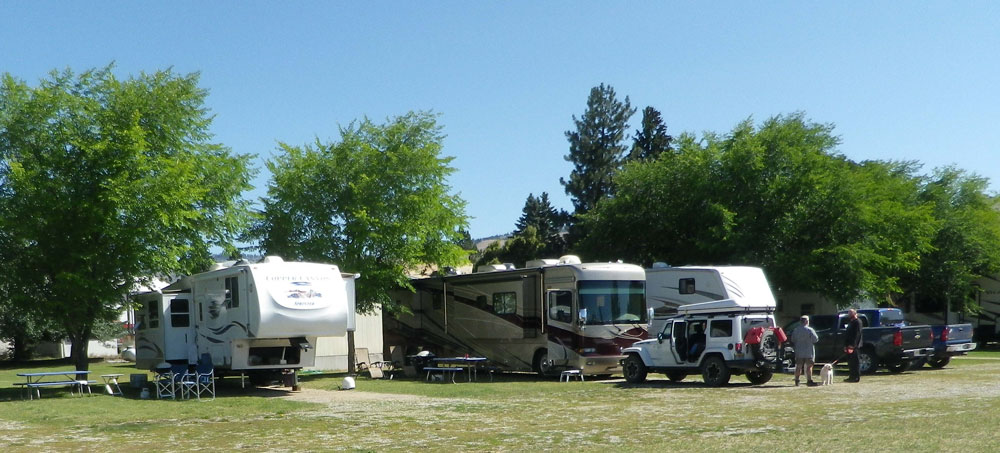 + Black Rabbit RV Park, Hamilton
+ Lolo Hot Springs, Lolo
+ Travellers Rest Cabins & RV Park, Darby
+ Yellowrock Campground, Lolo
Clark Fork and Northwest Corridor
Get off the beaten path along the scenic Clark Fork River. Tucked between two mountain ranges, this quiet corridor is home to numerous hiking trails, the Thompson Falls Dam, Island Park and the Ross Creek Cedars Scenic Area, featuring some of the largest cedar trees in the country. The Noxon Reservoir offers miles upon miles of access for boaters and anglers to reel in some rest and relaxation. Or, get out into some of Montana's most rural and rugged landscapes, with an overnight base camp in Libby.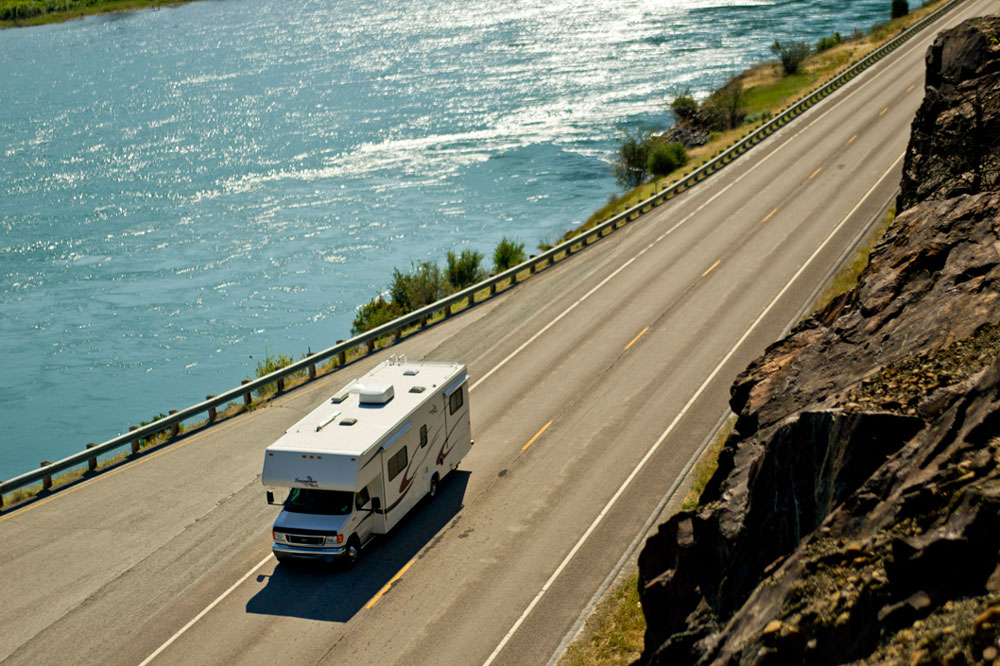 + Birdland Bay RV Resort, Thompson Falls
+ Glacier Cross Roads, Plains
+ The Lakeside Motel & Resort, Trout Creek
+ Trout Creek Motel & RV Park, Trout Creek
+ Woodland RV Park, Libby
East Glacier Corridor
The East Glacier Corridor, located on the east side of Glacier National Park, is ideal for stunning vistas, a quieter park experience and amazing hikes. A few miles from Essex, watch for the Walton Goat Lick pull-off. Mountain goats graze and lick the mineral-laden rock of an exposed riverbank cliff at this site. Stop by Glacier Park Lodge to check out the impressive architecture in East Glacier Park, built by the Great Northern Railway in 1912. Further northeast along the highline camp at Cut Bank, walk the Cut Bank Creek Coulee, find the large penguin selfie opportunity, and stop by the brewery for a drink.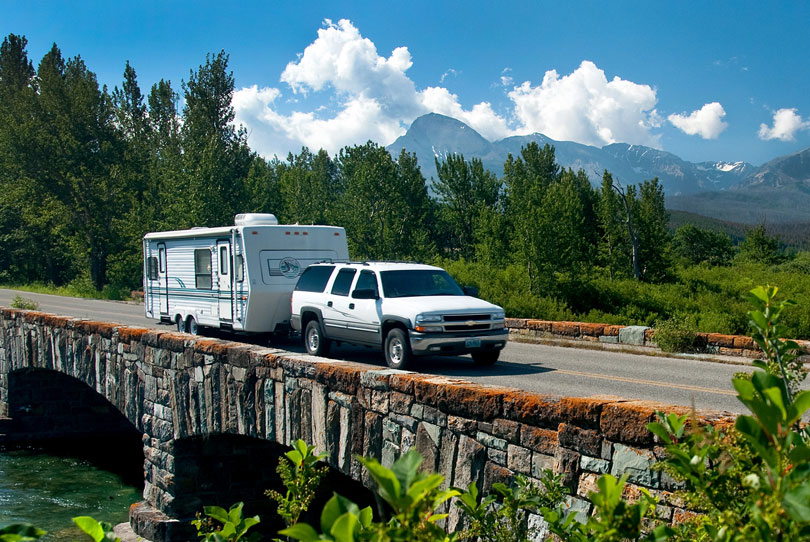 + Chewing Black Bones Campground, St. Mary
+ Glacier Mist RV Park, Cut Bank
+ Johnson's of St. Mary, Browning
+ St. Mary/East Glacier KOA, St. Mary
+ Sunset RV Park, Cut Bank
+ Timber Wolf Resort, Hungry Horse
Flathead Corridor
Explore the sparkling waters of Flathead Lake—the largest freshwater lake west of the Mississippi. This premier Western Montana vacation destination offers all manner of water adventures and lakeside splendor plus multiple state parks, including Wild Horse Island (accessible only by boat). Did we mention Flathead cherries? A must stop is Bigfork. Sitting on the northeast shore of Flathead Lake, this storybook village was chosen as "One of the 50 Great Towns of the West," designated as "One of the 100 Best Small Art Towns of the Nation," and was listed in National Geographic's Guide to Small Town Escapes, which is no surprise given its gourmet restaurants, fun shops, local character and beautiful, natural surroundings.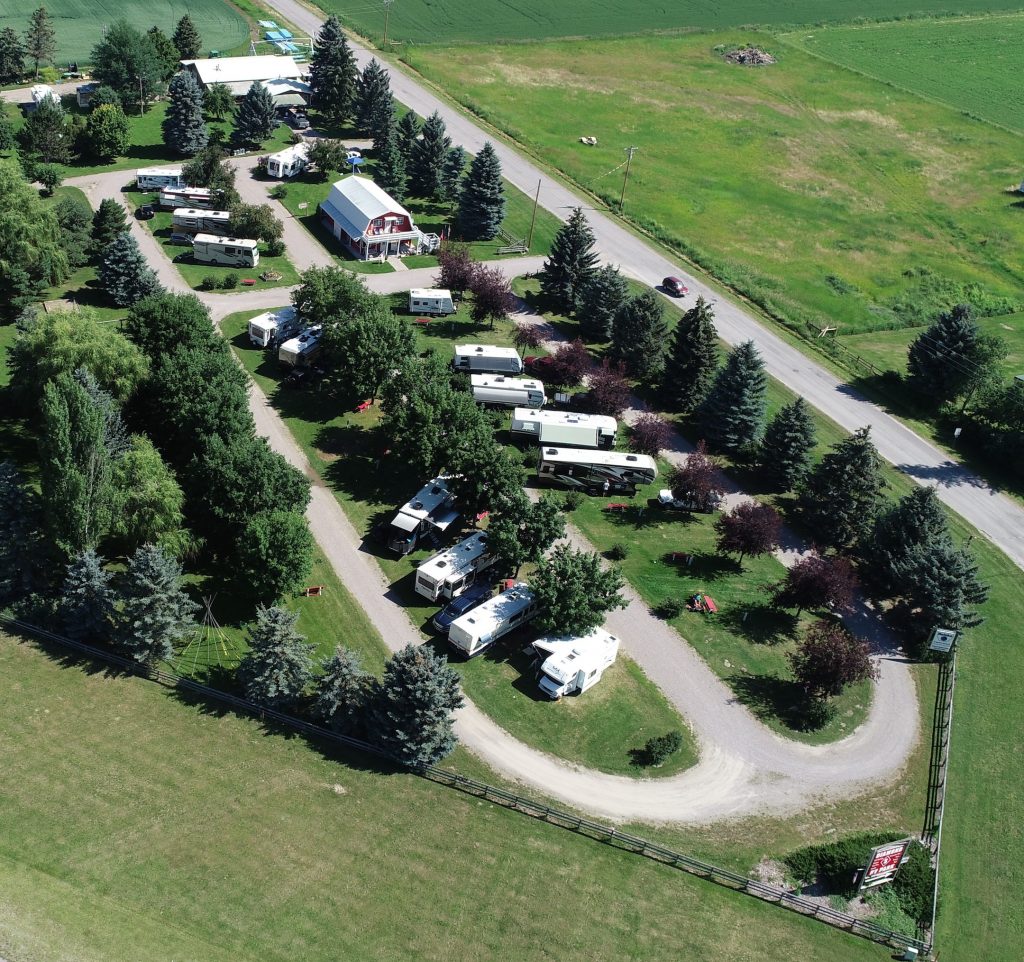 + Big Arm Resort & Casino, Big Arm
+ Camp Kapapa, Elmo
+ Diamond S RV Park and Campground, Ronan
+ Eagle Nest RV Resort, Lakeside
+ Edgewater RV Resort and Motel, Lakeside
+ Montana Outback RV Park, Bigfork
+ Polson – Flathead Lake KOA, Polson
+ Polson Motorcoach Resort, Polson
Glacier National Park Surrounding Area
You can get provisions for your RV in Columbia Falls or Kalispell before heading into West Glacier. Glacier National Park and the surrounding communities offer hiking, fishing, horseback riding and whitewater adventures, not to mention breathtaking vistas. The village of West Glacier is just outside the West Entrance to Glacier National Park. Stop at the local grocery store for snacks, as well as water and bear spray if you plan to hike. There are vehicle size restrictions, so don't plan to drive your RV over the famous Going-to-the Sun Road—you'll need to catch an iconic Red Bus or Sun Tour. Please note: The Going-to-the-Sun Road is closed to vehicles and recreation due to road construction from Apgar to Lake McDonald Lodge until May 15. From May 26 to September 10, you will need a vehicle reservation, in addition to a park pass, to enter the park.
+ Beargrass Lodging & RV Resort, Hungry Horse
+ Columbia Falls RV Park, Columbia Falls
+ Glacier Campground & RV Park, West Glacier
+ Glacier Peaks RV Park & Cabins, Columbia Falls
+ West Glacier KOA, West Glacier
+ West Glacier RV Park + Cabins, West Glacier
I-90 Corridor
Bike the Route of the Hiawatha before camping along the I-90 Corridor, or while making your way to Coeur d'Alene, Idaho, and Washington. Plan a gas stop at the St. Regis Travel Center to shop Montana Made goods, and get one of the best huckleberry milkshakes in the area.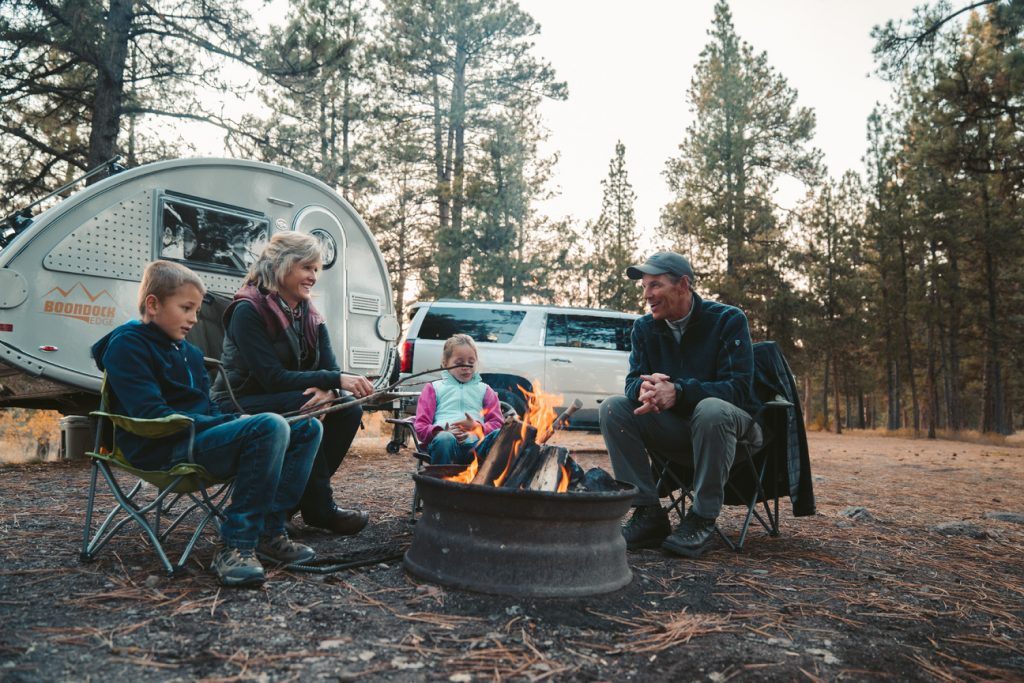 + Campground St. Regis, St. Regis
+ The Nugget RV Resort, St. Regis
Kalispell + Whitefish
Just north of Flathead Lake and southwest of Glacier National Park's West Entrance, Kalispell and Whitefish are close to it all. In Kalispell discover the historic downtown chock-full of boutique shops and eateries. A must-stop is the Western Outdoor store, Montana's largest western retail store, which is located on Main Street. If hiking is more your style, visit Lone Pine State Park or the Foys to Blacktail Trails. If you travel with bikes, the new Parkline Trail is great for bike riding.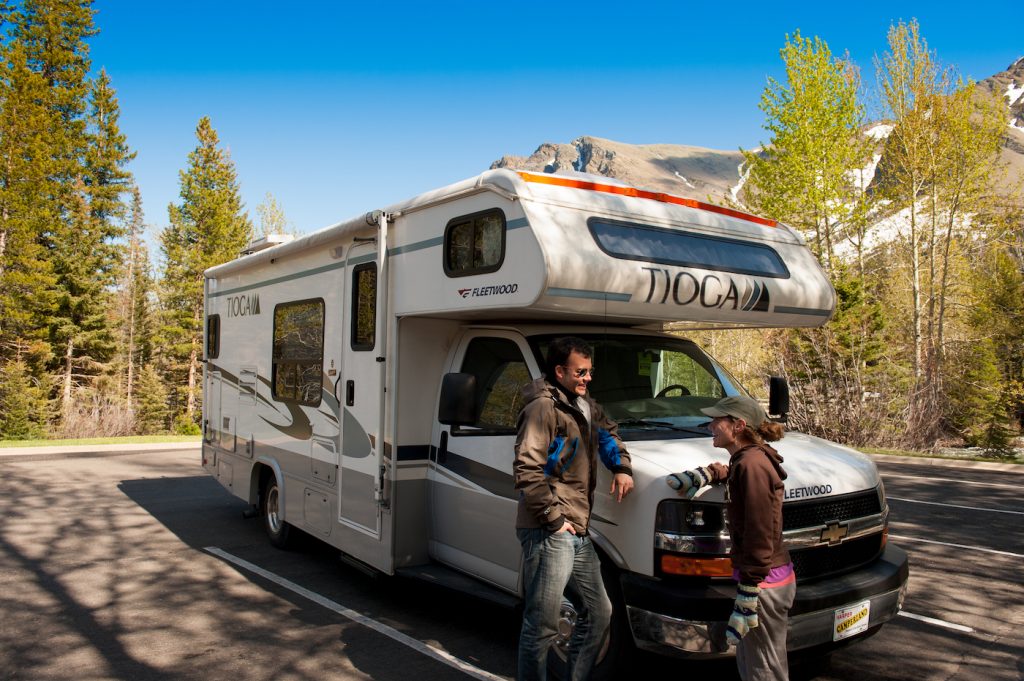 In Whitefish, enjoy summer activities at Whitefish Mountain Resort, boating on Whitefish Lake, and exploring the Whitefish Trail. Downtown Whitefish is perfect for leisurely strolls through galleries, shops and eateries. Trendy boutiques, eclectic stores and one-of-a-kind finds can be discovered downtown on Central Avenue.
+ Rocky Mountain HI RV Park and Campground
Missoula County
Western Montana's arts and culture hot spot is also an outdoor lover's paradise. Three rivers and seven wilderness areas converge in the eclectic town of Missoula, offering multiple trails for hiking and biking plus premier fishing and floating. When camping along the scenic Seeley Swan Valley, you'll find the area dotted with lakes perfect for water play, miles of hiking trails and waterfalls, plus the Clearwater Canoe Trail.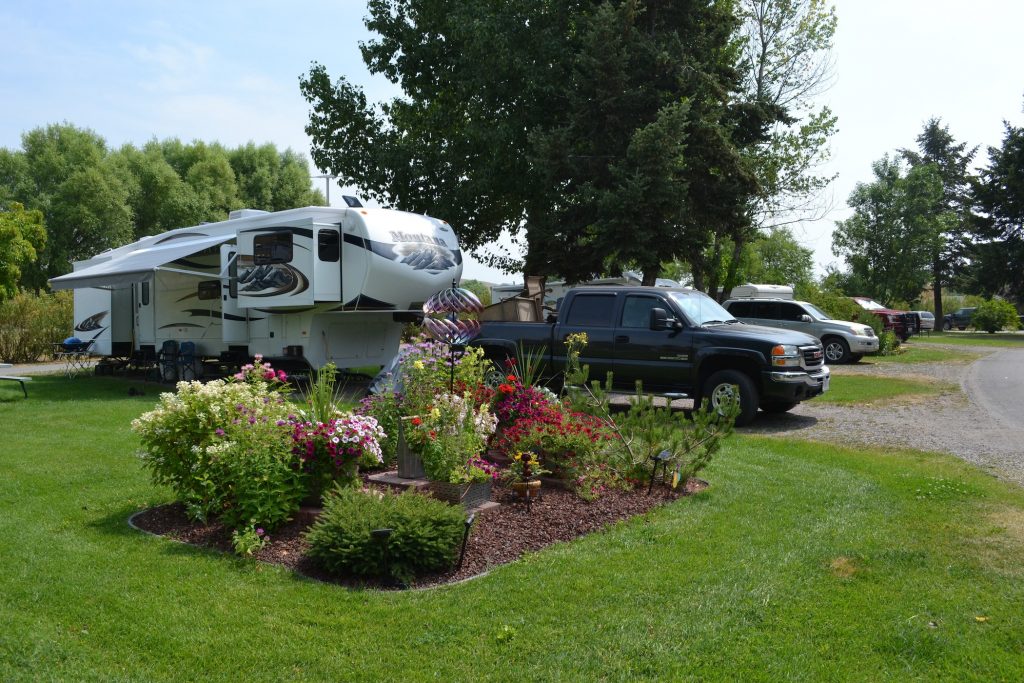 + Bearmouth Chalet and RV Park, Clinton
+ Ekstrom's Stage Station, Clinton
+ Swan Lake Trading Post, Swan Lake
Rentals
+ 406 Camper Rentals, Whitefish
+ Cruise America RV Rental, Lolo
+ Glacier Nomadic Adventures, Kalispell
+ MOTERRA Campervans, Whitefish
Throughout Montana you'll find dirt and gravel roads, so know before you go as these roads may not be appropriate for an RV (depending on size/length and your comfort). Additionally, gas stations can be few and far between, so a good rule of thumb is to gas up earlier than needed. Lastly, if you plan to boondock, please read this blog post to make sure you know before you go, are respectful of private land, and practice Leave No Trace principles.
Please note: We ask that all our visitors and residents Recreate Responsibly by being mindful of the following: practice physical distancing; know before you go; plan ahead; play it safe; leave no trace; tread lightly; and help build an inclusive outdoors.
May 1, 2023
Related: Bigfork, Bitterroot Valley, Blackfeet Indian Reservation, Blackfeet Nation, Blackfoot Corridor, Browning, Camping/RVing, Clark Fork Corridor, Clinton, Cut Bank, Darby, East Glacier Corridor, Family Fun, Fishing, Flathead Corridor, GNP Surrounding Area, Hungry Horse, I-90 Corridor, Kalispell, Missoula, Montana, Northwest Corridor, Outdoor Fun, Road Trips, Seeley-Swan Corridor, St. Mary, Summer Fun, Swan Lake, Trout Creek, Vacation, Whitefish