By Mike & Anne Howard of HoneyTrek.com
Imagine driving down a forest road toward snowcapped peaks, and you find a clearing in the trees along a river, with a fire ring just waiting for you. It's the perfect campsite…beautiful, peaceful, no-reservations required, and free. This may sound like a rare find, but there are hundreds of millions of acres of dispersed camping (aka boondocking) like this all over the country, thanks to the U.S. government's Public Lands system. Over the course of our five-year RV road trip around North America, we have been boondocking almost exclusively and hope more people can experience this organic side of camping—but do it in a responsible way. Because if we can all do that, we will protect the forests, watersheds, wildlife, fellow campers, ourselves, and the incredible opportunity to camp for free and on the fly. To help make that happen, here's our primer on how to find the best boondocking spots in Western Montana and how to keep them awesome.
What is Boondocking?
In its simplest form, boondocking is camping without the services of a campground (water, power, toilets, garbage collection, or other amenities). It's also called "dry camping," alluding to the fact that you're not tapping into utilities and often referred to as "dispersed camping" because you aren't at a centralized campground. And to round out the vocab lesson, "wild camping" and "free camping" get thrown around too. This style of recreation is meant for people who want to immerse themselves in the outdoors and are self-sufficient enough to do so. In its most admirable form, it's living simply and in harmony with nature; unplugging from technology and enjoying the wilderness' symphony of sounds, earthy scents, starry skies and infinite wonders.
Where to Boondock
While Western Montana has incredible camping opportunities inside Glacier National Park and the region's 21 state parks, this is not the public land we're talking about. The prime areas for boondocking in Glacier Country are its four national forests (Lolo, Kootenai, Flathead and Bitterroot) and the countless Bureau of Land Management (BLM) areas scattered about the mountains, forests and glacier-carved terrain. Together they comprise over 9 million acres of public land…so you'll have plenty of camping spots to choose from! Just be sure to read all posted signs and check the GPS-enabled maps on the US Public Lands app to make sure you're not on private land. If you like the idea of wild camping but also having a few creature comforts, you'll be happy to know that Glacier Country's national forests and BLM land also offer a bunch of free camping with amenities like picnic tables, cook-ready fire pits, bear-safe food storage and drop toilets. We got all those goodies at Tobacco River, Rainy Lake and other free campgrounds during our recent Western Montana Road Trip.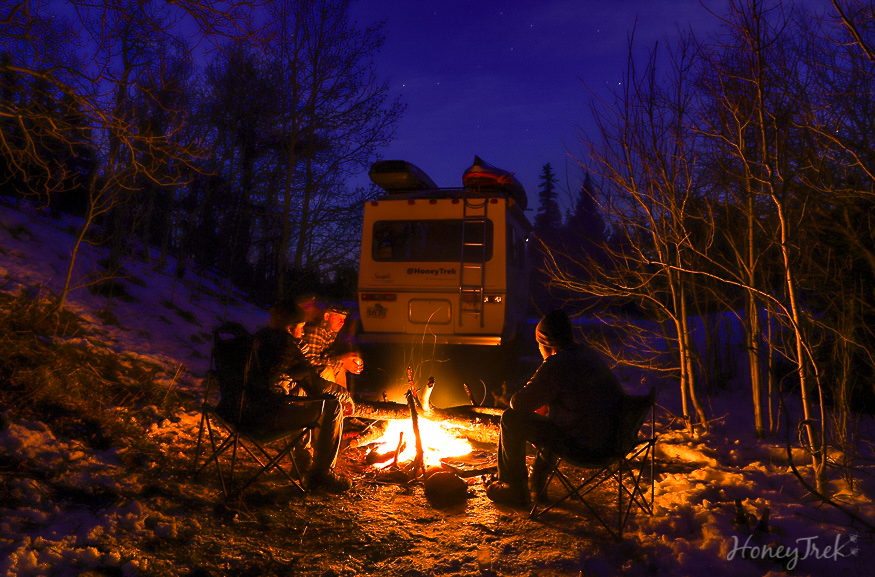 Know Your Vehicle's Limits
The deeper you go into public lands, the more rugged the roads. Unpaved, rutted, and narrow are common qualities, so you need to know what your rig can handle. If you have a longer RV or travel trailer (25+ feet), you might not be able to turn around easily. If you have low clearance, take it slow and have a spotter watch your undercarriage. When we hit a tricky spot, we like to scope out the road on foot to see if our vintage camper can handle it. Pro Tip: When you're looking at the various boondocking apps (see below), check the comments section; if the road is bad, users will note that and often give tips for the best approach.
Where & How to Park
Unlike traditional campgrounds where there's likely a paved road and signage demarcating the sites, responsible boondocking relies on campers knowing how to read the landscape and the general rules. The US Forest Service asks dispersed campers to stay at least 1 mile from established campgrounds and at least 100 feet from rivers and lakes. To prevent resource damage, don't drive on vegetation (meadows, marshland, etc.) and keep your camp within 150 feet of a road. As the adage goes, "Great campsites are found, not made." Look for distinct clearings and fire rings, ideally established by the Forest Service. Rather than dig or smooth your parking space, use leveling blocks like these. Adapt to the landscape, not the other way around.
Fire Smarts
Everyone loves a campfire, but there is a time and place. Before you head into public lands (and lose cell service), check MTFireInfo.org for the Montana Department of Natural Resources & Conservation's latest regulations and restrictions. If that site and local authorities say it's A-okay, then get stoked for s'mores and follow these steps for fire safety:
Don't make your own fire ring; use an established ring or BYO elevated metal fire-pit (we love our Pyroad) so you don't damage the ground or leave ashes behind.
Clear surrounding area of brush and check for low branches that could spark up.
Never cut down trees for firewood (it doesn't burn well anyway). Ideally you should bring in firewood from a local, in-state vendor since even dead trees provide habitat for a host of organisms. If you need to collect wood from the forest, make sure it's downed and without vegetation.
Keep your fire in check. Don't over-fuel your fire, have water and a shovel nearby, and never leave it unattended.
Extinguish all embers with copious amounts of water, while stirring the ashes with a shovel or stick, until the hissing and steam subsides. If you're short on water, add dirt or sand to bury the fire. The remaining charcoal should be cool to the touch before heading to bed (you'd be surprised how a fire can come back to life, especially on windy nights).
Wildlife Respect & Safety
Western Montana is chock-full of incredible wildlife, and we want to keep their populations thriving and you safe in the process. Never approach, touch or feed wildlife, no matter how cute and friendly they might look. If you're lucky enough to see elk, mountain goats, bighorn sheep or other large animals, stay at least 25 yards away (and use your zoom lens). Bears are another story—you want to stay 100+ yards from them and actively maintain your distance. Store your food far from your tent and in bear-proof canisters or tied up in a tree. If you've heard of bear activity in the area, don't cook overly fragrant food like bacon or fish (RVers, this goes for your too). When hiking, bring a friend, carry bear spray, stay on designated trails and make noise at regular intervals. For more info on bear safety, read this Glacier Country guide.
Respect Others
It's always nice to have a camping area all to ourselves, but with this new travel landscape driving millions more people towards outdoor recreation, you might have some neighbors. Here's how to keep everyone a happy camper:
Stay compact. When setting up camp, park your vehicles together, keep all roads and trails clear, and don't sprawl out your gear like a yard sale.
Minimize noise. Refrain from blasting music and keep loud sounds (chopping wood, running generators, etc.) to a minimum between 10 p.m. and 7 a.m.
Don't be a party animal. Skip the drugs, excessive drinking and lewd behavior so you don't make fellow campers feel uncomfortable and you don't have a wood-chopping accident.
Be nice. Everyone has the right to be on public lands—no matter their nationality, race, religion, sexual orientation, age or level of camping experience. Be friendly and look out for each other.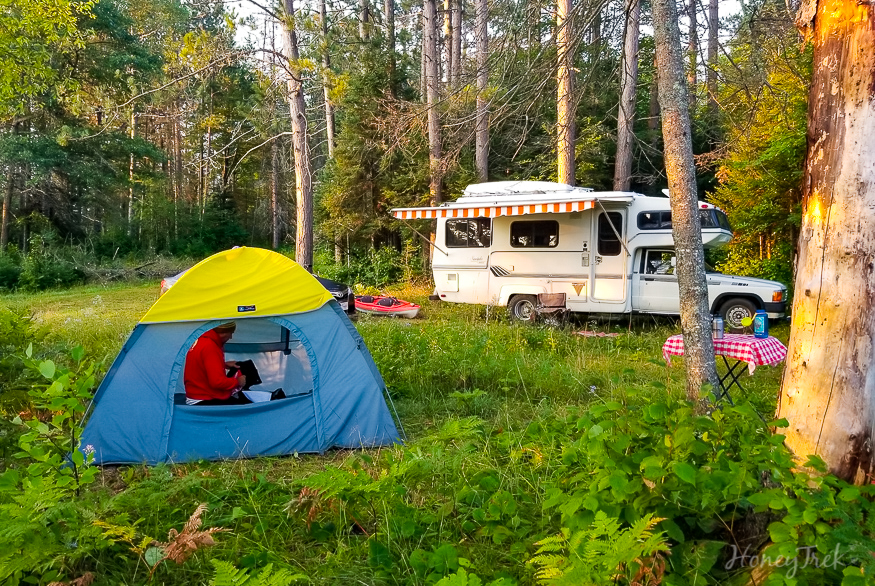 Bathroom Etiquette
Ideally, you have a camper with a toilet (if so, skip this potty talk and promise to NEVER empty your black or gray tanks in the forest). If your vehicle doesn't have a bathroom you have three choices:
Bring a trowel or shovel so you can dig a cathole; make it 6 to 8 inches deep and 200 feet from water, camp and trails.
Find a campground with a toilet (they do exist at some free campsites).
Bring your own potty! You can get fancy, portable flushing toilets for under $100, or make one with a Home Depot bucket, a trash bag, and a pool noodle for a seat.
No matter what you choose, never leave human waste or toilet paper on the forest floor.
Cleaning Up
Pack out ALL your trash, this includes spills and scraps that could attract wildlife. Separate your recycling so you can easily dispose of it when you pass through a city. Go above and beyond for the next camper (and the environment) and do a wide sweep for old trash and micro-rubbish like wrappers. If you've got kids, make it a game where whoever collects the most wins a prize. We've packed out all sorts of items (tires, punctured air mattresses, 50-year-old beer cans, broken generators, etc.) left by previous campers, because we know popular camping areas are at risk of closure if we don't all do our part and then some. For all the Leave No Trace Principles, visit LNT.org.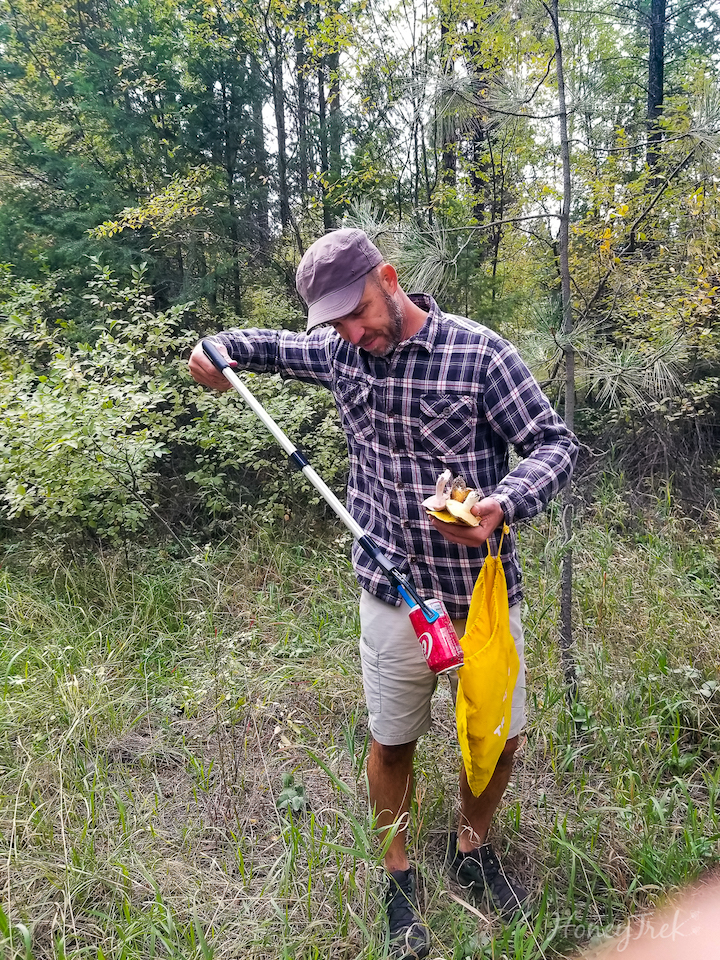 How to Find The Best Boondocking Sites
Now that you are poised to be a model camper, we'll let you in on our favorite apps for epic boondocking.
Ultimate Public Campgrounds Project (aka "UC Public CG"), is our go-to camping app. It maps over 46,000 sites on public lands in the United States and Canada (15,000+ of which are free). It also lets you sort by amenities if you want certain features like a toilet or fire ring.
iOverlander: In addition to featuring public land sites, this app is particularly good when you need a spot closer to town or the highway. It's also handy for finding propane, drinking water and dumpsites along your route. We love their active community that posts photos and reviews to inform our choices before we drive down that long washboard road.
Campendium: A comprehensive website and app that helps you navigate 20,000 RV campgrounds and boondocking locations with filters, save features, access maps, photos, reviews and more. Their blog is also an excellent resource on boondocking and recreating responsibly.
Boondockers Welcome: This membership-based site is like the Couchsurfing of the RV world, where travel-loving homeowners open up their land to self-contained RVs. In Polson, "Montana Chickie" welcomed us to her gorgeous meadow with views to the lake and even offered us power and to join her family around the campfire. That's Montana hospitality for ya!
Harvest Hosts: It's an incredible network of 2,000+ farms, wineries, breweries, museums and golf courses offering up their land to self-contained RVers in exchange for buying a bottle of wine, produce or their local wares. There are hosts all over Montana, including 20 in Glacier Country to choose from! We'd highly recommend the East Shore Smoke House along Flathead Lake.
Plan Ahead & Have Fun!
Camping is better when things go smoothly. Arrive early in the day or go mid-week (Saturday afternoons hurt your chances for that epic spot). Check the forecast for inclement weather (that goes for air quality too; check Gaia GPS for smoke forecasts). Make sure you have what you need for the duration of your stay (ample drinking water, food, fuel, wood, etc.) and emergency supplies (inflated spare tire, charged jump-starter, shovel, first-aid kit, etc. See our full boondocking shopping/packing list. Know that cell service is not a given; before you head the woods, look up any necessary information and tell a buddy where you're going. If you prepare accordingly, being away from cell coverage is a beautiful thing. The outdoors offers infinite entertainment and the ultimate bonding experience with your crew. So get out there, enjoy the wonders of boondocking, and don't forget to leave Glacier Country even better than you found it!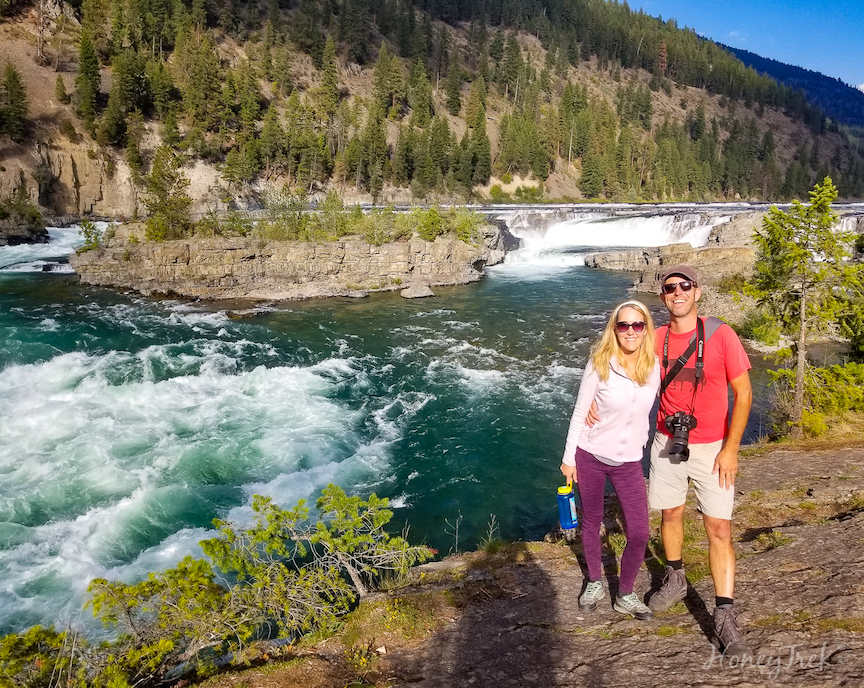 Author Bio
Mike and Anne Howard left on their honeymoon in January 2012…and never came home. They created HoneyTrek.com to chronicle their journey across all seven continents and help people mobilize their travel dreams. They are the authors of National Geographic's bestselling book on couples adventure travel, Ultimate Journeys for Two, and the first glamping book, Comfortably Wild. Along the way, they fell in love with RVing and have made their 1985 Toyota camper "Buddy" their primary residence and adventure mobile. They've taken Buddy from the tip of Baja to the Arctic Circle and 50 states in between. Follow their global adventures @HoneyTrek.
March 28, 2022
Related: Camping/RVing, Montana, Road Trips, Vacation