With wide-open vistas and room to roam, it should come as no surprise that Western Montana's Glacier Country is a golfer's paradise. Our typical golf season begins in early May and lasts through mid-October, so you've still got plenty of time to tee up, and come fall, the landscape is pure gold. Take advantage of the combination of stunning scenery, renowned courses and affordability at courses and resorts that range from public to semi-private and leisurely to challenging. Pair that combo with small-town charm, and teeing up in Montana is a real treat. Here's a list of our scenic travel corridors and our favorite places to golf along the way.
NORTHWEST CORRIDOR
Along Montana's quiet Northwest Corridor, you'll find three courses all offering something special. The town of Eureka may be small, but its wide-open landscape boasts not one, but two golf hot spots. At Indian Springs Ranch play a links-style, 18-hole championship course that's pure fun. Bask in the beauty of the Tobacco Valley at this unique, master-planned recreational community. Also in Eureka, the stunning Wilderness Club—designed by golf legend Nick Faldo—was ranked the No. 1 golf course in Montana by Golfweek and Golf Magazine and the No. 2 Best New Private Golf Course in the U.S. by Golf Magazine in 2022. In Libby, the aptly named Cabinet View Golf Club offers just that—a great game of golf with gorgeous Cabinet Mountain views.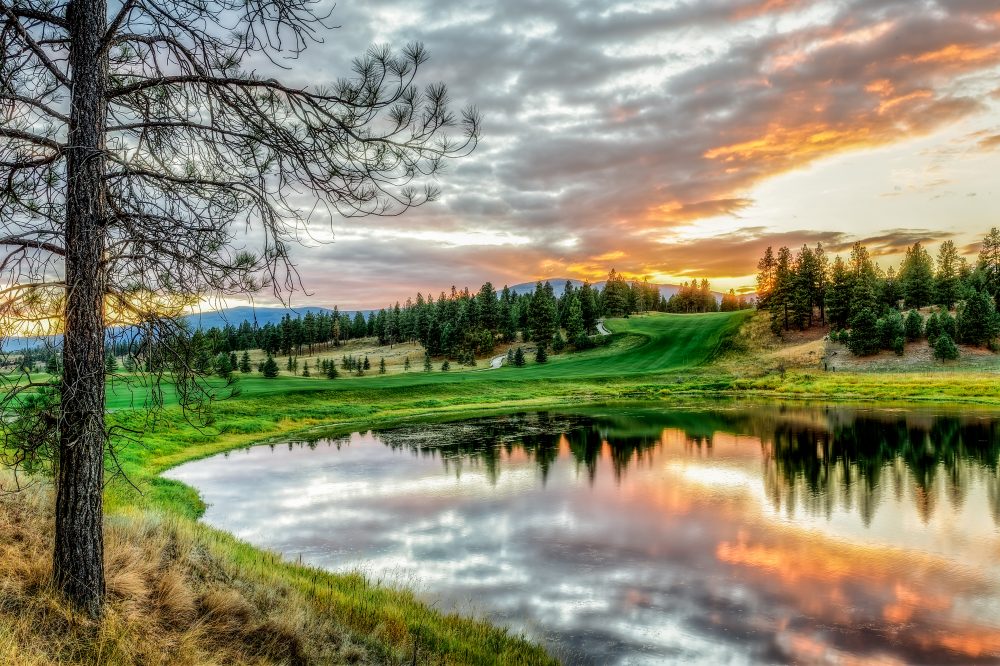 BITTERROOT VALLEY
The beautiful Bitterroot Valley beckons all year long, but any season you can swing a golf club here is extra special. The unique Whitetail Golf Course in Stevensville is located within the Lee Metcalf National Wildlife Refuge, so it's the perfect place to spot some wildlife, including waterfowl and deer, on the green. Farther down U.S. Highway 93 in Hamilton, the Hamilton Golf Course offers a fabulous round of golf and some of the best views of the Bitterroot Mountains.
GLACIER NATIONAL PARK SURROUNDING AREA
If your trip to Glacier National Park isn't complete without a round of golf (we don't blame you), here are four places in and around the park to swing your clubs. Meadow Lake Golf Resort in Columbia Falls is a must-play. Golf Digest gave this treasured course 4.5 stars and named it one of the top four public courses in Montana. Within the park itself, Glacier View Golf Course in West Glacier was awarded the Best Golf Course in Montana in 2022 by Golfers' Choice and No. 18 in the Top 50 Golf Courses in the U.S.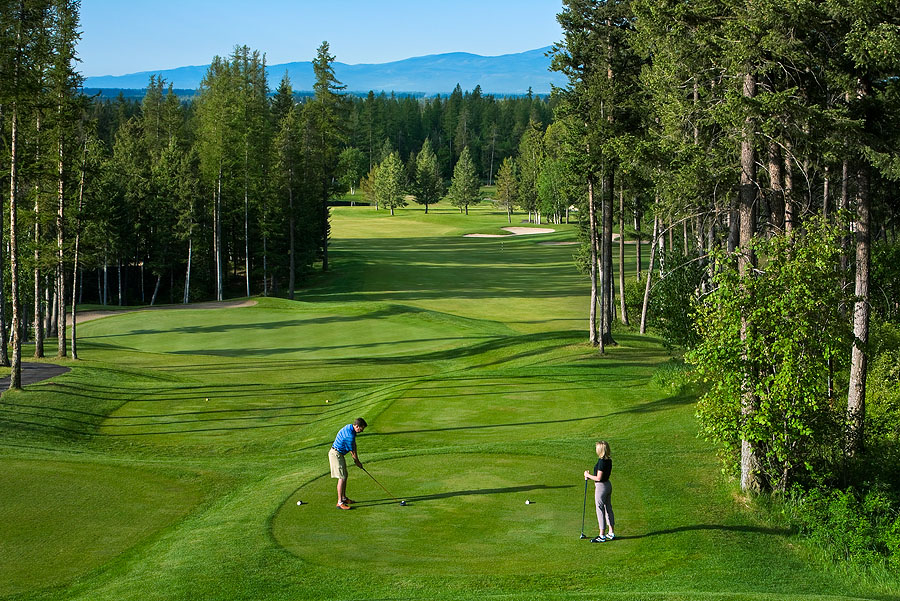 EAST GLACIER CORRIDOR
Along the East Glacier Travel Corridor in East Glacier Park, tee up at Glacier Park Lodge Golf Course. This historic course on the Blackfeet Reservation is the oldest grass greens golf course in Montana, and all 9 holes are named for former Blackfeet chiefs. At the Cut Bank Golf and Country Club, a mile west of Cut Bank, enjoy small-town golf at its finest, rub elbows with the locals, and enjoy the down-to-earth vibes.
I-90 CORRIDOR
Experience good old-fashioned Montana hospitality 10 miles west of Missoula at King Ranch Golf Course in Frenchtown, where you'll find 18 holes on wide fairways along the scenic Clark Fork River. Another I-90 Corridor favorite along the Clark Fork is Trestle Creek Golf Course in St. Regis—known for some of the finest greens.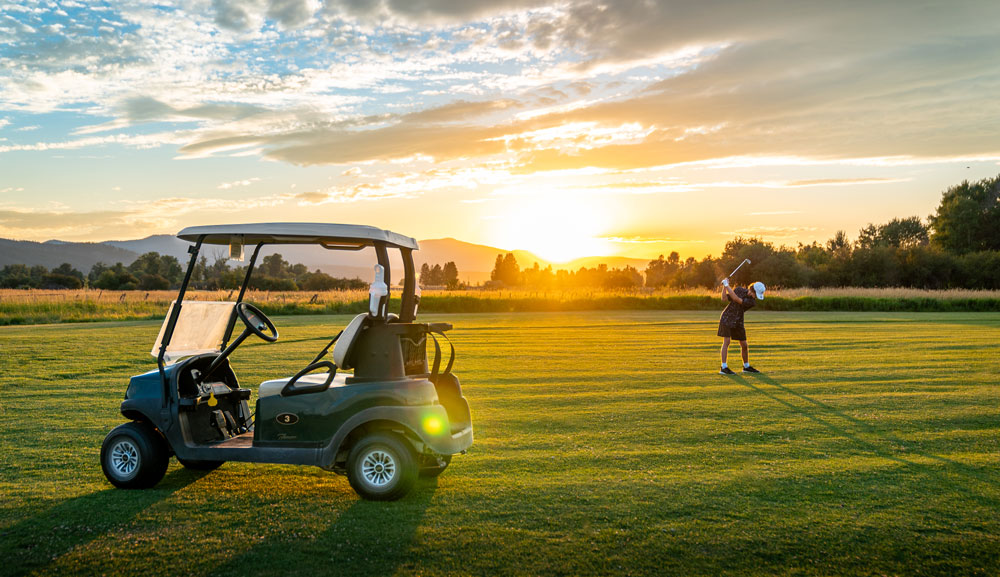 CLARK FORK CORRIDOR
The laid-back Wild Horse Plains Golf Course in Plains is a family favorite along Montana's scenic Clark Fork Corridor just north of Paradise. From there, drive the length of this scenic byway and end up in the quaint town of Thompson Falls for another round at Rivers Bend Golf Course, where every third hole finds you back at the clubhouse.
FLATHEAD CORRIDOR
The Flathead Corridor has been named a "Top 50 Golf Course Destination" by Golf Digest. There's no denying the beauty of the region and the caliber of its courses. At the southern tip of Flathead Lake—the largest freshwater lake west of the Mississippi—the Polson Bay Golf Course in Polson offers stunning mountain views and fairways adjacent to the lake. South of that, in Pablo, the 9-hole executive Silver Fox Golf Course winds its way through lush trees, serene ponds and a wildlife corridor on the Salish Kootenai College campus. Even farther south, take in exceptional Mission Mountain views and a challenging game of golf at the Mission Mountain Golf Club in Ronan.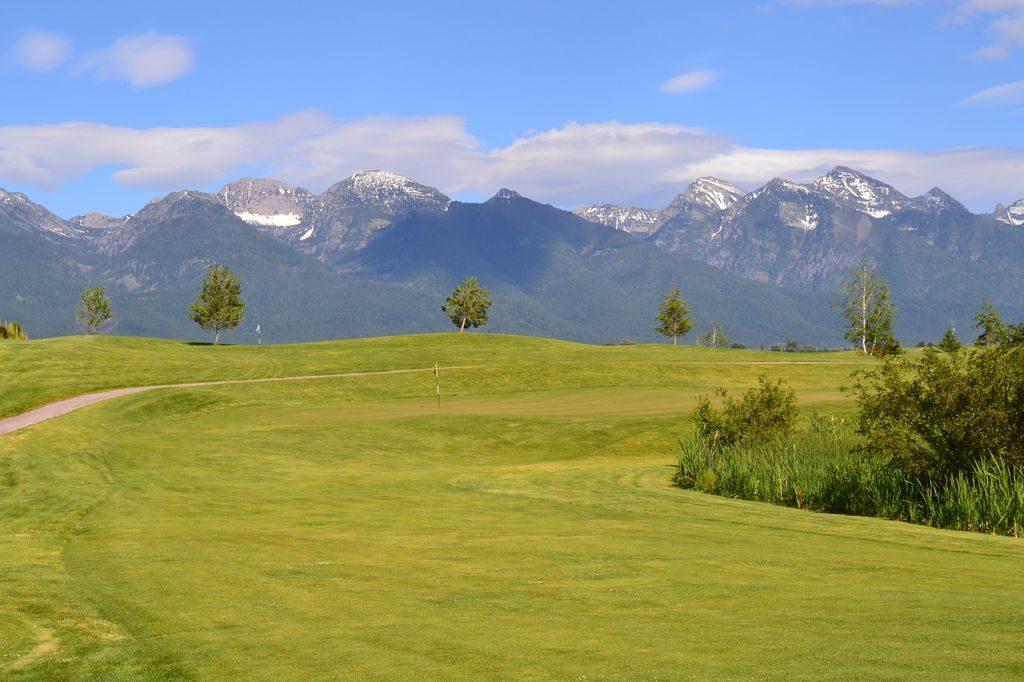 SEELEY-SWAN CORRIDOR
The recreation opportunities in the Seeley-Swan Corridor are some of Montana's best, and golf is no exception. In the storybook village of Bigfork on the north shore of Flathead Lake, the semi-private Eagle Bend Golf Club offers a championship 27-hole course. In Seeley Lake, the pristine ponderosa pine setting of the Double Arrow Golf Course offers resort golfing nestled between the Swan and Mission mountain ranges. Watch wildlife as you make your way around water features and bunkers, and don't miss the No. 15 signature hole, featuring an elevated tree and island green.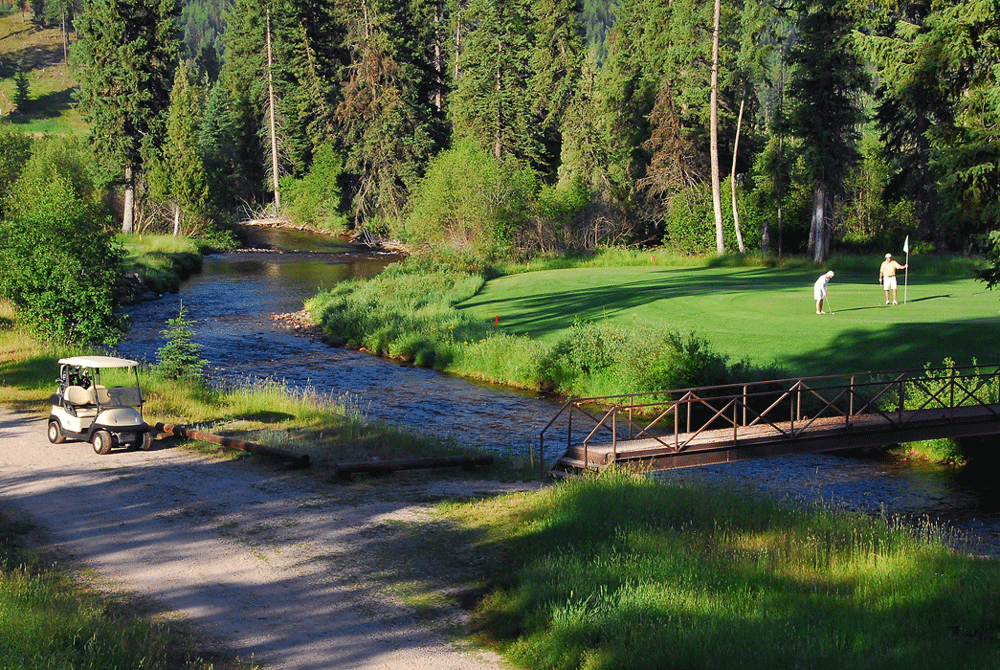 The list goes on—Western Montana is dotted with golf courses, making it easy to golf under our famous blue sky. For more inspiration, visit the Northwest Montana Golf Association.
Please note: We ask that all our visitors and residents Recreate Responsibly by being mindful of the following: practice physical distancing; know before you go; plan ahead; play it safe; leave no trace; tread lightly; and help build an inclusive outdoors.
August 21, 2023
Related: Bigfork, Bitterroot Valley, Columbia Falls, Cut Bank, East Glacier Park, Eureka, Fall Fun, Flathead Corridor, Frenchtown, Golfing, Hamilton, Libby, Montana, Outdoor Fun, Pablo, Plains, Polson, Ronan, Seeley Lake, Seeley-Swan Corridor, St. Regis, Stevensville, Thompson Falls, West Glacier