The gorgeous Montana landscape inspires runners to get out in the fresh mountain air, and springtime is a major motivator for lacing up and hitting the roads and trails. Many of our charming small towns play host to races that not only bring the community together, but also provide an authentic Montana experience to out-of-town runners.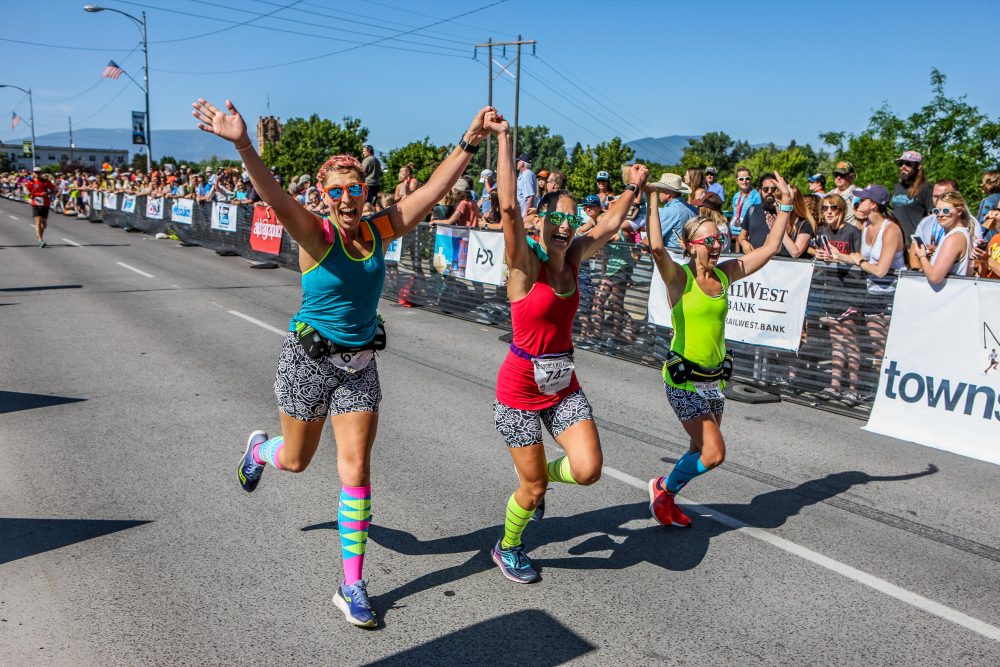 The town of Arlee on the Flathead Indian Reservation puts on one of the first of Western Montana's springtime races—the Buttercup Run. This is a chance to see the incredible small-town spirit of Glacier Country—the whole community comes out for the wide range of events: a 1 mile, 5K, 10K and half marathon. No matter which run you choose, views of the beautiful Jocko Valley and the Mission Mountains stretch the distance. Serious swag: A long-sleeved T-shirt with wildlife art by a local artist.
Kick off trail running season in Montana by entering the first race in the 2019 Runner's Edge Trail Race Series. Both the 5.2 and 9.7 mile runs follow challenging single track trails on Lolo's forested hillsides in the beautiful Bitterroot Valley. Finishers can replenish their energy with a generous post-race brunch—and beer from Big Sky Brewing Co. Serious swag: A Bitterroot Runoff logo buff and a custom finisher award.
Run Wild Missoula, the running club that heads up the famed Missoula Marathon, heads south to Victor to put on the Sweathouse Half Marathon. This race has been a late September staple, but moved to May this year; be one of the first to run this course in the springtime! Named for nearby Sweathouse Falls, this race presents a wonderful opportunity to take in 13.1 miles of scenic backroads in the gorgeous Bitterroot Valley. Serious swag: A short-sleeved technical T-shirt and a finisher medal.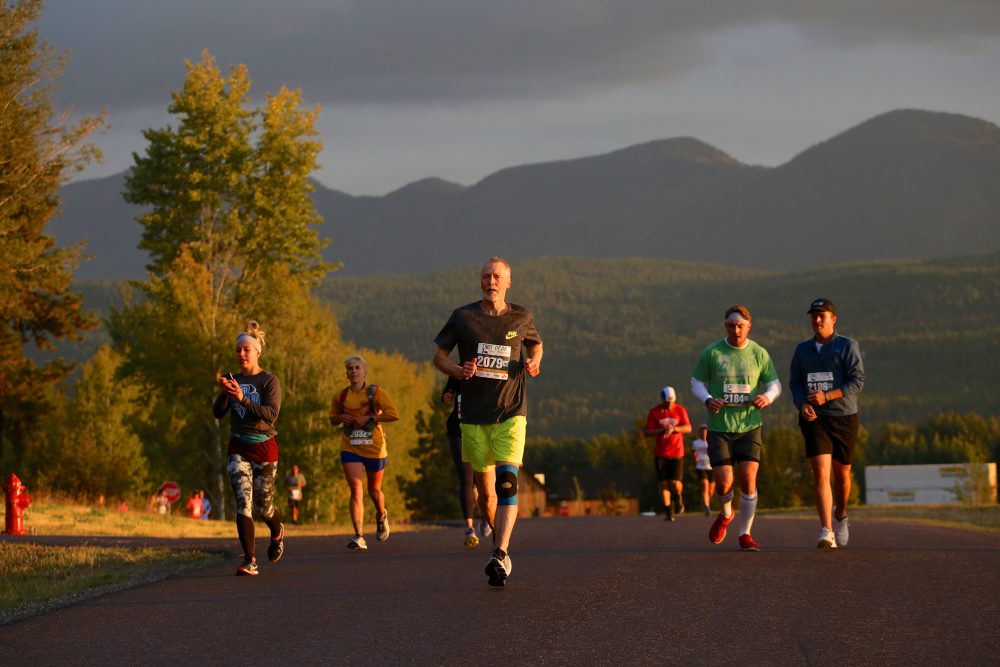 The 2019 edition of the Whitefish Marathon features an all-new blacktop course that skirts the edges of Glacier National Park. Incredible landscapes unfold as you race toward the finish line of the marathon, half marathon or 5K. Piggyback Barbecue serves runners a well-deserved post-race lunch. Serious swag: A finisher shirt, finisher medal and a day pass for The Wave Aqua + Fitness Center.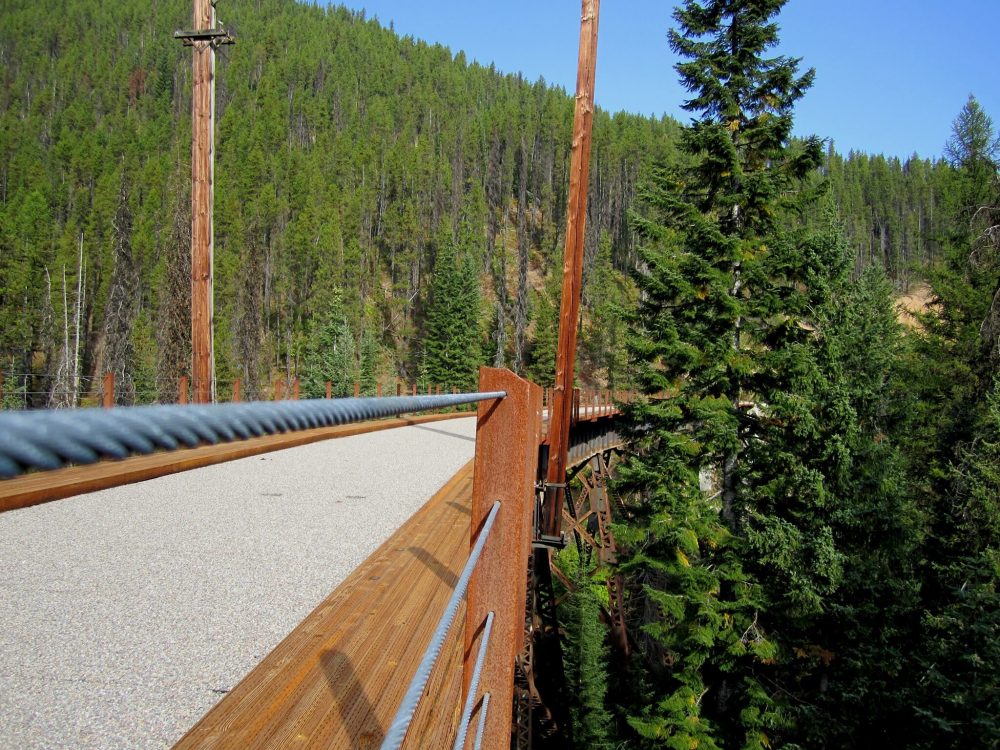 All of the Trail Rail Run courses follow old Northern Pacific and Milwaukee Railroad grades through spectacular Lolo National Forest. These wide, forgiving dirt and gravel surfaces never rise above a two percent grade, so this could be your chance to get a PR! In the longest event of the Trail Rail Run, ultra-runners can race 50.5 miles from Mullan, Idaho to St. Regis, Montana. If that's more than your quads and calves can handle, there are plenty of other distances to choose from: a 50-mile relay, 30K, 12K and 5K. All racers are bussed from St. Regis to their assorted starting points. Serious swag: Patagonia Houdini windbreaker jackets for 50-milers; T-shirts and a used railroad spike with an engraved plate for everyone else.
Hot Springs Homesteader's Days celebration includes the Skunk Alley Run, a 10K and a 3K along old logging roads above town. It's perhaps the only race that starts with a whip crack, and one of the few where runners get to see cowboys and cowgirls working to keep a herd of cattle off the trail. Afterwards, take in an authentic small-town festival and soak your weary legs at Symes Hot Springs. Serious swag: T-shirt.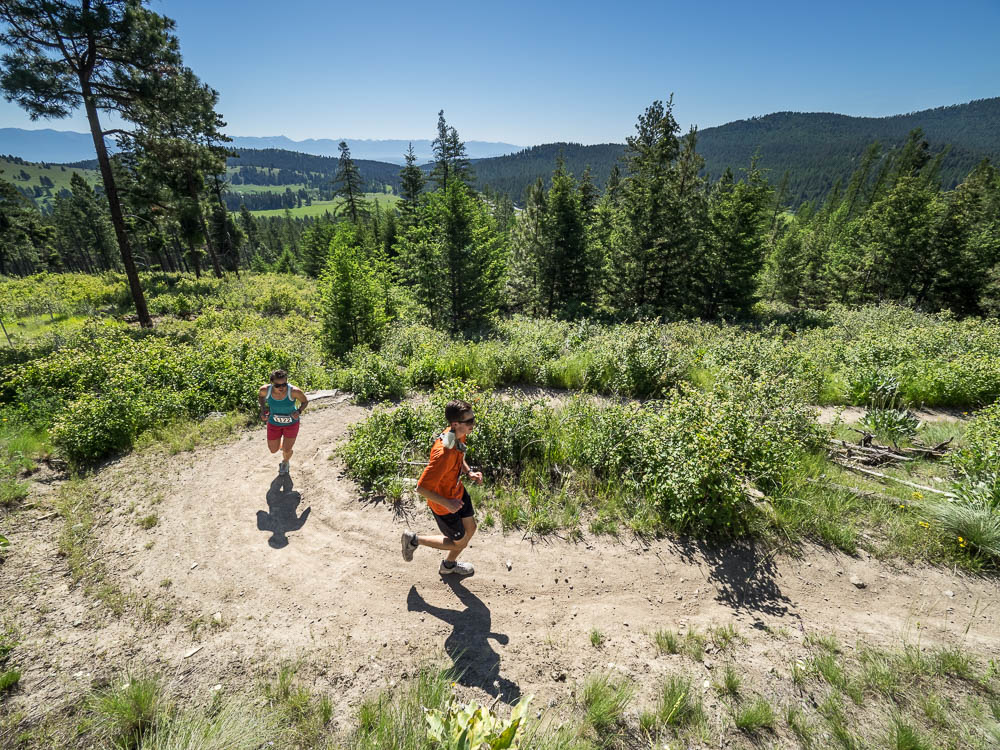 The expansive Foy's to Blacktail Trail system in Kalispell's Herron Park is the perfect setting for a half marathon, 10K, 5K and kids 1K. After some challenging climbs, the race's 10K and half-marathon runners will be rewarded with awesome views of the Flathead Valley, while the 5K and 1K kids run provides a fun introduction to the fast-growing sport of trail running. Serious swag: The first 250 race participants receive a hat.
Boasting one of Glacier Country's highest altitude starting lines—5,223-foot Lolo Pass—Mountain to Meadow offers trail runners an irresistible challenge. Not only is the half marathon an extra half mile (13.6 miles), runners will also get in over 1,200 feet of climbing. Half marathoners and 5K racers have it much easier, with climbs of 300 and 100 feet respectively. What all three have in common is the flat stretch by historic Packer Meadow (Lewis and Clark camped here) where camas wildflowers should be in full bloom, coloring the whole meadow a stunning purple. Serious swag: Mountain to Meadow trucker hat.
The payoff of this challenging run is the stunning Glacier National Park landscape, at sunrise no less. This course—on the Blackfeet Reservation in East Glacier Park—is unbelievably gorgeous. Climb Looking Glass Hill and take in views of Two Medicine Lake, ending at the iconic Glacier Park Lodge. Then, explore the park! Serious swag: Finisher medals and shirts for all participants.
Test your mettle in a trail race amidst one of Glacier Country's most beautiful places—Seeley Lake. The courses lead runners through the Rice Ridge burn area, which at this time of year is an eye-catching neon green and black. The Filling Station Bar and Grill hosts the after-party and primitive camping is free for runners. Serious swag: Finisher medals for 50 + 25K runners, and a shirt for all participants.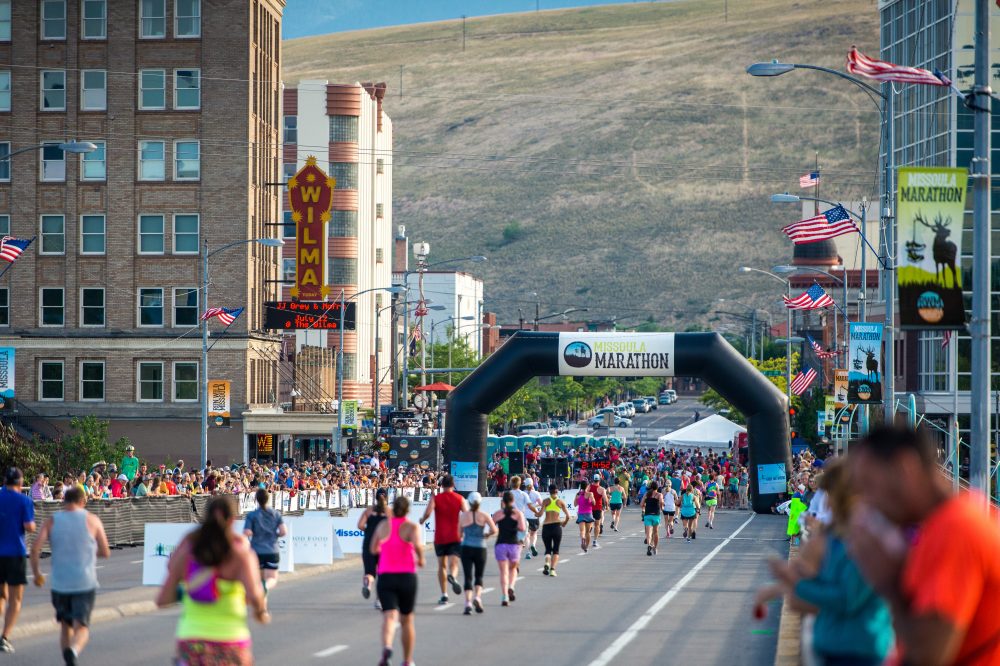 Let's see. The Missoula Marathon was a named "Top 10 Bucket List Marathon" by Runner's World in 2018, "#1 Marathon in the U.S." by BibRave in 2017, the "Top Marathon for Back-of-the-Packers" by Runner's World in 2017 and "Best Marathon in the U.S." by Runner's World in 2010. Need any more incentives to sign up? You've got it: There's also a half marathon, a 5K, a kids marathon, an expo, a free beer run and a finish line flanked by cheering spectators in beautiful downtown Missoula on the banks of the Clark Fork River. Serious swag: Short-sleeved technical T-shirt, medal, on-course, finish line and post-race victory stand photos for all racers; half marathon and marathon finishers also receive a post-race beer from Big Sky Brewing and a post-race meal from the Good Food Store.
March 11, 2019
Related: Arlee, Bitterroot Valley, East Glacier Park, Events, Glacier National Park, Hot Springs, Hot Springs (town), Kalispell, Lolo, Missoula, Montana, Outdoor Fun, Seeley Lake, St. Regis, Victor, Whitefish