Run for the hills! The gorgeous Western Montana landscape, especially come spring, inspires runners to get out in the fresh mountain air and hit the trails. Throughout the spring and summer seasons, many of our vibrant communities play host to marathons, races and fun runs. Grab your running shoes and set out for the "runcation" of a lifetime.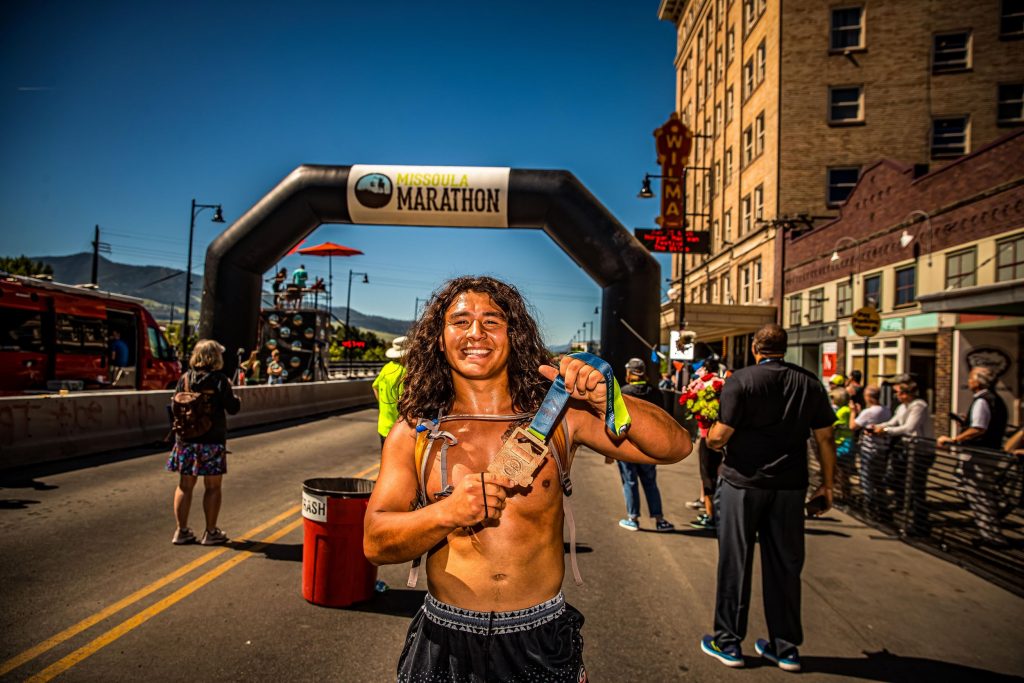 The 2023 Whitefish Marathon was named RRCA (Road Runners Club of America) Marathon State Championship for Montana and features course changes this year. This scenic route skirts the edges of Glacier National Park and incredible landscapes unfold as you race toward the finish line of the marathon, half marathon or 5K. The new, 4-mile course change between miles 13 and 26 reduces the overall elevation change and provides views of Whitefish Lake. Runners enjoy a well-deserved post-race lunch, including beers from local breweries.
Boasting one of Glacier Country's highest altitude starting lines—5,223-foot Lolo Pass—Mountain to Meadow half marathon and 10K offers trail runners an irresistible challenge. Not only is the half marathon an extra half mile (13.6 miles), but runners will also get in over 1,200 feet of climbing, balanced out by a flat stretch near historic Packer Meadow (Lewis and Clark camped here) where camas wildflowers should be in full bloom, coloring the whole meadow a stunning purple. The finish line fun includes BBQ and Big Sky Brewing Co. beer.
This Rails-to-Trails bike route in Taft makes for a unique run. Choose between 10K, 15K, 25K and 50K distance options through historic railroad tunnels by headlight, emerging along sky-high railroad trestles overlooking lush forestland, waterfalls and wildlife.
The expansive Foy's to Blacktail Trail system in Kalispell's Herron Park is the perfect setting for a half marathon, 10K, 5K and kids run. After some challenging climbs, the race's 10K and half-marathon runners will be rewarded with awesome views of the Flathead Valley, while the 5K and kids run provide a fun introduction to the fast-growing sport of trail running.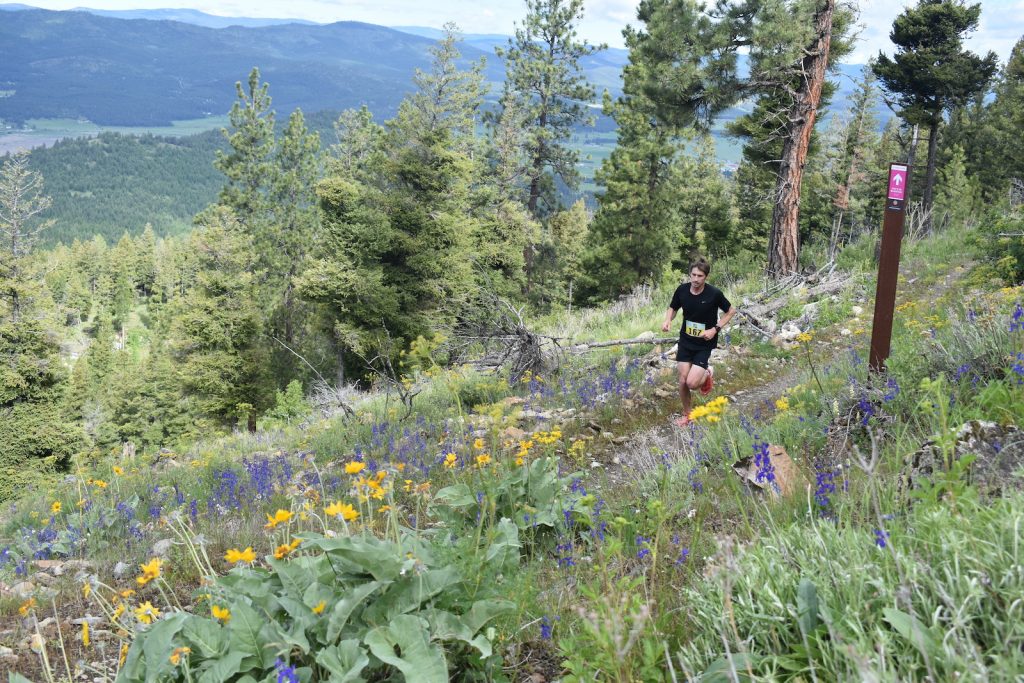 All the Trail Rail Run courses follow old Northern Pacific and Milwaukee Railroad grades through spectacular Lolo National Forest. These wide, forgiving dirt and gravel surfaces never rise above a two percent grade, so this could be your chance to get a PR! In the longest event of the Trail Rail Run, ultra-runners can race 50.5 miles from Mullan, Idaho, to St. Regis, Montana. If that's more than your quads and calves can handle, there are plenty of other distances to choose from: a 50-mile relay, 30K, 12K and 5K. All racers are bussed from St. Regis to their respective starting points.
The payoff of this challenging run is the stunning Glacier National Park landscape, at sunrise no less. This course—on the Blackfeet Reservation in East Glacier Park—is unbelievably gorgeous. Climb Looking Glass Hill and take in views of Two Medicine Lake, ending at the iconic Glacier Park Lodge. Keep in mind while training, this course includes a 5-mile stretch of steady incline that begins above 5,000 feet.
The Missoula Marathon was a named one of the most beautiful in the world by USA Today in 2023, "Top 10 Bucket List Marathon" by Runner's World in 2020, "#1 Marathon in the U.S." by BibRave in 2018 and "Best Marathon in the U.S." by Runner's World in 2010. Need any more incentives to sign up? You've got it: There's also a half marathon, a 5K, a kids marathon, an expo, a free beer run and a finish line flanked by cheering spectators in beautiful downtown Missoula on the banks of the Clark Fork River.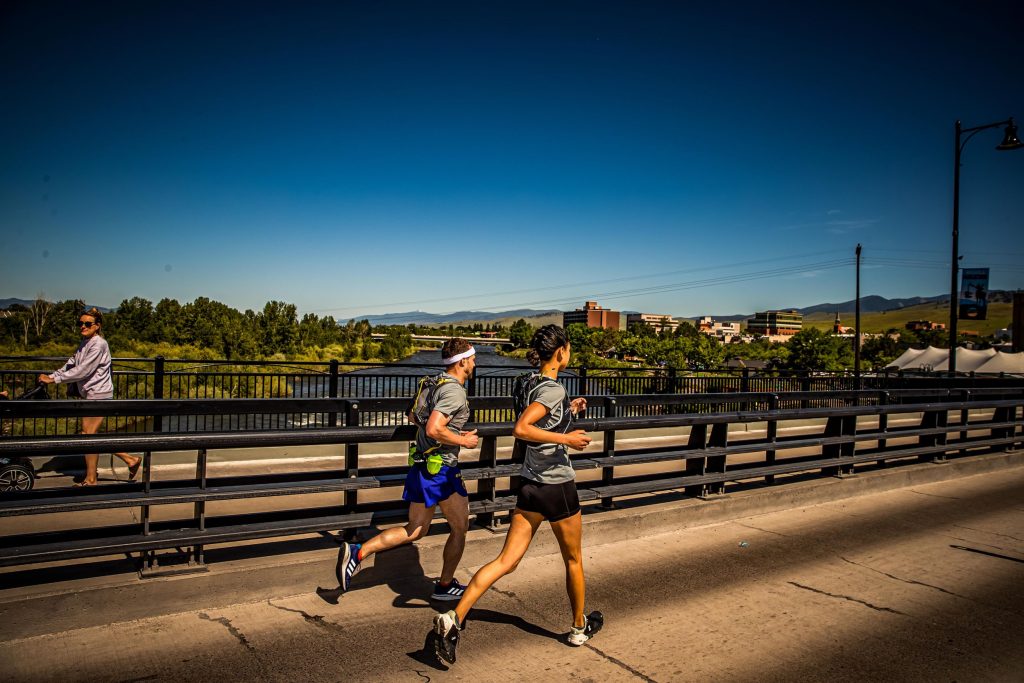 Test your mettle in a trail race in one of Glacier Country's most beautiful places—Seeley Lake. This course takes runners on Nordic ski trails and Forest Service roads through breathtaking scenery right outside the rugged Bob Marshall Wilderness area—one the nation's largest wilderness areas.
The Buffalo Run is part of the annual three-day, family-friendly Good Old Days event in St. Ignatius and includes a 1-mile fun run (walk/run), 4-mile run and 7-mile run. Expect gorgeous views of the Mission Mountains. This fun-filled weekend also includes BBQ, fireworks, a parade, special events and a fly-in with free airplane rides for kids.
This challenging Xterra-style race in Darby includes an open-water swim (0.9 miles), mountain bike (12.6 miles) and trail run (7.7 miles) as well as a (new in 2023) 2-leg bike-run duathlon/biathlon, mountain bike (12.6 miles) and trail run (7.7 miles) on Forest Service land at Lake Como in the beautiful Bitterroot Valley.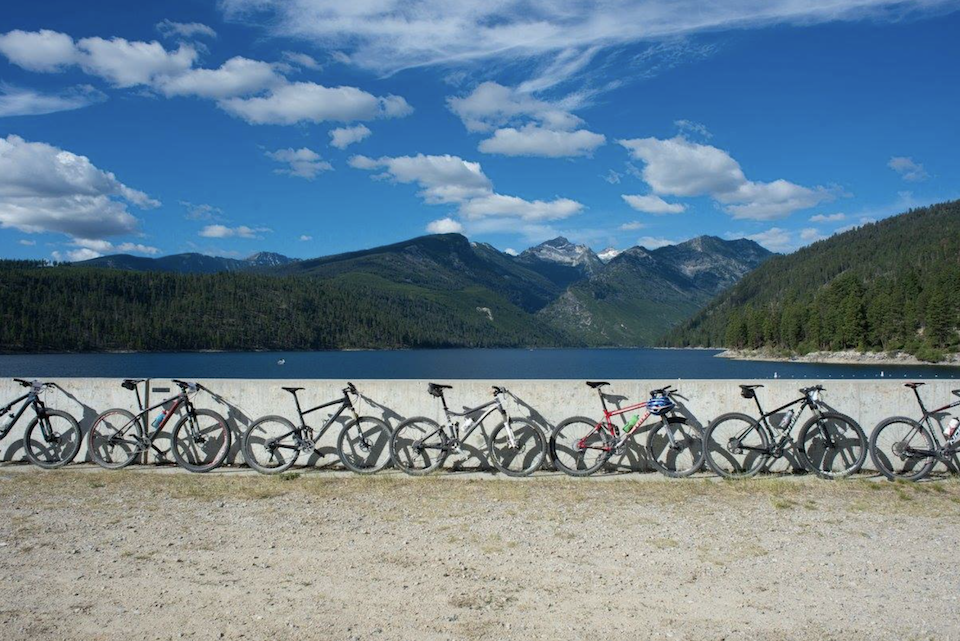 This "Sunday Funday" run, including a 10K, 5K and 1-mile kids run, along the shores of Flathead Lake helps preserve and protect the lake and the surrounding community of Lakeside. Bring your swimsuits for a refreshing jump in the lake after the race! Post-race fun includes craft beer (and root beer) from Tamarack Brewing Company, plus food trucks and more.
Please note: We ask that all our visitors and residents Recreate Responsibly by being mindful of the following: know before you go; plan ahead; play it safe; leave no trace; tread lightly; and help build an inclusive outdoors.
April 24, 2023
Related: Darby, East Glacier Park, Events, Glacier National Park, Kalispell, Lakeside, Lolo, Missoula, Montana, Outdoor Fun, Seeley Lake, St. Ignatius, St. Regis, Whitefish