There's fall fun to be had in Western Montana's Glacier Country, where getting away from it all is our specialty. Autumn is our golden season, and not only because the hillsides and river banks are awash in vibrant hues of yellow and orange. With crisp autumn air, space to spread out and COVID-sensitive activities aplenty, here's how you can have fun and play it safe in our corner of the Treasure State this fall.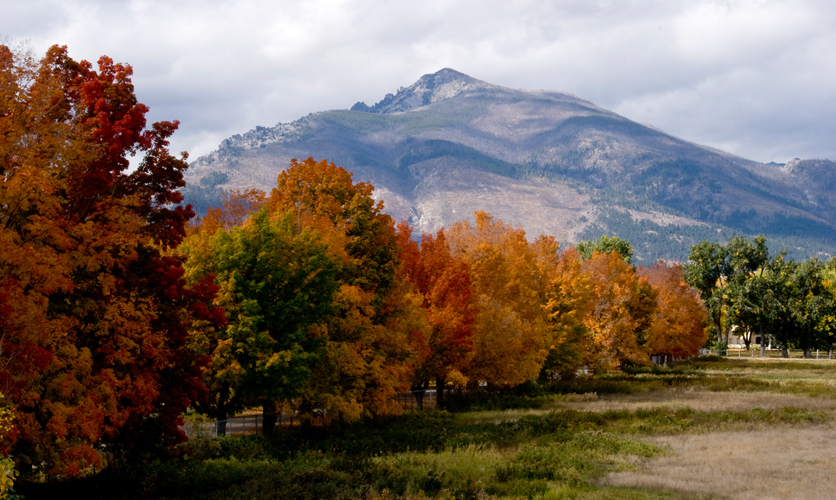 FLY-FISHING
Ask any angler about the best time to cast a line in Montana, and they'll tell you how heavenly fall dry fly-fishing is. Mayflies are hatching, fish are rising, and river conditions are ideal for wading and float fishing. Added bonus: The rivers are lined with golden cottonwoods and western larch, setting the scene for a memorable angling adventure. So head on over to the Blackfoot River—made famous by A River Runs Through It—the Clark Fork River or the Bitterroot River for some of the most magical angling you'll encounter. Travel responsibly by making sure you've got all the gear you need and coming prepared for quickly changing fall weather.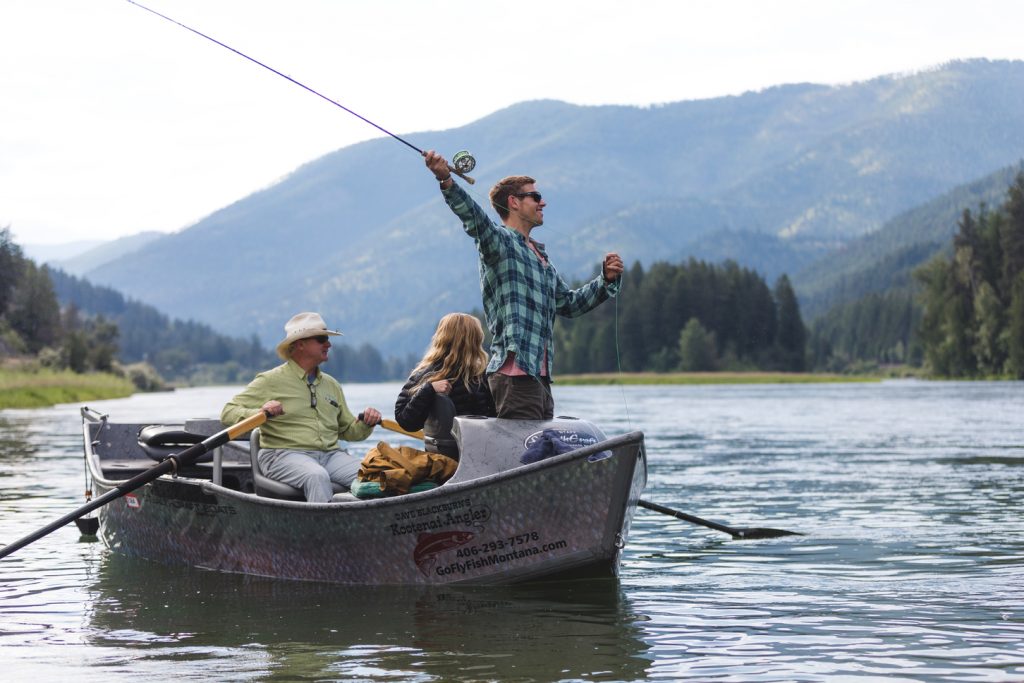 SCENIC DRIVES
If there's one way to savor the season it's a scenic drive in Western Montana, and road trips are where it's at these days. Hop in the car and hit the road—a feast for the eyes, and the soul, is waiting in Glacier Country. Scenic drives we recommend this fall: Cruise the gravel, 112-mile loop around the Hungry Horse Reservoir, where you'll find the Hungry Horse Dam, breathtaking golden larch on snow-dusted hillsides, scenic overlooks and plenty of wildlife viewing. Or, drive from Eureka to Troy (87 miles) and take in the sights along the Lake Koocanusa Scenic Byway. Highlights include Libby Dam, the Kootenai River and Tobacco Valley scenery, including sweeping mountain/lake vistas. Travel responsibly by filling your gas tank so it's always more than halfway full, bringing snacks and water, packing warm clothes and driving safely.
GOLF
One way to play safely this fall is to work on your golf swing. Golfing in Montana means lots of gazing at gorgeous views, and it's easy to keep your distance on the green. Most courses and clubs are open into October (weather dependent). Tee up at King Ranch in Frenchtown where you'll find a challenging 18 holes, a relaxed vibe and Clark Fork River views. Down the Bitterroot in Stevensville, Whitetail Golf Course offers a premier, 9-hole course with open fairways. Whitetail is set on the peaceful and pristine Lee Metcalf Wildlife Refuge, making it the perfect spot to get in some wildlife viewing while you play. Travel responsibly by packing your mask and social distancing while in indoor spaces at courses.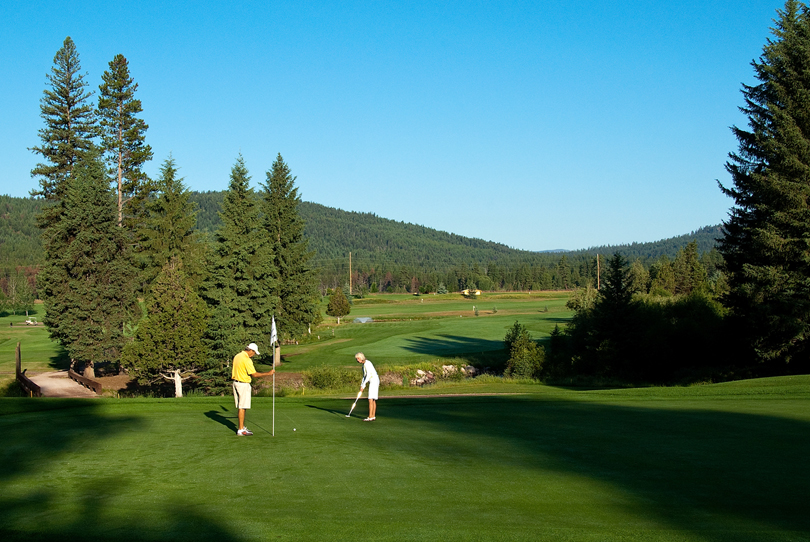 FOLF
Speaking of golf, have you heard of folf? Disc golf, or frisbee golf, is a Montana favorite. Located in the lovely Lolo National Forest, Frenchtown's Echo Valley offers a 15-hole course with a mix of meadows, trees, and even a stream. Spiritwood, in Victor, is a private 18-hole precision course offering public access. This piney spot features tree and water challenges, and a quiet, woodland adventure. Travel responsibly by sticking to the course and leaving no trace.

HIKING
Our hiking trails quiet down at summer's end, and the cooling temperatures offer a breath of fresh air. Remember to space out on trails and mask up to pass other hikers. Favorite fall hikes include Blodgett Canyon, Morell Falls, Holland Falls, Ross Creek Cedar Grove, and Glacier National Park's Avalanche Lake. Travel responsibly by sticking to the trails, packing snacks and water, packing out what you pack in, dressing in layers for changing weather, being bear aware and parking in designated trailhead parking areas.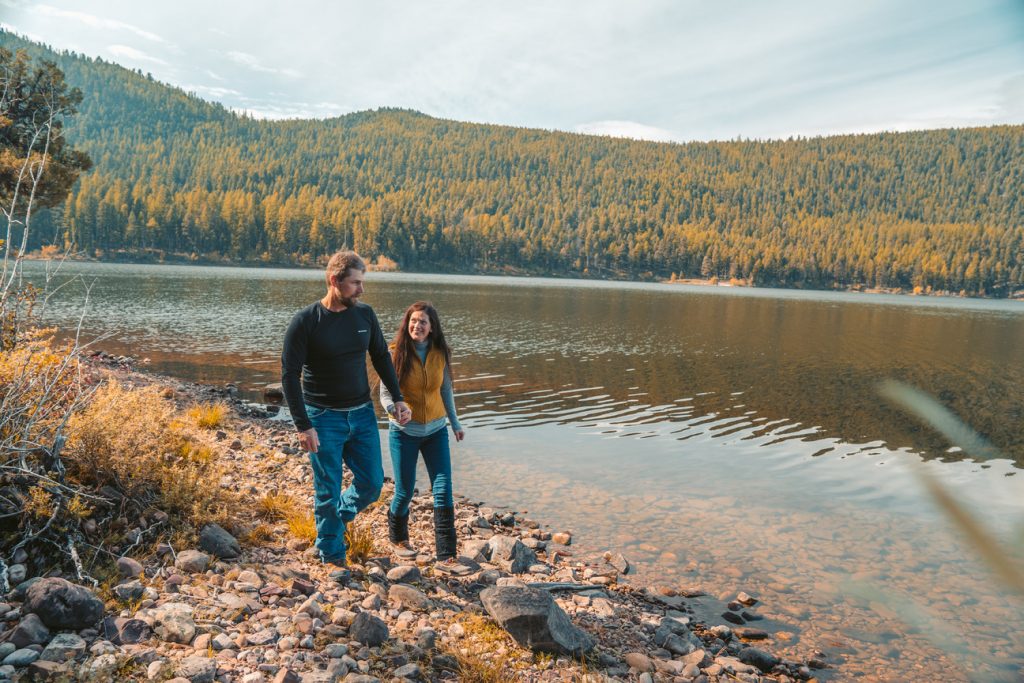 GUIDED HUNTING
What most refer to as fall, Montanans often refer to as hunting season. Hunting is a way of life here, and we've got a diversity of wildlife and expansive terrain, plus plenty of guides and outfitters to show you the way to deer or elk, or take you on an upland bird or waterfowl excursion. Travel responsibly by going with a guide—like Rich Ranch, Cheff Ranch, Snowy Springs Outfitters or Swan Mountain Outfitters—packing bear spray, staying off private land, and acquiring necessary licensing and permits, all of which our friendly outfitters can assist you with.
WILDLIFE VIEWING
While most outdoor activities in Western Montana come with the added bonus of spotting wildlife along the way, you can also set out with wildlife watching as your mission. Glacier Country's diverse habitat is home to mammals large and small, plus hundreds of species of birds. The fall rut is the perfect time to hear an elk bugle—a sound you'll never forget. Popular wildlife viewing spots include the Bison Range, Lee Metcalf National Wildlife Refuge, Ninepipe National Wildlife Refuge, Pablo National Wildlife Refuge, Swan River National Wildlife Refuge, Lost Trail National Wildlife Refuge and Wild Horse Island on Flathead Lake. The West Valley Public Bird Viewing Area near Kalispell also gives birders a stellar vantage point from which to view hundreds of sandhill cranes congregating in prairie pothole wetlands during fall migration. Travel responsibly by remembering that wildlife are just that—wild. Keep your distance and respect their space—maintain a distance of at least 300 feet from bears and wolves, and 75 feet from all other wildlife.
Please note: Face coverings are required indoors or when social distancing in groups is not possible outside. Social distancing is required to help reduce the spread of COVID-19. Thankfully, we've got plenty of space for social distancing activities and recreation in Western Montana. It's vital, however, to maintain a 6-foot distance from others, even outdoors. Please be mindful of our small businesses, communities and visitor centers, which have had to adapt to the change and may face limitations this year—always call ahead. Take the Tourism Pledge to travel responsibly in Glacier Country.
---
September 28, 2020
Related: Bison Range, COVID-19, Eureka, Fall Fun, Fishing, Frenchtown, Golfing, Hiking, Hungry Horse, Hunting, Kalispell, Montana, Outdoor Fun, Outfitters, Road Trips, Stevensville, Troy, Uncategorized, Vacation, Victor, Wildlife