Winter in Montana isn't only for adventurous powder plungers and downhill dreamers. It's also for paradise seekers looking for a peaceful escape in an enchanting frosty forest of white. We hike all year here, and taking a walk in the snow is high on our list of things we love—it just requires a little extra gear. Snowshoes make it possible to head onto the trails and into backcountry quiet places that might otherwise not be accessible this time of year. This easy—and family-friendly—snowsport is a must-do winter activity, bound to leave you with some pretty incredible Montana memories.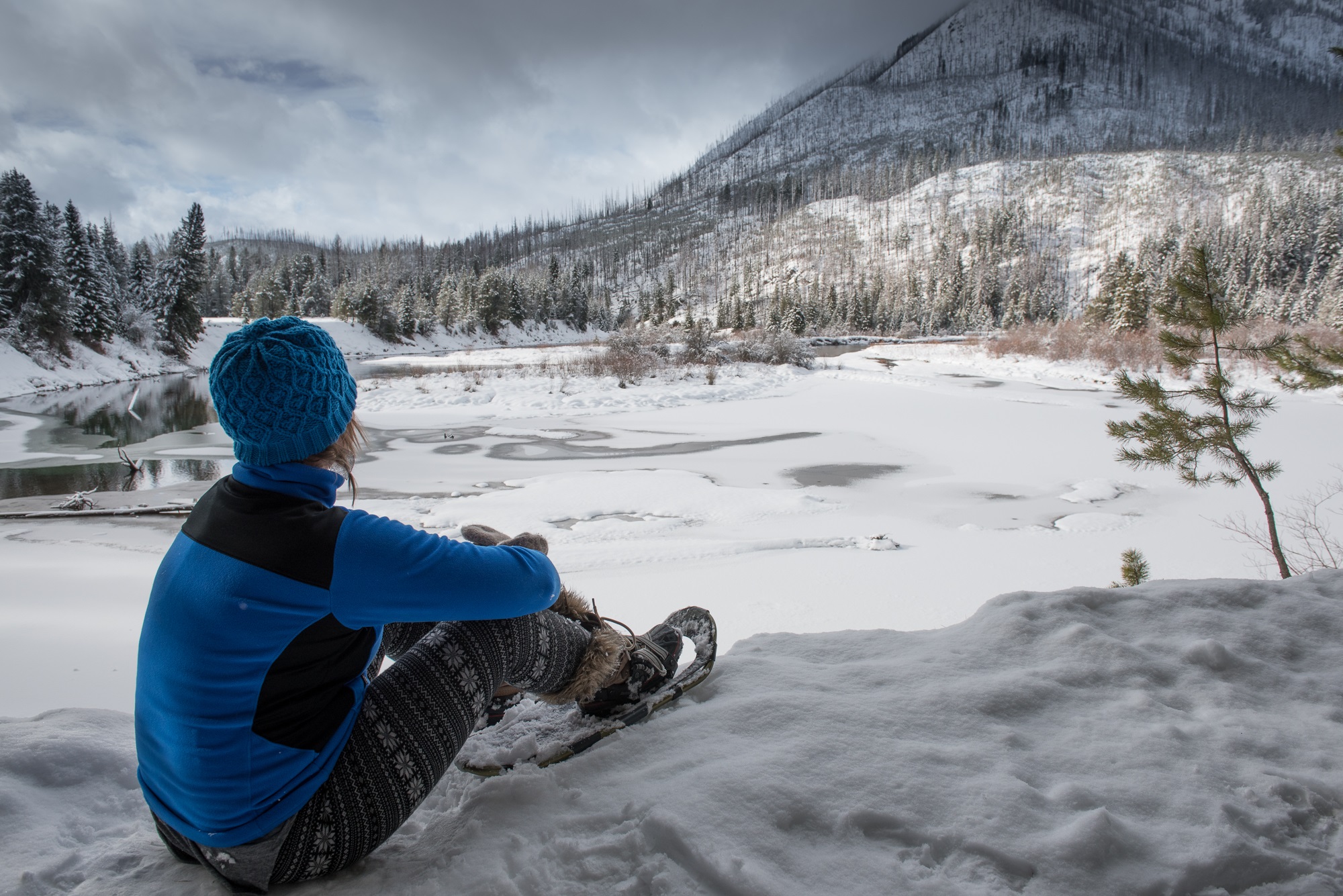 Many facilities around the region rent gear and offer friendly tips and trail advice to eager adventure seekers. Not all snowshoes are the same, and not all trails are either. Our gear shops can help with size and fit and steer you in the right direction. Local outfitters are also available to show you the way if you're looking for a guided tour.
Here are some tips for the trek.
TRAILS + TERRAIN
Groomed and ungroomed winter trails are a dime a dozen around here, and we tend to brag about our backcountry terrain because it's just so brag-worthy. That said, here are some of our favorite spots to explore.
Snowshoe the park.
Winter is the most magical time of year in Glacier National Park. The crowds are gone and the landscape is heavenly. The stillness and quiet offer an ideal time to strap on a pair of snowshoes and discover this powder paradise. Take a self-guided tour along the shores of Lake McDonald or up the famous Going-to-the-Sun Road.
Let our resident experts show you the way around the park by snowshoe. Glacier Adventure Guides offers alpine adventures through old-growth forest, past frozen waterfalls and lakes and across meadows blanketed with snow.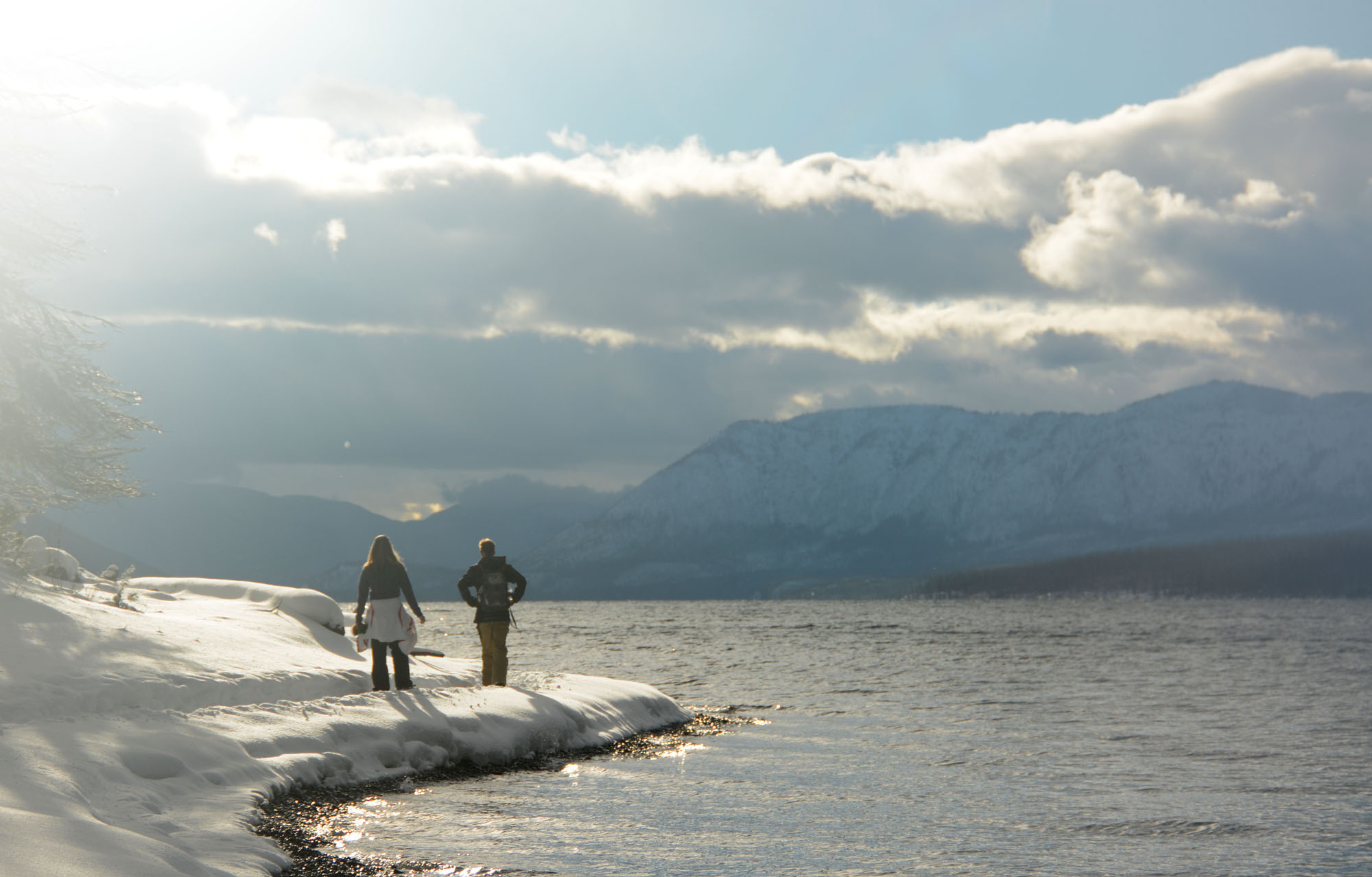 You can also take an interpretive ranger-led snowshoe tour of the park's Apgar area, learning about the park's topography and wildlife along the way.
Autumn Creek Trail in East Glacier is one of the most popular routes in the area. This 6-mile trail begins at the summit of Marias Pass before entering the park.
Beyond the park.
Whitefish is pretty much winter defined. Whitefish Mountain Resort offers two uphill routes—the Toni Matt and the East Route—and, west of town, you can shoe the dog-friendly Round Meadow trail system. Whitefish's Sportsman & Ski Haus will set you up with the right gear for your adventure.  
One of the best things about snowshoeing is it's easy to master. Lone Pine State Park in Kalispell is a great place to try out this beginner-friendly sport for the first time, and Spoke & Paddle can help you with equipment rentals. Nearby Herron Park/Foy's to Blacktail Trails is another great place to start out.
For fun near Flathead Lake, trek Lakeside's Blacktail Mountain or Bigfork's Crane Mountain Snowmobile Trail (Road #498). Contact the friendly folks at Base Camp for gear rentals and trail suggestions.
Head up near "The Yaak" to Troy's Cougar Ridge for a trek on snow-covered roads that wind in and out of the wintry woods of the Kootenai National Forest.
The Thompson Falls Fitness Trail is a wonderful hike for families, as it's relatively flat, deer sightings can be frequent and following wildlife tracks in the snow is fun for the kids.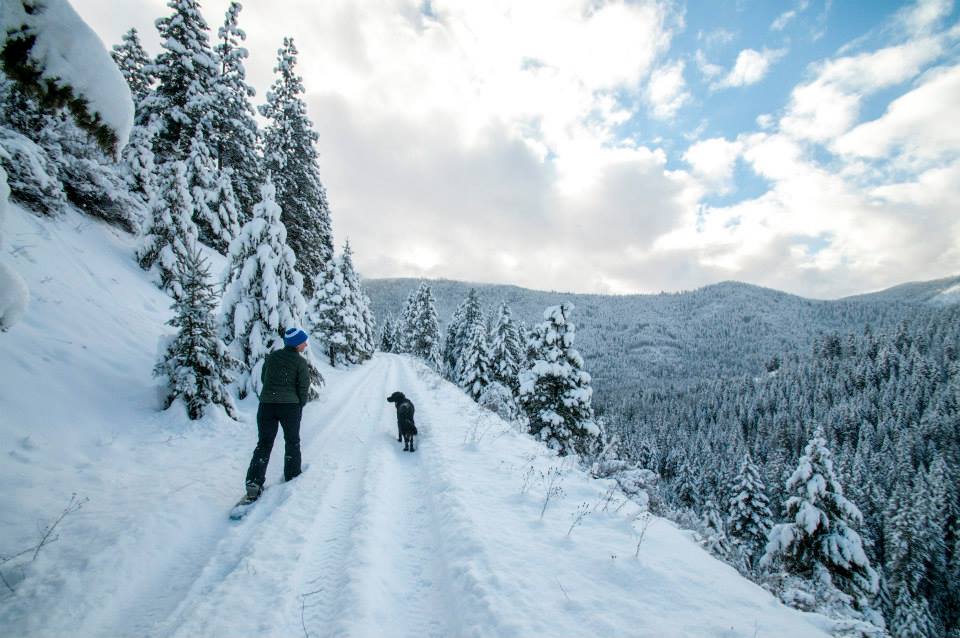 Explore Missoula's Pattee Canyon or Blue Mountain recreation areas for endless trails. You'll also find snowshoe adventures in the Rattlesnake Wilderness and Missoula's South Hills. Just east of Missoula, Greenough's Lubrecht Forest offers a quiet getaway to test your snowshoe know-how. Lookout Pass Ski and Recreation Area on the Montana/Idaho border offers over 15 miles of groomed trails for snowshoers. You'll find gear and good advice from the fine folks at Missoula's Trailhead.
From Lookout Pass, you can snowshoe, ski or snowmobile to Taft, about 10 miles. This route is for well-experienced snowshoers only, due to the nature of the trail.
The Bitterroot Valley boasts stunning winter landscapes, charming small towns with warm western hospitality, and trails abound. Lolo Pass lets you choose your own adventure with multiple snow-covered roads. Four miles from the pass, walk upstream to Snowshoe Falls for the perfectly picturesque winter waterfall scene. Hike the Continental Divide at the Chief Joseph Trail System's large network of groomed trails, complete with a cozy log cabin at the trailhead for warming up after your trek. Skalkaho Snowpark provides access to Skalkaho Pass in the scenic Sapphire Mountains.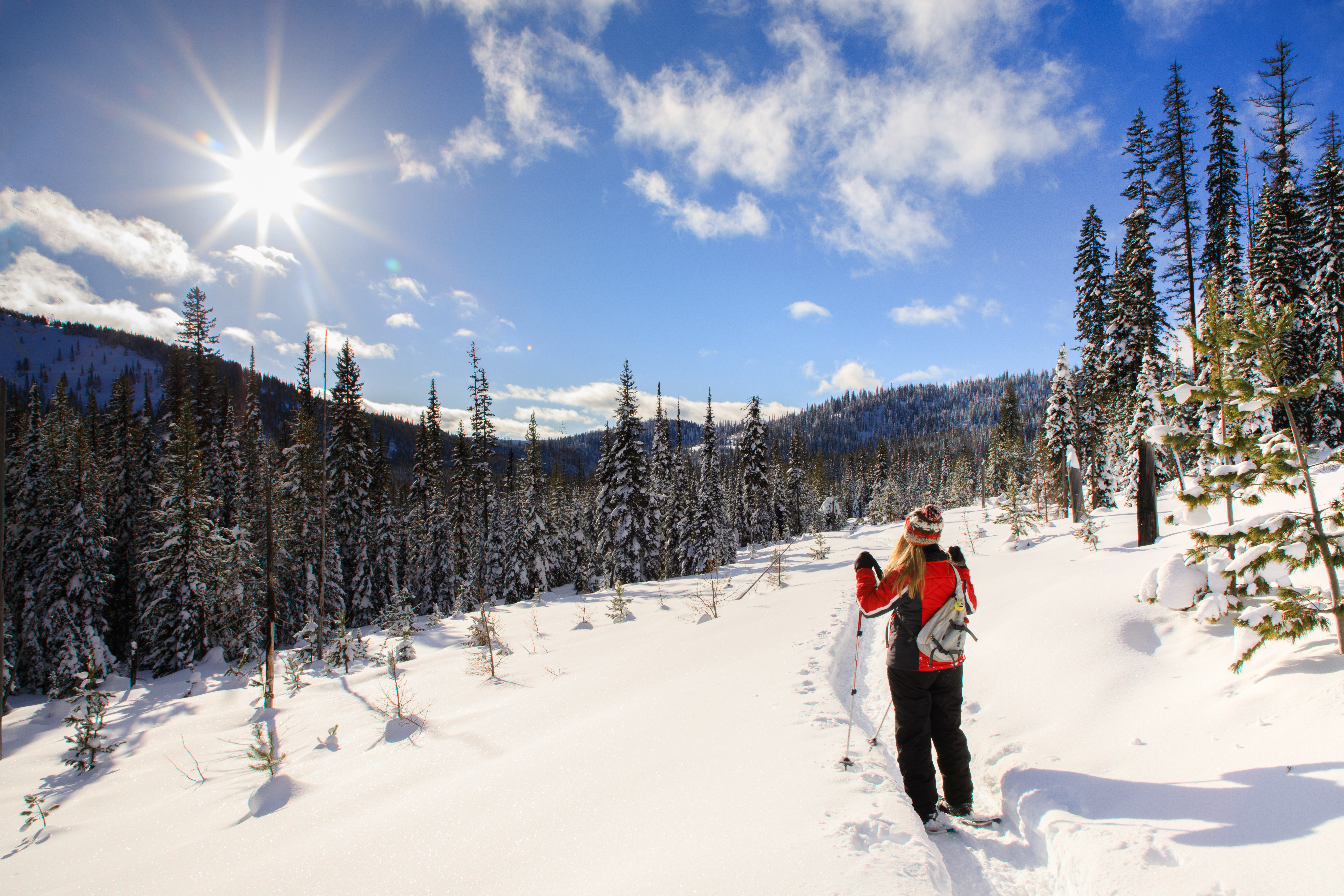 Make it an overnight adventure.
Many of Western Montana's ranches and resorts offer year-round activities, and snowshoeing is no exception. You can also find off-the-beaten-path overnight adventures at lodges, vacation homes and U.S. Forest Service cabins.
Revel in rustic splendor at Sula's Twogood Cabin, a 6-mile hike from the Warm Springs Creek Trailhead. (Open until October 15th and the month of December.)   
Explore the breathtaking Seeley-Swan Valley from your cabin door at Seeley Lake's Double Arrow Lodge, where you can borrow a pair of snowshoes or rent a pair at nearby Rocky Mountain Adventure Gear.
The 37,000-acre Resort at Paws Up offers guests two-hour snowshoe tours of the resort grounds, plus luxury Montana lodging in beautiful Greenough.
It's safe to say, wherever you stay, there's probably a trail close by and a pair of snowshoes calling your name.
Shoe safely.
Though snowshoeing is a tranquil and fairly simple winter activity, it's still important to know your snow safety. Be avalanche aware and read snow reports before you head out. Dress appropriately for the weather conditions, pack water and snacks, take a trail map and follow trail signs, and be wildlife savvy.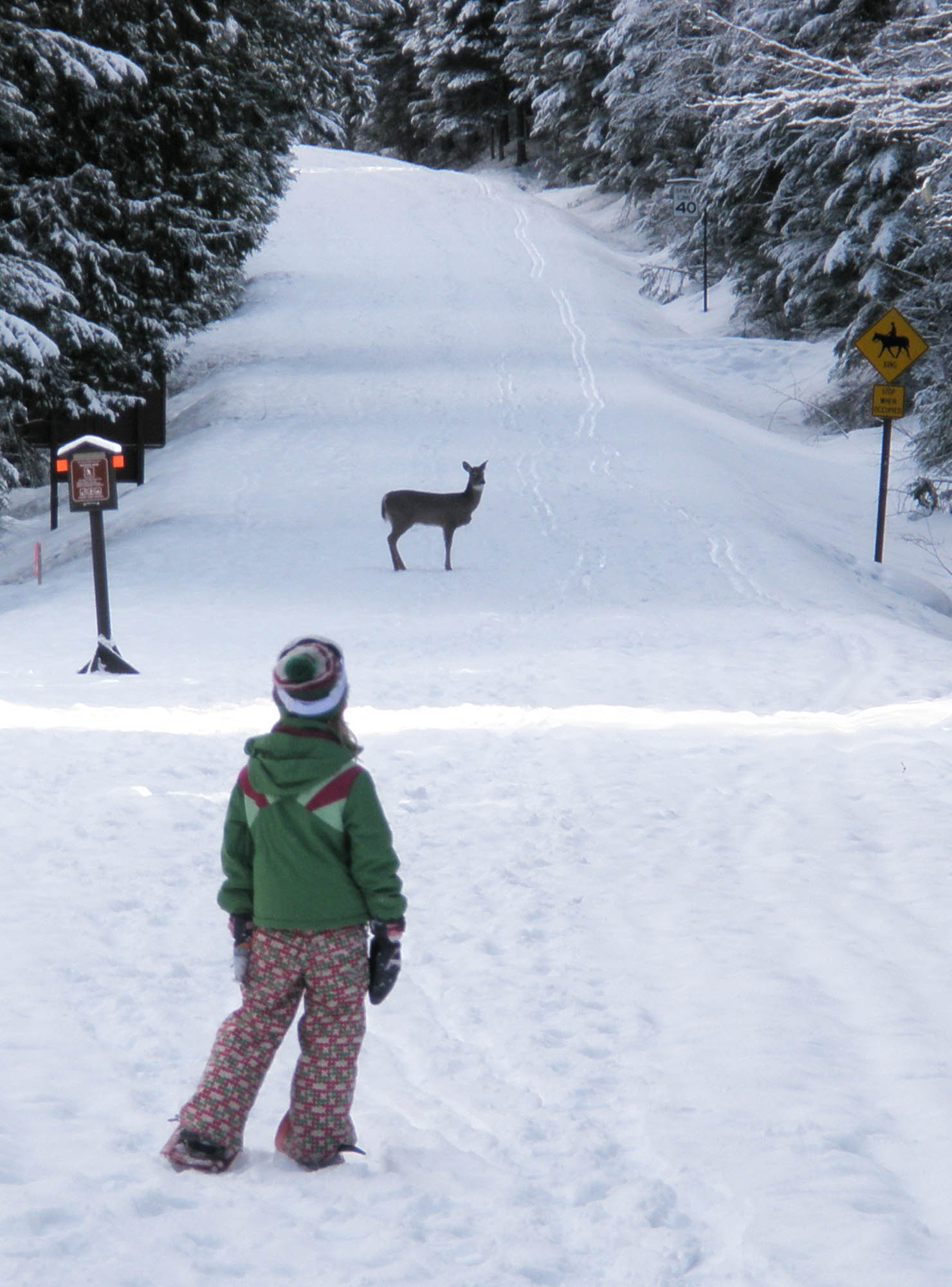 See you on the trail, friends.
February 1, 2018
Related: Bigfork, Clark Fork Corridor, Family Fun, Flathead Corridor, Getting Around, Glacier National Park, Greenough, Guided Tours, Kalispell, Lakeside, Lolo, Missoula, Montana, Outdoor Fun, Outfitters, Parks, Seeley Lake, Seeley-Swan Corridor, Snowshoeing, Stay, Sula, Thompson Falls, Troy, West Glacier, Whitefish, Wildlife, Winter Fun