Spring has sprung in Glacier Country, and we couldn't be more excited to hit the trails for a hike or bike ride—the perfect way to breathe in the fresh mountain air, get a new perspective and take in awe-inspiring views. Discover extensive trail systems here, on foot or on two wheels. With miles upon miles of trails, there's a path for every skill level. Here's a handful of our favorite Western Montana trails that can be walked, hiked or biked.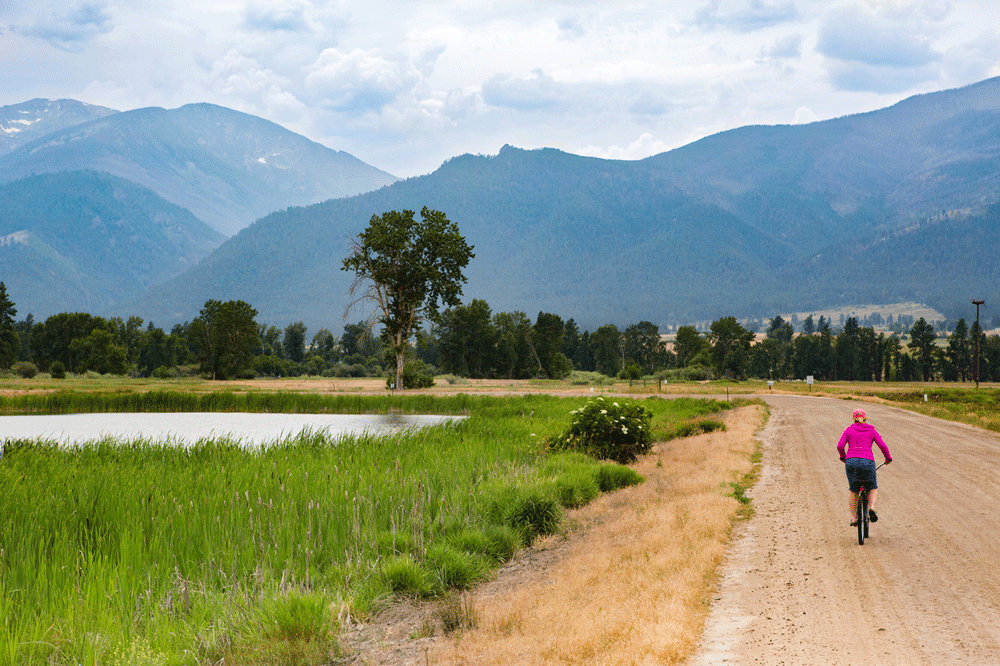 FORTLOOP TRAIL – MISSOULA
Level: Beginner walk + bike
Round Trip Distance: 2.5 miles
Directions: In Missoula—the cultural hub of Glacier Country—head to the newest city park: Fort Missoula Regional Park. Home to nine multisport fields, tennis courts, a dog park and more, the 2.5 mile-long Fortloop Trail loops the entire park. In total, there are 7 miles of trails to explore, some of which connect directly to the grounds of the Historical Museum at Fort Missoula, which encompasses 20 historical structures and buildings.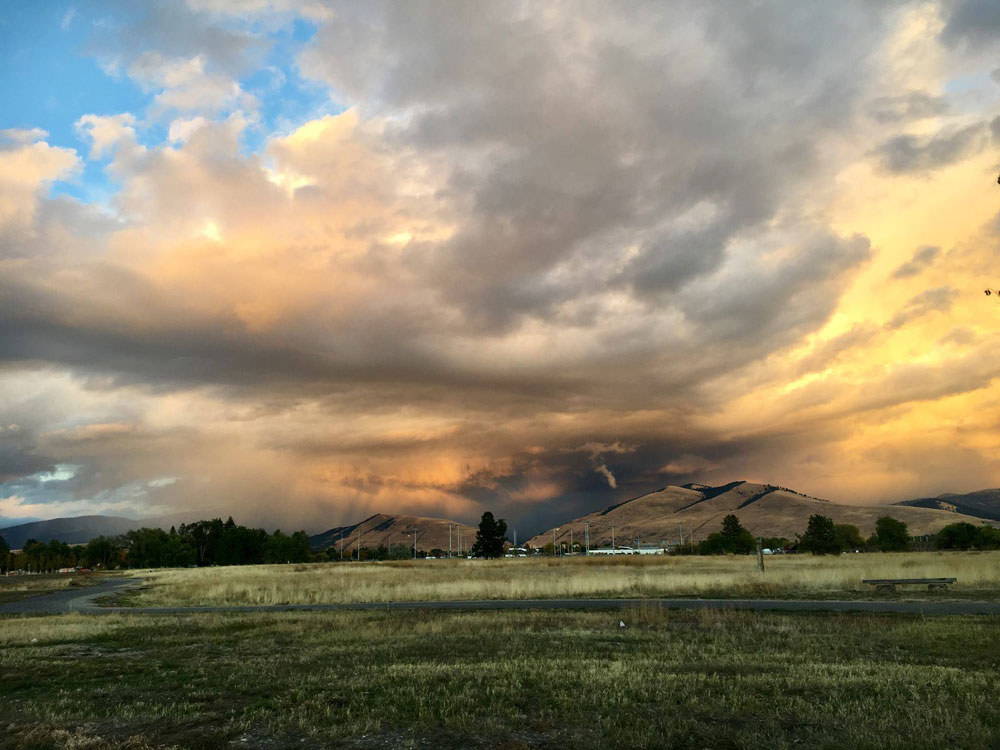 GREAT NORTHERN RAILS TO TRAILS – KILA, KALISPELL, SOMERS
Level: Beginner/Intermediate hike + bike
Round Trip Distance: 44 miles. Pick your starting point, then turn around whenever you want.
Directions: The Great Northern Historical Trail extends 22 miles between Somers—at the north end of Flathead Lake—and Kalispell, then South, ending at the tiny community of Kila (no amenities, but parking is available). Start in Somers, Kila or Kalispell. The trail follows the old Great Northern Railway route, serving up unrivaled views of the Swan, Mission, Salish and Whitefish mountain ranges. To arrive at the trail in Kalispell, head west until you meet the intersection of U.S. Highway 2 and Spring Creek Road. Find parking just east of the intersection.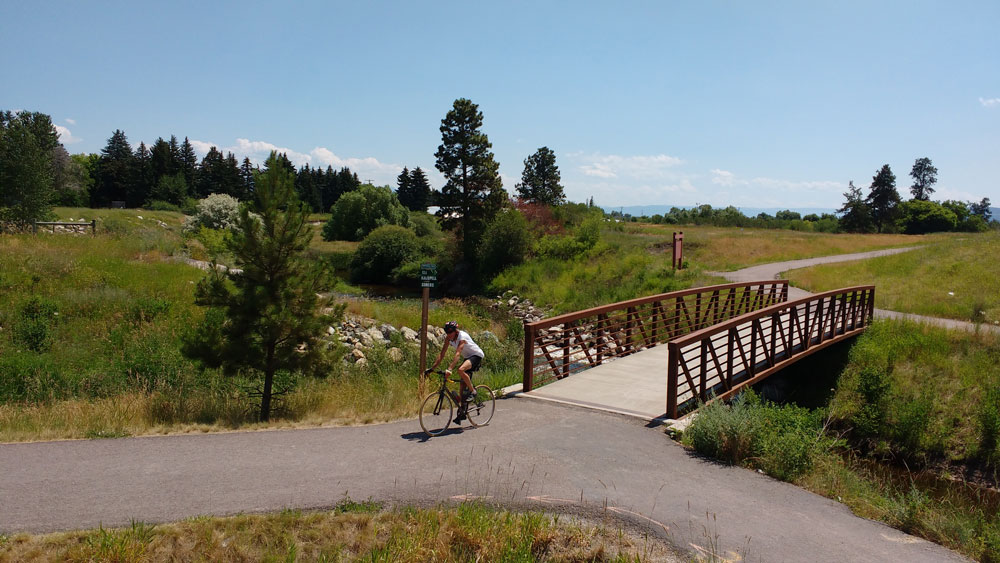 LAKE COMO TRAIL – DARBY
Level: Intermediate hike + Intermediate/Advanced bike
Round Trip Distance: 8 miles
Directions: After experiencing the Old West charm of Darby, travel north for 4 miles on U.S. Highway 93 then turn left on Lake Como Road. Follow it for 3 miles until you meet the campground and trailhead on your right. Lake Como Trail is a relatively flat yet technically difficult trail. Discover beauty around every bend as you circle Lake Como, pass by a waterfall and take in the dramatic mountain setting.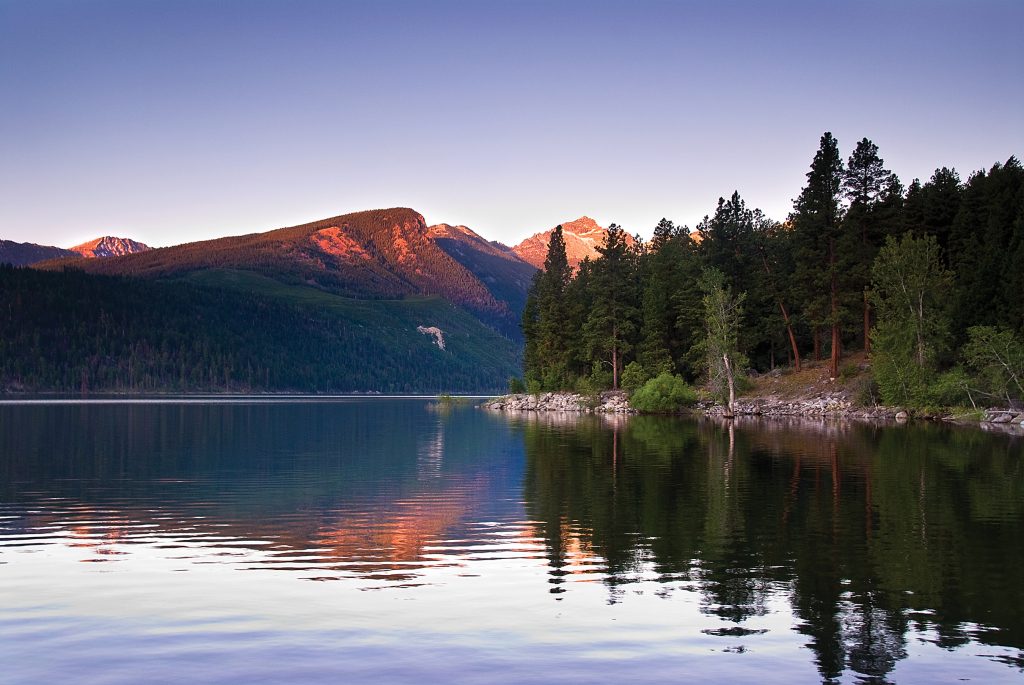 WHITEFISH RIVER PATH – WHITEFISH
Level: Beginner/Intermediate hike + bike
Round Trip Distance: The Whitefish River path is paved for approximately 15 miles and then connects to The Whitefish Trail. Hike/bike for however long you want, then turn around.
Directions: Whitefish has a network of in-town trails, which are maintained year-round. The Whitefish River Trail, one of the most accessible trails, begins at Riverside Park. The paved path travels through town along the Whitefish River and along part of Whitefish Lake. The path eventually connects to Reservoir Road, just 0.5 miles from the Reservoir Trailhead of The Whitefish Trail—one of 12 trailheads that encompass 42 miles of single-track trails.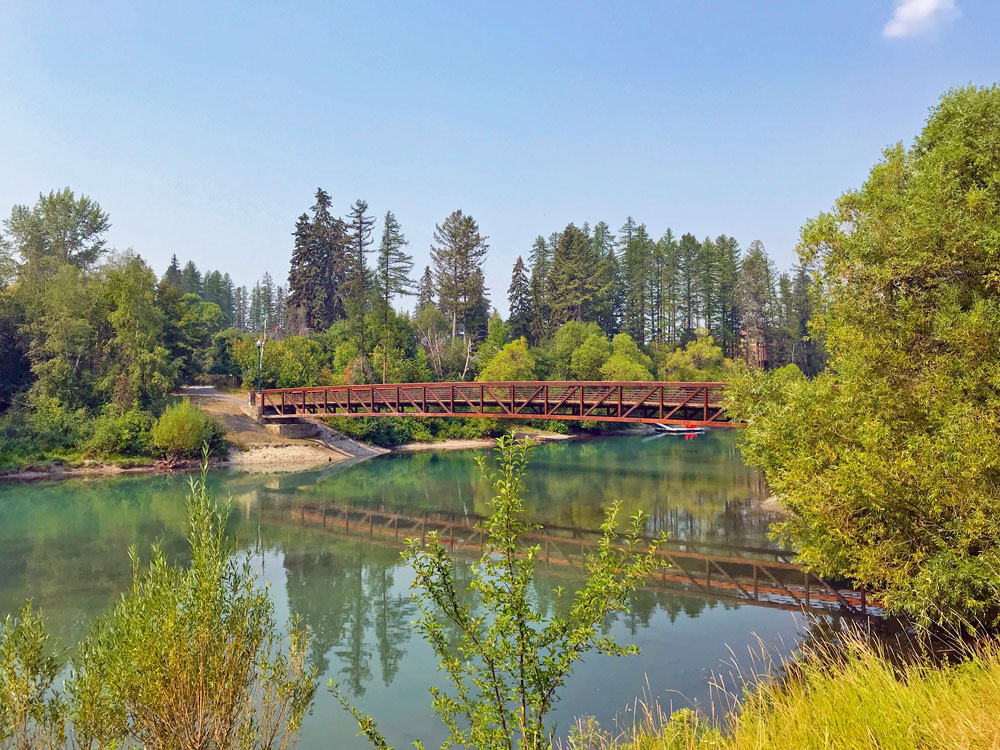 BLUE MOUNTAIN – MISSOULA
Level: Beginner/Intermediate hike + Intermediate bike
Round Trip Distance: Varies
Directions: After exploring Missoula, head south for 2 miles on US-93. Turn right onto Blue Mountain Road, and the trailhead is on the left where the road makes a 90-degree turn. This popular recreation area boasts more than 41 miles of trails, so be sure to pick up a map at the trailhead. You'll begin in open meadows, where you can enjoy views of the Missoula Valley and Sapphire and Rattlesnake mountains, before ascending into forested wilderness. Take a quick and easy 3-mile loop, or explore much farther.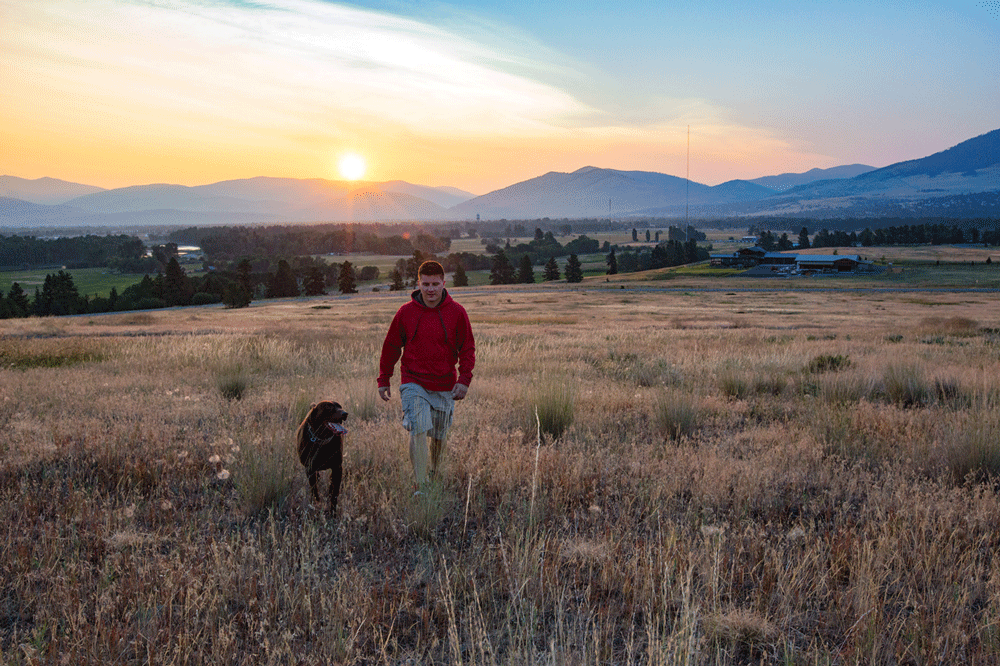 GEAR UP
Spring weather is unpredictable. Dress in layers and bring a rain jacket. Wear worn-in, comfortable shoes.
It's important to stay safe in the sometimes remote Western Montana wilderness. If biking, wear a helmet.
Pack a light backpack with water, snacks, a map and, if biking, a tire pump.
Consider carrying bear spray with you—you never know what wildlife you'll encounter, especially in the more remote areas.
Find more Glacier Country hiking and biking trails online. Helpful trail maps can also be found at local visitor centers, ranger stations and forest service offices. Bike rentals are available throughout the region.
June 1, 2020
Related: Biking, Bitterroot Valley, Darby, Hiking, Kalispell, Kila, Missoula, Outdoor Fun, Somers, Spring Fun, Whitefish