The charming crossroads community of St. Regis is a road-trip must-stop. Travelers on the Interstate Highway 90 corridor between Missoula, Montana and Coeur d'Alene, Idaho never miss the chance to pull over and stretch their legs in this treasured town nestled at the confluence of the Bitterroot, Coeur d'Alene and Cabinet Mountain ranges.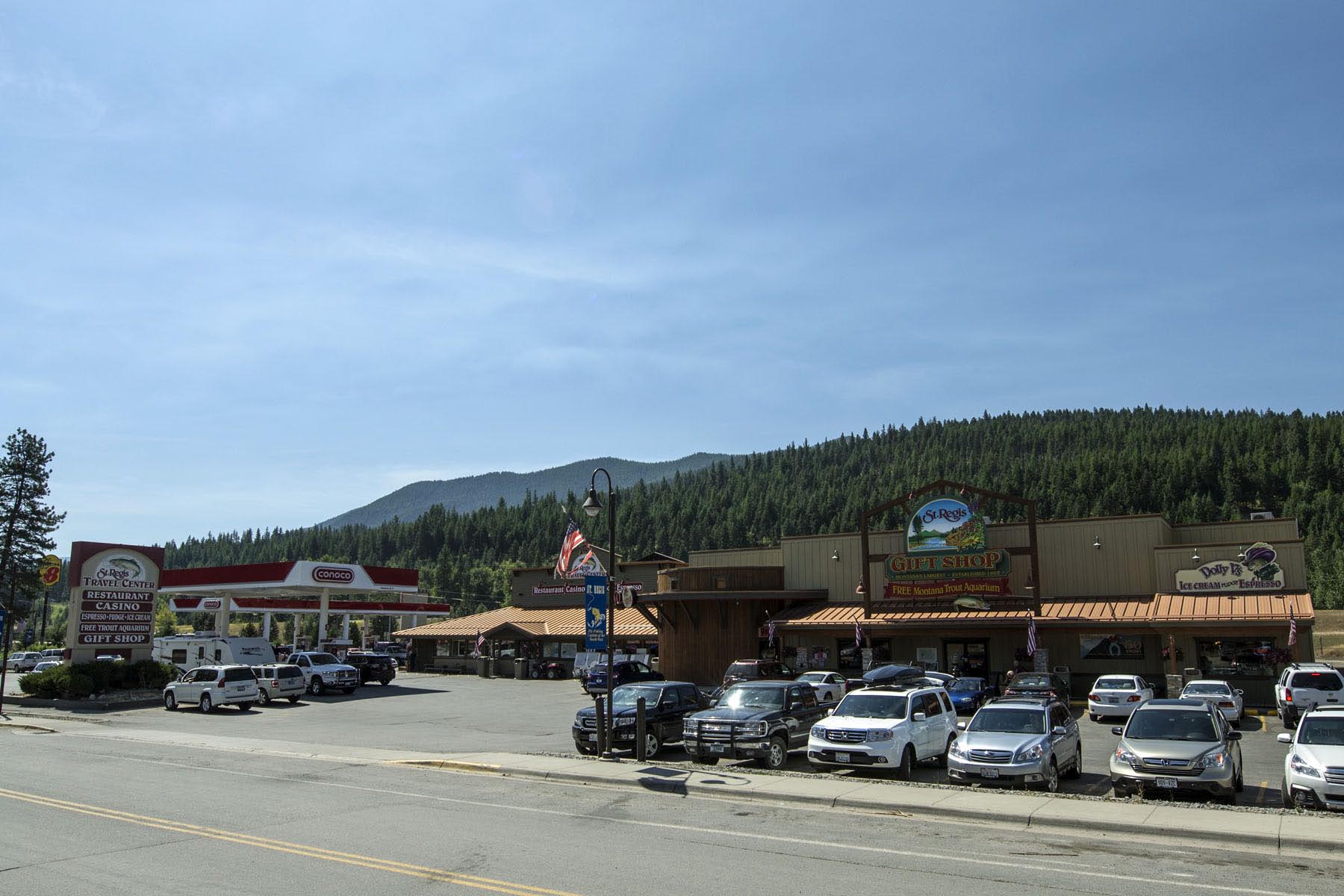 The family-owned St. Regis Travel Center is known far and wide as a place to stop and stay a little while. It's more than just a convenient spot to fill your gas tank. Fuel up on great food and famous huckleberry milkshakes at Huck's Grill, plus Dolly V's ice cream, fudge and espresso. There's a live trout aquarium, too and Montana's largest gift shop, where you'll find souvenirs in abundance and free popcorn to boot.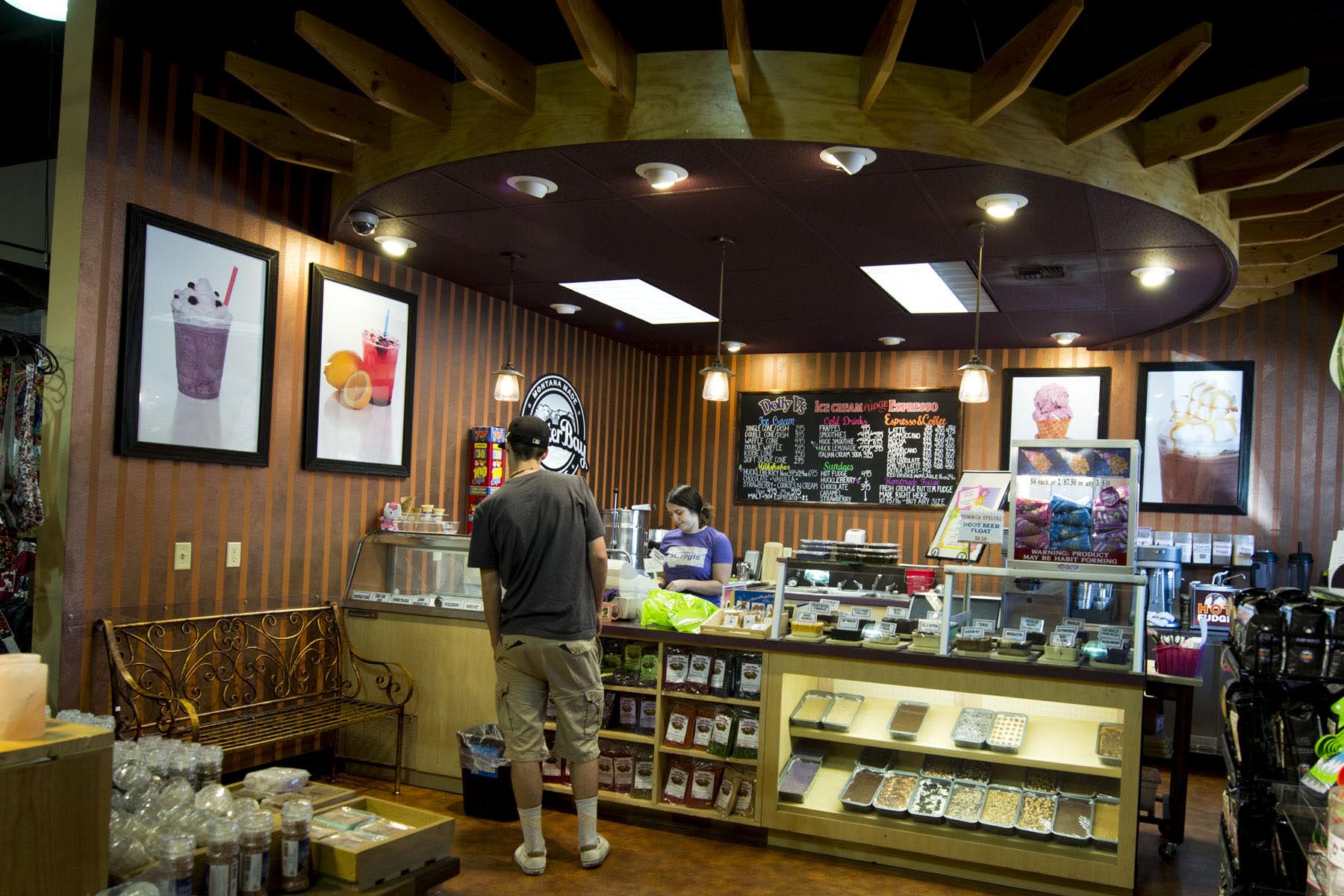 Head off the interstate and onto the St. Regis-Paradise Scenic Byway—state Route 135—winding 22 miles through gorgeous national forest land including rolling flats and steep canyon walls. This route is part of the Clark Fork Scenic Drive through the Coeur d'Alene Mountains, beginning in Alberton and hooking up with Montana's Tour 200 scenic route. Stop along the way for fishing, hiking, camping and wildlife viewing, or a soak in the healing mineral waters of Quinn's Hot Springs Resort.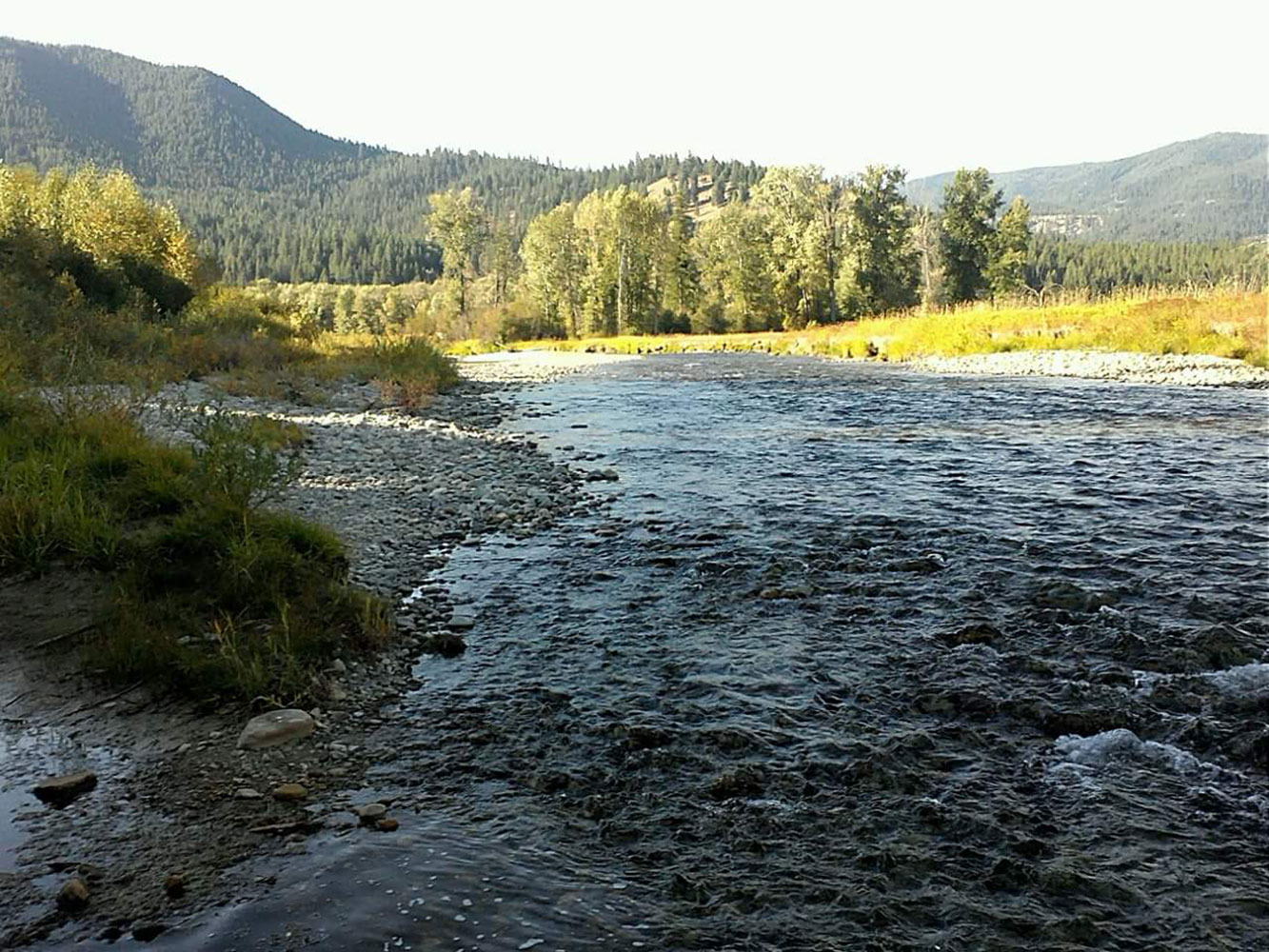 Recreation abounds in the St. Regis area. In addition to St. Regis Community Park's half-mile interpretive nature trail, playground and pond—perfect for a pit stop picnic—authentic outdoor adventure is all around. Fly-fish the Clark Fork River, ski Lookout Pass (about 30 minutes west of St. Regis) and discover plenty of places to hike and bike in Lolo National Forest.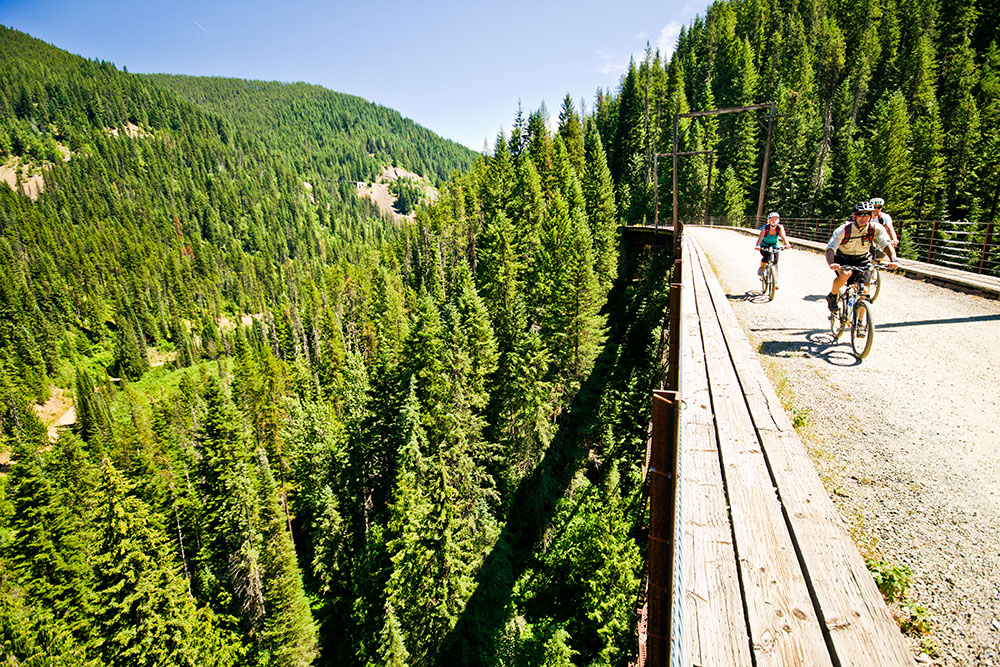 The Route of the Hiawatha provides pedaling fun the whole family will enjoy. This 15-mile Rails-to-Trails adventure, not far from St. Regis, traverses 10 tunnels and seven high trestles along breathtaking stretches of scenic Montana landscapes, and a shuttle is offered for those who prefer to skip the up-hill trek. Mountain bikers can find 18 miles of epic single-track on one of the best trails in all of Glacier Country—the Clark Fork River Trail (also a great hiking spot—try the Cascade Falls spur trail). This smooth ride follows the river through pristine, lush forestland, and the trailhead is not far from Quinn's.
Head for the hills and a little history on the Crystal Lake Trail. This 3.8-mile uphill hike can be moderate to difficult at times, but worth experiencing the sparkling Crystal Lake 1.5 miles from the trailhead. Stop along the way for berry picking, fishing and viewing the remnants of a historic abandoned mining town and Deer Creek Mining Company, including the ruins of several cabins and a sunken mine shaft.
Swing your golf clubs against the backdrop of the Bitterroot Range at the beautiful, family-friendly Trestle Creek Golf Course. Tee times are usually available on short notice and golf clubs can be rented on-site—perfect when you feel like a spontaneous stop for some time on the green.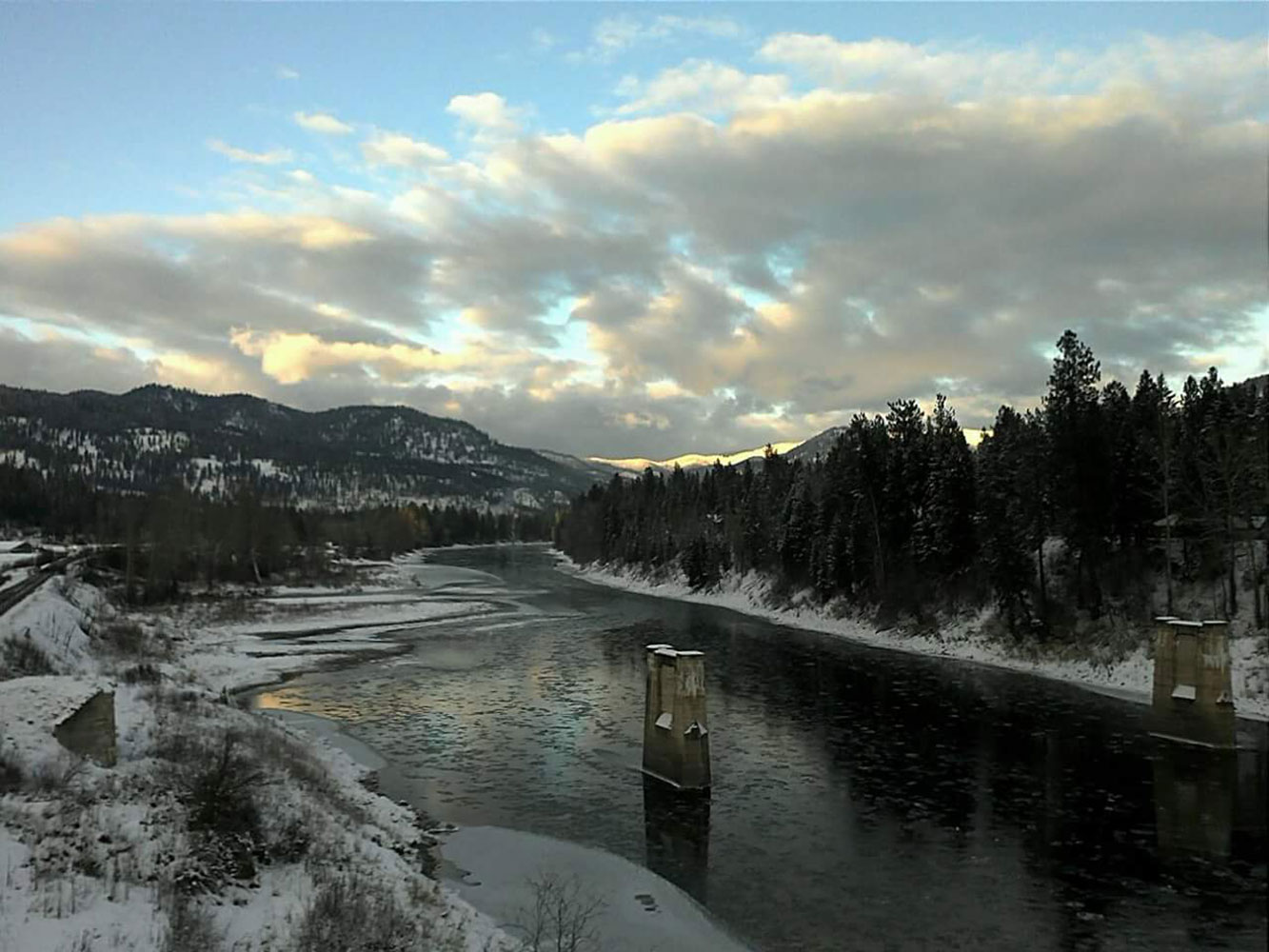 St. Regis hosts the largest flea market in Montana every Memorial Day weekend at Community Park. For three days from dawn to dusk, vendors peddle their wares. Find a true Montana treasure to take home with you, plus breakfast, lunch and snacks.
This tightly knit community charms with events like an annual Easter egg hunt, scarecrow contest, Christmas lighting, Trail Rail Run, Fourth of July parade and fireworks. Come on over and see St. Regis for yourself.
November 12, 2018
Related: Biking, Events, Family Fun, Film, Golfing, Hiking, Hot Springs, I-90 Corridor, Montana, Outdoor Fun, Parks, Road Trips, Shopping, St. Regis