Fall in Western Montana brings brisk mornings, cozy sweaters and jaw-dropping golden hues. While the colors lure leaf peepers from across the country, our outdoor recreation, art and music scenes, museums, and authentically Montana adventures keep them here. Between the hustle and bustle of activities and sightseeing, stop by one of our many local bakeries and treat yourself to a warm pastry while reflecting on the day. From award-winning bakeries serving up the classic pastries you crave, to innovative bake shops creating treats "outside the breadbox," our culinary contributions are unexpectedly phenomenal. The foodie in you will thank us later.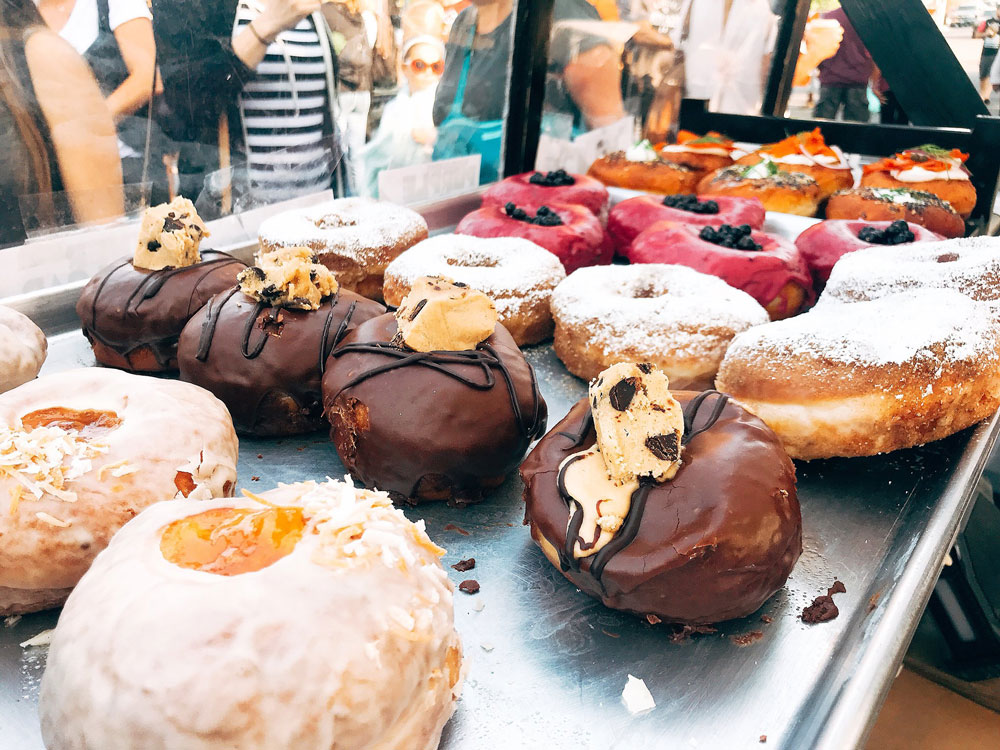 BITTERROOT VALLEY
A brisk fall morning is well spent in a charming small-town bakery in the Bitterroot Valley. Surrounded by warm western hospitality, you'll taste the love in made-from-scratch baked sweets. Alpenstüble Inc.-The Bretzel Factory is an authentic German bakery in Stevensville. The owner is originally from Germany, and bakes German treats, bread and pretzels. We recommend the sweet pretzel filled with Bavarian Cream. Between brewery tours, fly-fishing or exploring the historic Daly Mansion in Hamilton, duck into Red Rooster Bakery for artisan breads, pastries and sweet coffee.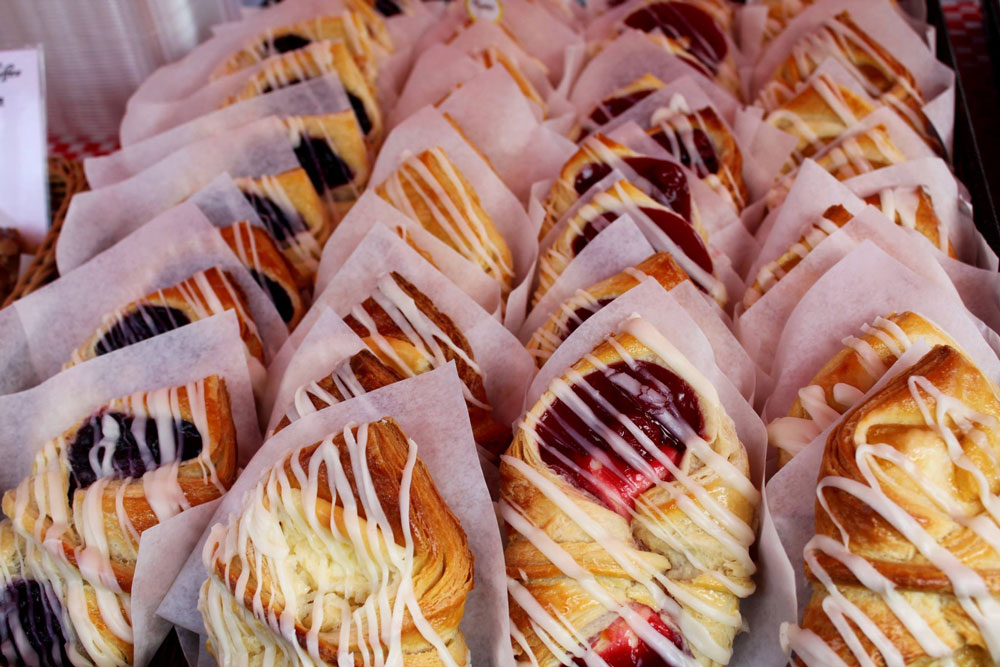 MISSOULA
Take a break to plan your next excursion while sipping coffee and savoring a treat in Missoula. Art galleries, museums, boutiques and bakery shops line Missoula's downtown. The bakery scene here is strong, from vegan donuts at Veera, to hearth-fired European-style breads and decadent pastries like Kouign Amann and Pain au Nuit at Le Petit Outre. Since 1978, Bernice's Bakery has prepared everything from cakes and breads to scones and sugar cookies—many still baked using the original recipes. Another local favorite, Great Harvest Missoula is known for their phenomenal sandwich breads and rolls in decadent flavors like apple crunch and cinnamon swirl.
+ Gristmill Bakery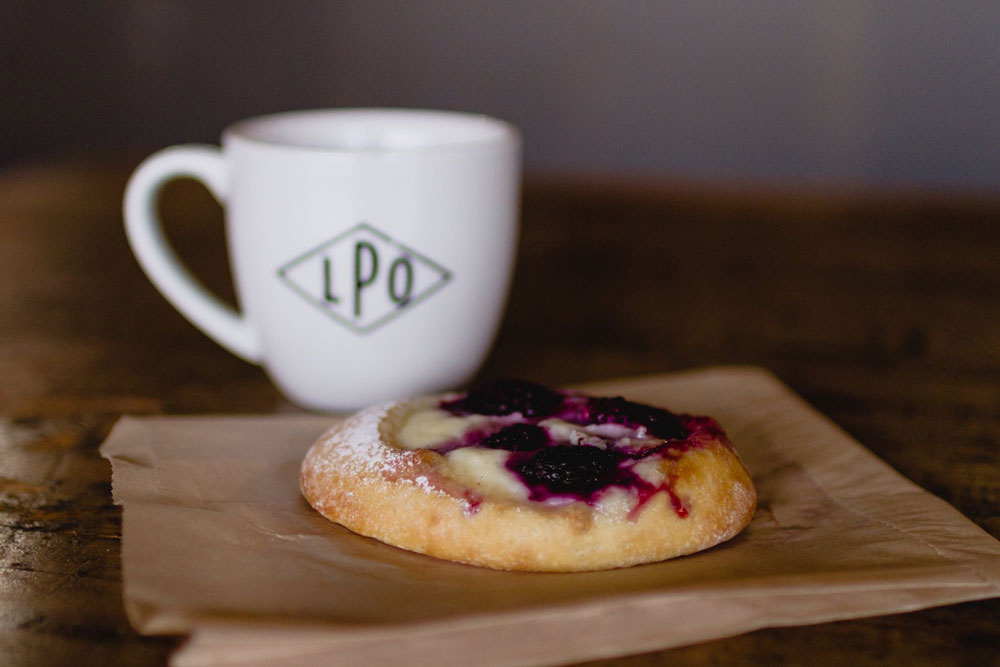 GLACIER NATIONAL PARK SURROUNDING AREA
Start the day off right with a tasty pastry before exploring Glacier National Park. Relish the flavor of a famous huckleberry bearclaw or macaroon at Polebridge Mercantile, a historic mercantile, saloon and bakery known for having some of the best pastries in the West. Or delight your palate at Rock 'n Roll Bakery in East Glacier Park. This eccentric bakery is a one-stop shop for baked goods and outdoor gear. Taste of Home Magazine recently named their pie the "Best in Montana." Uptown Hearth in Columbia Falls rolls out freshly baked goods every morning in one of the most delicious arrays of baked goods you'll ever lay eyes on.
+ Brownies Hostel and Bakery, East Glacier Park
+ Glacier Coffee House, West Glacier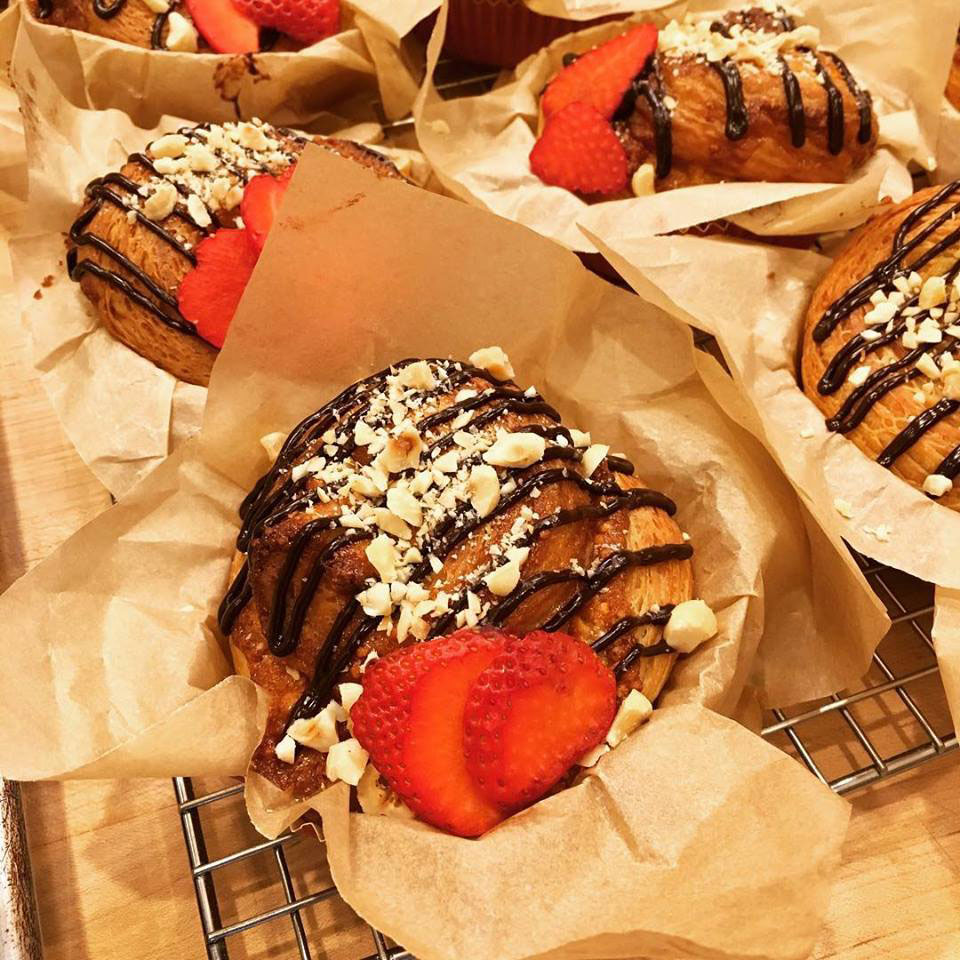 FLATHEAD CORRIDOR + KALISPELL
Dessert dreams come true at the Windmill Village Bakery. In Ravalli, the bakery sits next to an iconic windmill, and this hidden gem serves up some of the best glazed donuts in Montana. It's open seasonally and is the place to go for binge-worthy comfort food. Bite into a light, flaky pastry for a moment of pure bliss at Ceres Bakery in Kalispell. Savor the flavor of seasonal mini pies, raspberry brioche or a twice-baked almond croissant.
+ Stella's Deli and Bakery, Ronan
+ Lake City Bakery & Eatery, Polson
+ Bonjour Bakery & Bistro, Kalispell
+ Glacier Perks Coffee House, Lakeside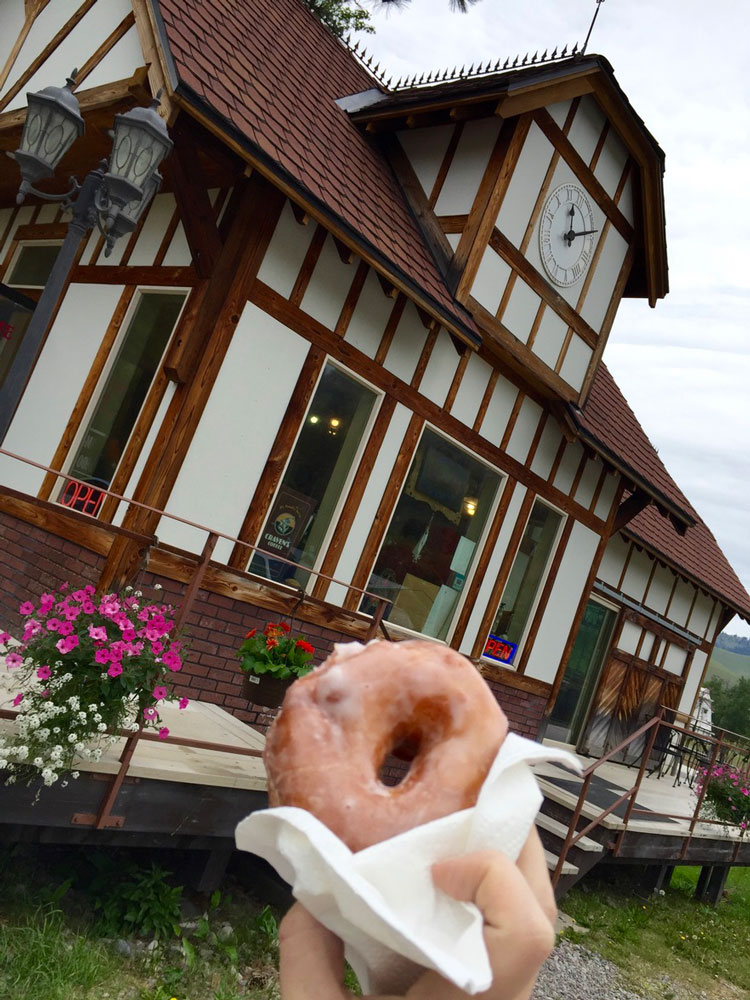 WHITEFISH
The quintessential mountain town of Whitefish boasts a downtown treasure trove of small boutiques, eclectic shops, art galleries and bakeries. Wake up to a caramel macchiato and treat yourself to some warm, gooey and delicious raspberry monkey bread at Montana Coffee Traders. Peruse the aisles while waiting for your order; it's chock-full of Montana made products and locally-made art.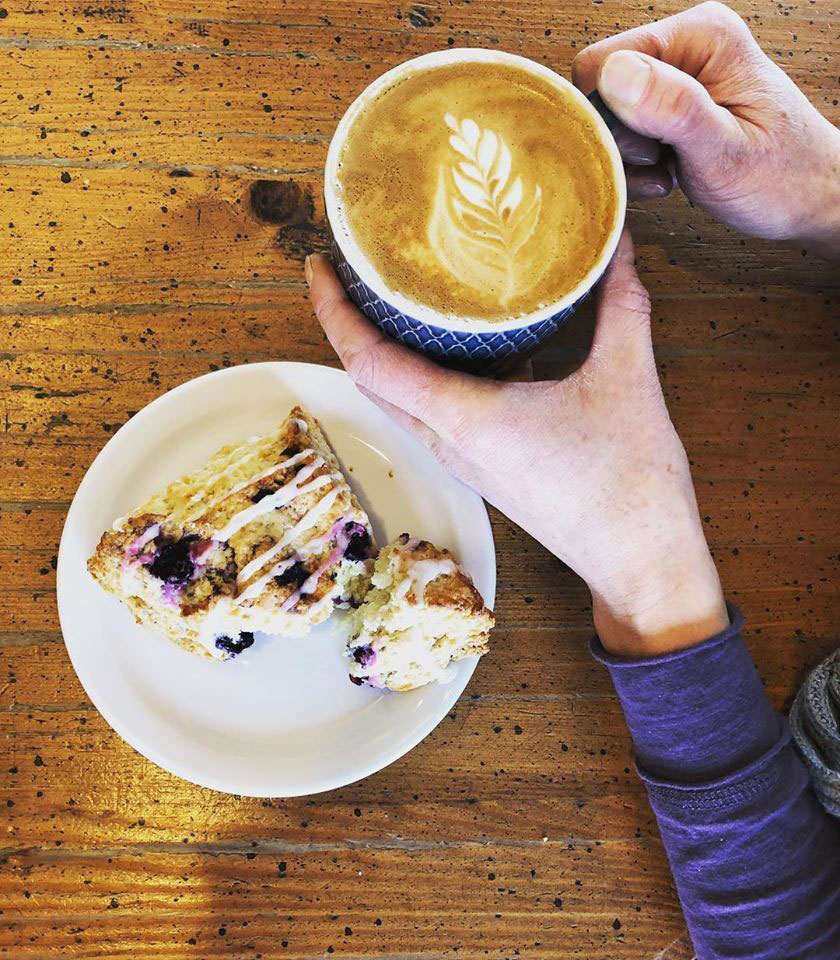 NORTHWEST CORRIDOR
After a day of exploring the Ross Creek Cedar Trail outside Troy, head to the Kootenai Kupboard for a savory treat. A bacon cheddar roll and the soup of the day is the perfect way to warm up. You'll love the huckleberry coffeecake. Another noteworthy mention is the Farm To Market Store and Bakery in Libby. This Amish market has been baking traditional goods since 1995 and the treats are not to be missed.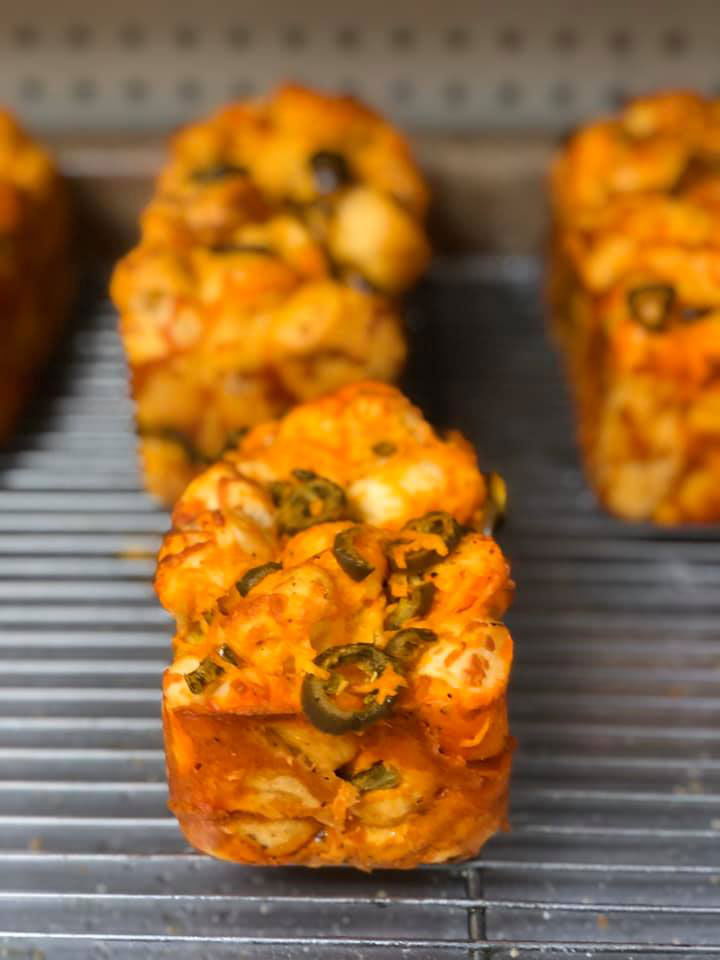 BIGFORK
Hugging the shores of Flathead Lake, the storybook village of Bigfork is something out of a Hallmark movie. World-class art galleries, Broadway-caliber theater, and numerous shops and bakeries line the main street. Brookside Yard is the perfect place to mingle with locals and wake up with cookies or muffins fresh out of the oven. At night the bakery transforms to hosting movie nights and live performances. Grateful Bread Bigfork Café & Bakery serves up artisan-style breads, some of the most delicious treats and a rotating breakfast and lunch menu.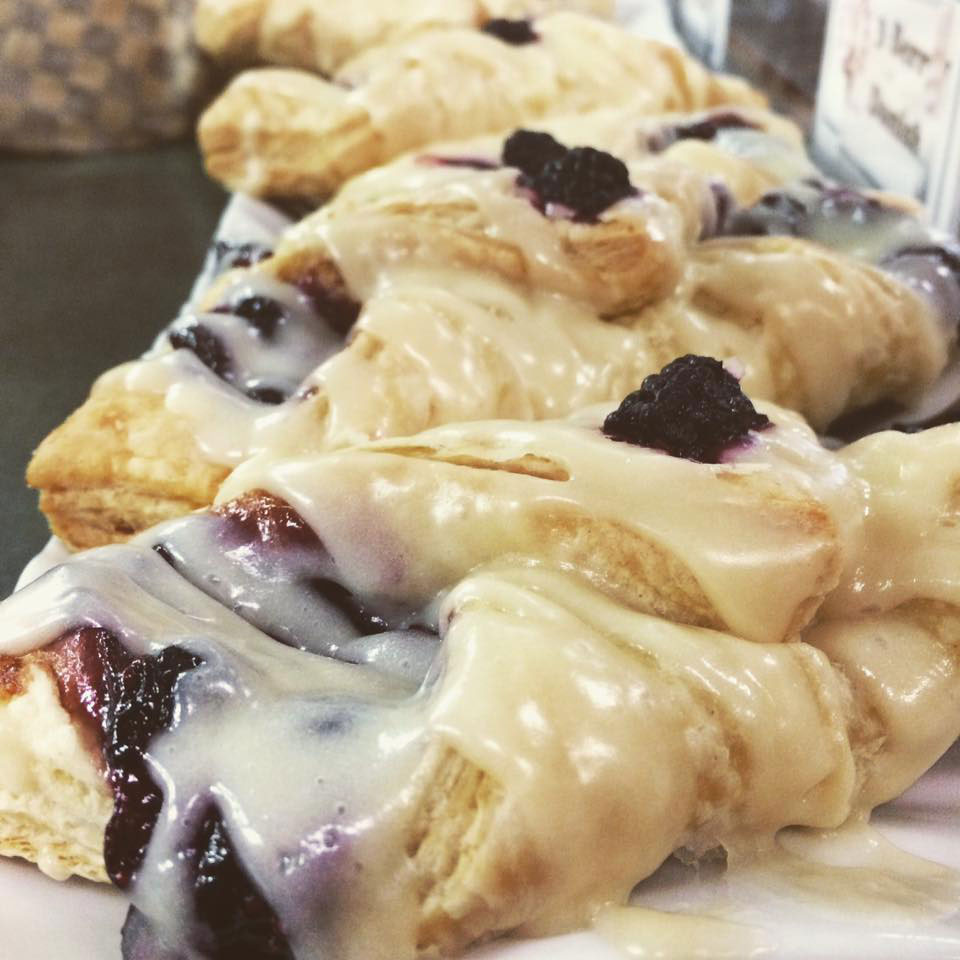 TOUR  200
Near the Bison Range on the Flathead Indian Reservation, the Dixon Mercantile brings people together with mouthwatering pastries and community events like talent shows, live performances and family-style dinners. Grab a blueberry scone or apple-pie turnover (or both!) from Beagle's Bakery and Espresso in Thompson Falls before casting a line on the Clark Fork River. MaggieMay the beagle is the official taste tester of the bakery and has worked hard to perfect all flavor combinations.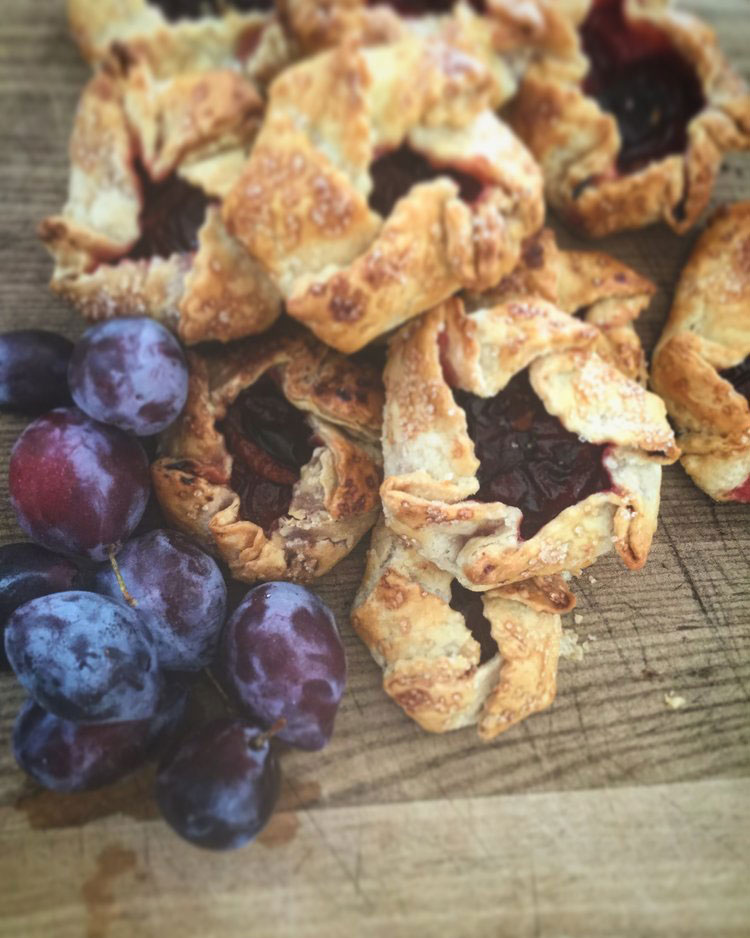 After all this food talk, if you've decided to road trip through Western Montana—exploring our charming small towns and eating pastries along the way—you've got the right idea!
November 4, 2019
Related: Bigfork, Bitterroot Valley, Columbia Falls, Dining, Dixon, East Glacier Park, Food, Glacier National Park, Hamilton, Kalispell, Lakeside, Libby, Missoula, Moiese, Polebridge, Polson, Ravalli, Ronan, Stevensville, Thompson Falls, Troy, West Glacier, Whitefish