You may have already figured out that we're pretty good at divulging our own secrets. That's because we have so much good Glacier getaway intel to share. For instance, spring is one of the best times to explore Big Sky Country by bike. As the temperatures begin to warm in Western Montana, snow enthusiasts head home, making spring one of our quietest—and most serene—seasons. Experience wildflowers, emerging wildlife, rushing rivers and the always welcome shoulder-season pricing (which pairs well with our warm western hospitality).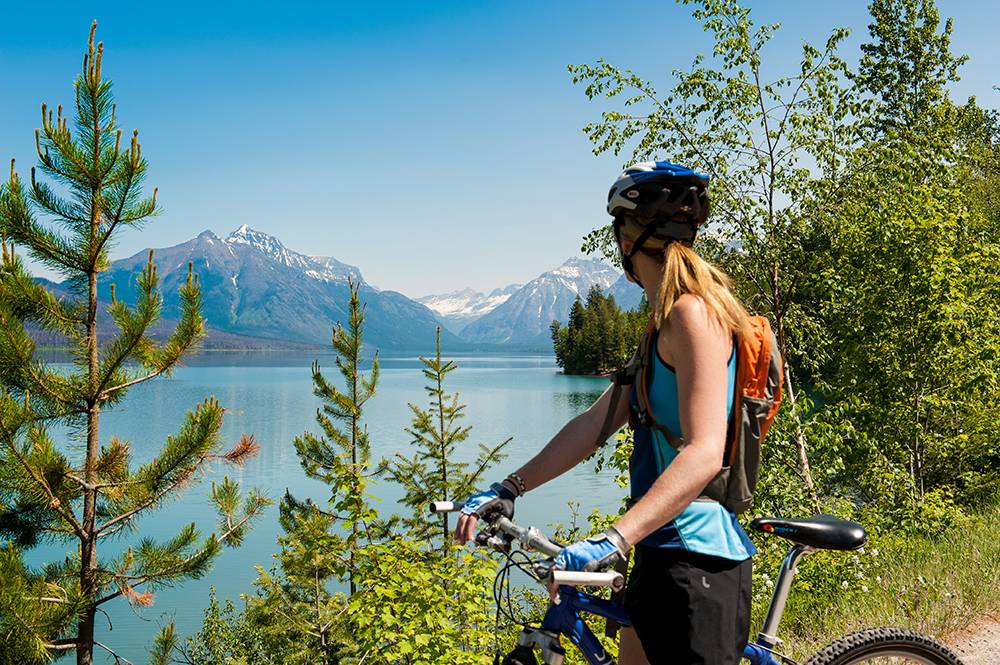 Pedal the pure mountain air and discover a Montana springtime on two wheels. Here are a handful of our favorite trails.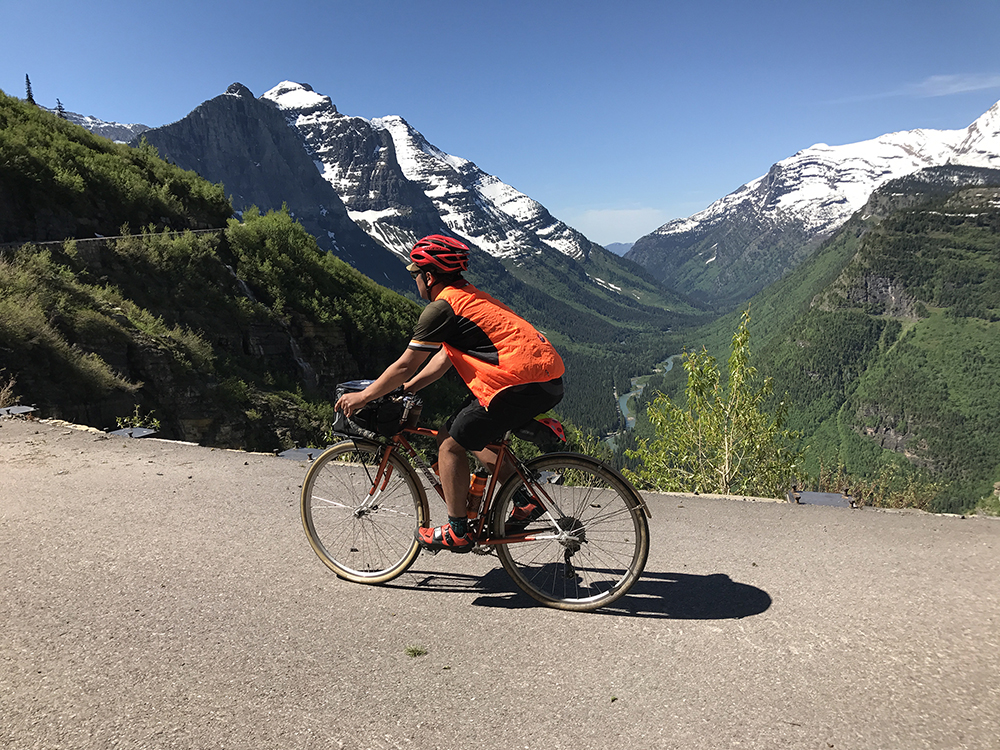 1. Going-to-the-Sun Road
Level: Intermediate – Advanced Road Biking  
Length: Varied
Biking this beauty is a pretty epic way to see spring flourish in Glacier National Park, and this season of serenity is the only time you can pedal one of the most scenic roads in America before it opens to vehicular traffic. Additionally, biking is also permitted on all roads in the park, plus three park trails. Side trip, anyone? Weekend spring shuttle service begins May 13. For more information, visit the National Park Service. Also, contact our friends at Glacier Guides for bike rentals, guided bike tours and unforgettable custom Glacier National Park adventures. This is one Glacier Getaway for the books.
2. Whitefish Bike Trail
Level: Beginner Road Biking
Length: Varied
The quintessential mountain town of Whitefish is a mecca of meandering trails. One particular stretch—the paved Whitefish Bike and Pedestrian Trail—follows the Whitefish River through town near Riverside Park. Whitefish is a year-round resort community, and the spring warm-up offers a chance to explore this charmer without the crowds. Make it an overnight adventure with Whitefish Bike Retreat, offering trail-side lodging—and a very authentic Montana experience—just west of town.
3. Lake Koocanusa Loop
Level: Intermediate – Advanced Road Biking
Length: 80 miles
Who doesn't love a good loop? Add a lake and you've got one of the best road rides in Montana. Discover beauty around every bend as you circle Lake Koocanusa between Eureka and Libby. You'll be hard-pressed to find a flat stretch on this gem, so gear up for the hills. Go the distance on this lake loop and you won't be disappointed. Oh, and there are breweries in both Eureka and Libby, so no matter which town you end up in, you can treat yourself to a handcrafted big-sky brew after a long ride.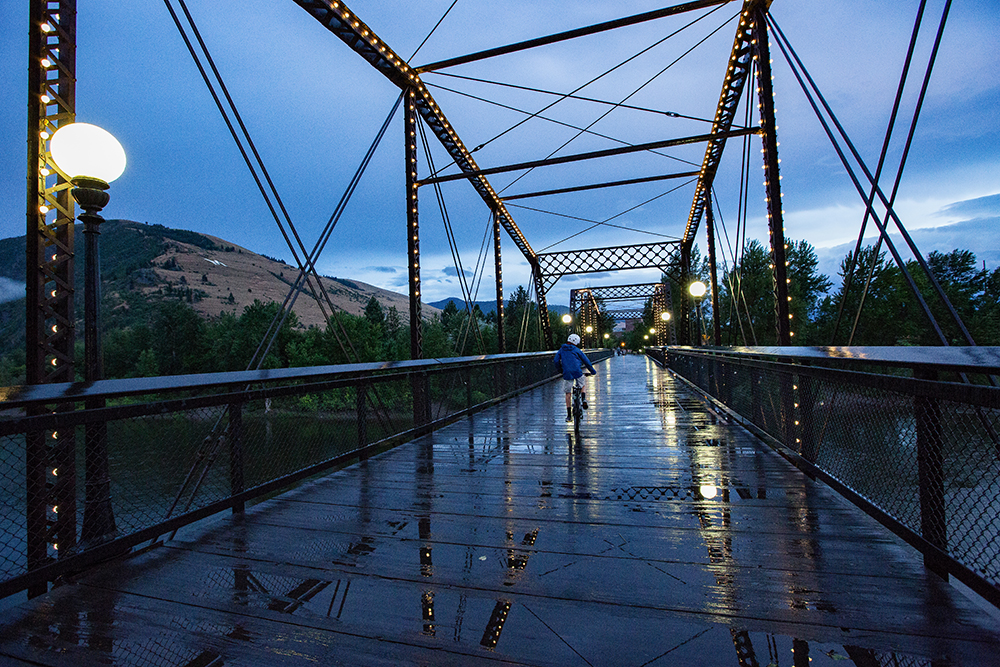 4. Ron MacDonald Riverfront Trail System
Level: Beginner Road Biking
Length: 7 miles
Explore springtime by bike in one of Western Montana's cultural hot spots—Missoula. Follow the Clark Fork River and wind through downtown before connecting to the Kim Williams Nature Trail. This university town is very pedal friendly, so, when the trail ends, take to the streets and discover everything this Glacier Country getaway community has to offer, including one of the West's top 10 farmers market, which begins annually in May.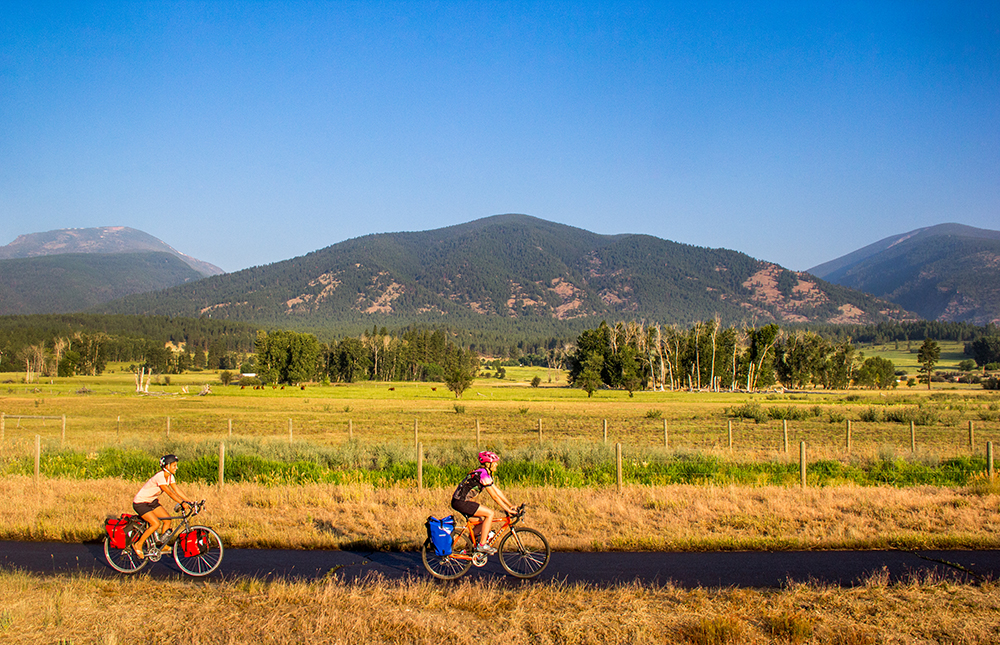 5. Bitterroot Trail
Level: Beginner Road Biking
Length: 50 miles
Cycle the sights along the winding Bitterroot River between the jagged peaks of the Bitterroot Mountains and the rolling Sapphire Range. Biking the Bitterroot from Missoula to Hamilton via the paved Bitterroot Trail is a unique and fun way to explore this very scenic valley. You'll pass through multiple charming communities in "The Root," with stops ranging from side trails and fishing spots to eclectic shops, coffee houses, breweries and bakeries.
6. Buttercup Loop
Level: Intermediate – Advanced Mountain Biking
Length: 21.1 miles
A little farther down the Bitterroot in Darby, get in gear for the Buttercup Loop. The first 7 miles of this trail are paved, but the Sleeping Child Canyon setting makes it well worth the ride. Then it's time to climb Black Tail Road, enjoying the Bitterroot Valley views along the way. Bonus: En route to the trailhead, there's a bike shop housed in an old red barn featuring a collection of classic bikes.
7. Route of the Hiawatha Trail
Level: Beginner – Intermediate Mountain Biking
Length: 15 miles
This Rails to Trails "Crown Jewel" is a Western Montana family favorite. It's one of the most scenic stretches of railroad in the country, and is all downhill to boot. Traverse multiple towering trestles in the Lolo National Forest and burrow under the Bitterroot Mountains in the Taft Tunnel. For tickets, reservation dates and bike rental information, visit the official website.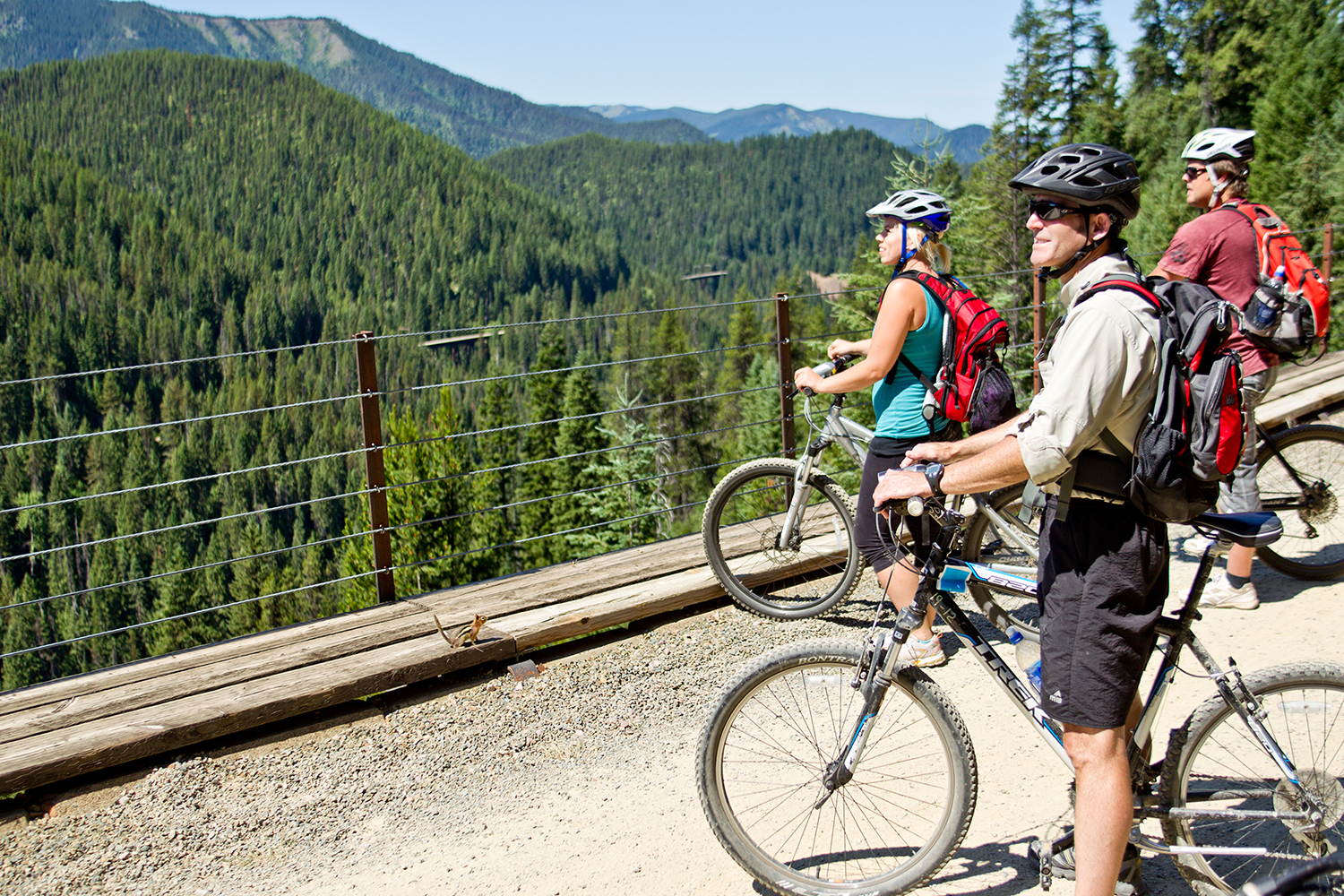 8. Clark Fork River Trail #233
Level: Intermediate – Advanced Mountain Biking
Length: 9 miles
Pedal Paradise (literally) to St. Regis on this Sanders Country single-track, navigating lush old-growth forestland and sweeping meadows popping with color—springtime is wildflower season, after all. Soak up the solitude in this hidden heaven, and then literally go for a soak at Quinn's Hot Springs Resort, just a couple miles north of the trailhead—a perfect way to relax after a perfect ride.  
9. Herron Overlook Loops
Level: Beginner – Advanced Mountain Biking
Length: 10.3 miles
Clip in near Kalispell for Foy Lake fun, and wind through Western Montana wildflower country. These Herron Park trail routes to Chase and Notch overlooks offer excellent Flathead Valley views. Both of these single-track climbs are moderate, but be prepared for fast and technical descents. Then, be prepared to enjoy the exceptional food and friendly local vibe in downtown Kalispell.
March 21, 2018
Related: Bigfork, Biking, Bitterroot Valley, Darby, Eureka, Getting Around, Glacier National Park, Hamilton, Kalispell, Libby, Missoula, Montana, Outdoor Fun, Paradise, Parks, Spring Fun, St. Regis, Summer Fun, West Glacier, Whitefish