One of Glacier Country's greatest assets is our rivers. Just the mere mention of Western Montana conjures visions of sparkling waterways winding through some of the country's most scenic landscapes. Our rivers are wild and free, and they all offer diverse adventures, from fly-fishing to scenic multiday float trips to adrenaline-pumping whitewater excursions. A Western Montana vacation isn't complete without a day (or more) on the water.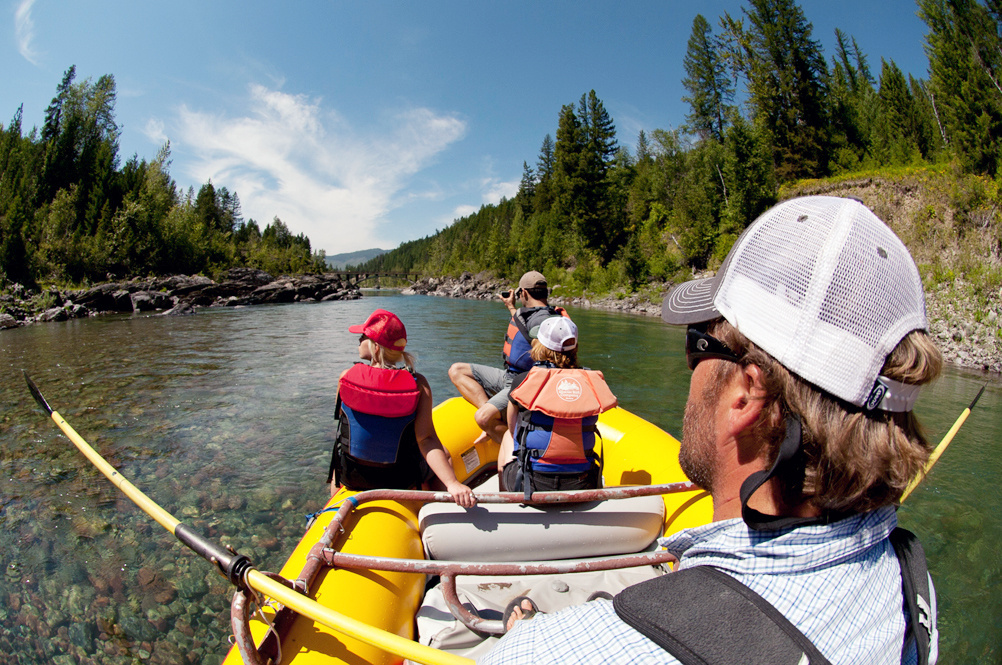 As winter turns into spring, snowmelt means our rivers begin rolling at peak volume and vacationers and locals alike flock to Glacier Country for whitewater rafting adventures or lazy, scenic floats (later in the summer).
BITTERROOT RIVER
The Bitterroot River—one of Montana's more scenic waterways—offers a peaceful float down the panoramic Bitterroot Valley, with views of the Bitterroot and Sapphire mountains. Flow is slow to moderate, which makes for a gentle, pleasant trip, ample wildlife viewing and plenty of fishing. Don't forget your camera on this picturesque float!
CLARK FORK RIVER'S ALBERTON GORGE 
The Clark Fork River's Alberton Gorge is a popular rafting destination and serves as a whitewater headquarters in this part of the region. The 16-mile Class III rose-colored canyon stretch is perfect for beginners and families looking to get their feet wet (literally) on a hot summer day. The Gorge is close to Alberton, Superior and Missoula, offering paddlers and rafters adventure on and off the water.
KOOTENAI RIVER
It's been said that the Kootenai River is as close to the Zambezi as you're going to get in Montana. This remote northwest corner of Big Sky Country is worth the drive and offers Class I scenic floats on the upper and lower Kootenai River, but adrenaline seekers can navigate the middle Kootenai River for Class IV+ whitewater and a view of the rowdy Kootenai Falls—some of Montana's biggest water. 
FLATHEAD RIVER
Looking toward Glacier National Park, the Middle Fork of the Flathead is a designated Wild and Scenic River, and all of the West Glacier rafting companies run the whitewater stretch as well as scenic floats on the lower parts of the Middle Fork and the North Fork of the Flathead (also a Wild and Scenic River). The North and Middle forks comprise Glacier's western borders and offer breathtaking views into Glacier National Park. Whitewater difficulty varies with flow levels, the scenery is unimaginable and the water is an unforgettable crystal-clear aqua. This is definitely one of the most gorgeous parts of the state—and the country for that matter—to be on the water. In fact, Glacier Guides and Montana Raft is offering a half-day whitewater rafting or scenic float trip for two. (Make your way to the end of this blog post for more information.)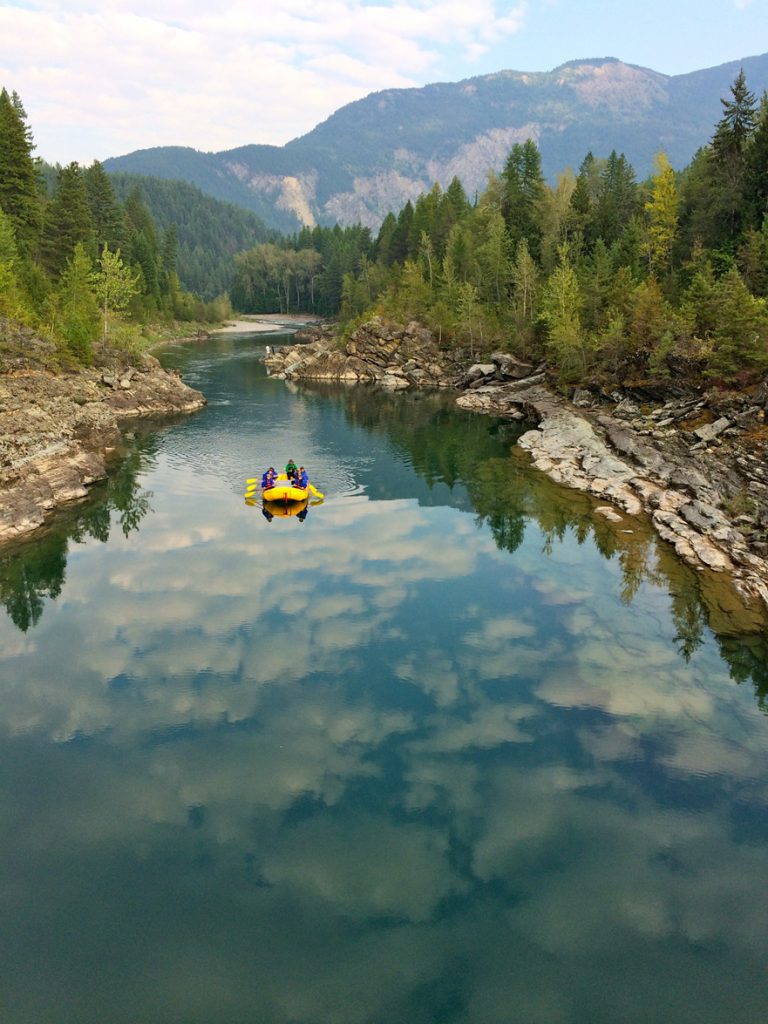 GO WITH A GUIDE:
Guided rafting trips are always your best bet and the safest way to exploreWestern Montana's rivers. If you're new to rafting, but you're ready for the adrenaline rush, go with one of Glacier Country's many experienced rafting companies. Western Montana outfitters and guides customize floats to your comfort level, whether you're looking for the thrill of our biggest runs, a scenic raft trip or a family float.
Western Montana river guides focus on quality of experience with half and full-day interpretive trips and multiday floats. All of our guides are Montana lovers. They're enthusiastic, highly trained, professional, friendly and as knowledgeable about the area as they are about how to keep you entertained (not that the scenery alone isn't capable of that). Some of our guides have happily been at this for over 30 years!
Sometimes one day on the river just isn't enough. Multiday rafting experiences are offered for those who long to sleep under the star-studded big sky and enjoy steaming, organic coffee riverside in the cool quiet of a Montana morning. If you're not up for experiencing Montana's backcountry by foot, overnight rafting is the way to go. Guides do all of the work, from setting up tents to cooking delicious, locally sourced meals, while you sit back and enjoy Montana by boat.  
When you've reached the river takeout, end your rafting trip on the best note possible by heading to the nearest watering hole for a local Montana brew and a chat with the locals, who, chances are, also spent the day on the water.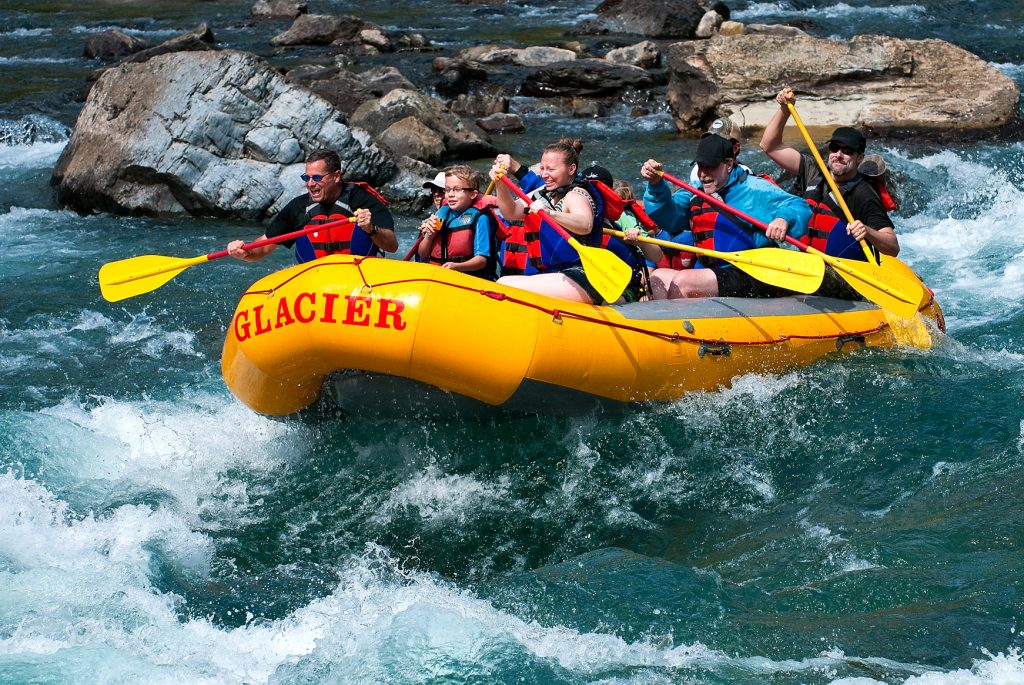 RULES OF THE RAFT:
Water is wild and safety is a priority. First and foremost, go with a guide! You're in good hands with licensed, professional Western Montana river guides, who basically live on the water. It's important to listen to their instructions…they know what they're talking about. And, as always, wear a personal flotation device (PFD). Also be sure to wear the right clothing (including a hat) and sunscreen for a hot, sunny day on the water. Bring your camera, and, if you're getting into whitewater, be prepared to get splashed.
Guide companies rarely ride just one river. To help you sort through your options, here's a list of some of our region's finest guides and outfitters, all of whom have made their life's work out of ensuring your river adventure is second to none.
---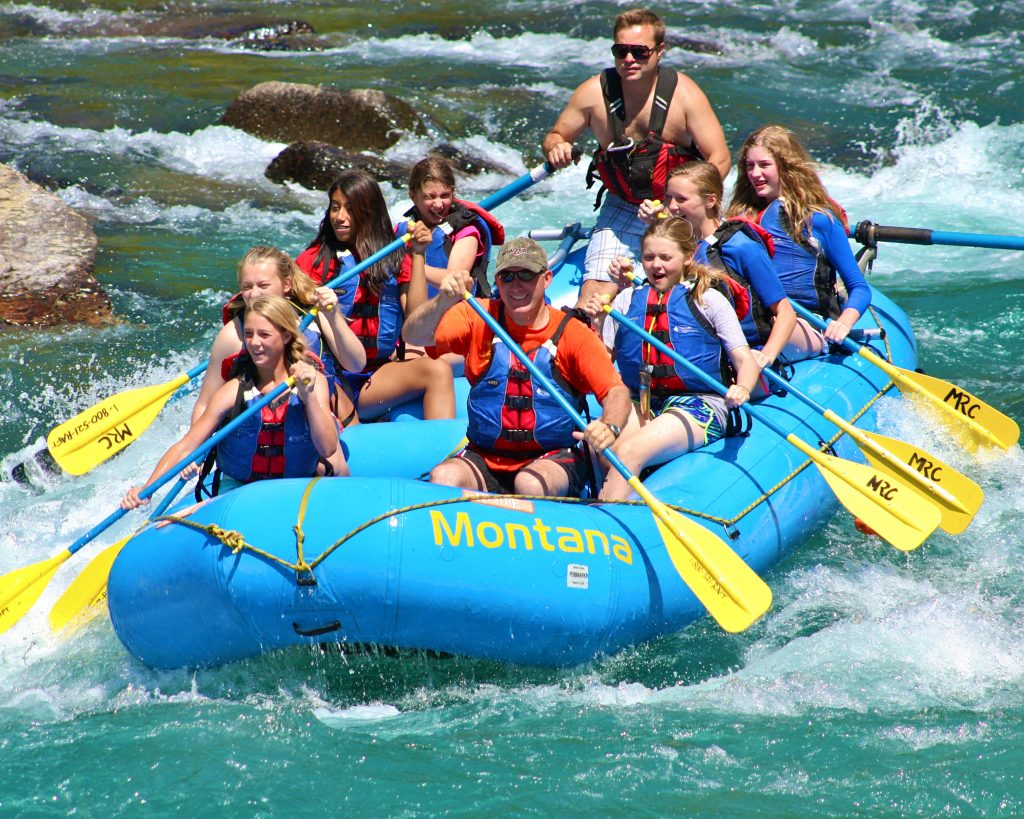 RAFTING GIVEAWAY: Glacier Guides and Montana Raft is giving away a Half-Day Whitewater Rafting or Scenic Float Trip for Two, plus, they'll help outfit you for a day on the river with GGMR Nalgene water bottles, Chums sun/eyeglass retainers, sunscreen, lip balm and GGMR hats!
This contest has closed. Visit glaciermt.com for more giveaway opportunities.
April 24, 2017
Related: Alberton, Essex, Fall Fun, Family Fun, Flathead Corridor, Getting Around, Glacier National Park, Missoula, Montana, Outdoor Fun, Spring Fun, Summer Fun, Superior, Uncategorized, Water Fun, West Glacier, Whitefish