Last week in Part One of this series, we explored some of our favorite day hikes in the southerly region of Glacier Country (if you missed it, you should definitely go take a peak). This week, we're finishing the list by heading up the map toward Highway 200, the Jewel Basin, Tobacco Valley and the Crown of the Continent: Glacier National Park.
If you've already read Part One, skip ahead. For our friends new to the blog, we have a couple pointers to help keep you safe and happy:
Rules of the Trail:
It's always a good idea to wear layers and comfortable hiking shoes or boots. It gets a little cold around here (in case the name "Glacier Country" didn't tip you off), though temperatures still reach into the 80s and 90s during summer. Wear broken-in hiking footwear so uncomfortable feet don't distract you from our breathtaking views.
Be bear aware! Make noise and carry bear spray. You're in bear country, and no matter how wild you think you might be, we can assure you the wildlife have you beat. (It's also never a good idea to try to feed the wildlife).
Make room in your pack for water, snacks and a camera. It's good to stay hydrated, and good to have a camera ready to capture your Montana moments.
Always stay on the trail. Wandering Montana's splendor is easy to do, but it's important not to lose your way. We promise you won't miss out on anything.
Ask the locals. Montana is full of secrets and who better to ask than a Montanan?
Now that we've got our safety suggestions out of the way, here's your much-awaited Part Two:
Huckleberry Mountain Lookout
DIRECTIONS: Head to Glacier National Park from West Glacier and Apgar Visitor Center. About two miles into Going-to-the-Sun Road you'll take a left onto Camas Road. Find the trailhead six miles in on the left. The trail is six miles in, six miles out and climbs 3,400 feet in elevation. If this trek sounds like more than you bargained for, keep driving up Camas Road to find the much tamer 1/2 mile Huckleberry Nature Trail.
ROUND-TRIP: 12 miles
PERMIT: National Parks Pass
HIGHLIGHTS: When "huckleberry" is in the name, it means there could be bears nearby. Bring friends and make noise so you don't get into trouble.
Gable Pass
DIRECTIONS: Gable Pass is northwest of Babb on the east side of Glacier National Park and begins at the Lee Ridge Trailhead. To get here, take Highway 17 (Chief Joseph Highway) north. You'll find the trailhead about half a mile before Chief Mountain Trailhead at the International Border Crossing (you should see a sign that says "Customs 1/2 Mile Ahead"). Find parking for the trail in the pullout about 150 yards north at the top of the hill.
ROUND-TRIP: 12 miles
HIGHLIGHTS:  View Mount Cleveland, Gable Mountain and Chief Mountain from this lush alpine meadow.
Ross Creek Cedars
DIRECTIONS: For a truly awe-inspiring stroll, head to Ross Creek and walk among the over 400-year-old western red cedars. If you're coming from Thompson Falls, take Highway 200 northwest to Highway 56. You can also reach Highway 56 from Highway 2 heading east from Troy or west from Libby. South of Bull Lake on Highway 56, turn east onto Forest Service Road 398 (locally known as Bull Lake Road). Drive this paved road 4 miles to a parking area.
ROUND-TRIP: 1 mile
HIGHLIGHTS: Drive 2 miles farther up Bull Lake Road for a scenic view of the Cabinet Mountains and Bull River Valley.
Mount Aeneas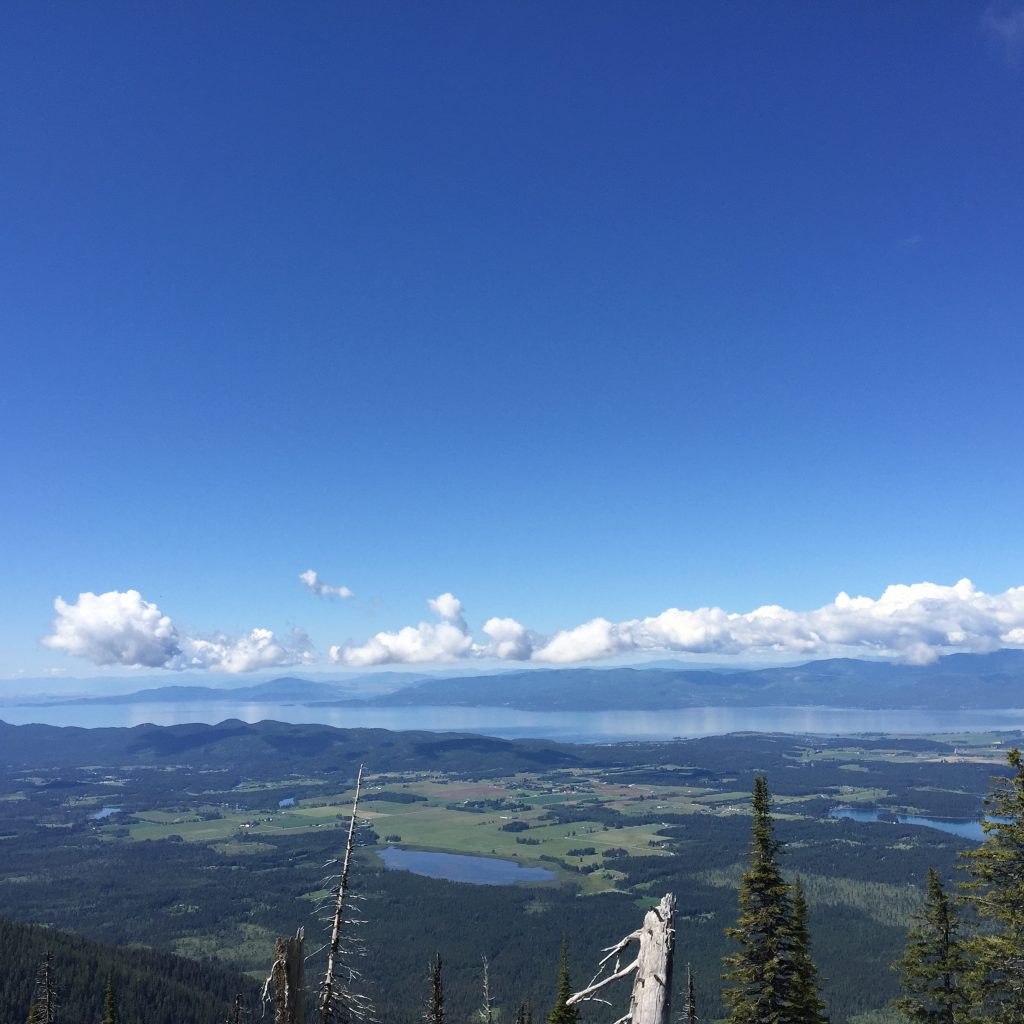 DIRECTIONS: From Highway 83 north of Bigfork, take Echo Lake Road north and take a right onto Foothill Road. Follow Foothill until the road turns into Jewel Basin Road. Continue about 11 miles up Jewel Basin to Camp Misery Trailhead. Follow the old service road behind the gate 1 mile before the trail narrows and turns into trail #717. Follow the signs half a mile and stay on #717. From here, the trail takes quite the elevation gain. Follow the switchbacks up the mountain to get to the ridgeline for views of Glacier National Park, Flathead Valley and the Bob Marshall Wilderness.
ROUND-TRIP: 6 miles
HIGHLIGHTS: This is a great mountain goat viewing area.
Little North Fork
DIRECTIONS: From Rexford, travel 7 miles south past the Koocanusa Bridge. Take Road 336 and follow for 1 mile to the marked trail.
ROUND-TRIP: Under 1 mile
HIGHLIGHTS: This short hike takes you past a sparkling waterfall.
Powerhouse Loop Trail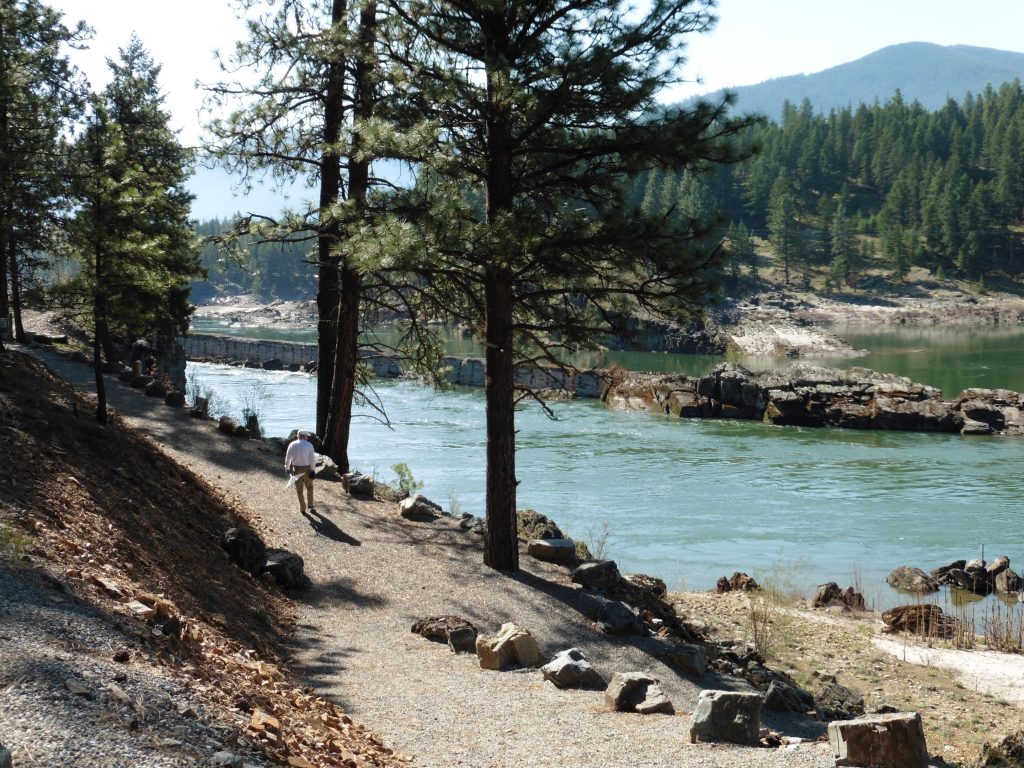 DIRECTIONS: After exploring Thompson Falls, head west on Main Street (Highway 200). Turn left on Pond Street, and take another left on Maiden Lane. Here you'll find the PPL Montana Power Park and a great parking spot. Walk into the park and head to the powerhouse gates. To the left of the gate, you'll see signs pointing to the trail. The signs will take you in a nice loop leading you back to Main Street and your car.
ROUND-TRIP: 2.3 miles
BONUS: Dog-friendly
Swift Creek Trail
DIRECTIONS: North of Whitefish Lake, Swift Creek has multiple trailheads perfect for a variety of visitors. To get here from Whitefish, drive north on Baker Avenue and continue on as the road turns into Wisconsin Avenue. Then head east on East Lakeshore Drive around the west side of Whitefish Lake. You will pass Big Mountain Road and continue another 5.9 miles before reaching the trailhead.
ROUND-TRIP: 3 – 6 miles
BONUS: The Swift Creek area includes an ADA accessible trail leading to the Swift Creek overlook.
April 10, 2017
Related: Babb, Bigfork, Blackfeet Indian Reservation, Blackfeet Nation, Fall Fun, Family Fun, Flathead Corridor, Getting Around, Glacier National Park, Libby, Montana, Outdoor Fun, Parks, Rexford, Spring Fun, Summer Fun, Thompson Falls, Troy, Uncategorized, Vacation, West Glacier, Whitefish, Wildlife, Winter Fun