Western Montana's Glacier Country covers the northwest corner of Montana, stretching from the Canadian border all the way down through the Bitterroot Valley. It's a big region, with a lot to explore. We started this blog post hoping to share our top 10 favorite hikes, and we quickly realized it was just too much for one post…so, we're splitting it up. Part One covers the more southern portion of Glacier Country including the Seeley-Swan Valley and the Bitterroot Valley. Next week we're sharing the northern-most parts of Western Montana including the Flathead National Forest, Glacier National Park, Tobacco Valley and more.
One of the easiest ways to explore our little slice of heaven is to set out by foot. Here are a handful of trail tips for the aspiring Western Montana hiker:
Tips for the Trail:
It's always a good idea to wear layers and comfortable hiking shoes or boots. It gets a little cold around here (in case the name "Glacier Country" didn't tip you off), though temperatures still reach into the 80s and 90s during summer. Wear broken-in hiking footwear so uncomfortable feet don't distract you from our breathtaking views.
Be bear aware! Make noise and carry bear spray. You're in bear country, and no matter how wild you think you might be, we can assure you the wildlife have you beat. (It's also never a good idea to try to feed the wildlife).
Make room in your pack for water, snacks and a camera. It's good to stay hydrated, and good to have a camera ready to capture your Montana moments.
Always stay on the trail. Wandering Montana's splendor is easy to do, but it's important not to lose your way. We promise you won't miss out on anything.
Ask the locals. Montana is full of secrets and who better to ask than a Montanan?
Now that you're all set for a hike, let us help you find one. Below is a list of our top 10 spots and how to find them.
Morrell Falls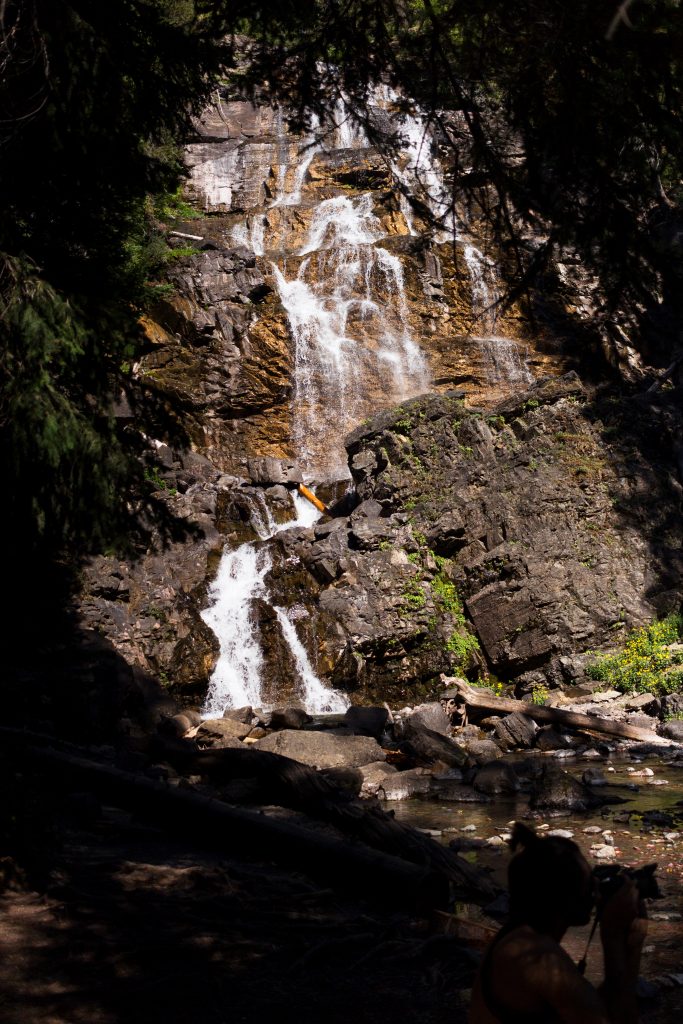 DIRECTIONS: From the town of Seeley Lake, travel half a mile north on Highway 83. Turn right on Morrell Creek Road, which becomes Forest Service Road #477/Cottonwood Lakes Road and travel just over 1 mile. Turn left on West Morrell Road #4353 and travel about 6 miles. Turn right on Pyramid Pass Road #4381 and travel a quarter-mile. Then turn left on Morrell Falls Road #4364. Continue for 1 mile to the Morrell Falls Trailhead and parking area.
ROUND-TRIP: 2.7 miles
BONUS: Dog-friendly
Turquoise Lake
DIRECTIONS: Flathead National Forest is home to so many natural wonders it can be a little overwhelming when you're trying to plan a hike. Allow us to help, beginning with Turquoise Lake. In the Swan Valley, head south on Highway 83. Just past mile marker 38 south of Condon, turn right onto Kraft Creek Road. Drive 11.5 miles in to Glacier Creek trail #690. Follow #690 3 miles to Turquoise Lake trail #708. From there, you're only 3 more miles to the beautiful turquoise waters of this pristine glacial lake.
ROUND-TRIP: 12.2 miles
PERMIT: Turquoise Lake is on tribal lands. Be sure to stop by any local grocer or outfitter to pick up your Tribal Conservation Permit.
HIGHLIGHTS: If you have extra time, hike down to Lace Lake for cliff jumping.
Three Lakes Peak
DIRECTIONS: Take Exit 82 on Interstate 90 east of Missoula and make your way west on Highway 10 until you reach Remount Road. Turn north onto Remount Road and drive 2.5 miles before turning west onto Ninemile Road. Continue for about 12 miles, then turn right onto Foothills Road #5498. Drive 5 miles to reach Burnt Fork Trail #418. This trail is easily navigated with posted signs.
ROUND-TRIP: 3.2 miles
PERMIT: Three Lakes Peak is on tribal lands. Be sure to stop in Missoula at Bob Ward and Sons, Cabela's , MT Fish, Wildlife & Parks – Region 2 or Wholesale Sports to pick up your Tribal Conservation Permit.
Blodgett Canyon
DIRECTIONS: From Hamilton, take Main Street west into the foothills of the Bitterroot Mountains, following signs on Forest Service road 735 to the Blodgett Trailhead and overlook. The trailhead is to the right of the parking area.
ROUND-TRIP: 3 miles
HIGHLIGHTS: Several benches are placed along the hike up. Stop and take in the incredible views, but keep going—you're in for a treat at the top!
Lake Como
DIRECTIONS: Access Lake Como Road from Hamilton, Montana. Take the road around the south side of Lake Como to find Little Rock Creek Trailhead.
ROUND-TRIP: 9 miles
HIGHLIGHTS: This is a lovely overnight camping spot.
Mount Sentinel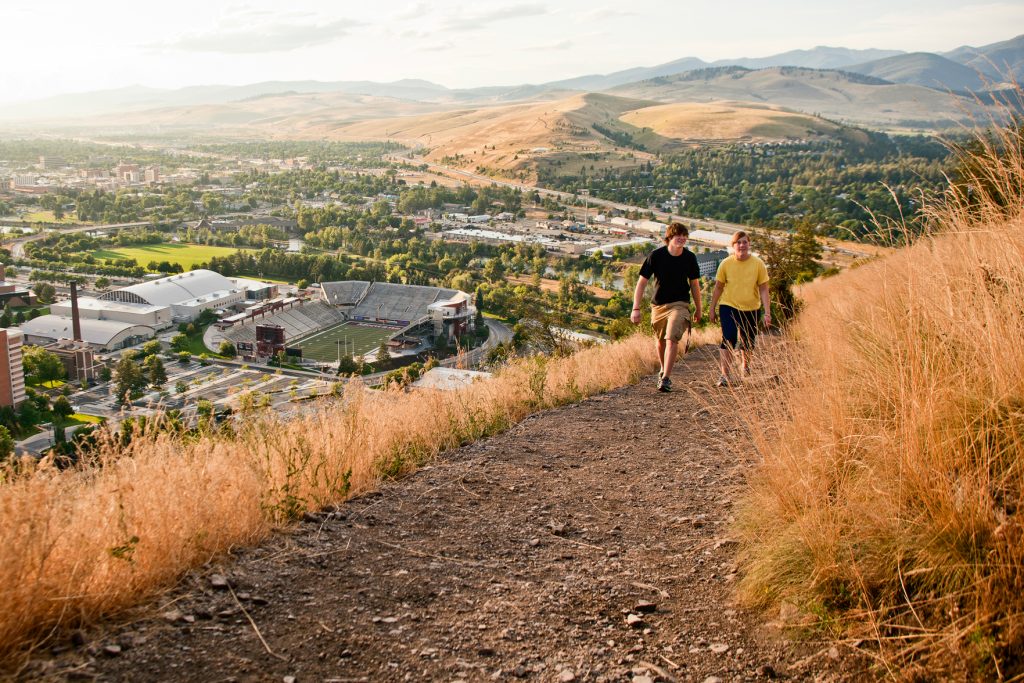 DIRECTIONS: Hike "the M" for a breathtaking view of the Missoula Valley. The trail starts at the eastern edge of The University of Montana campus. This steep, zigzag path includes 11 switchbacks and gains 620 feet of elevation in under a mile.
ROUND-TRIP: 1.75 miles
HIGHLIGHTS: The trail is named for the large whitewashed rock "M" placed on the mountainside in 1908.
Kootenai Creek
DIRECTIONS: From the Stevensville junction on Highway 93, travel north 1 mile. Turn west on Kootenai Creek Road and continue two miles to the trailhead.
ROUND-TRIP: Up to 18 miles…choose your adventure.
HIGHLIGHTS: Find great rock climbing about half a mile in. If you want to venture farther in, the Kootenai lakes can be found at mile 9.
April 3, 2017
Related: Bitterroot Valley, Condon, Fall Fun, Family Fun, Getting Around, Hamilton, Missoula, Outdoor Fun, Parks, Seeley Lake, Seeley-Swan Corridor, Spring Fun, Stevensville, Summer Fun, Uncategorized, Vacation, Water Fun, West Glacier, Winter Fun