Let's be real, Western Montana is a paradise for sledders. With plenty of room to roam, powdering through sweeping mountain-meadow playgrounds, deep untouched backcountry, rugged ridgelines, frozen alpine lakes, logging and Forest Service roads, and ghost towns is easy. With so much winter terrain to explore—4,000+ miles of groomed trails in Montana—we're sharing eight trail systems in Glacier Country to help you unleash your inner powder hound.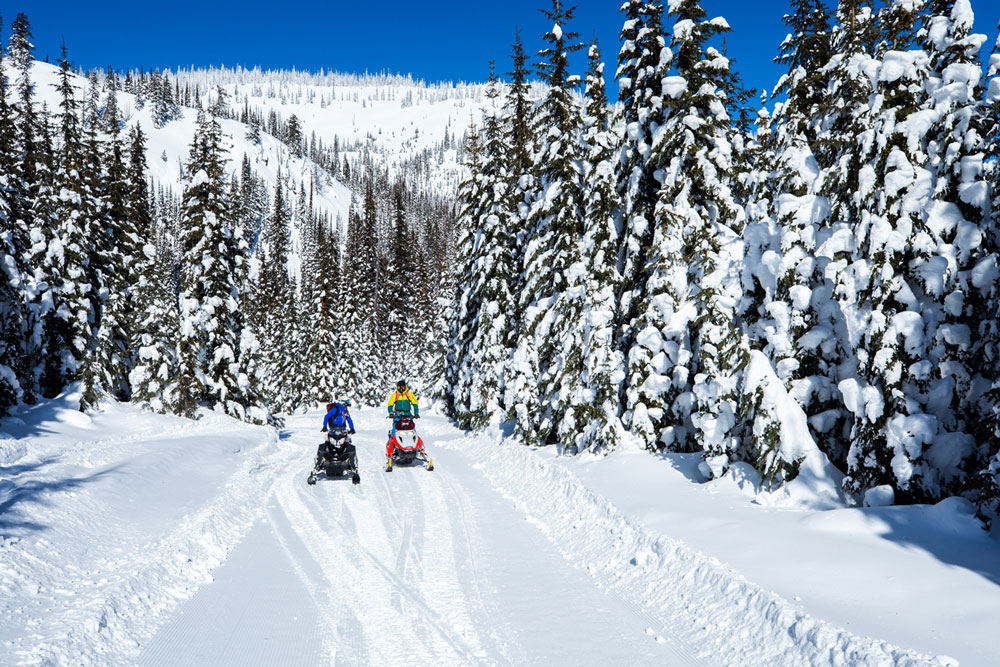 HAMILTON/SKALKAHO PASS
Skalkaho Pass between Georgetown Lake and Hamilton is a scenic and popular alternative to Interstate Highway 90 in the summer. In the winter the road is closed to automobiles, creating a treasure trove of trails with spectacular views of tall peaks and steep canyons. One of our better-kept secrets, this trail system is less crowded and perfect for a scenic road ride with family or in groups with beginner riders. The Skalkaho Pass area boasts 26 miles of groomed trails, connecting with open areas plus ungroomed trails with a variety of terrain. The Skalkaho-Sleeping Child-Rye Creek area has 32 miles of groomed trails, looping around in higher elevations, through a burn area and back to the head of Rye Creek.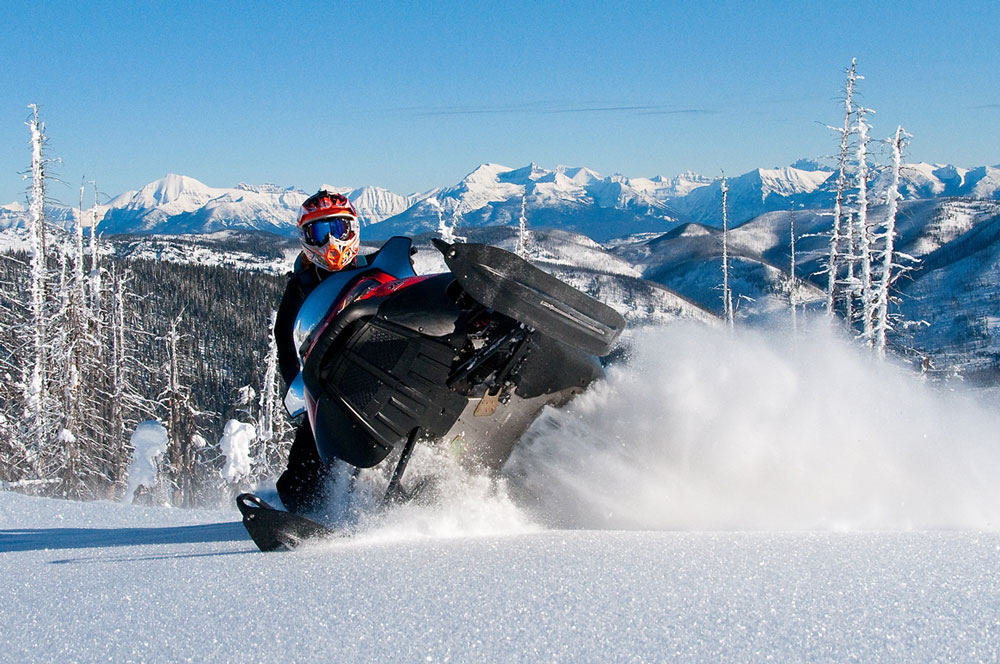 SEELEY LAKE/OVANDO
With world-class terrain and breathtaking views, Seeley Lake is a popular destination for snowmobilers. Tucked between the Mission Mountains and the Swan Range, it receives some of the earliest and heaviest snowfall, and, with more than 350 miles of groomed trails, it's a local favorite. Popular trails include Double Arrow Lookout, with views of the Swan Range and Clearwater Valley and Lake Elsina, a scenic 15-mile loop and site of Sunday cookouts with the Seeley Lake Driftriders Snowmobile Club and Marshall Lake. BONUS: Sled the burn—thousands of acres between Seeley Lake, Ovando and Lincoln opened up when a wildfire cleared out dead underbrush in the area, leaving premier snowmobiling terrain. Get trail updates from Seeley Lake Driftriders.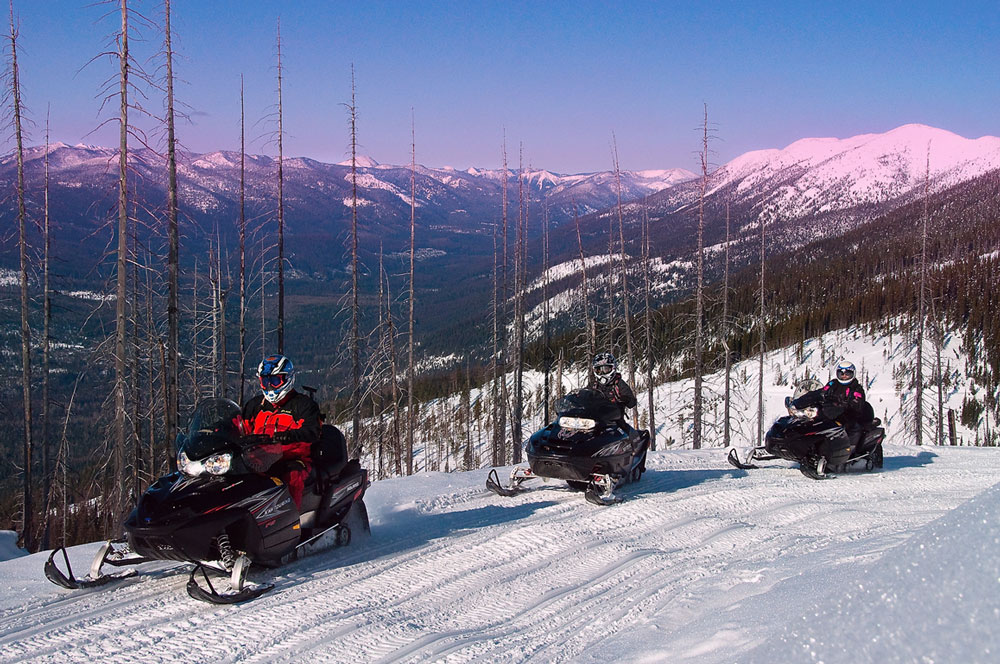 GREENOUGH
For a truly unique snowmobiling experience, consider the Garnet Ghost Town trail system. Here, 116 miles of steep climbs and flat trails lead back to the historic Garnet Ghost Town—accessible only by ski, snowshoe and snowmobile in the winter. Picturesque views of the Blackfoot Valley, the Mission Mountains, the Bob Marshall Wilderness and the Pintler Range make for an especially beautiful ride. Bonus: Cabins at Garnet Ghost Town are available for rent in the winter. Get trail updates from Missoula Snowgoers.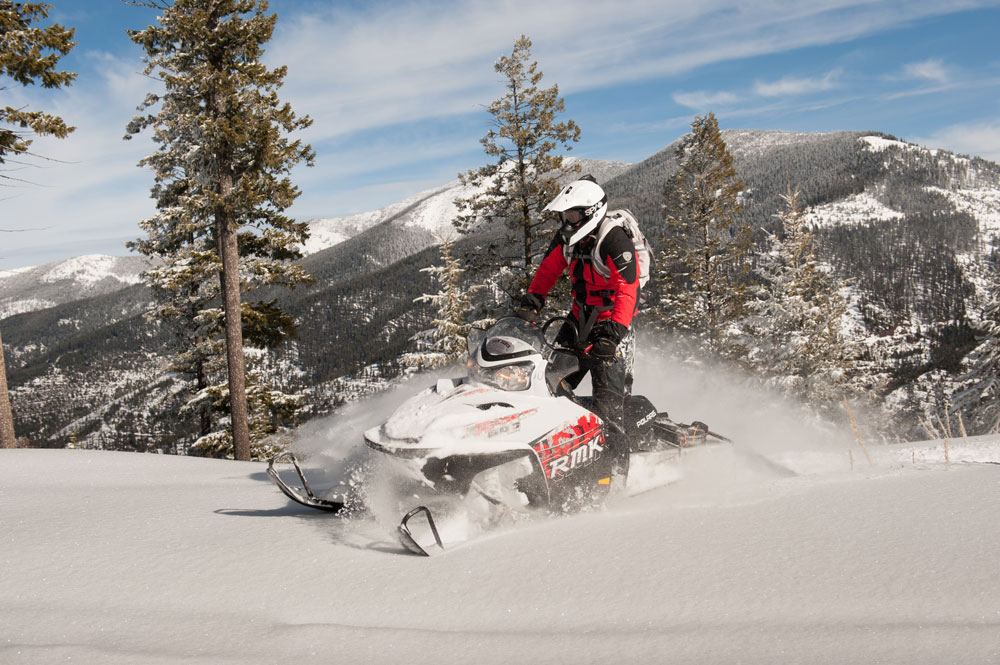 LOLO PASS
From Lolo Pass, 250 miles of groomed interconnecting trails weave between the Lolo and Clearwater national forests on the Montana-Idaho border. East Fork, Lost Park System, Elk Meadows and Moose Ridge are just some of the trails that lead deep into the heart of the Bitterroot Range, with plenty of sweeping mountain meadows and frozen lakes along the way. Adrenaline seekers can test their mettle in the challenging backcountry terrain. A parking pass is required and available for purchase at Lolo Pass. BONUS: After a hard day of riding, soothe your aching body in the mineral waters of Lolo Hot Springs. Get Trail updates from Missoula Snowgoers.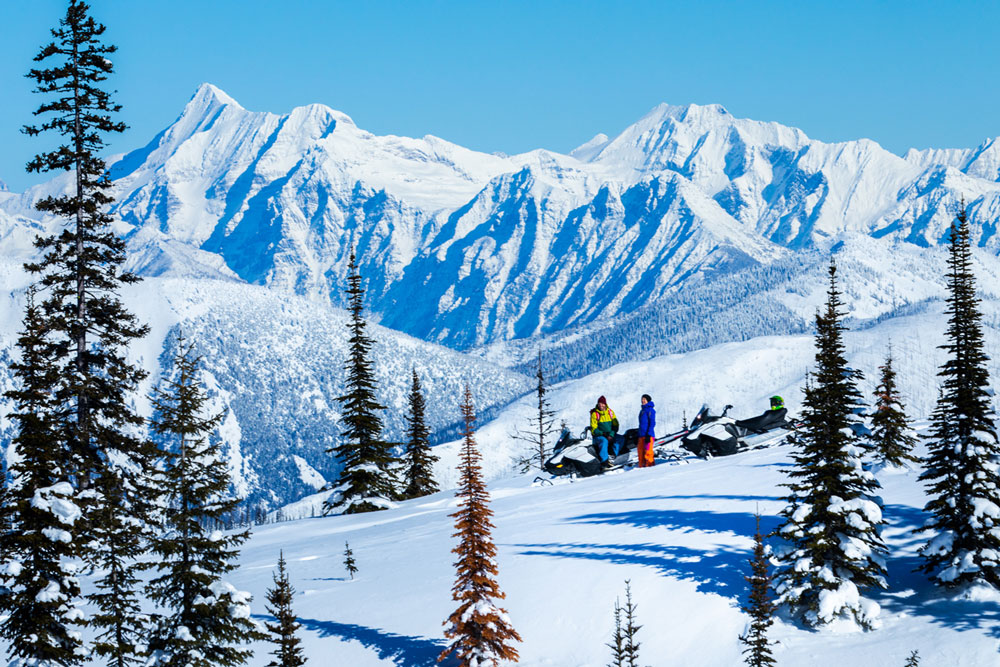 KOOTENAI COUNTRY
Hundreds of miles of groomed trails crisscross the Kootenai Country region. Several stunningly scenic trails stick out: The Purcell Mountains offer 60+ miles of loop trails; the rugged Keeler-Rattle Trail System boasts mesmerizing views of the Cabinet Mountain Wilderness; the Pete Creek Trail weaves through mountain bowls and over alpine lakes; and the Grave Creek/Ten Lakes Trail begins at Birch Creek Recreation Site and leads all the way to the Canadian border. BONUS: If you start in Troy, you can sled right into Libby for food, drinks and warm western hospitality. Get trail updates from Lincoln County Snowkats and Troy Snowmobile Club.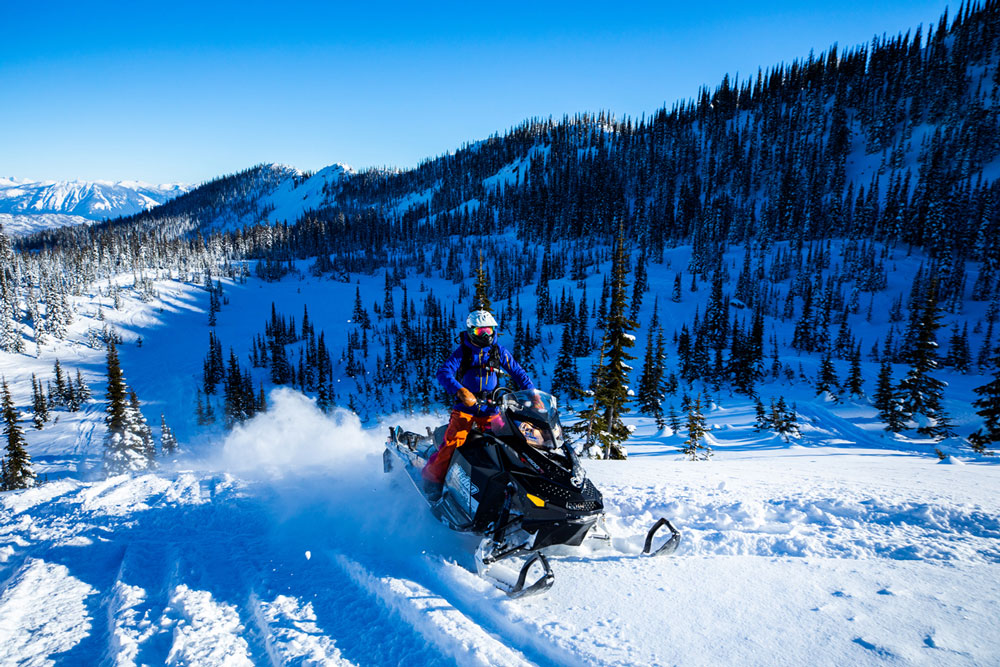 HAUGAN
Haugan offers snowmobiling opportunities for all abilities. Extensive riding options and a family atmosphere make it a true hidden gem for snowmobilers. Easy-to-intermediate trails and loop tours begin right off the interstate in the Lolo National Forest. Popular groomed trails include Ford Hill/Old Mullan Pass, Packer Creek/Randolph Creek, Milwaukee/Dominion, Big Creek, Deer Creek/ Up Up and Taft Summit. Get trail updates from Montana Nightriders Snowmobile Club.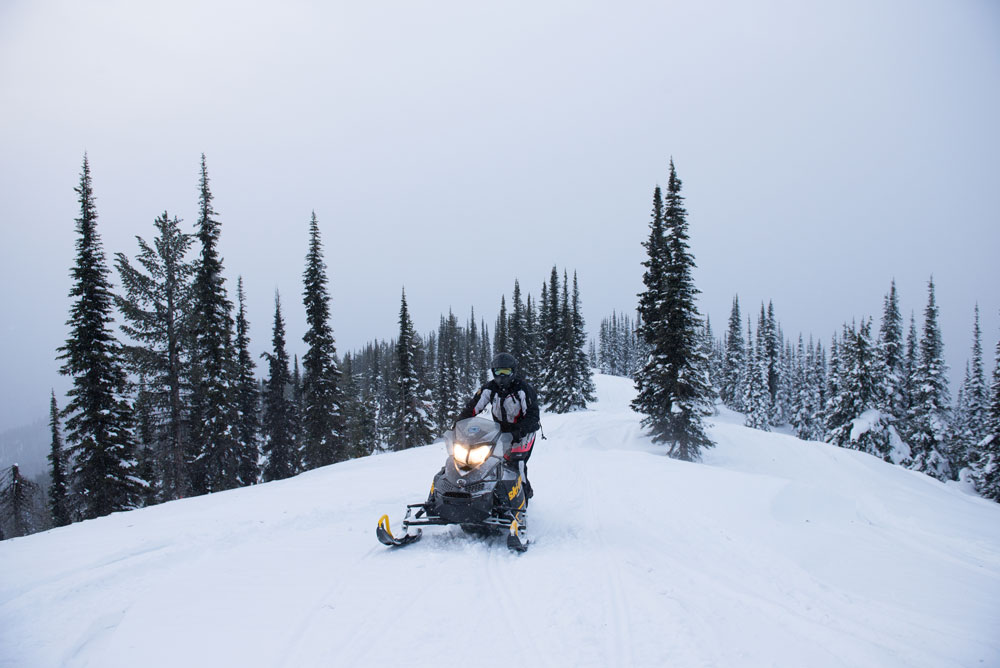 FLATHEAD VALLEY
Bordering Glacier National Park, the Flathead Valley is a sled head's dream destination. With 200+ miles of groomed trails and nearly 2,000 miles of Forest Service roads, the area has phenomenal hill climbing, powder play areas and awe-inspiring ridgetop views of Glacier and the Canadian Rockies. Don't miss Desert Mountain with 25 miles of marked and groomed trails, or the Skyland and Stillwater trails. Near Whitefish, ride the back of Big Mountain on the Canyon Creek Trail System—80 miles of groomed and ungroomed trail. A spur trail will take you to the top of Big Mountain where you can grab lunch and a cocktail at Whitefish Mountain Resort's Summit House. In the Swan Valley, the Crane Mountain trail system is one of the area's best-kept secrets, with 38 miles of groomed trails and 100 miles of ungroomed logging roads and plenty of open meadows, too. Get trail updates from Flathead Snowmobile Association.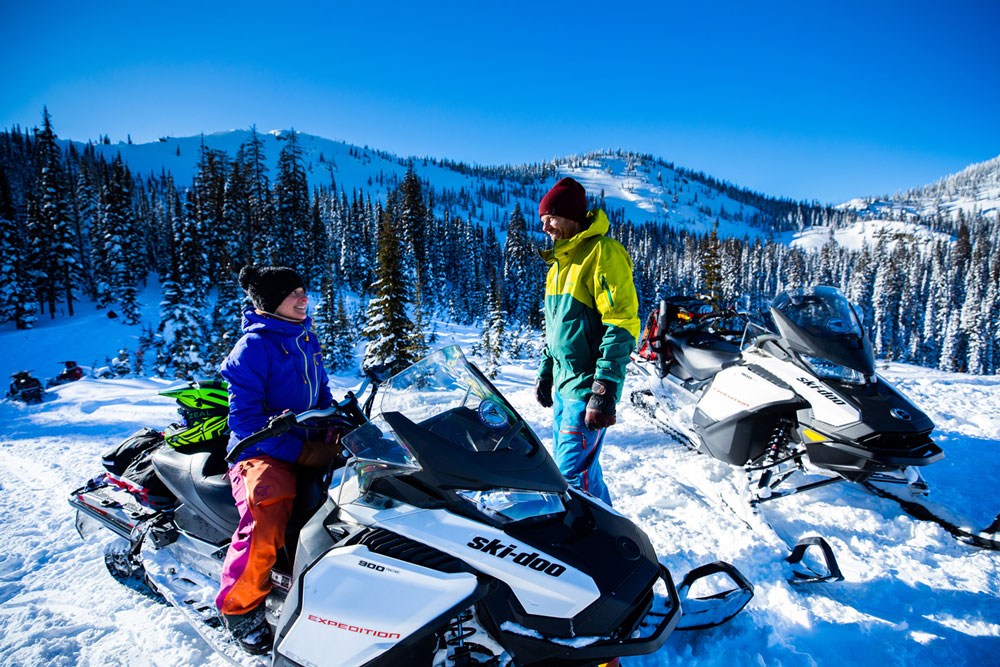 CUTBANK/BROWNING
Straddle the Continental Divide at northwest Montana's Marias Pass Trail Complex. Rugged and remote, this trail system is perfect for intermediate and expert riders, with 45 miles of groomed and 35 miles of ungroomed trails. Favorite routes originating at Marias Pass include Two Medicine, Skyland and Pike Creek. Guides are advisable on this trail system where steep slopes and sudden storms make for extreme weather conditions. Get trail updates from Summit Snowgoers.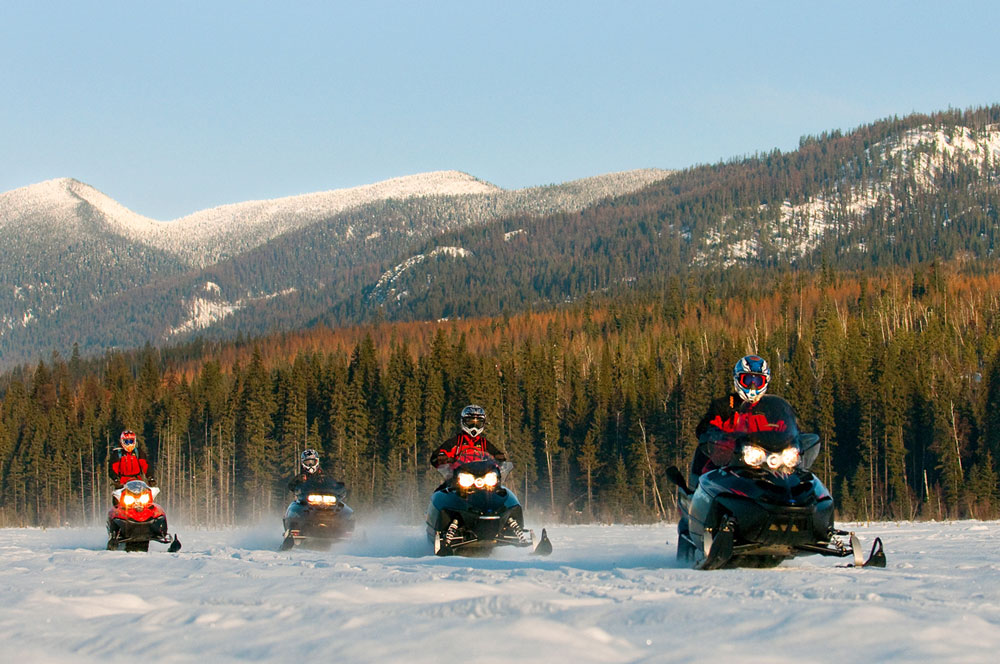 PLAN YOUR TRIP
Glaciers to Geysers: For a park-to-park adventure, take a Glaciers to Geysers sled tour. Find itineraries, trails, resources and snowmobile club information for traveling between Glacier National Park and Yellowstone National Park.
Guides: Some of the most experienced and knowledgeable snowmobile guides call this powder paradise home. They know the terrain, and they know how to show adventurers a good time. Guided tours and snowmobile rentals are available throughout the region and offer a seamless riding experience for both beginners and experts.
Local snowmobile clubs are a great resource. Check with the nearest snowmobile club before heading into an area so they can hook you up with trail details.
Be avalanche aware. Always check the Montana avalanche report before you head out. You can rent a transceiver with your sled, or take a guided tour from one of many outfitters in the area. For additional avalanche safety tips as well as groomed trail information, information on passes and permits, visit Glacier Country Tourism and Glaciers to Geysers.
*Photos in this blog are representative of snowmobiling in Western Montana, but are not necessarily images of the trail systems mentioned above.
February 10, 2020
Related: Bitterroot Valley, Browning, Cut Bank, Darby, East Glacier Corridor, Flathead Corridor, Garnet Ghost Town, Greenough, Hamilton, Haugan, Hot Springs, I-90 Corridor, Libby, Lolo, Montana, Northwest Corridor, Outdoor Fun, Ovando, Seeley Lake, Seeley-Swan Corridor, Snowmobiling, Swan Lake, Troy, Whitefish, Winter Fun, Yaak