One of the things that makes Western Montana so extraordinary is our landscapes—alpine forests and sweeping meadows plus glacier-carved peaks and mountains. Our outdoor playground is home to seven ski areas that boast ridiculous vertical drops, consistently excellent snowfall and more than 11,373 acres of skiable terrain combined. Come discover epic downhill powder play in Glacier Country.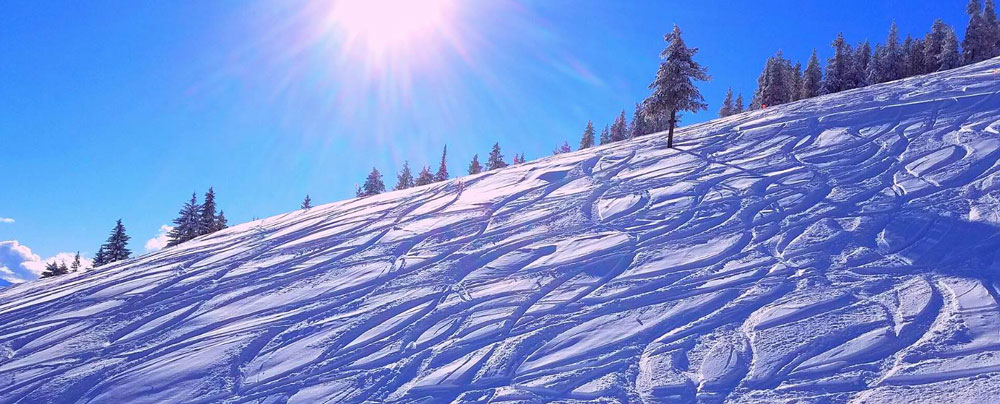 TURNER MOUNTAIN
Just north of Libby, Turner Mountain is a hidden gem ski area for advanced skiers. Flying under the radar, Turner offers wide-open slopes, awe-inspiring scenery, affordable lift tickets and no crowds. Oh, and an impressive vertical drop—2,100 feet, in fact—plus, 60% of the terrain is rated black diamond. SKI magazine once described Turner as having some of the "best lift-assisted powder skiing in the U.S." Run by volunteers, Turner is open Friday through Sunday, unless you want to bring some friends and rent the entire mountain—an available and surprisingly affordable option. Downhill Detail: 400 acres + 22 runs + 2,110 ft. vertical drop.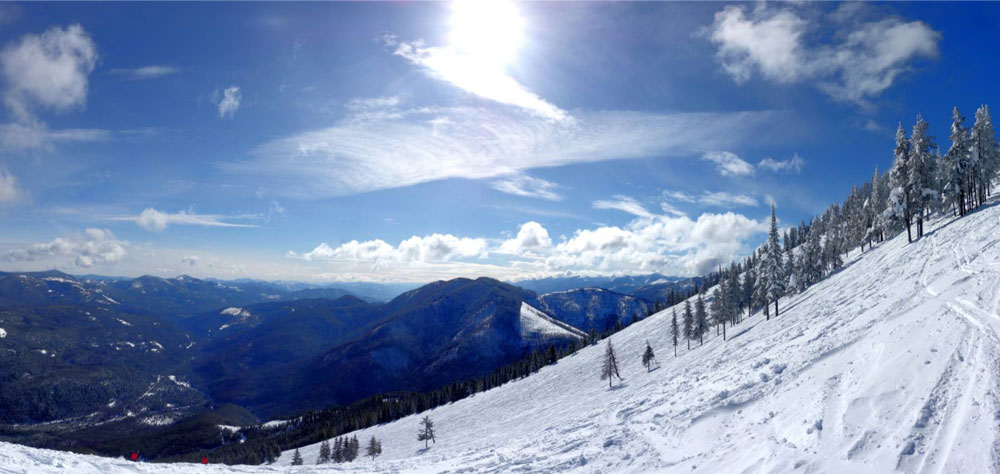 BLACKTAIL MOUNTAIN
Take in mesmerizing views of Glacier National Park, Flathead Lake and the Mission Mountains at Blacktail Mountain in Lakeside. Perfect for non-experts, 15% of the slopes are beginner and 65% are intermediate. The parking lot and lodge are located at the top of the mountain, meaning you can hop out of your car, buy a pass and be skiing within 10 minutes. End the day fireside in the lodge and get cozy with a hot toddy and nachos. Downhill Detail: 1,000 acres + 24 runs + 1,440 ft. vertical drop.

/

/

"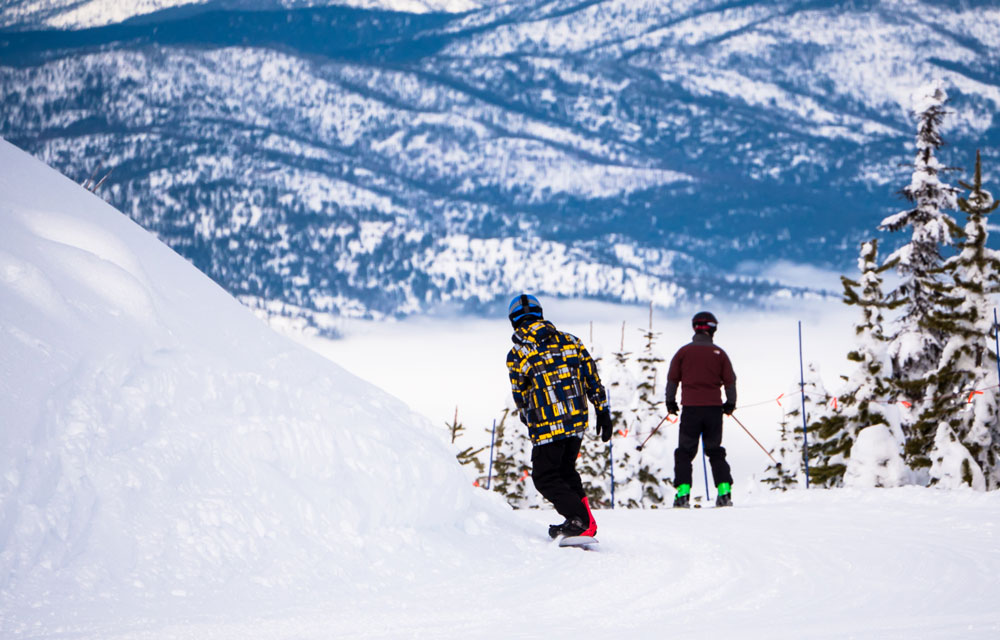 LOOKOUT PASS
Straddling the Montana/Idaho border, ski some of the earliest and heaviest—nearly 400 inches per year—snowfall in Western Montana at Lookout Pass. Voted the most family-friendly mountain resort in the Pacific Northwest by visitors to OnTheSnow.com, Lookout has bargain prices for legendary snow and runs the whole family will enjoy. The full-service lodge offers food and drinks, a rental shop and a retail shop, plus plenty of room to sit fireside with their famous chili. Downhill Detail: 560 acres + 35 runs + 1,150 ft. vertical drop (with a planned expansion to 1,023 acres and 1,650 ft. vertical drop).

/

/

"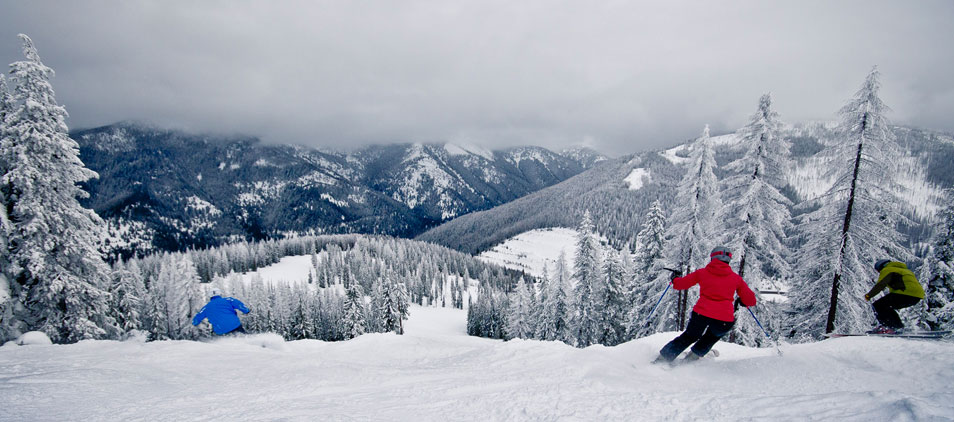 LOST TRAIL POWDER MOUNTAIN
Also on the Montana/Idaho border is Lost Trail Powder Mountain. In the Bitterroot Valley, this ski area lets you ride along the Continental Divide and has bragging rights to some of the deepest and most consistent snowfall in Montana. Lost Trail has a great mix of intermediate and advanced runs, and experts will enjoy a section known as "The White House" boasting double black diamonds. Downhill Detail: 1,800 acres + 69 runs + 1,800 ft. vertical drop. The longest run is 2.5 miles.

/

/

"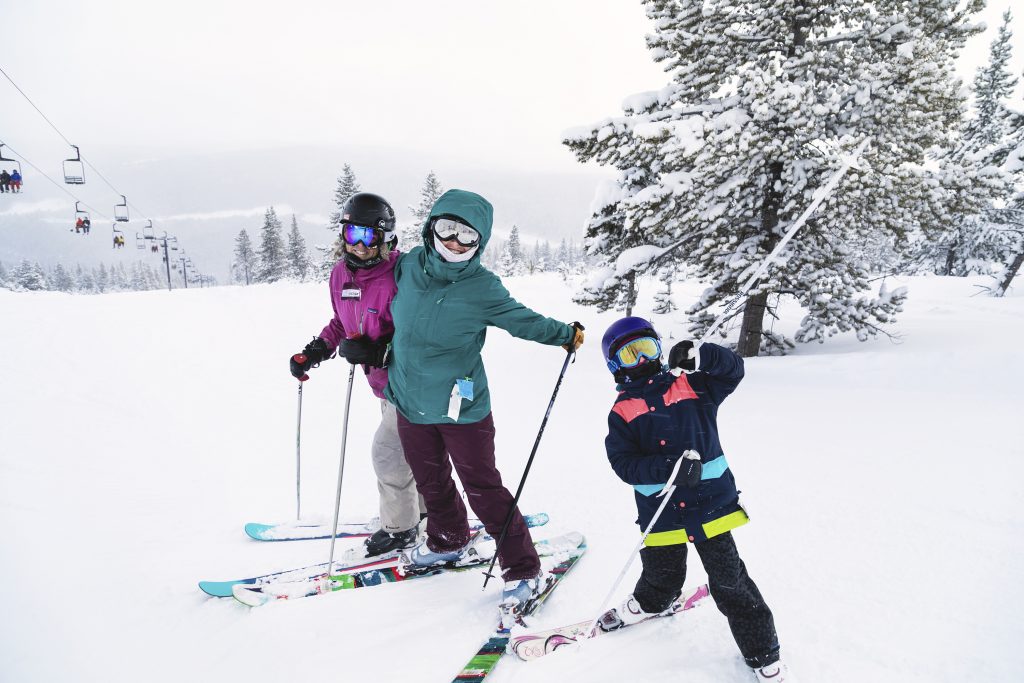 MONTANA SNOWBOWL
Located 12 miles from Missoula, Montana Snowbowl is known for being 'steep and deep' thanks to their deep powder bowls and plethora of black diamond runs—plus a run that's 2,600 feet of continuous vertical drop. New in 2020 is the addition of more than 1,000 acres of skiable terrain, with most of the runs catering to beginners and intermediate riders. Cap off the day at the lodge, Last Run Inn, with their famous bloody marys and wood-fired pizza. Downhill Detail: 2,300 acres + 49 runs + 2,600 ft. vertical drop (with an expansion underway that will add 21 additional runs to the new terrain) .

/

/

"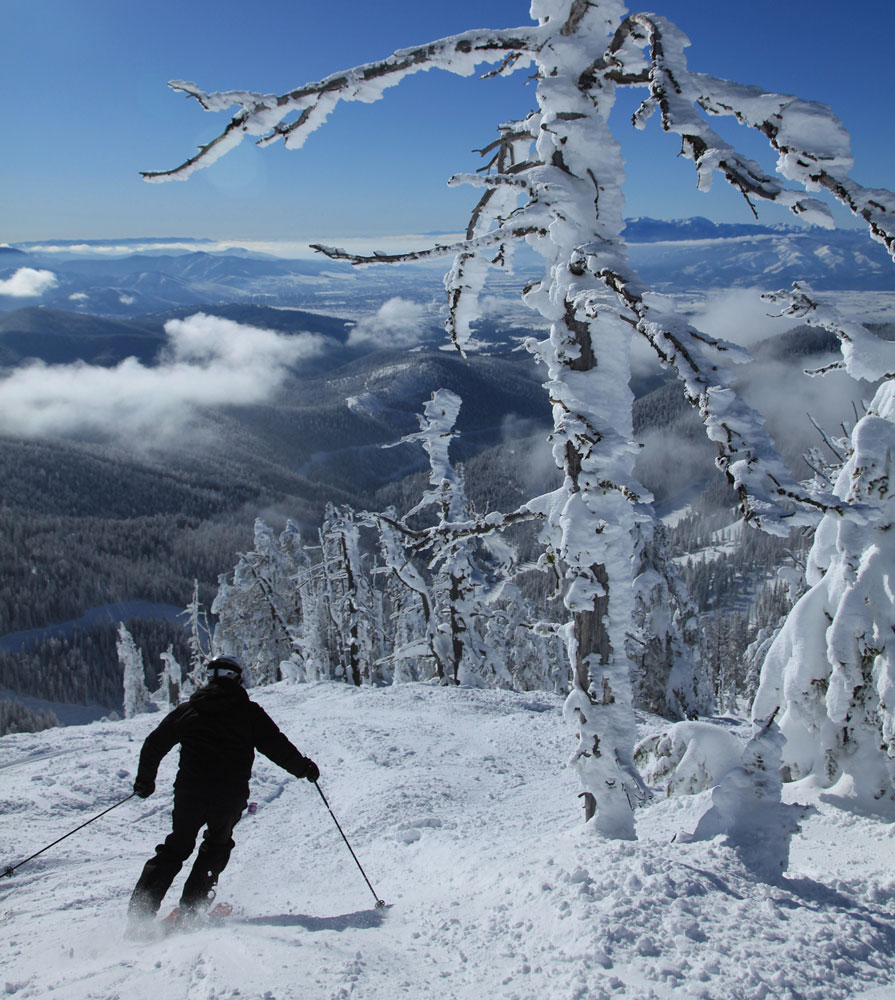 DISCOVERY SKI AREA
Discovery Ski Area is one of our top picks for families with all levels of skiers, as it offers a variety of beginner and intermediate runs. Advanced skiers in the family have access to some of the steepest lift-service terrain in the region. Beautiful views, tree skiing, powder bowls, groomed trail and mogul runs make Discovery one of the area's best-kept secrets. The lodge's freshly baked shortbread chocolate chip cookies alone are worth the visit. A short distance from Philipsburg, National Geographic magazine featured Philipsburg and Discovery as one of the "Best Secret Ski Towns of North America that deliver some of the most unspoiled skiing North America has to offer." Downhill Detail: 2,200 acres + 67 runs + 2,388 ft. vertical drop.

/

/

"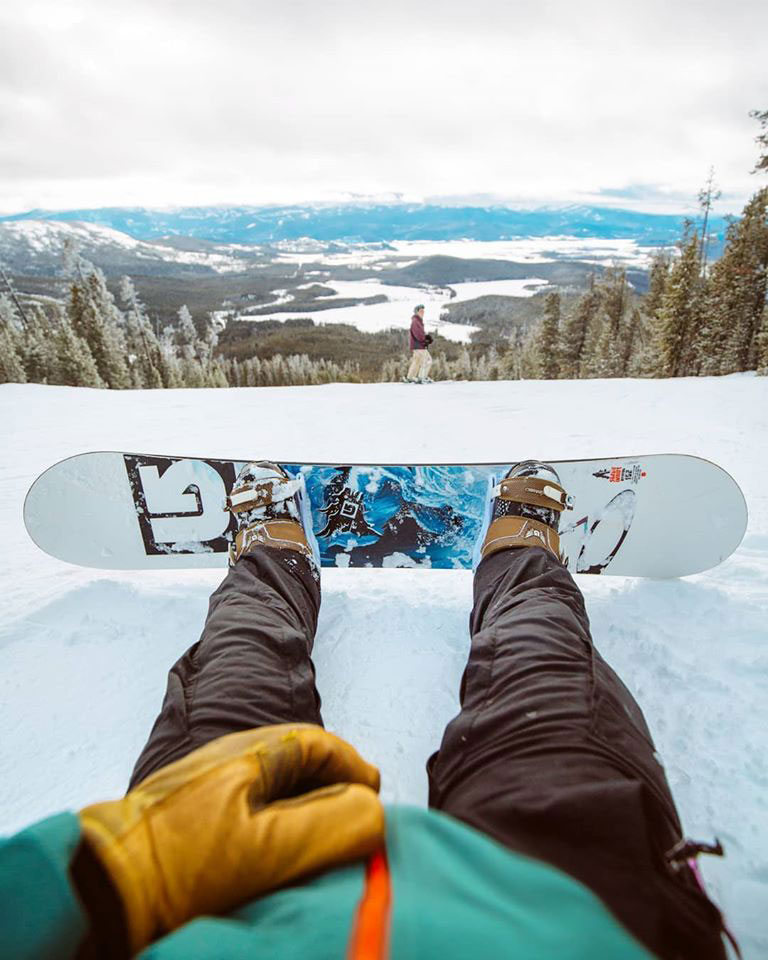 WHITEFISH MOUNTAIN RESORT
Whitefish Mountain Resort, only 8 miles north of downtown Whitefish, was recently ranked No. 3 Top Ski Resort in the West by SKI magazine's annual reader survey. This world-class resort has more than 3,000 acres of skiable terrain for all levels. Jaw-dropping views of Glacier National Park and the Flathead Valley can be seen at the summit, which also has a restaurant perfect for après ski. Night skiing is a favorite of many and can be enjoyed Friday and Saturday nights. Downhill Detail: 3,000 acres + 105 runs + 2,353 ft. vertical drop.

/

/

"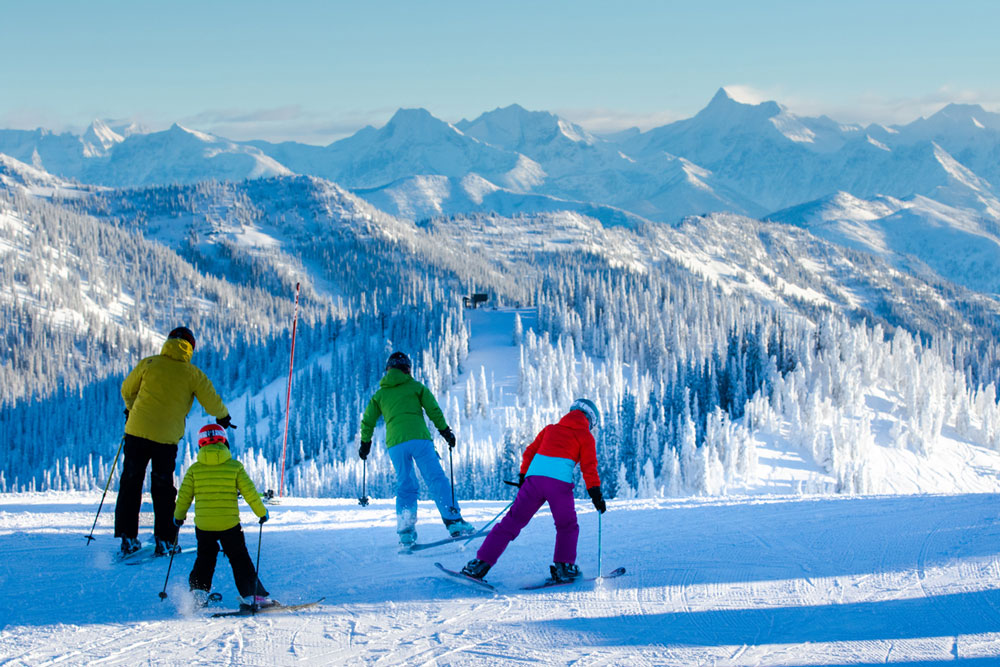 February 3, 2020
Related: Bitterroot Valley, Downhill Skiing, Family Fun, Flathead Corridor, I-90 Corridor, Lakeside, Libby, Missoula, Moiese, Northwest Corridor, Outdoor Fun, Philipsburg, Resorts, St. Regis, Sula, Whitefish, Winter Fun