Mountain biking Glacier Country's extensive trail systems is the perfect way to cover epic ground while breathing in fresh mountain air. Shred a single-track mountain biking trail or visit our family-friendly ski resorts turned downhill mountain bike resorts. There's no shortage of terrain to pedal; miles of trail systems crisscross the region, and there's something for every skill level. Explore Western Montana on two wheels. Here are a handful of our favorite trails.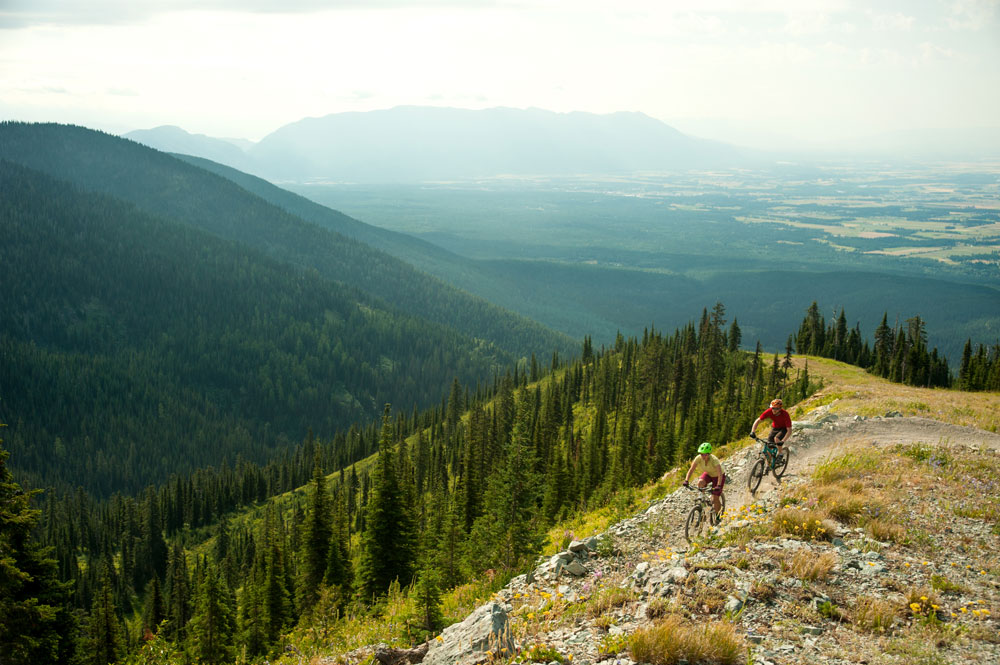 WHITEFISH MOUNTAIN RESORT – WHITEFISH 
Level: Children and Beginners – Advanced
Whitefish Mountain Resort, located 8 miles north of the quintessential mountain town of Whitefish is a mecca of meandering trails. Ski mountains provide some of the best terrain for mountain biking and family fun for riders of every skill level, and Whitefish has it down to an art. At Strider Bike Park aspiring young mountain bikers, ages 2 – 6, practice their riding skills on pedal-less bikes. A bike school is offered for first-timers, while skilled riders can explore 30-plus miles of chair lift-accessed cross-country mountain bike trails. Unbeatable panoramic views of the Flathead Valley can be taken in from the top. Bike rentals are available on site. Whitefish Mountain Resort opens for summer activities May 25, 2019 (weather dependent).
Round Trip Distance: Varies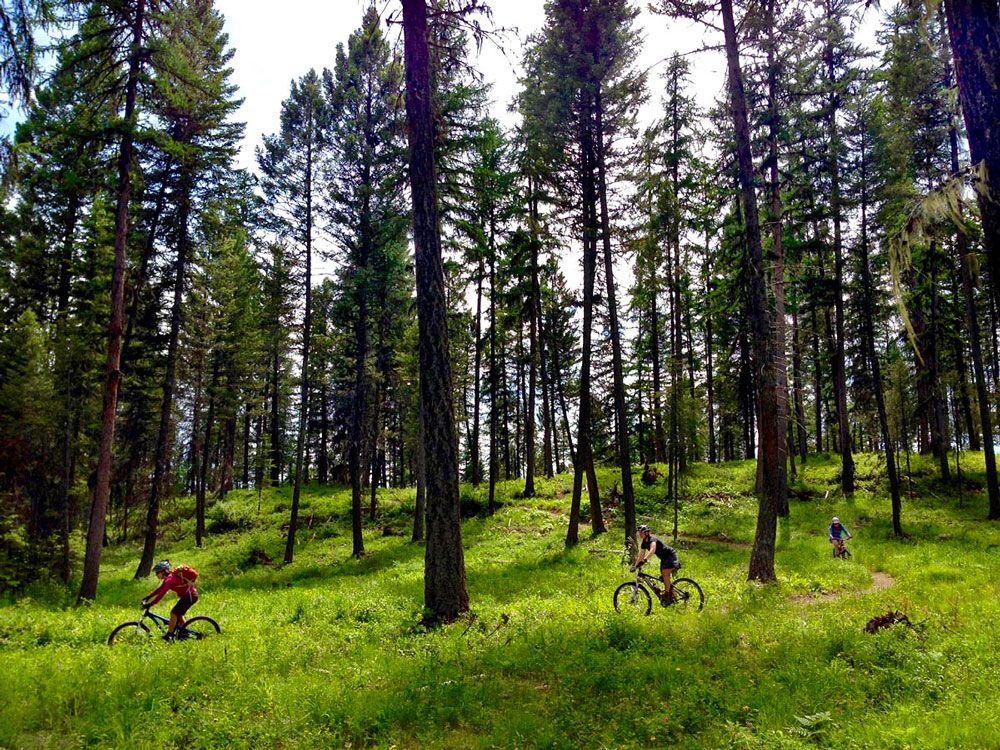 WHITEFISH BIKE RETREAT AND BEAVER LAKE TRAIL – WHITEFISH
Level: Beginners – Intermediate  
Eight miles west of Whitefish is the Whitefish Bike Retreat, the perfect place to begin your biking adventure. Make it an overnight—trail-side lodging and on-site bike rentals let you sleep, wake and ride. Warm up for the day by taking a lap on the short loop circling the 19-acre property, navigate berms on the pump track or weave through obstacles in the skills park. When you're ready to explore more, the Whitefish Bike Retreat connects directly to The Whitefish Trail, serving up more than 42 miles of single-track trails. The Beaver Lake Trailhead, located next to the retreat, is a short but fun 3-mile loop. Choose to turn back, or keep exploring The Whitefish Trail system.
Round Trip Distance: 3.5 miles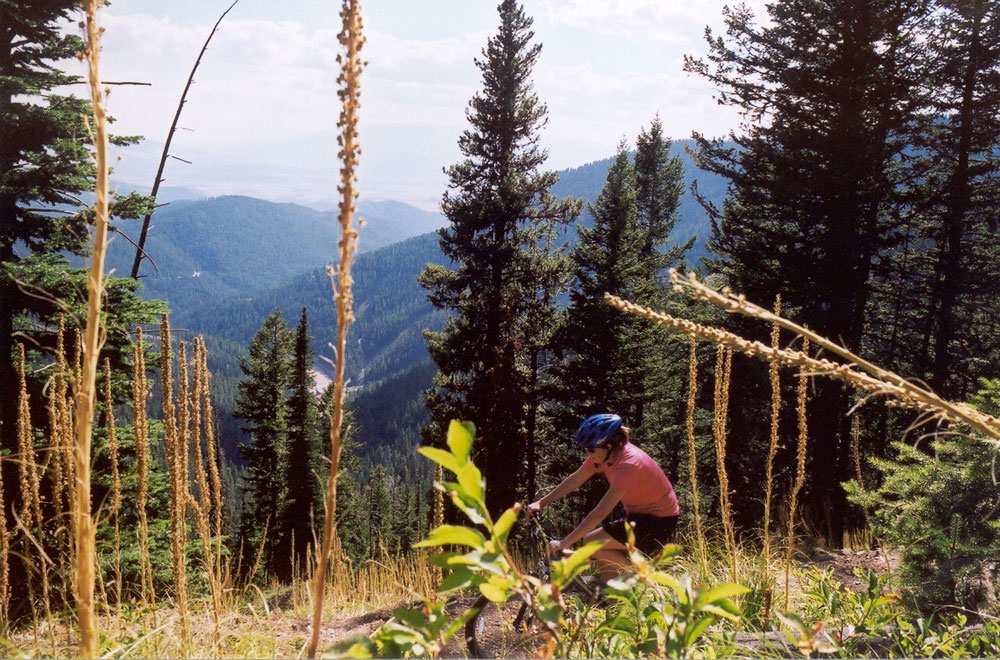 MONTANA SNOWBOWL – MISSOULA
Level: Intermediate – Advanced
Montana Snowbowl, located minutes from downtown Missoula, is a local's favorite ski mountain in the winter and a mountain bike enthusiast's dream during the summer. Ride the Grizzly Chairlift to 7,000 feet, taking in the sheer beauty of Lolo National Forest with breathtaking views of sweeping meadows and alpine forests. Challenge yourself to bike to the top of Point Six Trail, an elevation gain of 926 feet, and try to beat the record of 37 minutes, 36 seconds. After a hard but brief push to the top, enjoy mostly downhill trails on the other 25 miles of trail systems, then ride the chairlift back up and do it all again. Cap off the day with a post-adventure bloody mary and delicious wood-fired pizza. Montana Snowbowl opens for summer activities in late June.
Round Trip Distance: Varies
BLUE MOUNTAIN – MISSOULA
Level: Intermediate
Directions: After exploring Missoula—the arts and culture hub of Western Montana—head south for 2 miles on U.S. Highway 93. Turn right onto Blue Mountain Road and the trailhead is on the left where the road makes a 90-degree turn. This popular recreation area boasts more than 41 miles of trails, so be sure to pick up a map. You'll begin your ride in open meadows, where you can enjoy views of the Missoula Valley and Sapphire and Rattlesnake mountains, before you ascend into forested wilderness. Ride a quick and easy 3-mile loop, or explore much farther.
Round Trip Distance: Varies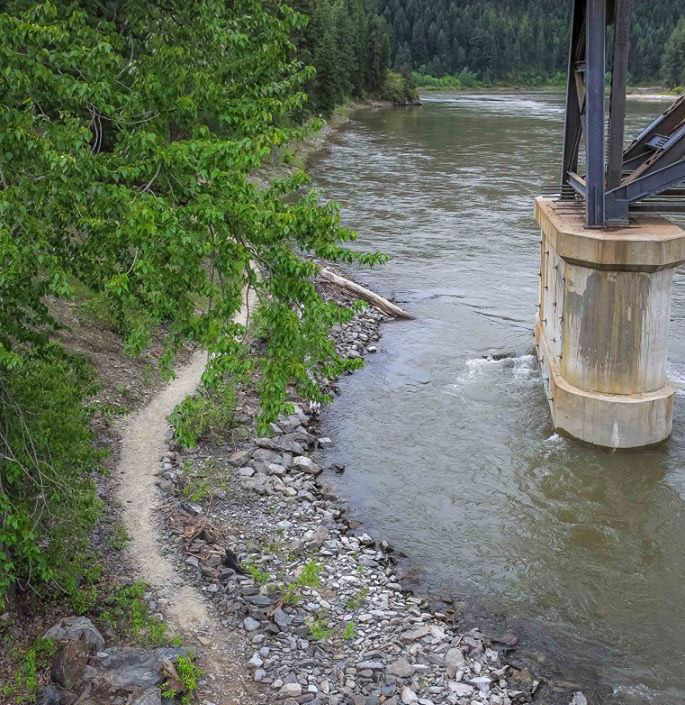 CLARK FORK RIVER TRAIL – ST. REGIS
Level: Intermediate
Directions: From St. Regis, travel east 11 miles on State Highway 135. The trailhead is at the Ferry Landing fishing access, located on the north side of the highway. The Clark Fork River Trail takes you through Lolo National Forest along the Clark Fork River between Paradise and St. Regis. It's a smooth single-track trail that winds along lush old-growth forest and sweeping wildflower meadows. The first switchback climbs are the most difficult, but push through them because this ride is well worth it.
Round Trip Distance: 18 miles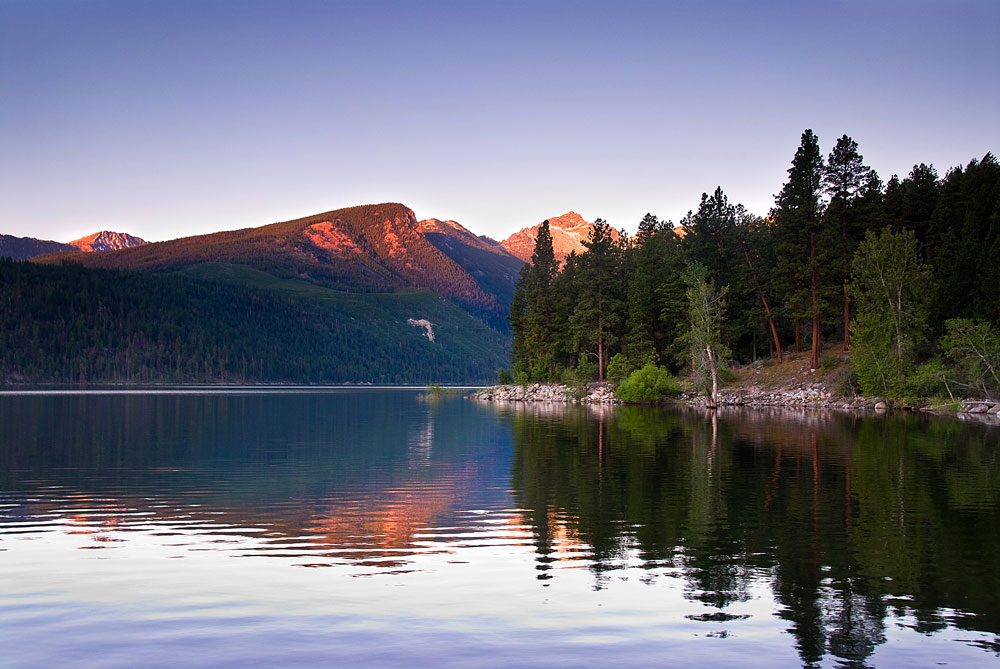 LAKE COMO TRAIL – DARBY
Level: Intermediate/Advanced
Directions: After experiencing the Old West charm of Darby, travel north for 4 miles on US-93 then turn left on Lake Como Road. Follow it for 3 miles until you meet the campground and trailhead on your right. Lake Como Trail is a relatively flat yet technically difficult trail. Discover beauty around every bend as you circle Lake Como, pass by a waterfall and take in the dramatic mountain setting. This is a popular hiking trail in the summer and it's a bit narrow, so spring is the perfect time to ride it.
Round Trip Distance: 8 miles
BUTTERCUP LOOP – HAMILTON
Level: Intermediate – Advanced
Directions: From Hamilton, turn south onto US-93 for 2.8 miles before turning left on State Highway 38 heading east. After 0.7 miles, turn right onto Sleeping Child Road and continue for 4 miles until you reach the junction of Little Sleeping Child Road. Park at the junction where you'll often see vehicles of fellow bikers, but there is no designated parking lot. This is the beginning of the Buttercup Loop trail. The first 7 miles of the ride are on Sleeping Child Road, but views of the canyon make the short road-riding portion well worth it. You'll start climbing on Black Tail Road and wind through woodland terrain until it opens up to meadows popping with color. After a bit of a difficult climb, the fresh mountain air and unrivaled views of the Bitterroot Valley are worth it before coasting back down to the car. Go the distance on this loop and you won't be disappointed.
Round Trip Distance: 21.1 miles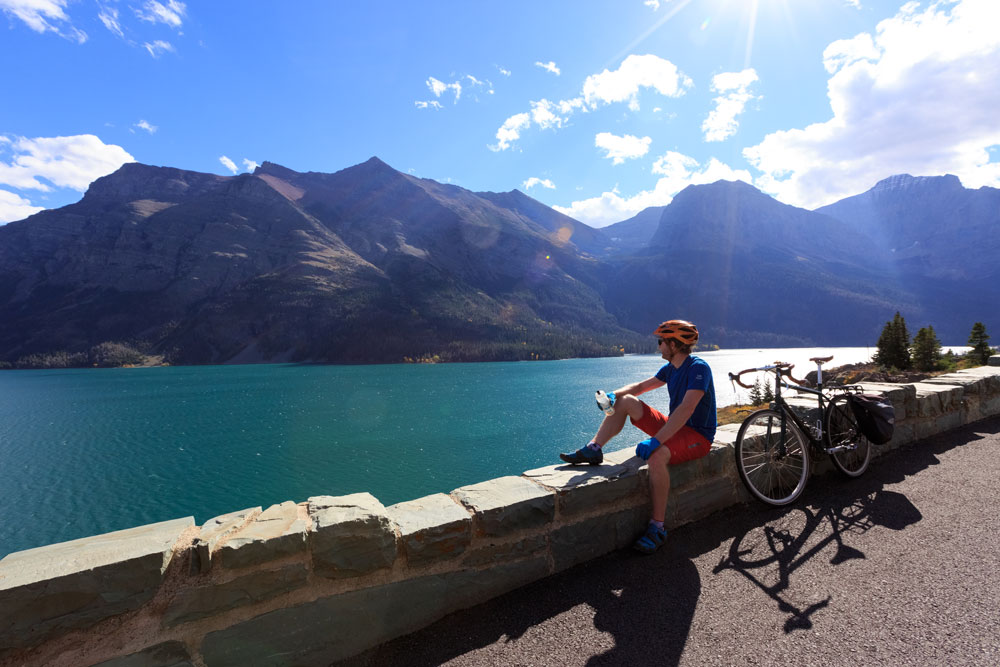 BONUS: GOING-TO-THE-SUN ROAD – GLACIER NATIONAL PARK
Level: Intermediate Road Biking
You won't want to miss the opportunity to bike the Going-to-the-Sun Road—an engineering marvel and National Historic Landmark—before the road is fully open to cars. In the spring, hikers and bikers are given first access, and biking one of America's most scenic roads is a pretty epic way to see spring flourish in Glacier National Park. Take in jaw-dropping views of glacial-carved terrain.
Round Trip Distance: Varies. Check road status here.
Pro-Tip: Catch a shuttle on the weekends between Apgar Visitor Center and Avalanche Creek. Shuttle service begins mid-May and operates until the road is fully open to vehicles. Or, do a guided trip with our friends at Glacier Guides, who provide shuttle, bike rental, helmet and lunch.
GEAR UP
Spring weather is unpredictable. Dress in layers and bring a rain jacket. Wear worn-in and comfortable biking shoes.
It's important to stay safe in the sometimes remote Western Montana wilderness. Wear a helmet.
Pack a light backpack with water, snacks, a map and a tire pump.
Carry bear spray with you—you never know what wildlife you'll encounter.
Helpful trail maps can be found at local visitor centers, ranger stations and forest service offices. Bike rentals are available throughout the region.
May 13, 2019
Related: Biking, Bitterroot Valley, Darby, Fall Fun, Glacier National Park, Hamilton, Missoula, Montana, Outdoor Fun, Spring Fun, St. Regis, Summer Fun, Whitefish