There are certain places that exist in the world that are so beautiful, they almost don't seem real. One such place: Western Montana. Glacier Country is filled to the brim with amazing scenery and picture-perfect scenes. From the glacier-carved peaks of Glacier National Park in the north to the Old West town of Darby in the south, Montana is filled with awe-inspiring views. Taking pictures is a key part of vacationing, and to help you snag some of the most iconic images in Glacier Country, we've created a list of the 31 best locations for photo opportunities.
1. Twilight at Lake McDonald in Glacier National Park
Accessible year-round, this view of Lake McDonald from Apgar is located just inside the west entrance of Glacier National Park. During the summer, you can rent canoes, kayaks and small motorboats from Glacier Park Boat Company at the southern end of the lake or cruise the lake on the historic wooden boat, the DeSmet. To have this view (nearly) all to yourself, go during the off-seasons of fall, winter and spring.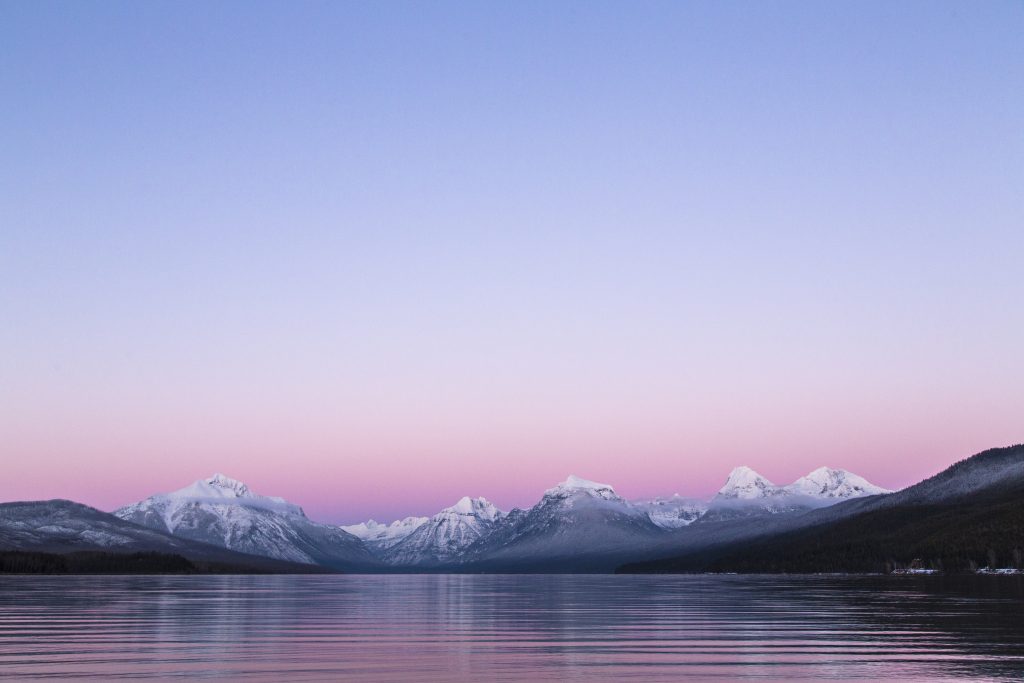 2. Wild Horse Island on Flathead Lake
At 30 miles long, 15 miles wide, and with 185 miles of shoreline, Flathead Lake is the largest freshwater lake west of the Mississippi. There are numerous state parks around the lake including Flathead's largest island, Wild Horse Island State Park. A day-use state park, it's home to wild horses (hence the name), bighorn sheep, bear, coyotes, deer and a variety of birds.
3. Missoula from Mount Sentinel
One of the most popular Missoula hikes, the zigzagging trail that leads up to the "M" on Mount Sentinel is an easy hike, with many places to take in the view along its path. While you can tackle the hike at any time of day, sunset is stunning.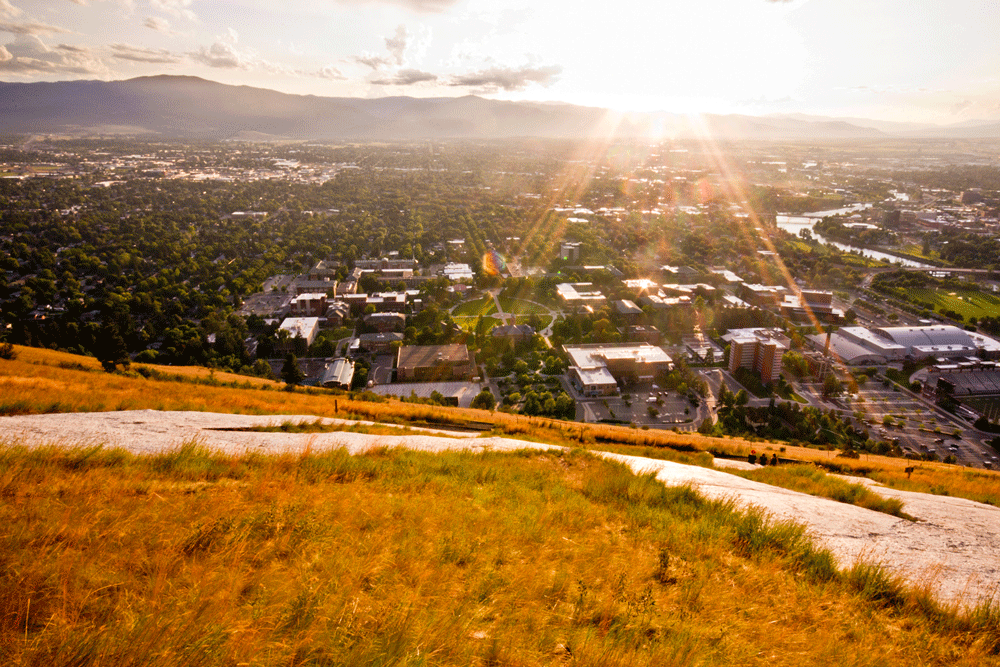 4. Seli'š Ksanka Qlispe' Dam (formerly Kerr Dam)
A short drive from Polson, admire the spectacular views from Seli'š Ksanka Qlispe' Dam, which is 54 feet higher than Niagara Falls. The viewing platform offers amazing Flathead Lake and Mission Mountain views, and is open year-round from dawn to dusk.
5. Garnet Ghost Town
During the late 1850s, prospectors struck gold in Montana. Once the gold disappeared, so did the people, turning the once wild and roaring mining camps into historic ghost towns. Montana's best-preserved ghost town is right here in Glacier Country. Garnet Ghost Town once had a population of nearly 1,000 people. What's left today includes 30 historic buildings consisting of cabins, a saloon and part of a hotel.
6. Whitefish Mountain Resort
While any view of Glacier National Park is basically perfection, this view of the park is best seen in the winter months. The snow-capped peaks of the distant mountains add an additional visual element that's best described as surreal and stunning. The Summit House restaurant sits nearly 7,000 feet above sea level at the top of Whitefish Mountain Resort, and is a particularly spectacular place to grab lunch and enjoy the view.
7. Rodeo
Pull on your boots, grab your cowboy hat and channel your inner cowboy or cowgirl at a local rodeo. Steeped in tradition and history, many of our communities still host rodeos paying homage to Montana's heritage with events based on the duties of actual working cowboys.
8. Purple Mountain Lavender
Take in the scents of more than 35 varieties of lavender at Purple Mountain Lavender in Lakeside. At the farm you can shop, participate in a class, and take in spectacular Flathead Lake views.
9. Starry Night Sky
Sleep under the stars in Western Montana at a campground or join an event at an observatory to maybe catch a glimpse of the northern lights or the Milky Way. In Glacier National Park, an internationally recognized Dark Sky Park, go to the Star Dome at St. Mary, which is equipped with a 20-inch telescope providing high-resolution views of planets, galaxies and nebulae.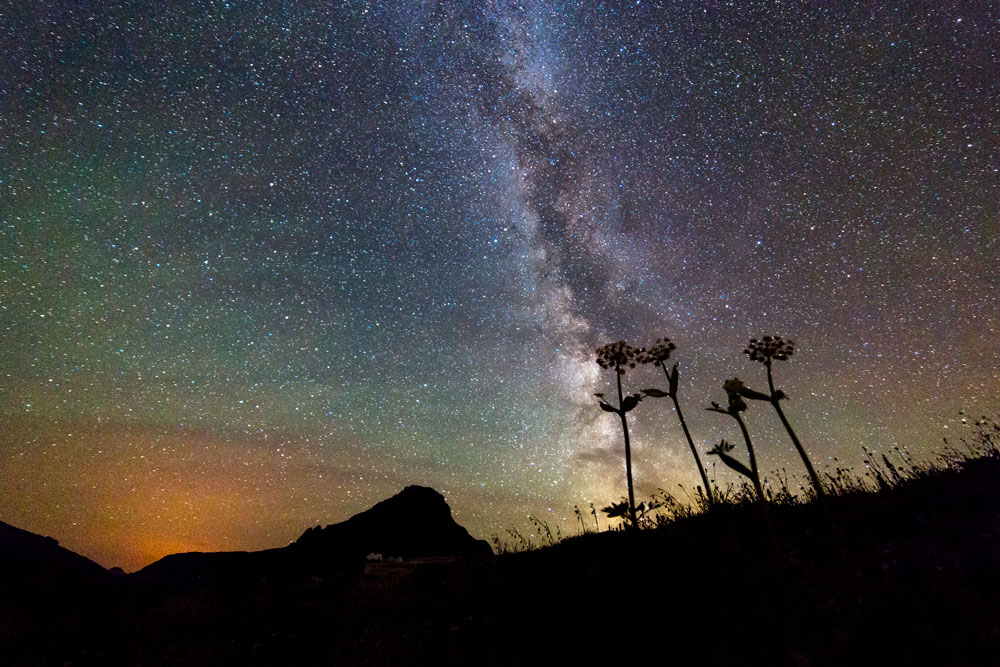 10. Cut Bank Penguin + Clearwater Cow
Stop and pose for a pic with the giant cow along State Highway 200 at Clearwater Junction or the giant penguin in Cut Bank—a 27-foot-tall penguin claiming bragging rights to calling "the coldest spot in the nation" home.
11. Garden of One Thousand Buddhas
Built in Arlee in Montana's Jocko Valley, the Garden of One Thousand Buddhas is a beautiful contrast to the nearby snow-capped Mission Mountains. Open year-round, the garden was built as a place to help people of all faiths cultivate inner peace.
12. Kootenai Falls + Kootenai Falls Swinging Bridge
Check out the view of Kootenai Falls (between Libby and Troy) from the swinging bridge. This picturesque bridge is suspended over the rushing Kootenai River, presenting the perfect photo op and an unforgettable experience.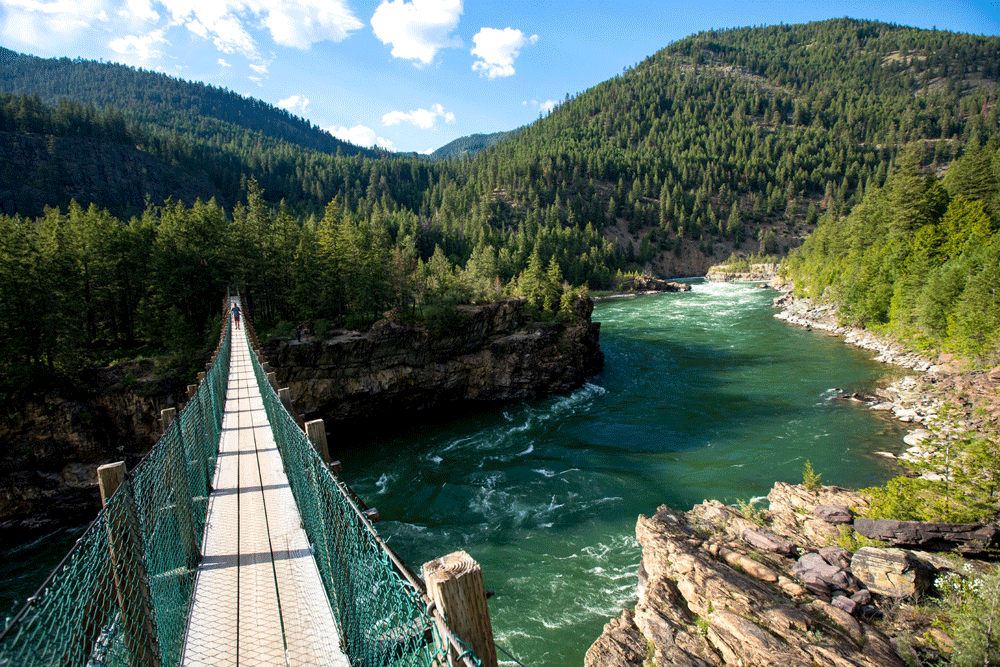 13. Bigfork Christmas Village
Always on our must-stop list, the small town of Bigfork is charming year-round—think Hallmark vibes. Near the holidays, Bigfork 'elves' decorate the town from top to bottom in holiday cheer, earning the town's nickname of Montana's Christmas Village.
14. The Mission Mountains
As you travel along Highway 93 from Missoula to Polson, you'll be met by the impressive peaks of the Mission Mountains. A few favorite photo locations for this mountain range are cresting Ravalli Hill just south of St. Ignatius (use the designated scenic pullout) and Ninepipes Lodge in Charlo.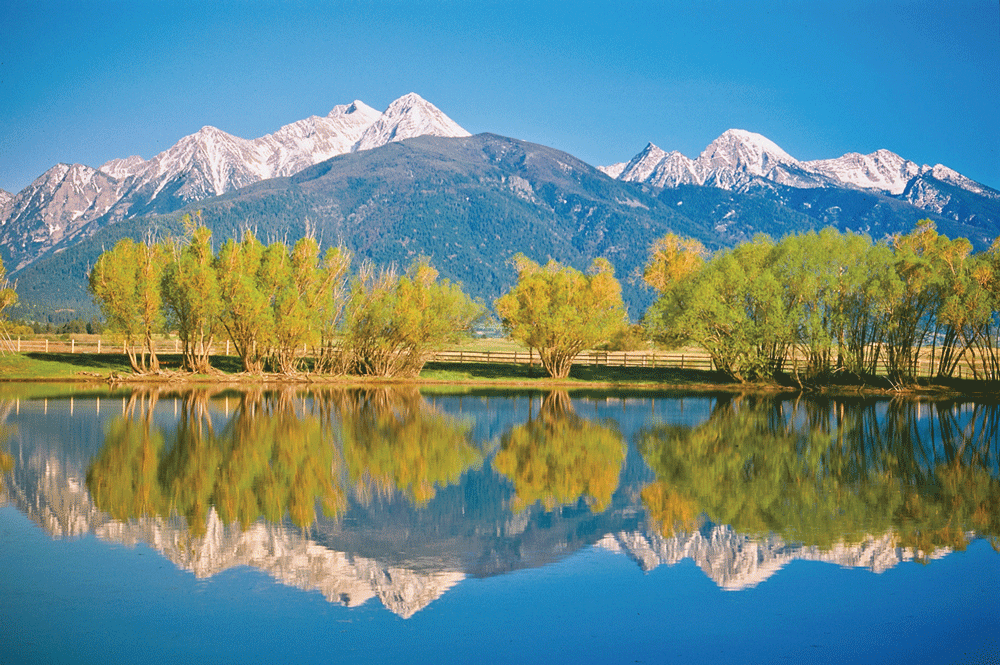 15. Wild Goose Island + Going-to-the-Sun Road in Glacier National Park
The 50-mile-long Going-to-the-Sun Road in Glacier National Park leads travelers to incredible scenic overlooks and photo opportunities. Topping our list: Wild Goose Island overlook on the east side of the road. This view is accessible by car when the road is open and can be accessed by cross-country ski during the winter months.
16. Clearwater Canoe Trail
The Clearwater Canoe Trail is a calm stretch of river meandering through a dense willow marsh, entering the north end of Seeley Lake. It's a serene float to do by kayak, canoe or paddleboard, and if you're lucky you'll see an otter, turtle or great blue heron.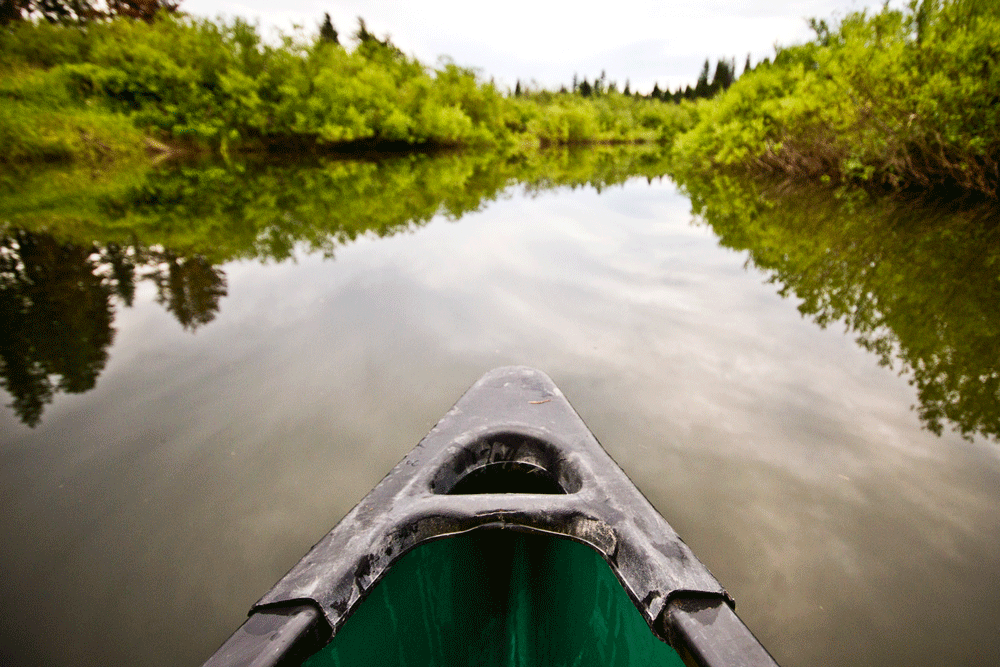 17. Route of the Hiawatha
Noted as one of the most breathtakingly scenic stretches of railroad in the country, the Route of the Hiawatha is a scenic 15-mile gradual downhill ride through an alpine forest. Pass through 10 tunnels, including a 1.66-mile tunnel, and over seven sky-high trestles.
18. The Chinese Wall (in Montana)
Montana's expansive Bob Marshall Wilderness Complex is home to the Scapegoat, Great Bear and Bob Marshall wilderness areas. It's also home to the Chinese Wall, a 22-mile-long rock escarpment that reaches heights of 1,000 feet. While you can access The Bob (as it's referred to by locals) on your own, there are also many outfitters that offer guided trips into Montana's largest wilderness area.
19. Blackfoot River
Cast a line on the Blackfoot River, made famous by Norman Maclean's "A River Runs Through It." Or cool off from a hot summer day and float down a stretch of this river on a tube, raft, kayak or paddleboard.
20. Forest Service Fire Lookout
One of Western Montana's best-kept secrets is that our Forest Service fire lookout towers can be rented. Lookout towers are small U.S. Forest Service cabins positioned at high elevations in remote areas historically used for spotting smoke and wildland fire. These cabins have windows on all sides, setting the stage for epic panoramic views.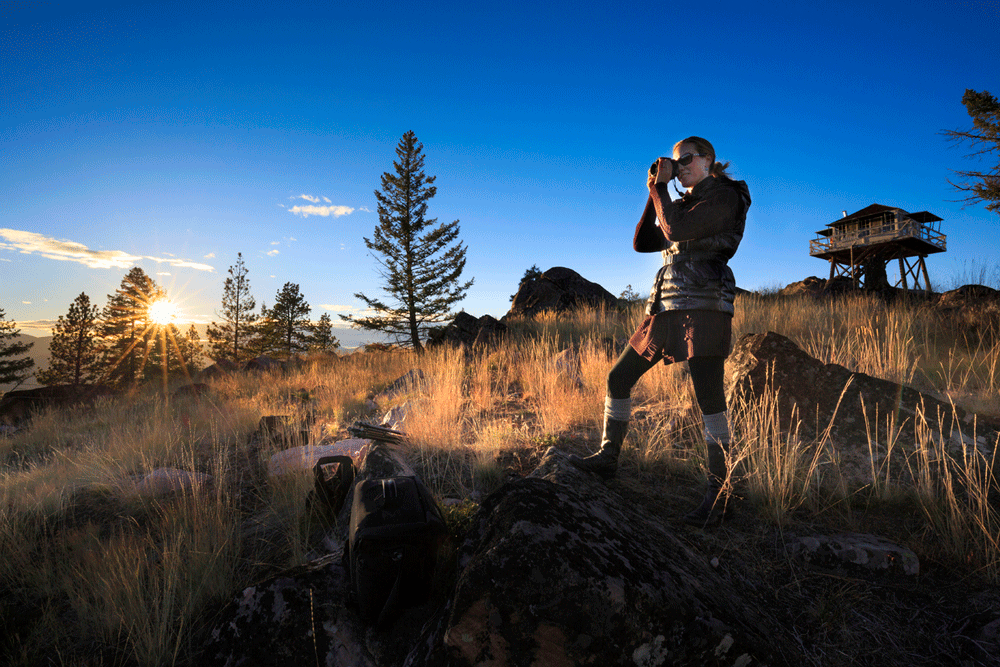 21. Darby
An Old West charmer, the little town of Darby sits at the southern tip of the Bitterroot Valley. Take a step back in time in downtown Darby at local antique shops and an old-fashioned candy store. A fan of the TV drama "Yellowstone"? Darby is the location of the Dutton Ranch.
22. Polebridge
Sitting in Montana's North Fork (outside Glacier National Park), Polebridge is one of our favorite places to visit. It has an adorable historic mercantile plus bakery which serves mouthwatering huckleberry bear claws. Plus, there's plenty of wildlife to be seen—basically a photographer's dream come true.
23. Conrad Mansion
Take a docent-guided tour of the 26-room Conrad Mansion, and its gardens, once home to the founder of Kalispell, Charles E. Conrad. The museum offers a glimpse into the lives of the Conrad family and their impact on Montana's history.
24. The Hot Springs in Paradise
Home to natural hot springs, Quinn's Hot Springs sits along the St. Regis-Paradise Scenic Byway. The pools are located against the bottom of a nearby mountain and create a truly picturesque scene any time of year.
25. Avalanche Lake
Located inside Glacier National Park and accessible from the Trail of the Cedars, Avalanche Lake is reachable year-round on a 4-mile-long round-trip hiking trail. The trail can be muddy in the spring, while snowshoes or cross-country skis are required during the winter months.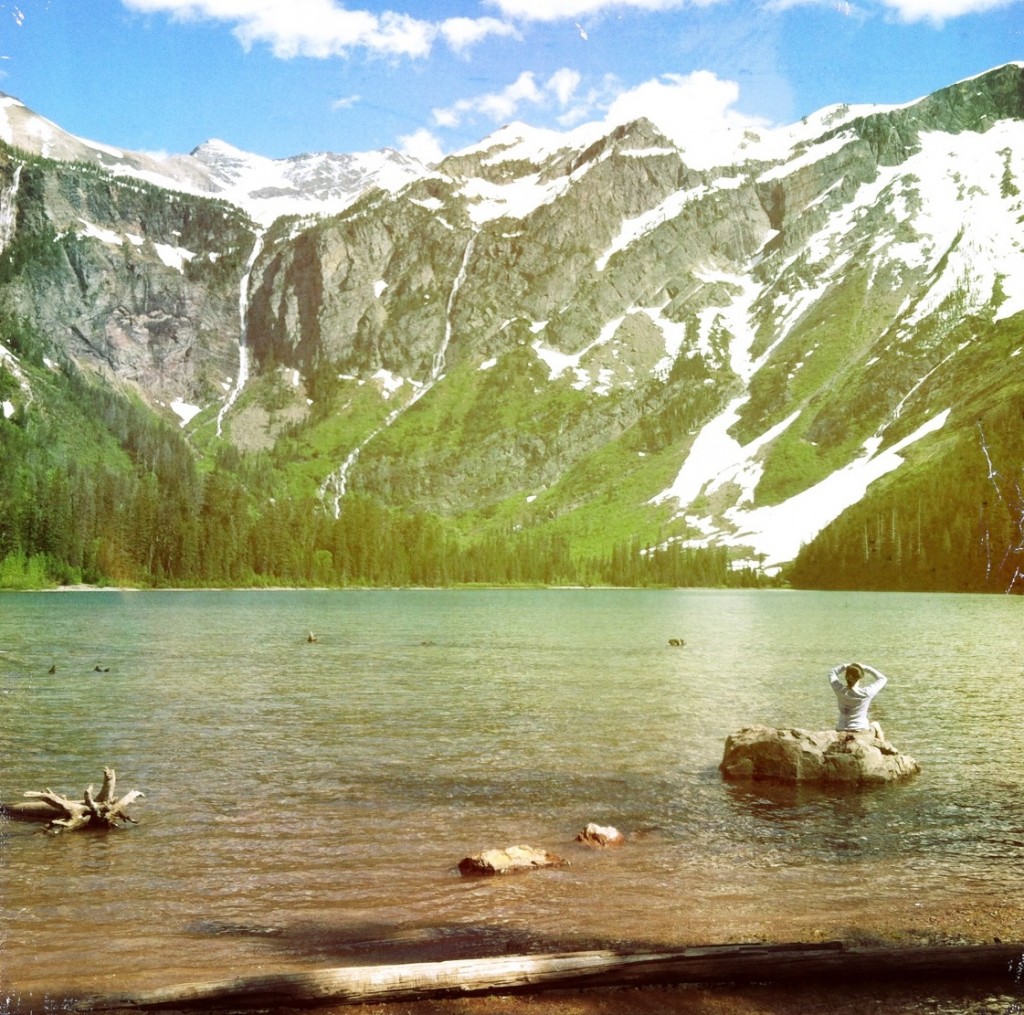 26. Ross Creek Cedar Grove
Try to wrap your arms around 1,000-year-old cedar trees that have grown up to 8 feet in diameter at Ross Creek Cedar Grove. A mile-long interpretive walking trail explains the area's ecology and history.
27. Aerial Adventure
Enjoy the scenery from above when you take flight in Western Montana. A helicopter tour, hot air balloon ride or private airplane adventure is a picturesque way to explore our vast terrain and get a bird's-eye view of some of the most untouched wilderness areas on the planet including the Mission Mountains, the Chinese Wall and Glacier National Park.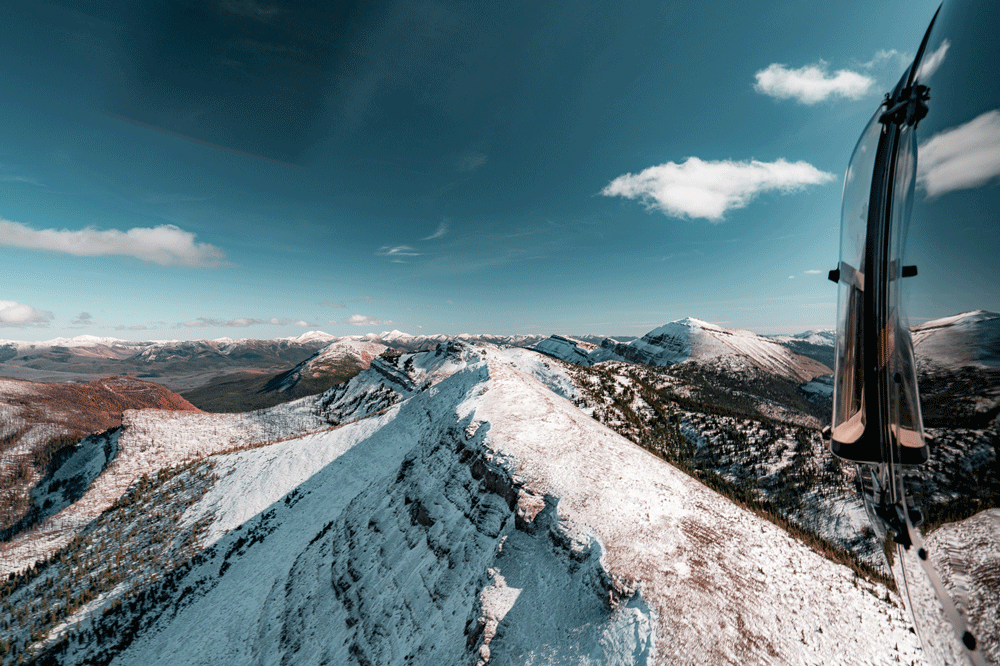 28. Bison Range
Take a selfie—from the safe distance of 25+ yards away—with a bison. There's no better place to spot wildlife than the 18,500-acre Bison Range near Moiese. Home to 350+ bison, as well as antelope, bighorn sheep, elk, deer, coyotes and black bears, and set against the backdrop of the gorgeous Mission Mountains, it's a sight to see.
29. Blackfeet Nation Warrior Sculptures
These Blackfeet warrior sculptures are found at four entrance points into the Blackfeet Reservation near the east side of Glacier National Park. Created by Blackfeet artist Jay Laber, the warriors are made of scraps from rusted cars, barbed wire and stones of an old mission school.
30. Holland Lake from Holland Falls
The 1.6-mile-long trail to the falls doesn't have much of an elevation gain, but gives beautiful perspectives along the way. The cream of the crop is the view from Holland Falls overlooking Holland Lake.
31. Bitterroot National Forest
Hiking trails are numerous in the Bitterroot Range, and the views are awe-inspiring. A favorite is the Kootenai Creek Trail. Wander through granite canyon walls, following Kootenai Creek, on this 9-mile out-and-back hike. The Kootenai lakes are 9 miles in, but turn around anytime—even a short distance will immerse you in the serenity of the Bitterroot National Forest. Find other Bitterroot Valley trails to trek here.
Please note, we ask that all our visitors and residents recreate responsibly by being mindful of the following: practice physical distancing; know before you go; plan ahead; play it safe; leave no trace and build an inclusive outdoors. Take the Tourism Pledge to travel responsibly in Glacier Country.
July 19, 2021
Related: Aerial Tours, American Indian, Arlee, Bigfork, Bison Range, Bitterroot Valley, Blackfeet Indian Reservation, Blackfeet Nation, Blackfoot Corridor, Charlo, Clark Fork Corridor, Cut Bank, Darby, East Glacier Corridor, Flathead Corridor, Flathead Lake, Garnet Ghost Town, Glacier National Park, Guided Tours, I-90 Corridor, Kalispell, Lakeside, Libby, Missoula, Moiese, Montana, Outdoor Fun, Paradise, Polebridge, Polson, Seeley Lake, Seeley-Swan Corridor, St. Mary, Troy, Whitefish