Spring is one of Western Montana's best-kept secrets. It's the season to get out and explore the region's emergence from winter, and this year is no exception if we all travel safely and responsibly. Here are nearly two dozen ways to play in Glacier Country this spring.
1. Bike in Glacier National Park
The famously gorgeous Going-to-the-Sun Road is a bucket-list bike ride, especially in the springtime when you can cycle this beauty before it's open to vehicular traffic. Rent an eBike from Glacier Guides and take your biking experience to the next level. If you've got small children in tow, check out the park's Apgar Bike Path.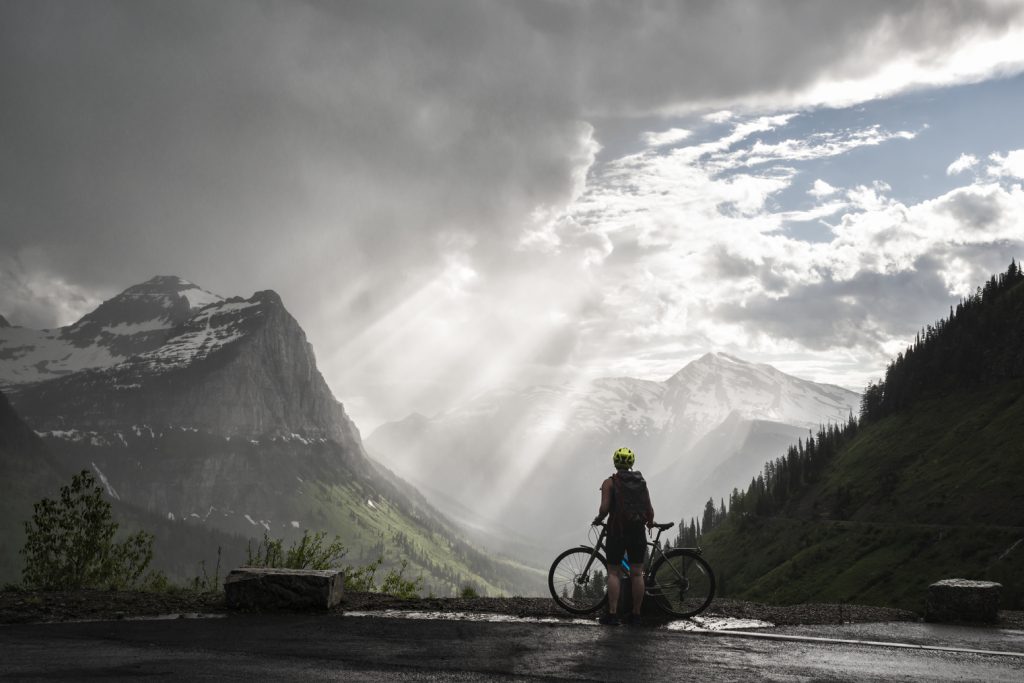 2. View the Cherry Blossoms Around Flathead Lake
You've likely heard the buzz about our delicious Flathead cherries. Flathead Lake is easy on the eyes any time of year, but when it's lined with cherry blossoms it's extra special. The lake is surrounded with orchards, and the cherry trees are in full bloom early to mid-May. You'll find the most spectacular orchard views along State Highway 35 from Polson to Bigfork. Not a bad reason to take a drive around the lake—great views on both sides!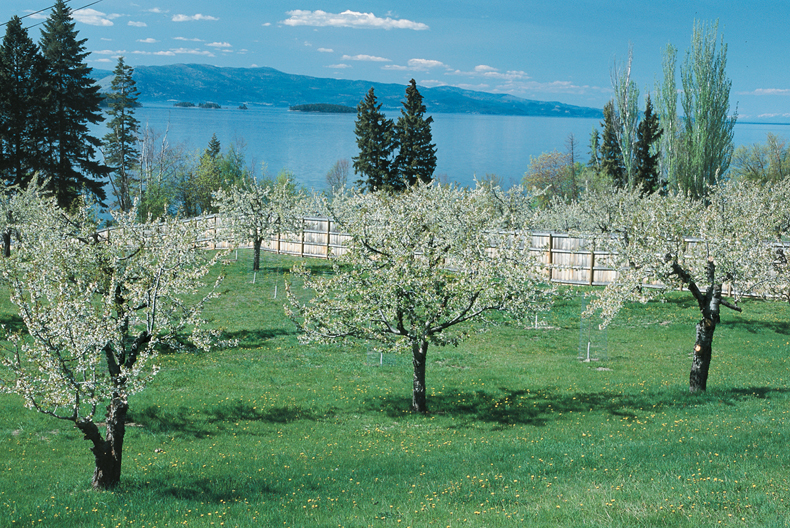 3. Hike the M in Missoula
Have you really seen Missoula if you haven't "hiked the M"? Begin at the base of Mount Sentinel on the University of Montana campus, and work your way up .75 miles via 11 switchbacks to the iconic M on the mountainside, where you'll be met with an incredible view of the Missoula Valley, Clark Fork River and Rattlesnake Wilderness, all emerging into their springtime glory.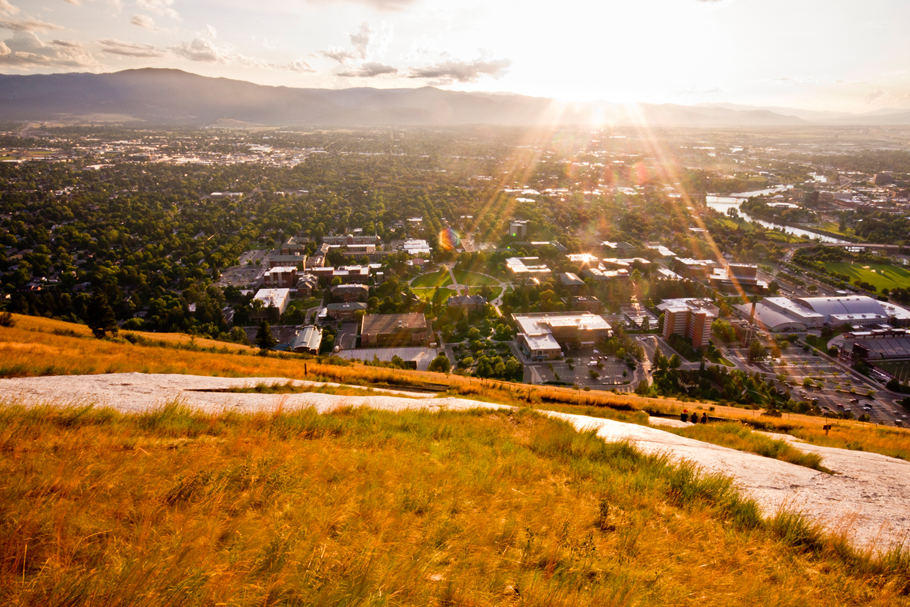 4. Explore the Bison Range
At the base of the Mission Mountains, the Bison Range offers breathtaking views and wildlife watching. In early spring, visitors can travel along the West Loop, and Red Sleep Drive (the 19-mile-long one-way drive that winds through the range) opens in early May. Be sure to keep an eye out for baby bison!
5. Pan for Sapphires + Visit a Candy Store
Philipsburg is one of Montana's most charming small towns. Home to cute boutiques, a fun brewery and the world-renowned Sweet Palace, it's also a great place to pan for sapphires. Make plans to visit Gem Mountain or the Sapphire Gallery to try your luck at finding a few Montana treasures. Gem Mountain Sapphire Mine opens in late May!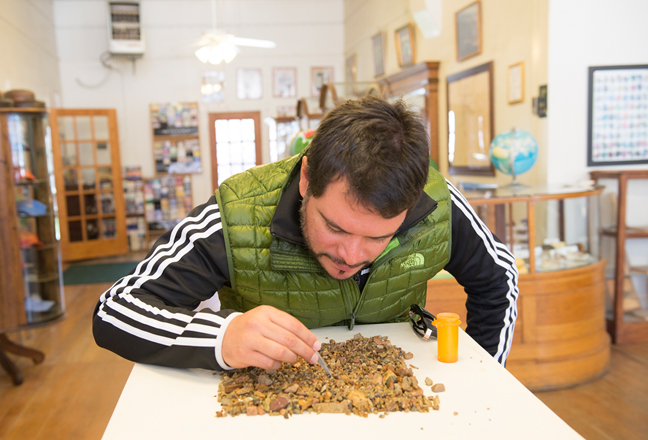 6. Whitewater Raft the Middle Fork of the Flathead River
Many of Montana's rafting companies begin offering river trips in May and June, and the Middle Fork of the Flathead is a prime location. Have a blast running the rapids, and on the flat stretches enjoy fishing, floating and soaking up the Glacier National Park scenery—this stunning river forms the eastern boundary of the park. Go with a guide, like Glacier Raft Company.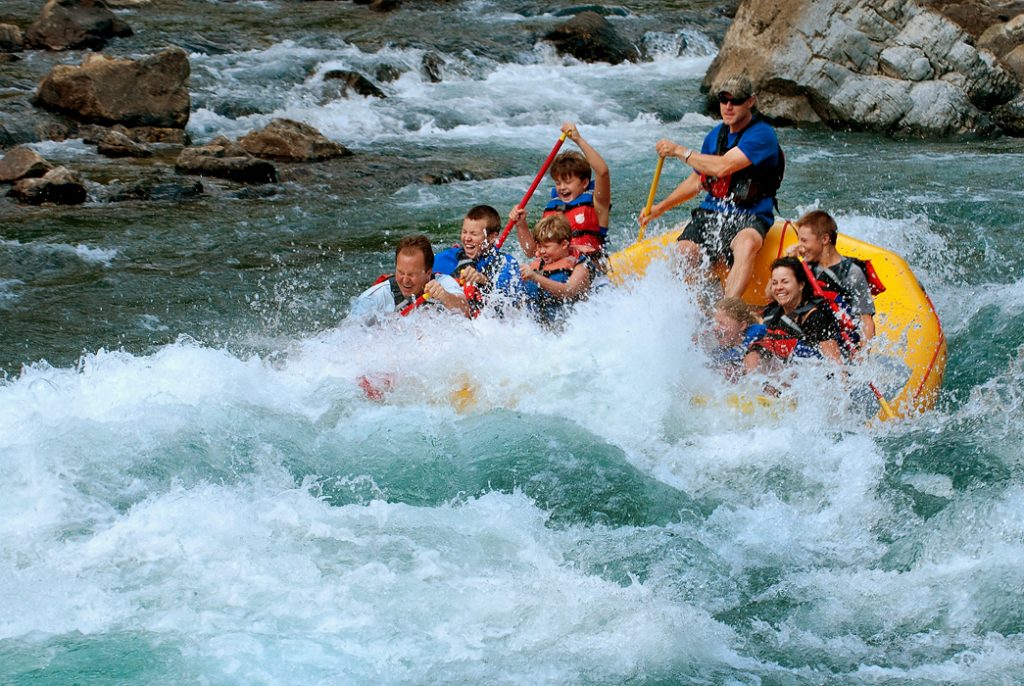 7. Visit Seli'š Ksanka Qlispe' Dam
Get off the beaten path just 10 miles from Polson and visit the Salish-Kootenai owned Seli'š Ksanka Qlispe' Dam, formerly known as the Kerr Dam. Located on the Flathead River, this 204-foot structure has a viewing platform offering amazing Flathead Lake and Mission Mountain views, and is open year-round from dawn to dusk. Don't miss the chance to watch the powerful water coming through the spillway, which is extra high in the springtime due to snowmelt.
8. Take a Trail Ride in West Glacier
Saddle up for the horseback ride of a lifetime, complete with rolling terrain and jaw-dropping vistas. Riding a horse across the Montana landscape is one authentic way to experience the West. Let one of Glacier Country's experienced guides lead the way. Beginning mid-May, Swan Mountain Outfitters offers trail rides from their West Glacier corral.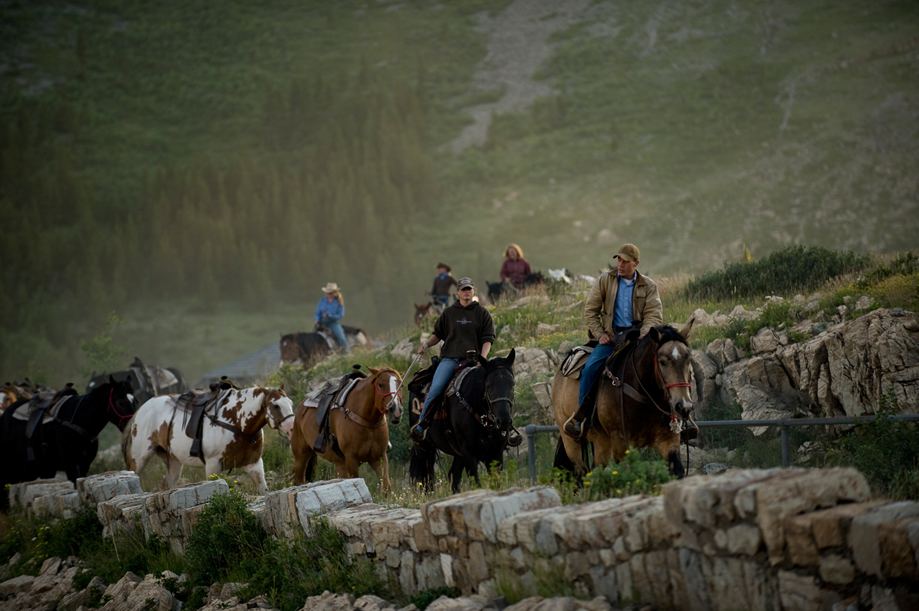 9. Golf
Glacier Country's golf courses tend to open for the season in April, and spring is a lovely time to get on the green. When you tee up in Western Montana you'll find renowned courses, epic scenery and affordability. The Flathead Valley has been named a "Top 50 Golf Course Destination" by Golf Digest and with the acclaimed Whitefish Lake Golf Course and The Wilderness Club Resort—rated No. 1 golf course in the state by Golfweek—it's safe to say Glacier Country is one incredible place to golf.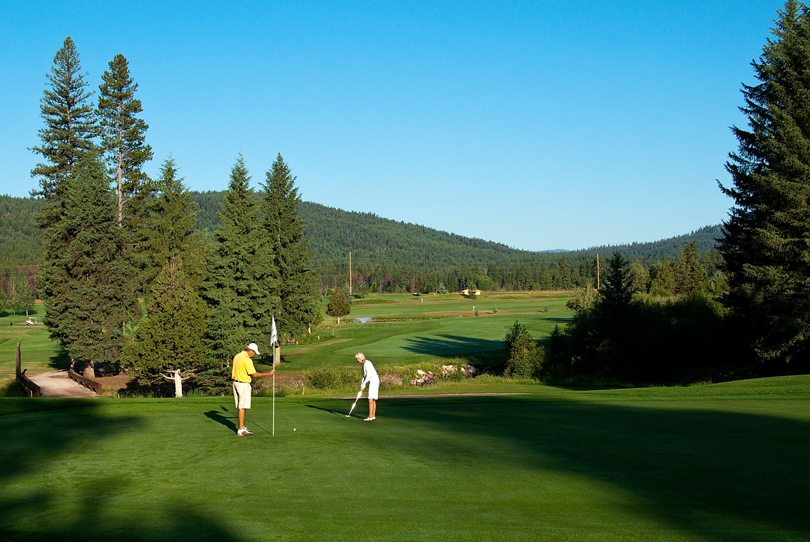 10. Tour St. Mary's Mission in Stevensville
Opening for the season in mid-April, the Historic St. Mary's Mission in Stevensville is an important place in Montana history. Be sure to take a guided tour of the complex and view the incredible American Indian photos inside Chief Victor's cabin.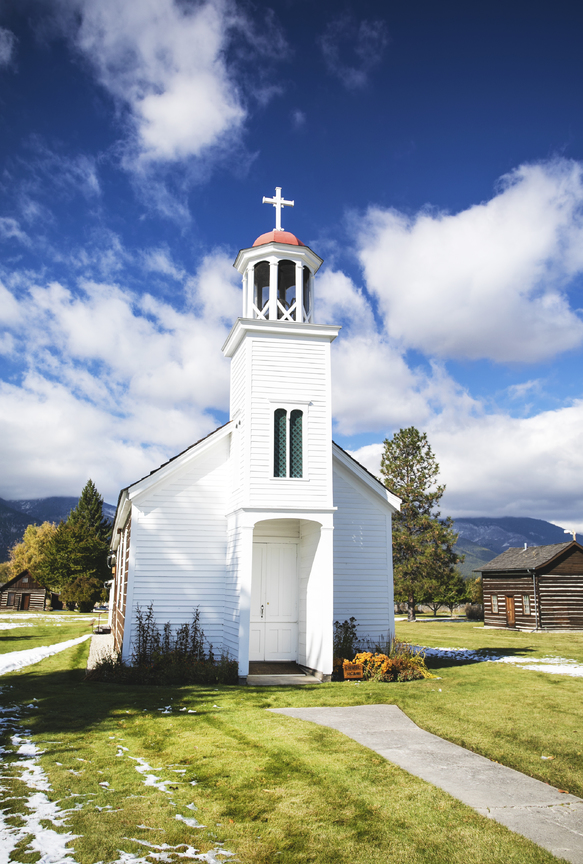 11. Stand-up Paddleboard on Whitefish Lake
This is one peaceful yet exhilarating way to experience calm waters in Western Montana. Stand-up paddleboarding, or SUP, is wildly fun, and Whitefish Lake provides a gentle paddle for the whole family When the water starts warming up in the spring, it's time to get to it. Bring your own paddleboard or rent one in the area.
12. Bike the Route of the Hiawatha
Opening for the season at the end of May, the Route of the Hiawatha takes bikers through 10 tunnels and across seven high, steel trestles in the heart of the Bitterroot Mountains between Montana and Idaho. This family-friendly pedal is a good way to get out and make memories, and in springtime you'll avoid the lines at the shuttle, which starts in late May.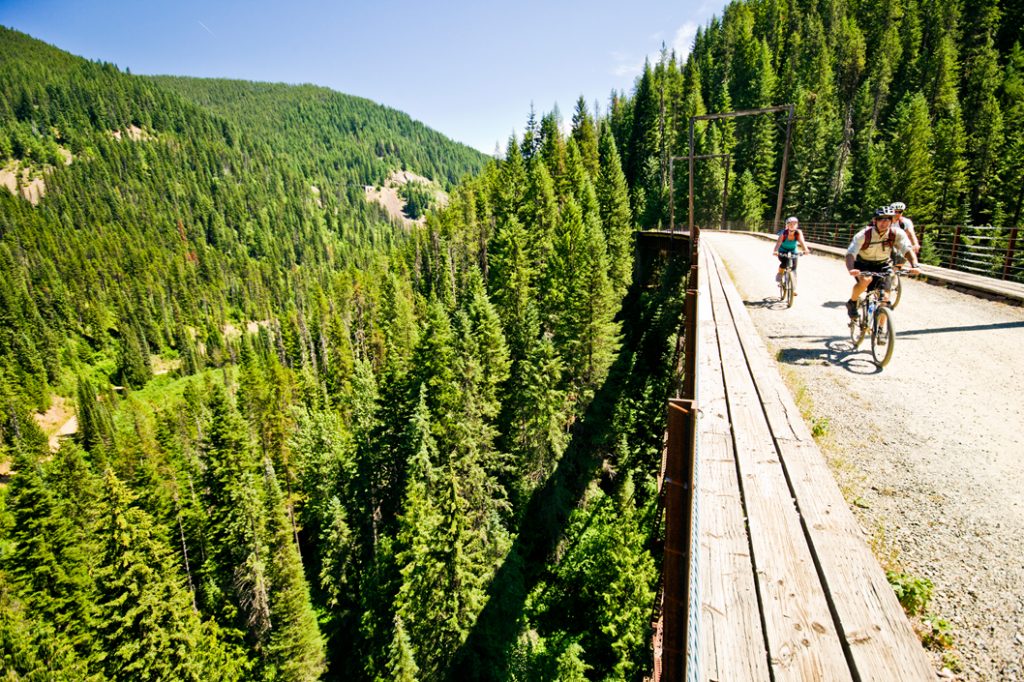 13. Soak in a Natural Hot Spring
With comfortable temperatures during the day and cooler nights, spring is ideal for soaking in one of Montana's many natural hot springs. For a weekend visit, head to Paradise and try the new pools at Quinn's Hot Springs Resort or Symes Hot Springs Hotel in the eclectic town of Hot Springs.
14. Stand on the Swinging Bridge Over Kootenai Falls
Tucked up in the northwest corner of Montana, Kootenai Country offers an off-the-beaten-path adventure. Kootenai Falls and the famous Kootenai Falls Swinging Bridge are a must, and the high water springtime brings makes for an even more exhilarating view. This picturesque bridge is suspended over the rushing Kootenai River, presenting the perfect photo op and an unforgettable experience.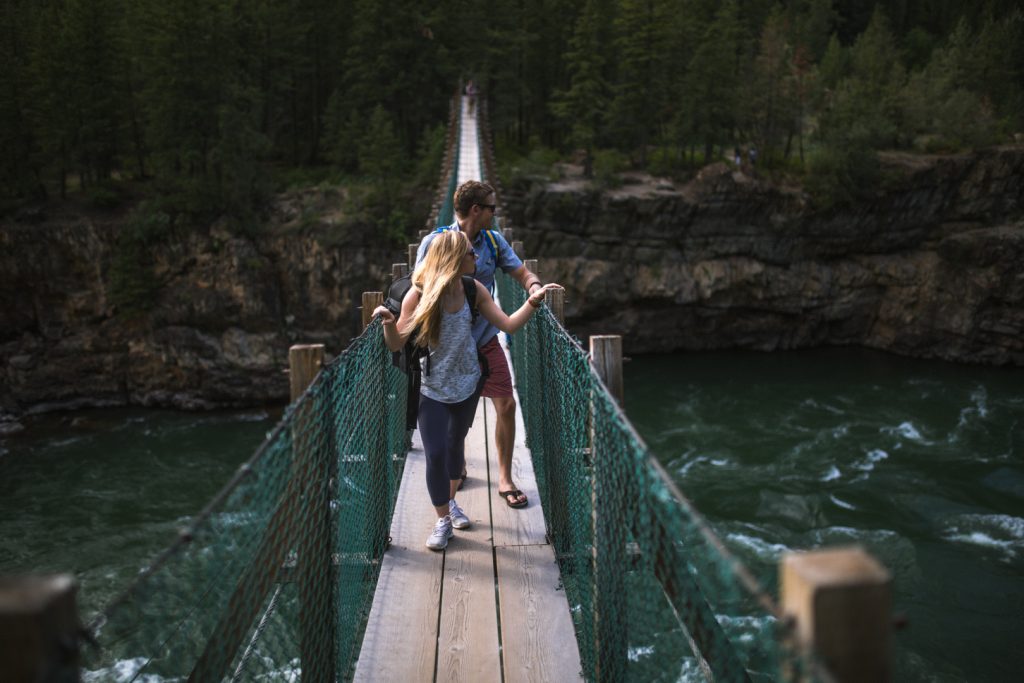 15. Take a hike in Missoula's Urban Wilderness
Just 4 miles from downtown Missoula, the Rattlesnake National Recreation Area and Wilderness is the perfect, peaceful place to take a good, old-fashioned hike and enjoy the many scents and sounds of springtime. Look for wildflowers like arrowleaf balsamroot, lupine and hairy cat's ears. This mixed-use area is also available for trail running and horseback riding.
16. Go Birding at Lee Metcalf National Wildlife Refuge
A 30-minute drive south of Missoula and a few minutes from Stevensville, the Lee Metcalf is a 2,800-acre refuge that's home to a variety of wildlife and birds that in the springtime become more active after months of quietude. The refuge has accessible trails and offers gorgeous views of the Bitterroot Mountains. You can also take a slow drive through the refuge, past a few ponds, which are great for viewing waterfowl during spring migration. Great Blue Herons can also be spotted nesting in the conifers next to the ponds this time of year.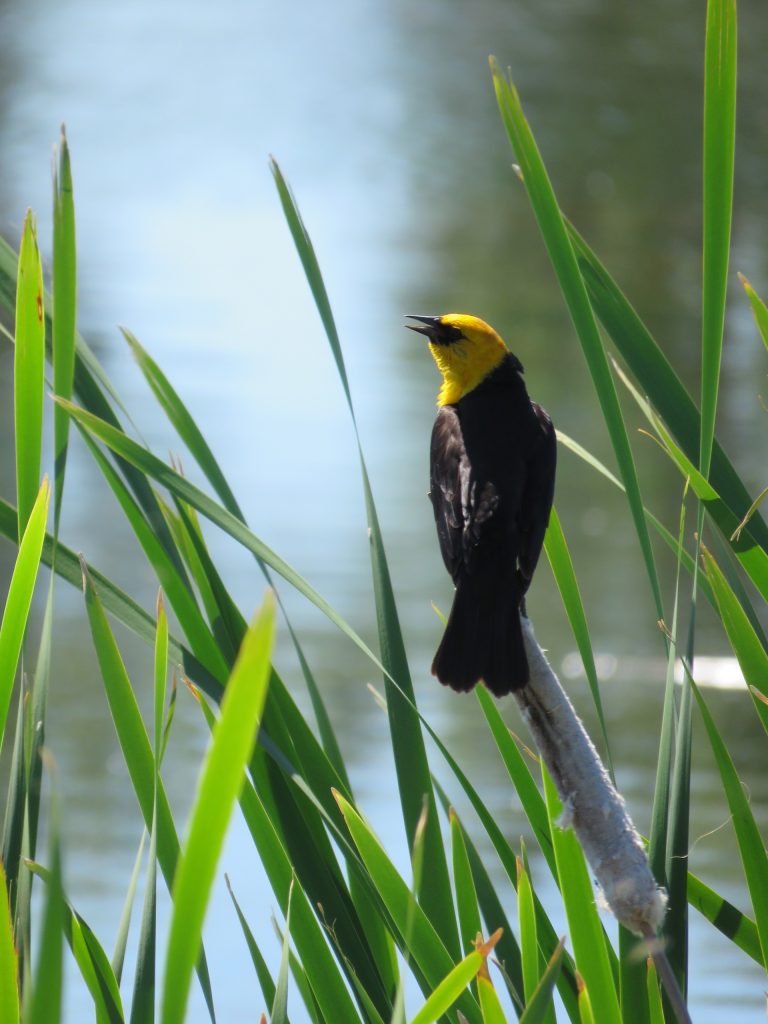 17. Visit Libby Dam
Witness one of the most massive and architecturally sound dams built today. Libby Dam stands at 422 feet tall and 3,055 feet long, and holds back 90 miles of water in Lake Koocanusa. Explore the Libby Dam Visitor Center, which opens on Memorial day and boasts an exhibit area and auditorium, as well as book and gift sales. Recreation in the area includes boating, fishing, camping, hiking, cross-country skiing and wildlife viewing.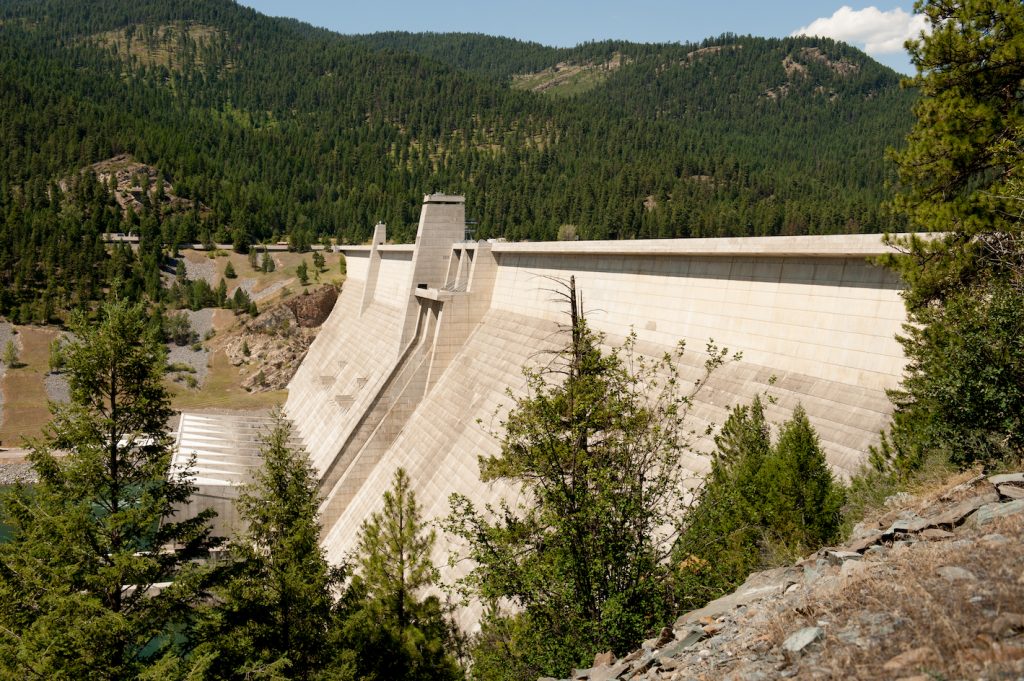 18. Fish Rock Creek
Rock Creek is Montana fly-fishing at its finest. This gem of a waterway is a blue-ribbon trout stream where anglers flock to reel in cutthroat, rainbow, bull and brown trout, as well as whitefish. Though it's famous for its salmon fly hatch at the end of May into June, the second week of March offers phenomenal dry-fly fishing when the stoneflies and mayflies hatch.
19. Tour the Garden of One Thousand Buddhas
Find peace in one of Montana's most tranquil valleys just north of Arlee at the Garden of One Thousand Buddhas. Stroll through the public park, botanical garden and Buddhist center evoking enlightenment and awakening. The location and architecture of the garden was born out of a prophetic vision that Tulku Sang-ngag Rinpoche had as a child, and the Montana backdrop only adds to the serenity of the experience. Time your visit for Vesak or "Buddha Day"—the first full moon of May.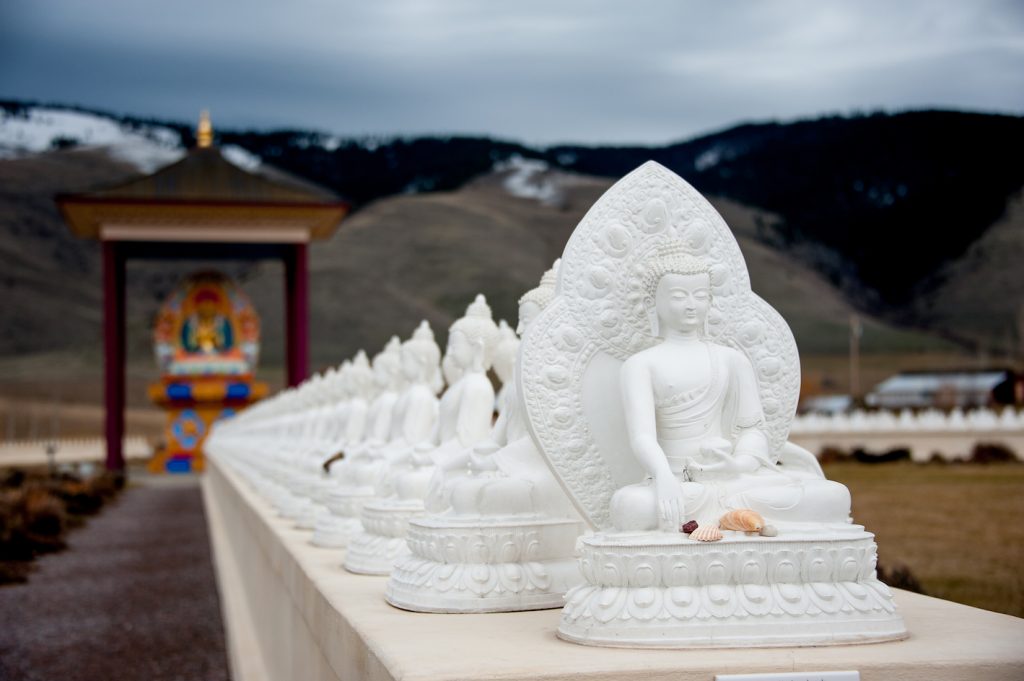 20. Hike Morrell Falls Near Seeley Lake
Spring is the time to lace up your hiking boots and hit the trails to watch the landscape emerge from winter's blanket. Morrell Falls is an easy 5.4-mile round-trip hike through lush forestland, past two mountain lakes, culminating at a picture-perfect waterfall. Bonus: Enjoy views of the Mission Mountains on your drive to the trailhead.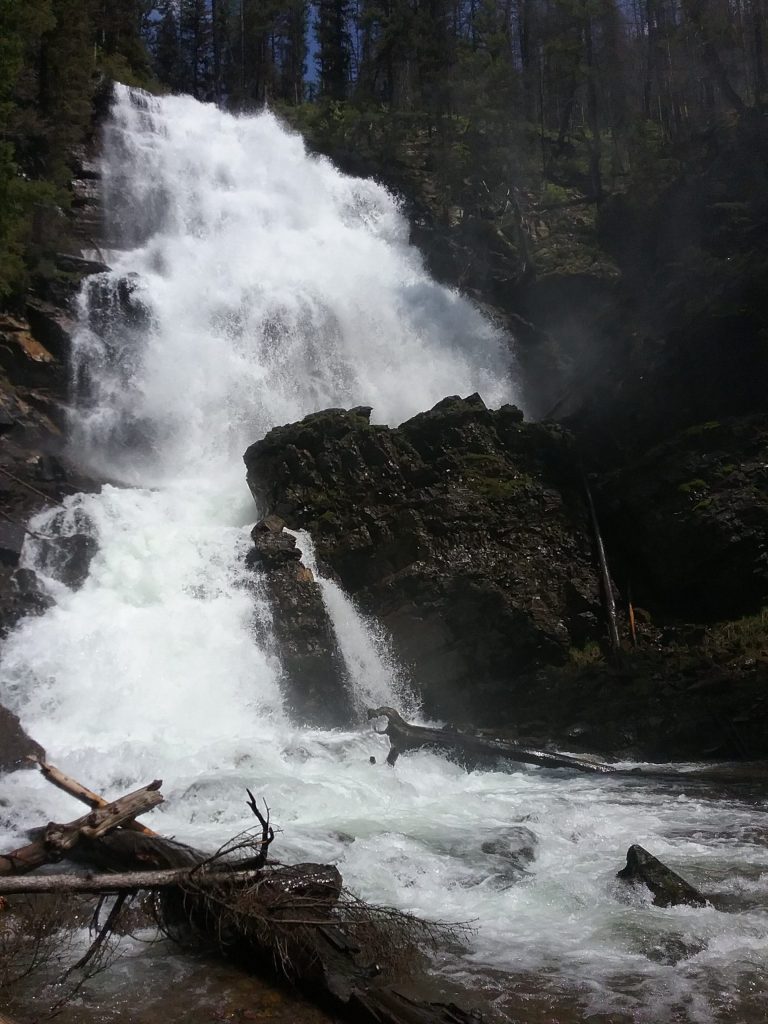 21. Take a Glaciers to Geysers Spring Road Trip
The landscape between Glacier and Yellowstone national parks is prime for a road trip. A park-to-park Glaciers to Geysers drive not only allows you to experience both of Montana's national parks, but explore the tour-worthy regions and charming small towns that surround them. From Glacier Country, head southeast to watch baby wildlife emerge in Yellowstone National Park.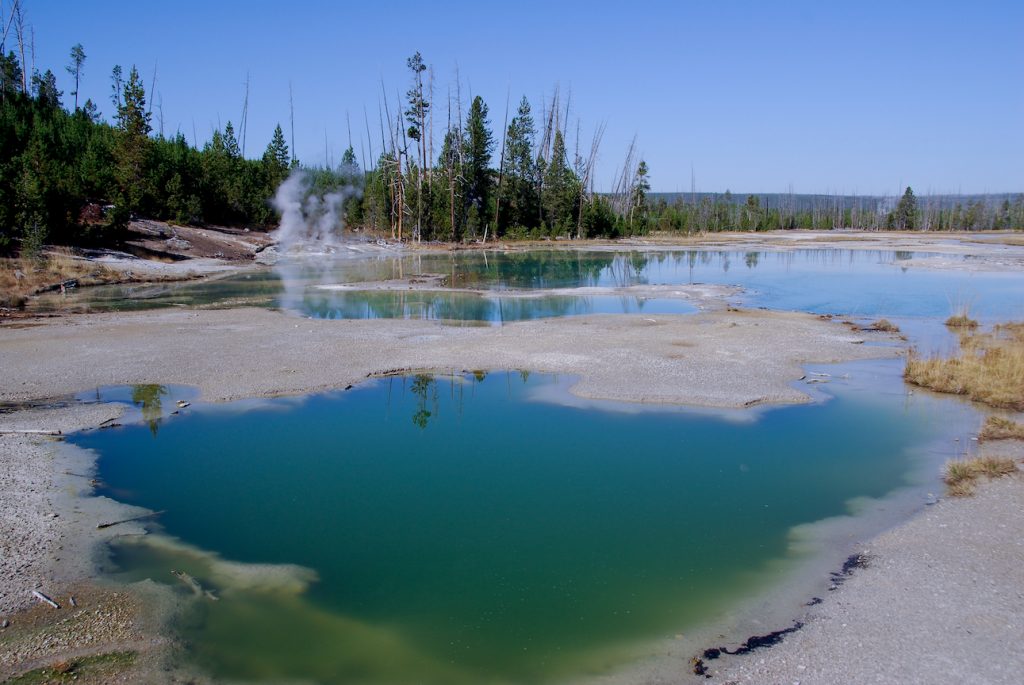 22. Explore Lone Pine State Park
Spring is the perfect time to hit the reset button with refreshing scenery and fresh mountain air. Head to Lone Pine State Park, where an overlook features spectacular Flathead Valley vistas. On a clear day, you can see Flathead Lake, Big Mountain, the Jewel Basin and Glacier National Park. It's especially pretty in the spring when everything is green and blooming.
23. Toast to Spring at a Craft Brewery
It's been a really long year, and although we're not yet out of the woods (literally and figuratively), it feels like a toast is in order. Cut Bank Creek Brewery is the perfect place to grab a finely crafted Montana brew and be grateful for "Good People. Good Beer. Good Life." Cheers to spring and getting up and out safely and responsibly somewhere extra special like Western Montana.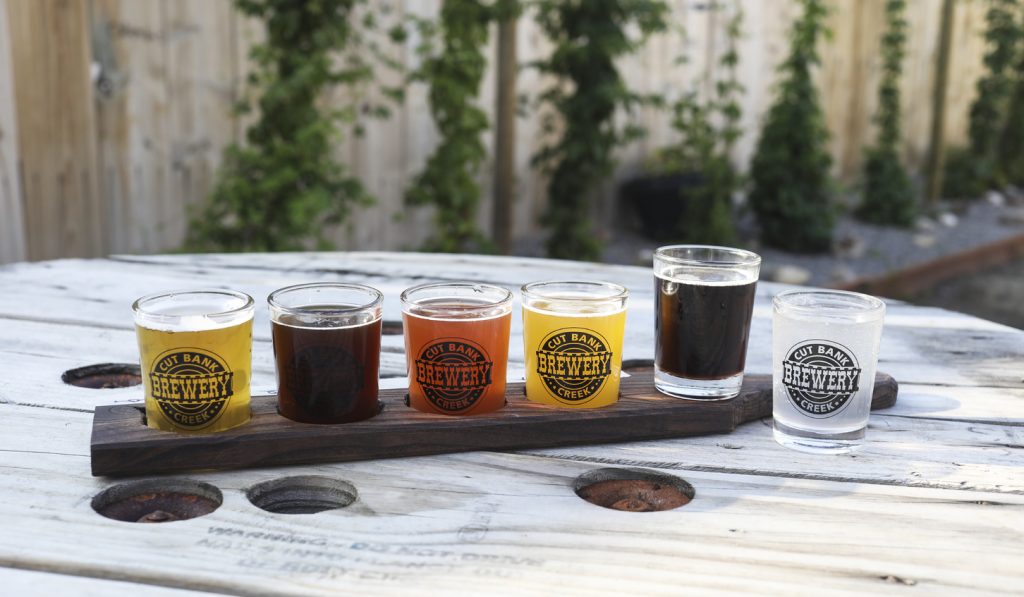 Please note: Face coverings are required indoors or when social distancing in groups is not possible outside. Social distancing is required to help reduce the spread of COVID-19. Thankfully, we've got plenty of space for social distancing activities and recreation in Western Montana. It's vital, however, to maintain a 6-foot distance from others, even outdoors. Please be mindful of our communities and small businesses, which have had to adapt to the change and may face limitations this year—always call ahead. We're all in this together. Take the Tourism Pledge to travel responsibly in Glacier Country.
February 15, 2021
Related: Arlee, Biking, Birding, Bison Range, Cut Bank, Fishing, Flathead Corridor, Glacier National Park, Golfing, Hiking, Horseback Riding, Hot Springs, Hot Springs (town), Kalispell, Libby, Missoula, Northwest Corridor, Outdoor Fun, Outfitters, Paradise, Parks, Philipsburg, Road Trips, Seeley Lake, Spring Fun, Stand-Up Paddleboarding, Stevensville, Water Fun, Whitefish, Wildlife