Western Montana is the traditional, ancestral territory of the Amskapi Piikani, Kootenai, Séliš, and Ql̓ispé people. We've been spotlighting extraordinary individuals who call this land home and would be amiss if we didn't include Jack Gladstone. Jack, known as "Montana's Troubadour," is an enrolled citizen of the Blackfeet Nation in Western Montana. Jack illuminates American Indian culture through his critically acclaimed music, lyric poetry, and spoken word narrative, which can be listened to on one of his fifteen released albums. Jack is also co-founder of Glacier National Park's renowned lecture series, "Native America Speaks."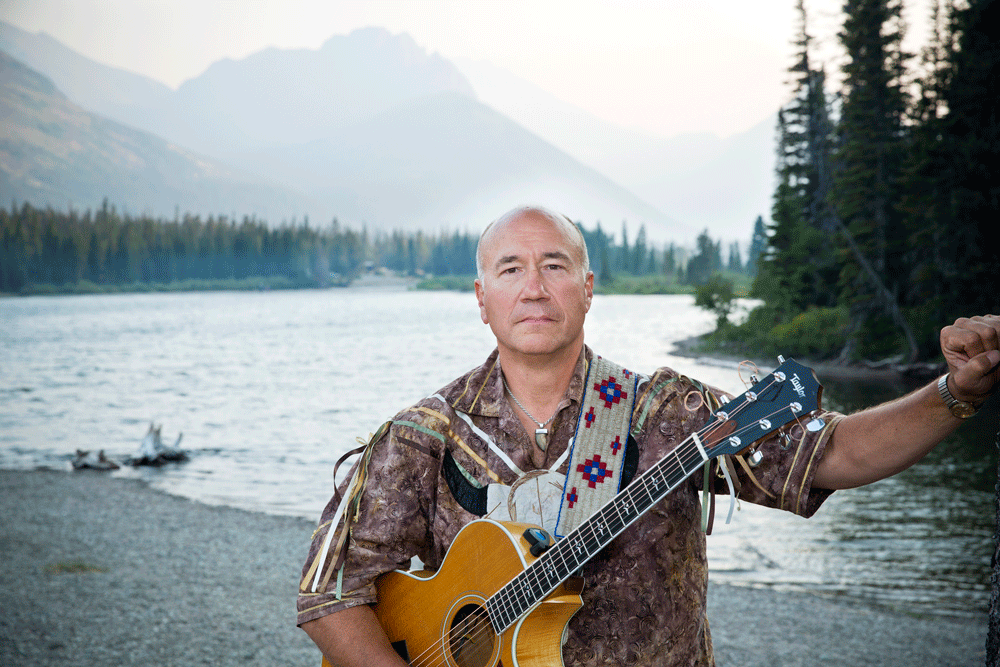 In 2013, Jack became the first Montanan to receive the C.M. Russell Heritage Award, given to honor his contribution to the "legacy, culture, and life of the American West." That same year, Jack was inducted into the University of Washington Alumni Hall of Fame in the field of Speech Communication.
Q. Give us some history of growing up, and your heritage related to the Blackfeet Nation in Western Montana.
A. I grew up in southwest Seattle, the son of a Blackfeet Indian father and German/American mother. Dad was a World War II, U.S. Navy combat gunner and mom was a farm girl from North Dakota. They fell in love and married in 1947, for life. I was born in Seattle in 1958. First awareness of my Blackfeet identity was born from the maternal bond I forged with my Blackfeet grandma and the wellspring of ancient stories that swirled inside our tribal lineage. Lily Gladstone, my grandma, moved her immediate family to Seattle during World War II. Combat in the Pacific Theater during the war, coupled with racism in Seattle after the war, created conditions that manifested alcoholism in Dad. In 1958, I was born into this cultural ecosystem. Dad's decision and subsequent steps toward recovery commenced in 1967. Without Dad's perseverance coupled with Mom's patient resilience, this blog entry wouldn't exist.
Q. Did you always want to be a singer/performer?
A. Truthfully, I wanted to be the fifth Beatle! That's where virtually all "balance, rhythm and harmony" flowed during the turbulent years of my youth (1963 to 1970). In my mind, no one else was even close to the Fab Four…Chaos seeking Cosmos…In 1970, the Beatles broke up, my voice started to change (as I hit puberty) and I went to a Gordon Lightfoot concert at the Seattle Opera House. I experienced the "call of the troubadour." Subsequently, breaking out of my isolation, I declared war on the 7th Cavalry! Cosmos seeking Chaos! Whatever delusional motivation I had to conjure up back then proved to be more than sufficient to land me a full football scholarship to the University of Washington—which left me blocking, tackling, singing and studying from 1976 to 79 and graduating with a degree in speech and communication, and a Rose Bowl Championship ring.
Q. Tell us about the Native America Speaks program in Glacier National Park and what inspired you to co-found it?
A. In 1985, I responded to a call from Glacier National Park to participate in a new lecture series featuring Blackfeet and Salish speakers. At the time I was the public speaking instructor at Blackfeet Community College. After a shaky first summer, Bruce Fladmark (Hudson Bay District Interpreter) asked me to identify the strongest possible speaker roster for the upcoming 1986 summer season. I did. Today "NAS" Native America Speaks has emerged as the longest continuously running indigenous speaker series in National Park History. Most of all, I'm grateful that NAS has grown into a "self-reinforcing" lecture series, that grows stronger each year with the influx of fresh talent from our Salish and Blackfeet communities.
Q. Out of all your songs, do you have a favorite, and if so, why?
A. Favorite songs? Can't answer this publicly, because my other 150 or so songs would get jealous! Privately, though, "When Land Belonged to God" is about as close as I'll ever come to writing a "perfect" song. SO grateful to have my name on that one. C.M. Russell also has a masterpiece by the same name—Okay, his work inspired mine.
Q. What does living in Western Montana mean to you?
A. My charge is to identify "the best least words in the last best place." Western Montana is both the cradleboard and grave of my artistic endeavors. Western Montana is "art." "The purest gift is not of gold, but in art that awakens the soul," –J.W. Gladstone.
Q. What is one place you always try to go when you have a visitor?
A. In Babb, Montana, The Cattle Baron is the place to eat red meat. An atmosphere where spirit and cultures mingle.
Please note: We ask that all our visitors and residents Recreate Responsibly by being mindful of the following: practice physical distancing; know before you go; plan ahead; play it safe; leave no trace; tread lightly, and build an inclusive outdoors. Travel responsibly by reviewing Western Montana COVID-19 information and guidelines at SafetyFirstMT.com.
November 1, 2021
Related: American Indian, Babb, Blackfeet Indian Reservation, Blackfeet Nation, Browning, Concerts/Music Festivals, East Glacier Corridor, Glacier National Park, Montana, Performing Arts