Western Montana's Glacier Country is known for its iconic mountain peaks and meandering rivers, but a deeper look into the landscape showcases a diverse and awe-inspiring geography. In addition to the breathtaking Crown of the Continent—Glacier National Park—the region boasts vast and pristine wilderness areas, lush alpine forests, crystal-clear lakes, rugged canyons and sweeping valleys, all offering mesmerizing beauty and boundless opportunities for exploration.
Here's how Western Montana stacks up:
GLACIER COUNTRY BY THE NUMBERS
+ Total Size of Montana: 147,040 sq. mi.
+ Total Size of Western Montana: 22,653 sq. mi.
+ Population: 361,260
+ Counties: 8
+ Communities: 75+
+ Glaciers: ~150
+ Largest Lake: Flathead Lake
+ Highest Point: Garfield Mountain 10,966 ft (Bitterroot Range)
GLACIAL LAKE MISSOULA
More than 12,000 years ago, the valleys of Western Montana were submerged beneath the deep waters of Glacial Lake Missoula, which formed when a colossal ice sheet (2,000 feet tall, in fact) blocked the Clark Fork River's path into Idaho. As water rose behind this massive glacial dam, immense pressure led to a catastrophic flood. It surged through Idaho, Oregon and Washington with the force of 60 Amazon Rivers, carving the Columbia River Gorge, leaving giant ripple marks and shaping the scablands of eastern Washington. Across centuries, Glacial Lake Missoula filled and emptied repeatedly, imprinting its narrative into Western Montana's landscape.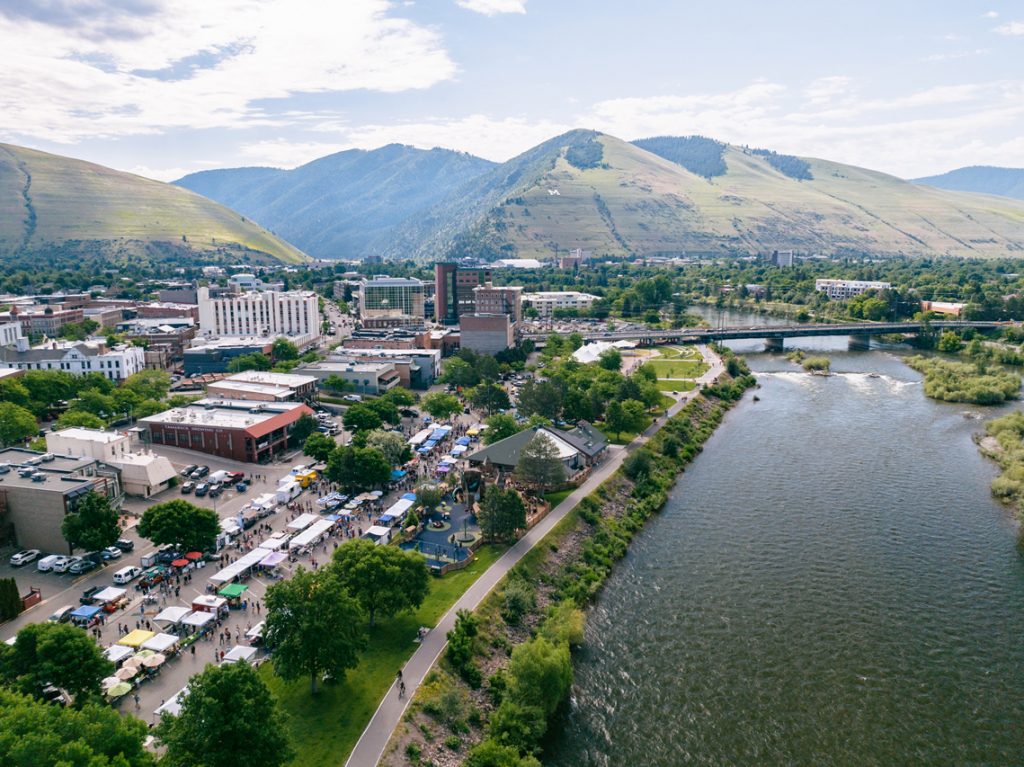 GLACIER NATIONAL PARK
The majestic, glacier-carved peaks that define Western Montana's landscape are accompanied by ancient forests, turquoise lakes and rambling streams that remain largely untouched. The park's diverse ecosystems offer a rich tapestry of habitats across a range of elevations, creating a haven for a wide variety of flora and fauna. These ecosystems are composed of forests; fossils; geologic formations; glaciers and glacial features; lakes and ponds; mountains, rivers and streams; soils; wetlands, marshes and swamps. With its vast elevation range, spanning approximately 2,000 meters, intricate topography, and unique position along the Continental Divide, the park stands as a treasure trove of biological diversity.
FLATHEAD LAKE
Flathead Lake takes center stage as the largest natural freshwater lake in the West and serves as one of Western Montana's most cherished natural places. Nestled between the majestic Mission and Salish mountain ranges and boasting 185 miles of shoreline, this magnificent lake is roughly 197 square miles with a max length of 27 miles and a max width of 15.5 miles. Fed by the Swan and Flathead rivers, this serene lake doesn't just offer jaw-dropping panoramas—it opens doors to the great outdoors, whether you're drawn to boating, fishing, swimming or wildlife watching. Fun Fact: The microclimatic effect of Flathead Lake enhances the region's agricultural vibrancy—hello, Flathead cherries.
THE BOB MARSHALL WILDERNESS COMPLEX
This vast and unspoiled geographical masterpiece spans an impressive 1.5 million acres, encompassing the Great Bear, Bob Marshall and Scapegoat wilderness areas. Here, majestic peaks, alpine lakes, deep valleys, and striking rock formations—like the impressive Chinese Wall—blend with lush forests and tranquil rivers. This pristine wilderness invites adventurers to explore hiking, fishing and camping opportunities within one of the planet's most untouched backcountry locations.
Please note: We ask that all our visitors and residents Recreate Responsibly by being mindful of the following: know before you go; plan ahead; play it safe; leave no trace; tread lightly; and help build an inclusive outdoors.
October 30, 2023
Related: Flathead Lake, Glacier National Park, Missoula, Montana, Vacation