Looking for a getaway that truly has you getting away? These lesser-known, small-town gems are some of Western Montana's best-kept secrets.
Big Arm
Experience Montana lake life on the "big arm" of Flathead Lake along the scenic Flathead Corridor. Big Arm is your ticket to breathtaking lake views and Wild Horse Island exploration. Recreation abounds at Big Arm State Park. In addition to idyllic lakeside camping under a ponderosa pine and juniper canopy at Big Arm Campground, you'll find excellent hiking, biking and wildlife watching opportunities. The campground also boasts three yurts. Big Arm's long, pebble beach is popular with swimmers and sun soakers. Make Big Arm Bay your basecamp for sailing, scuba-diving, water-skiing and lake-trout fishing adventures. Stay at the tribally owned Big Arm Resort—a relaxing getaway and a great basecamp for Western Montana exploration. Note that you'll need a joint state/tribal fishing license for fishing in Big Arm Bay.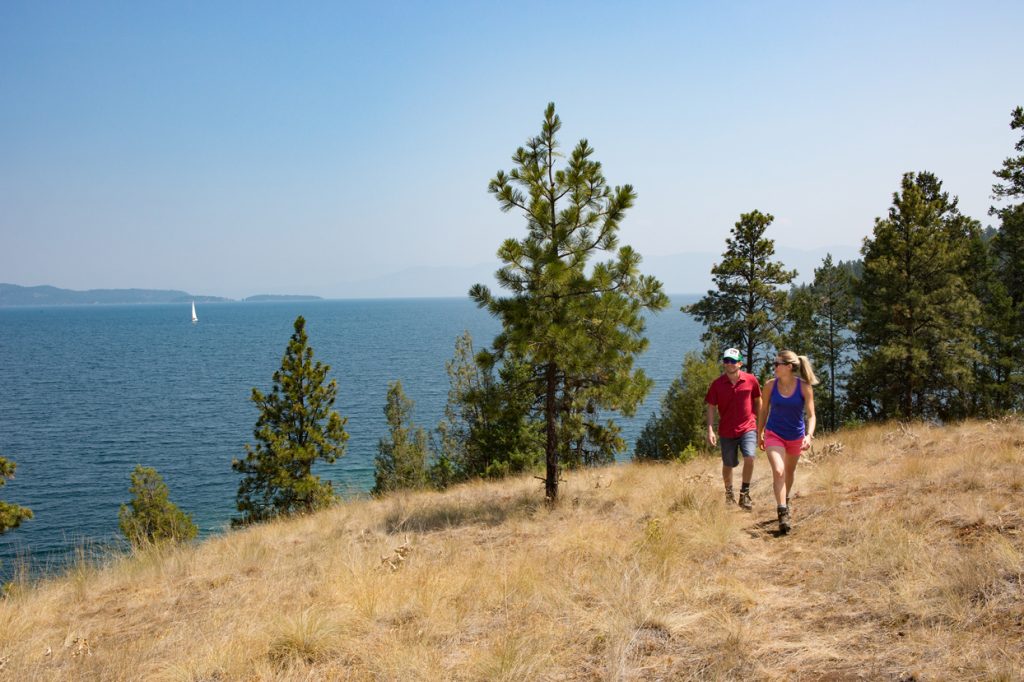 Bonner
Western Montana's Blackfoot Corridor follows the Blackfoot River—made famous by Norman Maclean's "A River Runs Through It"—through some of the state's prettiest country, where you'll find the old logging town of Bonner brimful of personality. Just east of Missoula, Bonner is home to the KettleHouse Amphitheater, a state-of-the-art outdoor concert venue drawing national acts along the riverbanks. Next to the amphitheater, KettleHouse Brewing Company crafts some of Montana's most popular beer including the award-winning, local's favorite Cold Smoke® Scotch Ale. Bonner not only provides access to the Blackfoot River, it's a gateway to outdoor recreation in the Blackfoot, Seeley and Swan valleys. Make your way to Bonner Milltown History Center and Museum for a history lesson of the area, namely its timber heritage.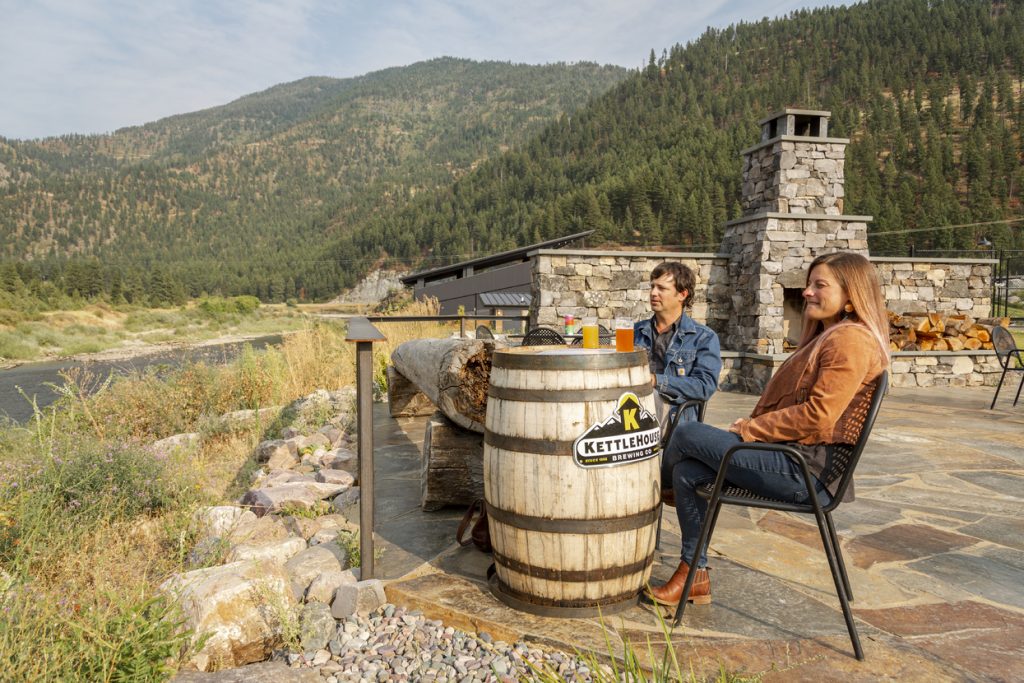 Coram
Just minutes from Glacier National Park, Coram flies under the radar as the perfect launching point for park exploration, especially for families—the Amazing Fun Center is as fun as it sounds: mazes, mini-golf, bumper cars, go-karts and bankshot basketball. This little community has an assortment of western-inspired cabins and lodging options, like the glamping (luxury camping) canvas tents and treehouses at Under Canvas Glacier. A visit to Coram is not complete without a stop at Glacier Distilling Company. Sample the cocktails, Montana-made spirits and small-batch whiskeys handcrafted in The Whiskey Barn. When it's time for more Montana flavor, Josephine's Bar & Kitchen, located in an old bootlegger and homesteader cabin, serves up small plates like trout cakes, fried green tomatoes with poutine, and a sandwich menu running the gamut from bison gyros to a three-cheese mushroom melt.
Corvallis
A road trip through the beautiful Bitterroot Valley is best completed as a loop south down U.S. Highway 93 and back up north via the Eastside Highway, along which you'll find the half-square-mile community of Corvallis. Just outside the bustling Bitterroot hub—Hamilton—Corvallis provides easy access to Bitterroot River recreation and hiking trails, including the Mill Creek Trailhead. If you're visiting in autumn, get your apple fix at Swanson's Mountain View Apple Orchards, a century-old, family-run Bitterroot Valley favorite. The Teller Wildlife Refuge provides year-round wildlife watching opportunities and a 1.5-mile hike in a serene setting nestled between the Bitterroot Mountains and the Sapphire Range. You can also explore Corvallis while biking the Bitterroot Trail, a paved, 50-mile trail from Missoula to Hamilton.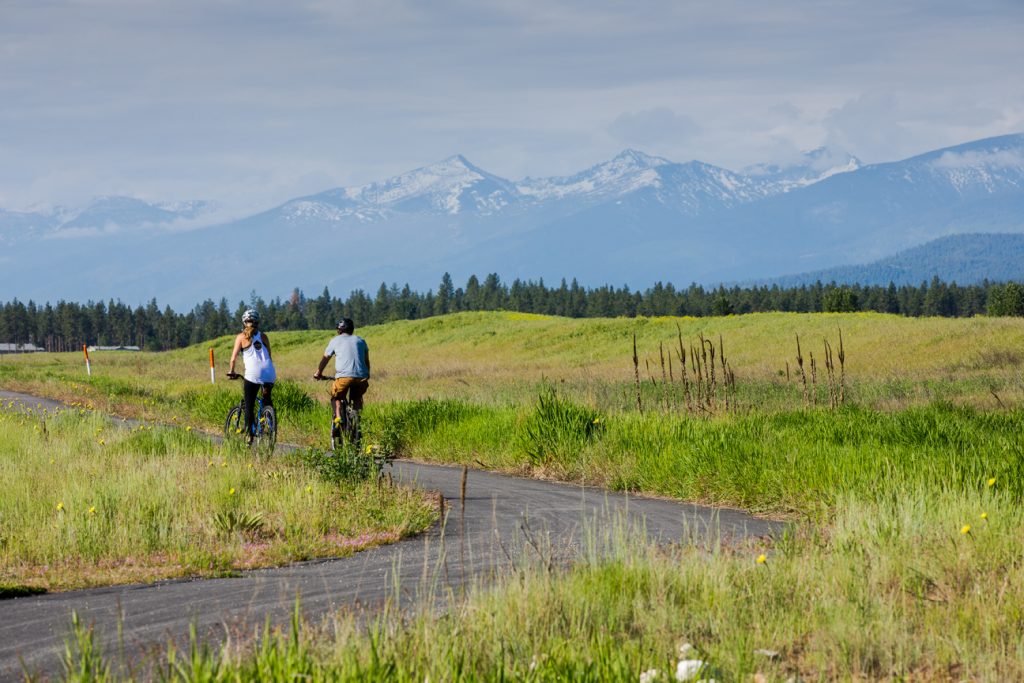 Cut Bank
Along the East Glacier Corridor and the eastern border of the Blackfeet Indian Reservation, Cut Bank is complete with Rocky Mountains scenery, steeped in history and tradition, and chock-full of outdoor recreation opportunities. You'll find comfortable lodging and friendly hospitality here, too. From the annual Lewis and Clark Days Festival to Montana Shakespeare in the Parks, the Cut Bank events calendar is one to take note of. At the Glacier County Historical Museum, explore a 1917 schoolhouse, an oil worker's house and derrick, an old caboose, Lewis and Clark exhibits, and a replica of a homestead house and farm. You can also book one of their Overnight in History experiences where you spend the night in the caboose, oil worker's house, or homesteader cabin mentioned above. While you're in town, follow in the footsteps of the Corps of Discovery at Camp Disappointment, Cut Bank Camp and the Meriwether Lewis Fight Site, and don't miss the 27-foot-tall penguin—Cut Bank's roadside landmark that you can't actually miss.
Ferndale
Between the jagged Mission Mountains and the Swan Range, and not far from the storybook village of Bigfork on the Seeley-Swan Corridor, Ferndale is your gateway to the pristine Jewel Basin Hiking Area where exquisite vistas and high mountain lake fishing are on the itinerary. This is where backcountry enthusiasts will find access to the vast Bob Marshall Wilderness Complex, the third-largest wilderness area in the lower 48. Stretching from Glacier National Park to Rogers Pass, "The Bob" comprises 1.5 million acres of unspoiled terrain and is known as the Crown Jewel of the Wilderness system, made up of three separate wilderness areas: The Bob Marshall Wilderness, the Scapegoat Wilderness and the Great Bear Wilderness. Ferndale is also a great jumping-off point for water adventures on Flathead Lake, Swan Lake and the Swan River.
Huson
Follow the Clark Fork River along Western Montana's I-90 Corridor and explore Huson, from which you can access the picturesque Nine Mile area, including the Nine Mile Remount Depot and Historic Ranger Station. Learn about the history of the depot, which has long-provided lodging for packers and their animals during wildland firefighting and backcountry work projects. Nine Mile Community Center is listed on the National Register of Historic Places and also worth a stop. Outdoor recreation is plentiful in the Huson area. Explore numerous trails, including Grand Menard Picnic Area and Discovery Trail and Ch-paa-qn Peak Trailhead, where you can climb to the top of the nearly 8,000-foot peak for panoramic views. For a camping and mountain biking adventure, discover multiple biking trails at Kreis Pond Campground. In the summer and fall months, make sure you visit the farm stand at County Rail Farm and Field Five Flowers for homegrown, organic produce and flowers, and a warm Montana welcome.

Marion
Near the Northwest Corridor and not far from Kalispell, Marion might be small but it's mighty in outdoor beauty and recreation, which includes the crystal-clear Little Bitterroot Lake and Little McGregor Lake, both gorgeous spots for watersports, boating and reeling in trout. Nearby Lost Trail National Wildlife Refuge provides a diverse habitat for various bird species, as well as deer, elk, moose, black bear, lynx and wolverines. Stay at Cabin Creek Landing Bed & Breakfast, touting itself as the "best bed-and-breakfast in Montana," and for good reason. Cabin Creek offers luxurious accommodations, plus hiking, biking and horseback riding, and is set in an outdoor paradise complete with its own landing strip. Fly right in, and take it all in.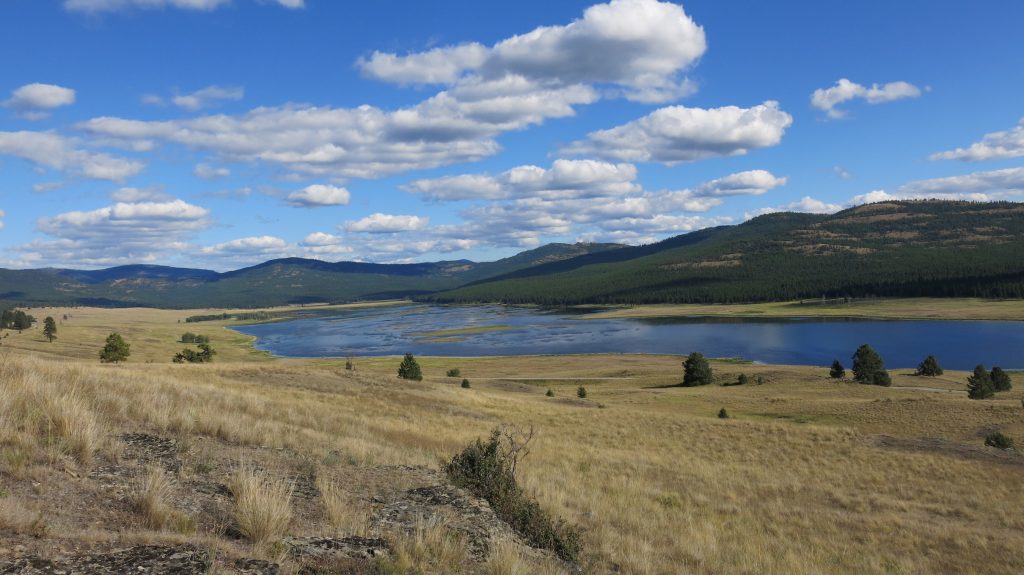 Trout Creek
Along the Clark Fork River on Montana's scenic Tour 200, Trout Creek quietly lays on the charm. Get your huckleberry fix here in the huckleberry capital of Montana, especially if you're visiting during the annual Trout Creek Huckleberry Festival. Also in Trout Creek, boat and fish the Noxon Reservoir for largemouth and smallmouth bass as well as northern pike, and hike to Vermillion and Graves Creek falls. Montana is known for having some of the best farmers markets in the West, and the Trout Creek Farmers Market is no exception. For an idyllic Glacier Country getaway, book a suite stay at The Lodge at Trout Creek, a Montana treasure known for upscale lodging and downhome hospitality perfect for destination weddings and family reunions. Or, for a truly unique experience, spend the night in cozy Hobbit style at The Shire, an authentic Hobbit House.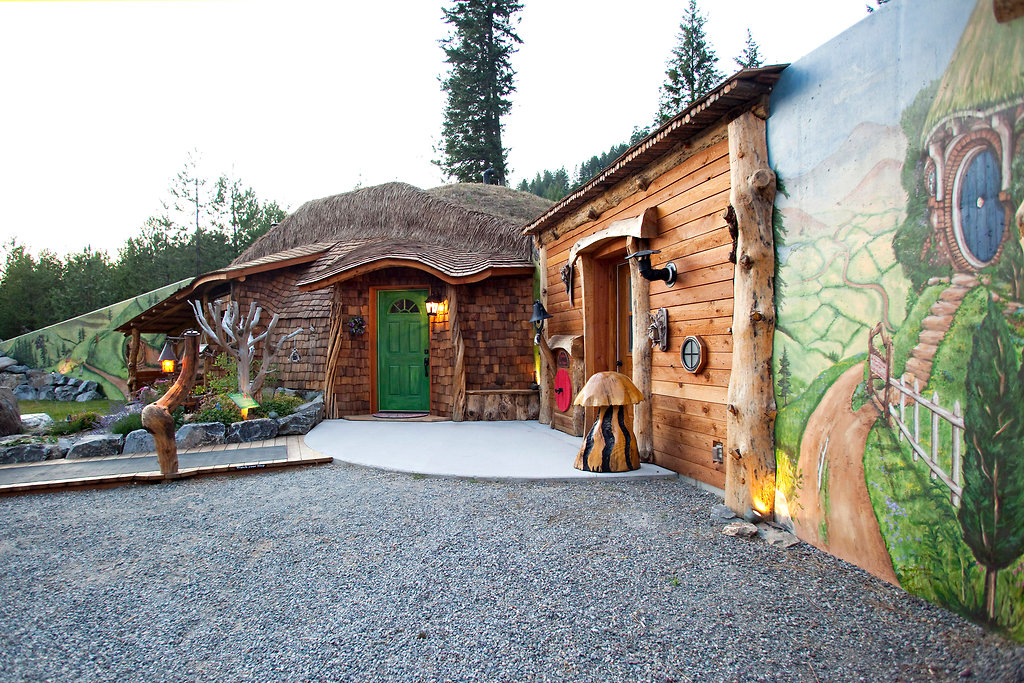 Yaak
Along the Northwest Corridor, deep in Montana's quiet, remote and wildly scenic northwest corner, Yaak is a place where time stands still. Made famous by author Rick Bass in "The Book of Yaak," Yaak is not actually that famous, and that's the way "The Yaak" likes it. It's a true hidden treasure waiting for those looking for Montana at its wildest. Yaak is surrounded by incredible outdoor recreation opportunities like fishing, hunting, hiking, camping and biking often without a soul in sight, save for the plentiful wildlife in the area. If you're looking to spot some of Montana's most elusive mammals, like the wolverine and lynx—this is your spot. Nearby attractions include the Yaak River and Yaak Falls—a beautiful cascading waterfall with jagged exposed rocks—some of the oldest rocks in the world. Complete your Yaak adventure by pulling up a barstool at the World Famous Dirty Shame Saloon, a Montana icon where taxidermy, bullet holes, and chainsaw-carved initials adorn the walls.
Please note: Face coverings are required indoors or when social distancing in groups is not possible outside. Social distancing is required to help reduce the spread of COVID-19. Thankfully, we've got plenty of space for social distancing activities and recreation in Western Montana. It's vital, however, to maintain a 6-foot distance from others, even outdoors. Please be mindful of our small businesses, communities and visitor centers, which have had to adapt to the change and may face limitations this year—always call ahead. Take the Tourism Pledge to travel responsibly in Glacier Country.
October 12, 2020
Related: Big Arm, Bitterroot Valley, Blackfeet Indian Reservation, Blackfoot Corridor, Bonner, Clark Fork Corridor, Coram, Corvallis, Cut Bank, East Glacier Corridor, Ferndale, Film, Flathead Corridor, Flathead Indian Reservation, GNP Surrounding Area, Hamilton, Huson, I-90 Corridor, Kalispell, Marion, Missoula, Montana, Northwest Corridor, Road Trips, Seeley-Swan Corridor, Stay, Trout Creek, Vacation, Yaak