Come see what's SUP in Western Montana. Stand-up paddleboarding, or SUP, is an increasingly popular way to explore Montana's sparkling alpine lakes and scenic, lazy rivers. In fact, SUP is the fastest-growing water sport in the world. Surfing meets kayaking in this epically fun way to play on the water.
If you're new to the sport, your best bet is to go with a guide. Many local outfitters here in Glacier Country offer rentals, lessons and guided trips, so, you're in luck. Here's a list of our top 12 SUP spots as well as the folks who can help you get on the water for your Western Montana stand-up paddleboarding adventure.
ASHLEY LAKE
Fifteen miles west of Kalispell, Ashley Lake is a real charmer. Easy on the eyes, the alpine aqua waters of this special SUP spot make for an unforgettably picturesque day.
Map it
FLATHEAD LAKE: WAYFARERS STATE PARK
Paddle the largest freshwater lake west of the Mississippi. Wayfarers State Park has some of the best Flathead Lake access, including a beach area as well as rocky cliffs along the shoreline. The water is clean and clear and is typically sheltered from wind and waves, though it can make for some fun SUP action when the swell picks up and creates near surf-like conditions, which are also great for downwind paddling. Wayfarers happens to be one of the best spots on the lake to watch the sunset, too.
Map it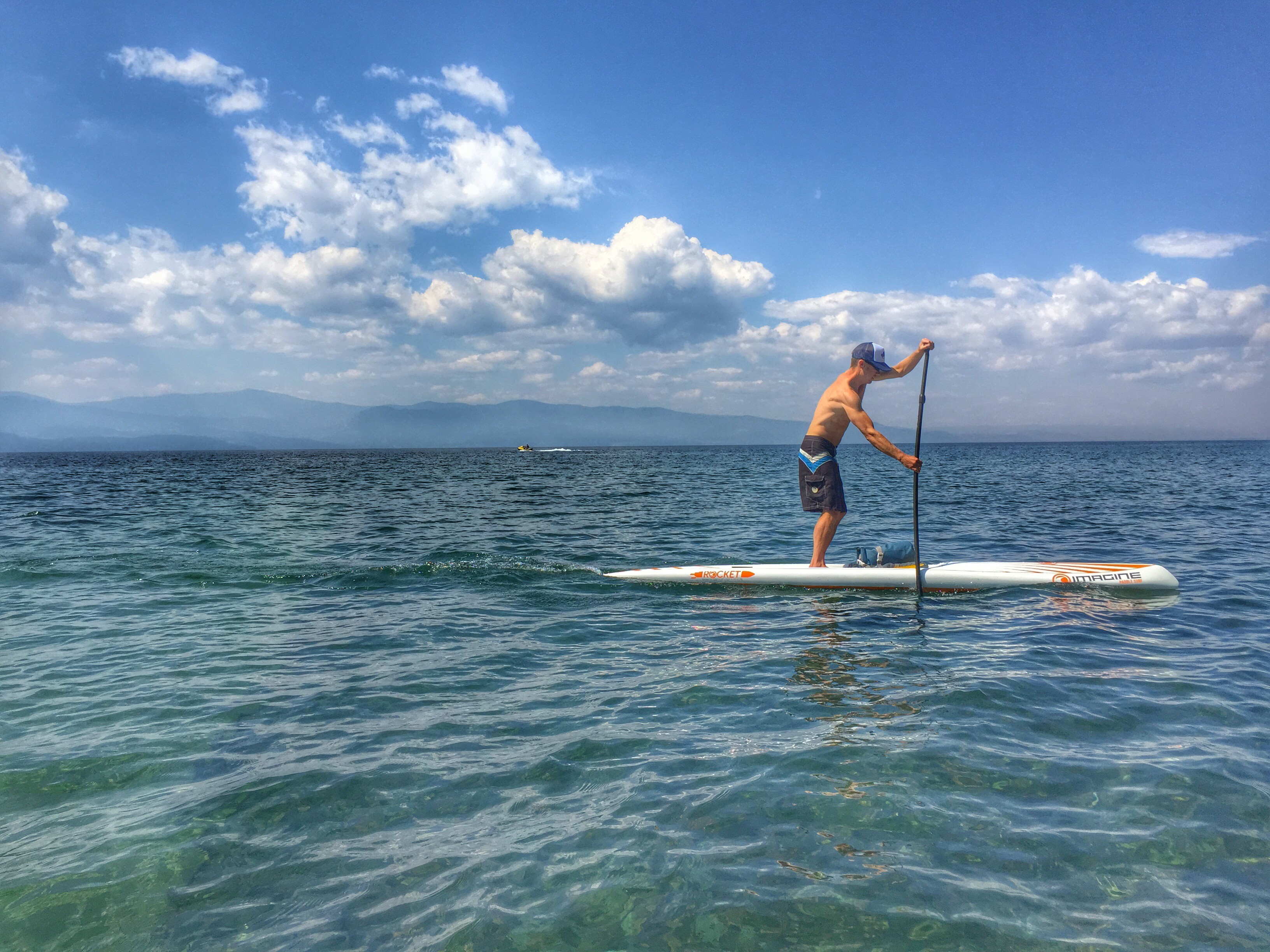 The north shore of Flathead Lake offers miles of undeveloped shoreline. It's a great place to spot waterfowl, eagles, osprey and deer, and take in amazing mountain views. If you access the lake via Bigfork Bay, you'll be able to paddle right into the storybook town of Bigfork for some post-SUP food and drinks or delicious Sweet Peaks Ice Cream. If you're up for a celebration, plan your trip around the Northern Rockies Paddlefest at Wayfarers State Park, held annually in May.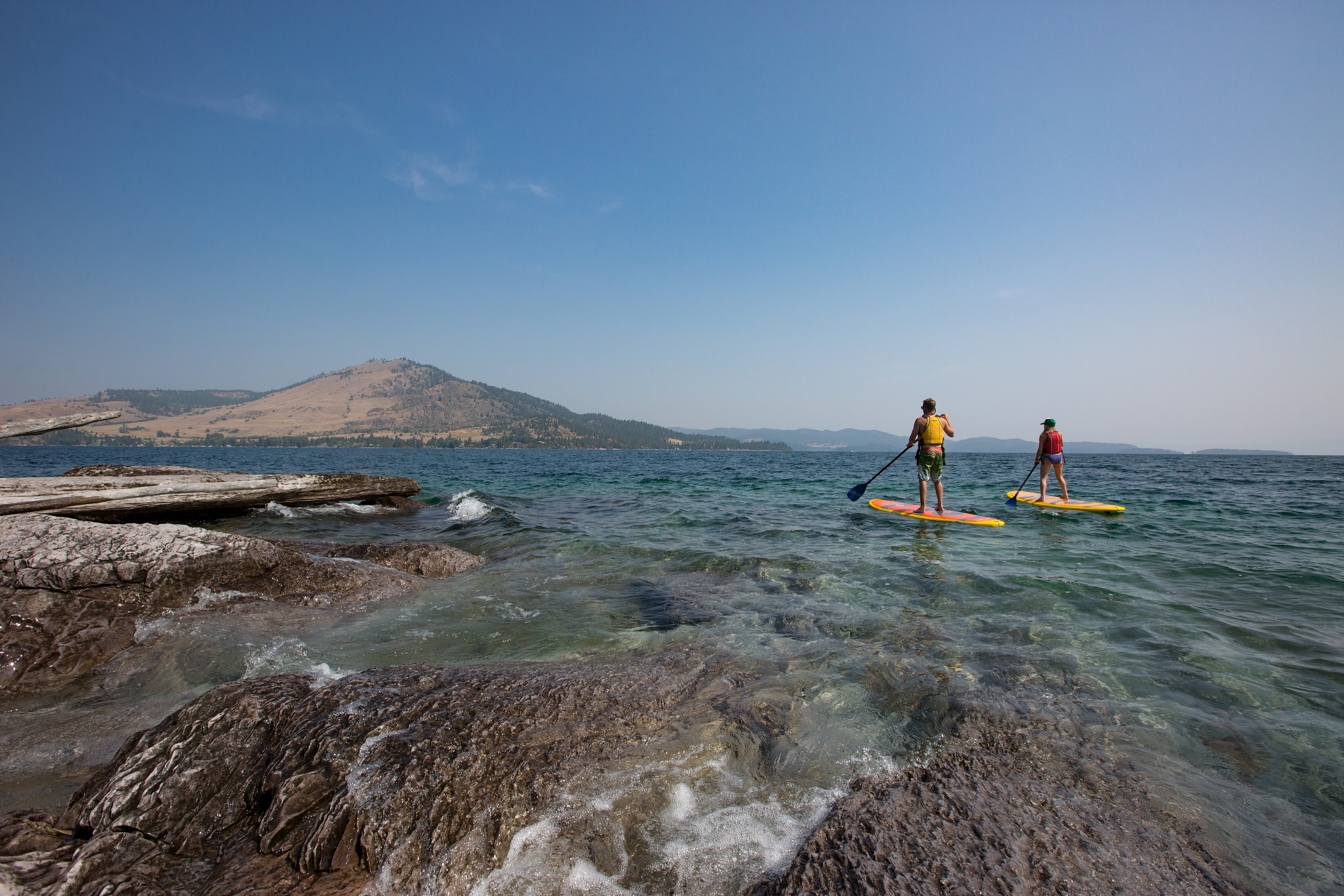 SWAN RIVER
The Swan River flows into the Bigfork Bay, which allows the more adventurous to try paddling moving water. There are several access points, which allow for more of a downriver journey while the river winds through a picture-perfect landscape. There are miles of slow-moving water perfect for beginners. There is also a nice class 2+ rapid stretch, which is popular for inner tubing, but also ideal for paddlers looking for an introduction to whitewater paddleboarding.
SWAN VALLEY LAKES: SWAN LAKE, ECHO LAKE AND HOLLAND LAKE
These three lakes offer authentic Montana SUP adventures. Paddle to the sandbar in the middle of scenic Swan Lake, experience the famously warm waters of Echo Lake, or combine your Holland Lake paddle with a 3.3-mile out-and-back hike to gorgeous Holland Falls.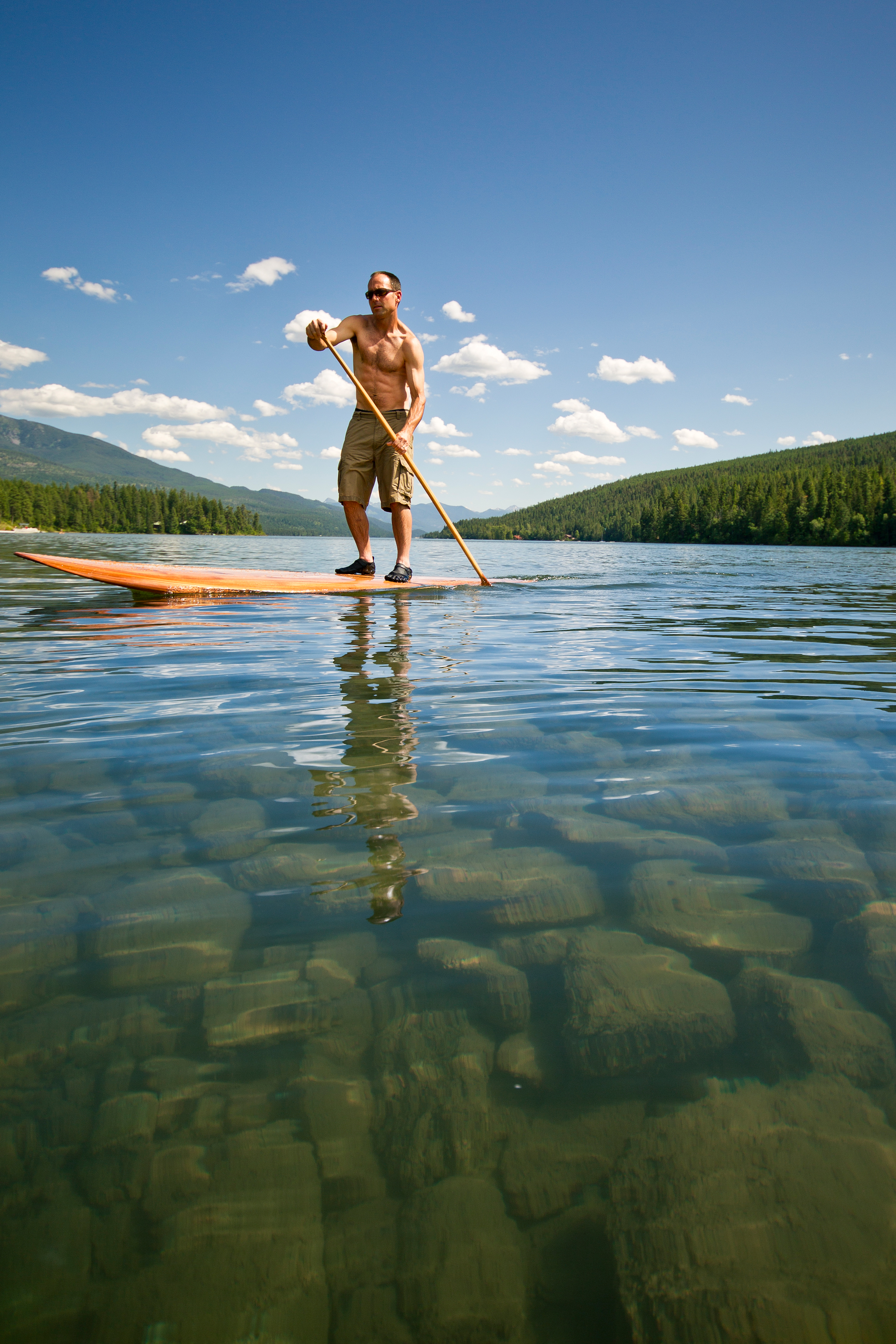 TRIP TIP: For Swan River plus Ashley, Flathead and Swan lakes SUP gear, rent a board at Base Camp Bigfork and get complimentary delivery and pickup as well as on-the-water instruction. Base Camp also rents boards to those who want to self-drive their gear to any number of lakes in Glacier National Park.
BLACKFOOT RIVER
The clear, cold, trout-filled waters of the Blackfoot—made famous by Norman Maclean's "A River Runs Through It"—offer the scenic splendor of canyon walls often dotted with majestic bighorn sheep. Paddle the Blackfoot in July for unobstructed flows.
CLARK FORK RIVER
Experience the eclectic town of Missoula from the waters of the winding Clark Fork River. Put in at the Sha-Ron fishing access site in East Missoula and then hop off the water at the river's edge in downtown Missoula, where you'll find good eats, plenty to drink, and lots to see and do.
BITTERROOT RIVER
This scenic valley waterway is flanked by the beautiful rolling Sapphire Range to one side and the dramatic Bitterroot Mountains to the other. Hop on the water at Bells Crossing and paddle to the Stevensville Crossing site to hop out.
LAKE COMO
Solitude abounds at this Bitterroot Valley gem 8 miles south of Hamilton in the Bitterroot National Forest. There's a sandy beach at the north end of the lake, perfect for paddling and swimming. Bring a picnic lunch and your hiking shoes…abundant trails surround the lake.
TRIP TIP: For Blackfoot, Clark Fork, Bitterroot and Como SUP rentals, guides, gear and tips, check out Missoula's Trail Head, or Bob Ward's, with locations in both Missoula and Hamilton.
UPPER WHITEFISH LAKE
This Stillwater State Forest stunner north of Whitefish, dazzles and is the perfect tucked-away spot for a quiet day on the lake. Feeling adventurous? Head south to Whitefish (1.5 hours) for post-paddle food, drinks and fun.
Map it
TALLY LAKE
West of Whitefish, the warm waters of Tally Lake offer a peaceful paddle among the lush trees and scenic cliff walls of the Kootenai National Forest. Head to the east shore for a serene evening paddle.
Map it
FLATHEAD RIVER: THE NORTH AND MIDDLE FORKS
The stunning emerald waters of the Flathead River offer a Glacier Country experience like no other. Paddle the Middle Fork from West Glacier to Blankenship Bridge, passing through a jaw-dropping gorge with a perfect cliff-jumping spot. The North Fork is one of only four Wild and Scenic Rivers in Montana and forms the western border of Glacier National Park. Breathtaking scenery is a given, and black bear sightings are not unheard of.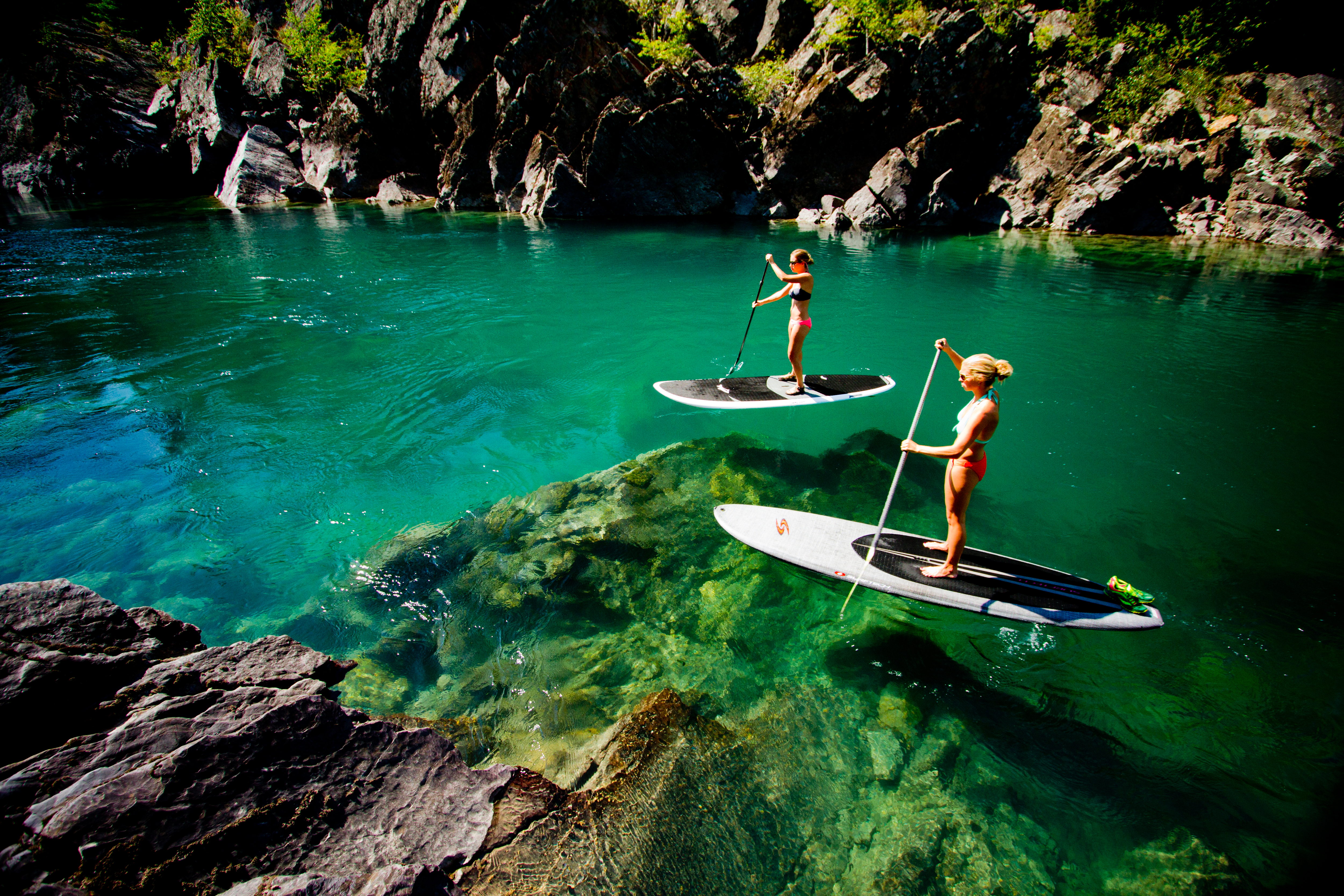 TRIP TIP:
For Tally Lake and Flathead River SUP rentals, plus the goods on gear and guides, visit the friendly folks at Tamarack Ski & Lake Shop.
Map it
LAKE KOOCANUSA
This trout-heavy reservoir between the Purcell and Salish mountains in Libby, Montana offers scenic-byway landscapes, a sandy beach, wildlife watching and the opportunity to take a pre- or post-paddle Libby Dam tour.
Map it
TRIP TIP: For Lake Koocanusa access and gear rentals, head to the Wilderness Club, just a short walk to the Lake Koocanusa beach area.
SUP SAFETY
Before you hit the water for your Western Montana SUP adventure, contact one of the outfitters listed above for details on where to float when, based on water flows and temps, and always check the weather before you head out (especially when lake paddling away from shore). Spring runoff means fast-moving rivers. (If you're new to SUP, stick to a late-summer guided river trip or take a calm lake tour.) Learn basic techniques and safety tips from these local outfitters, too.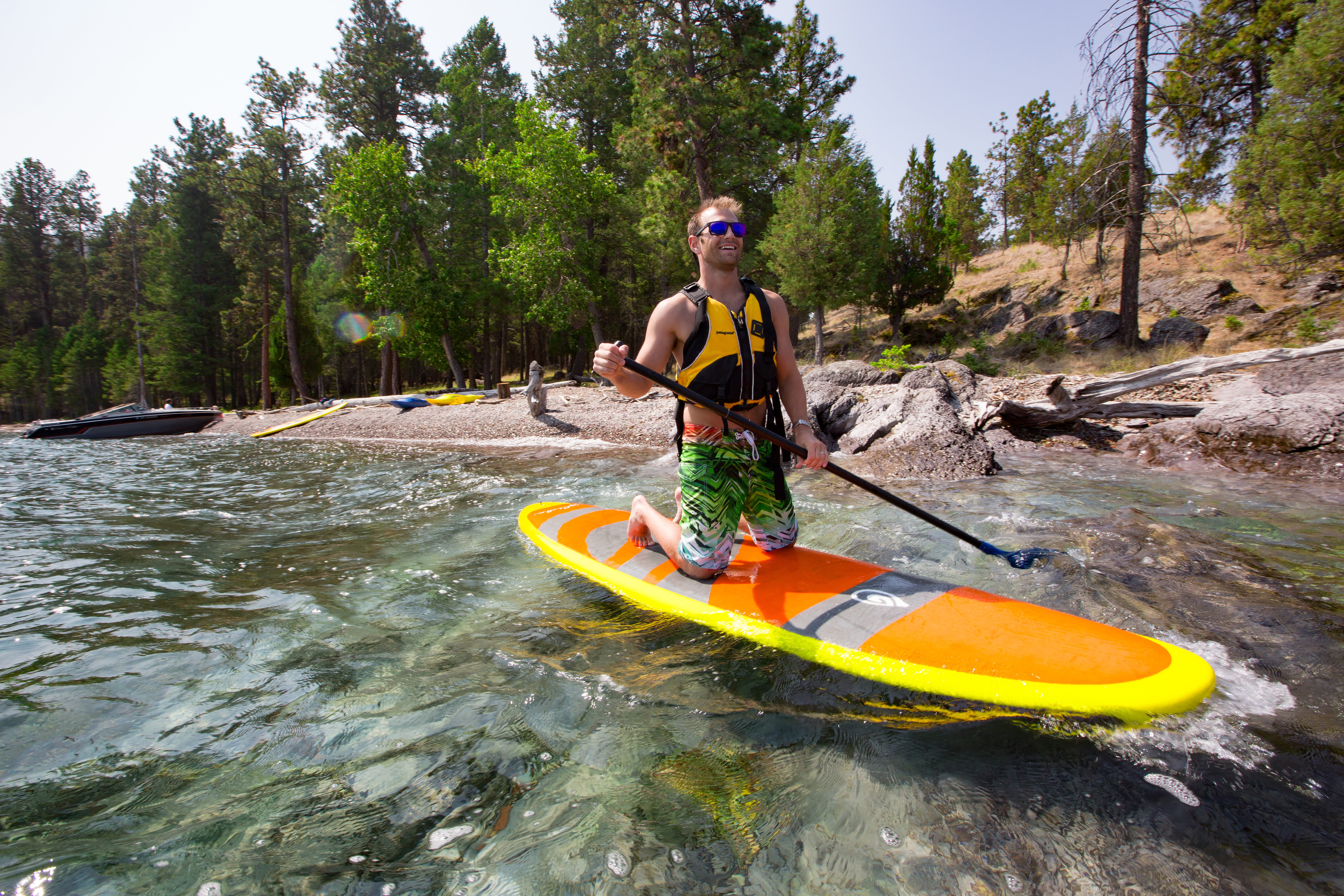 On the river, wear a quick-release leash around your waist. It's IMPERATIVE that you use quick-release technology in SUP, as ankle leashes can get hung up on rocks and other debris. Wear a PFD, a helmet, a wetsuit and protective gear, especially in shallow rivers.
On the lake, bring a flotation device, try to confine your trip to an hour or less, and stay closer to the shore. SUP is a full-body workout. Plan your trip with that in mind. Learn more about safety, rules and regulations through Montana Fish, Wildlife & Parks.
Lastly, have fun paddling paradise. That's what's SUP in Western Montana's Glacier Country.
July 30, 2018
Related: Bigfork, Bitterroot Valley, Events, Family Fun, Flathead Corridor, Flathead Lake, Getting Around, Hamilton, Kalispell, Libby, Missoula, Montana, Outdoor Fun, Parks, Seeley-Swan Corridor, Stand-Up Paddleboarding, Summer Fun, Swan Lake, Vacation, Water Fun, Whitefish