The mention of Western Montana often conjures up visions of the Old West, like cowboys and horses, and with good reason—they're a part of both our past and our present. One way we recognize that is through rodeos, which are an authentic western tradition, paying homage to our heritage with events based on the duties of actual working cowboys. Next time you're in Glacier Country, pull on your boots, grab your cowboy hat and head to a local rodeo.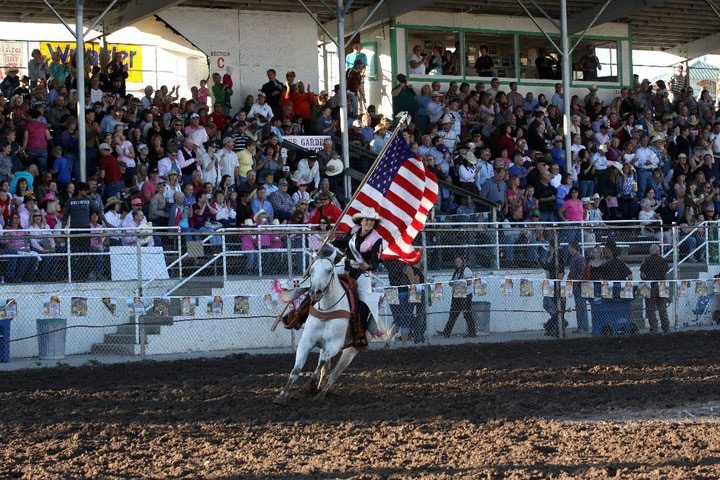 Steeped in tradition and history, many of our communities host rodeos beginning in spring and continuing through fall. Communities come together for competition, entertainment and some boot-stomping, good old-fashioned fun. Enjoy the cowboy culture and marvel at the athleticism as participants compete in challenges like calf roping, barrel racing, and bronc riding.
CALF ROPING
Calf roping, also know as tie-down roping, is an event featuring one rider mounted on a horse, and a free-roaming calf. The goal of this event is to have the shortest time lassoing the calf, dismounting the horse and tying three legs of the calf together. A similar event to this is breakaway roping, another timed competition where the rider who ropes a calf in the quickest time wins. Old-time cowboys often had to rope calves to administer medicine or to brand them, and cowboys would boast to one another about their roping skills. This soon turned into a good spirited competition in which the winner won bragging rights.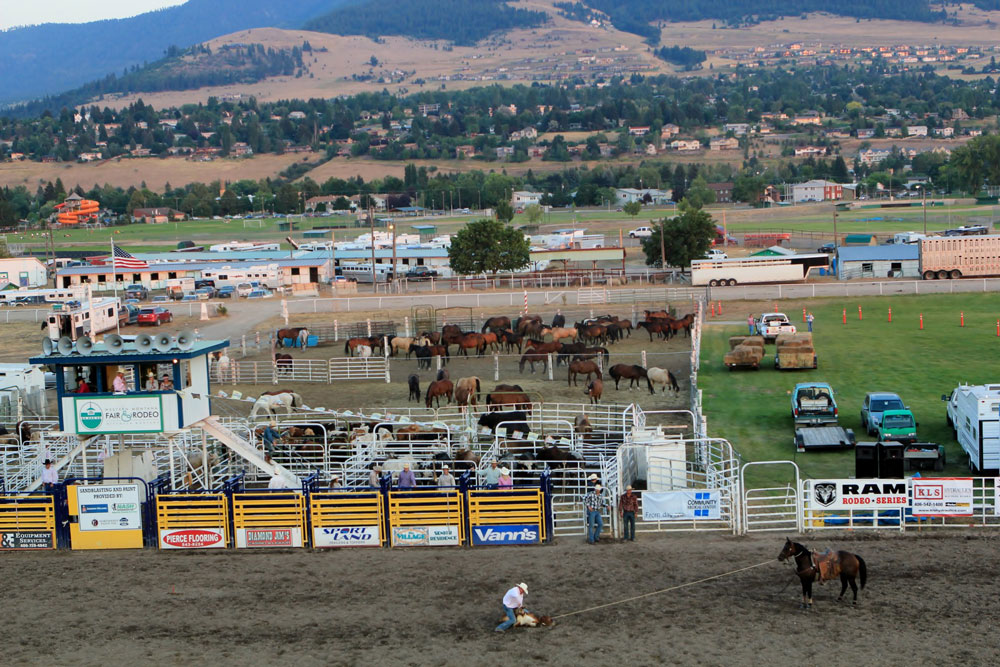 BARREL RACING
The goal of this rodeo event is for a horseback rider to make a cloverleaf pattern around three barrels in the fastest time. This event combines the horsemanship skills of a rider with the natural and trained athleticism of the horse. Precision is the key to winning because if a rider or horse touches or knocks down a barrel their time is penalized. This event was originally developed for women to assist them in breaking into the rodeo scene, and is now one of the most popular events.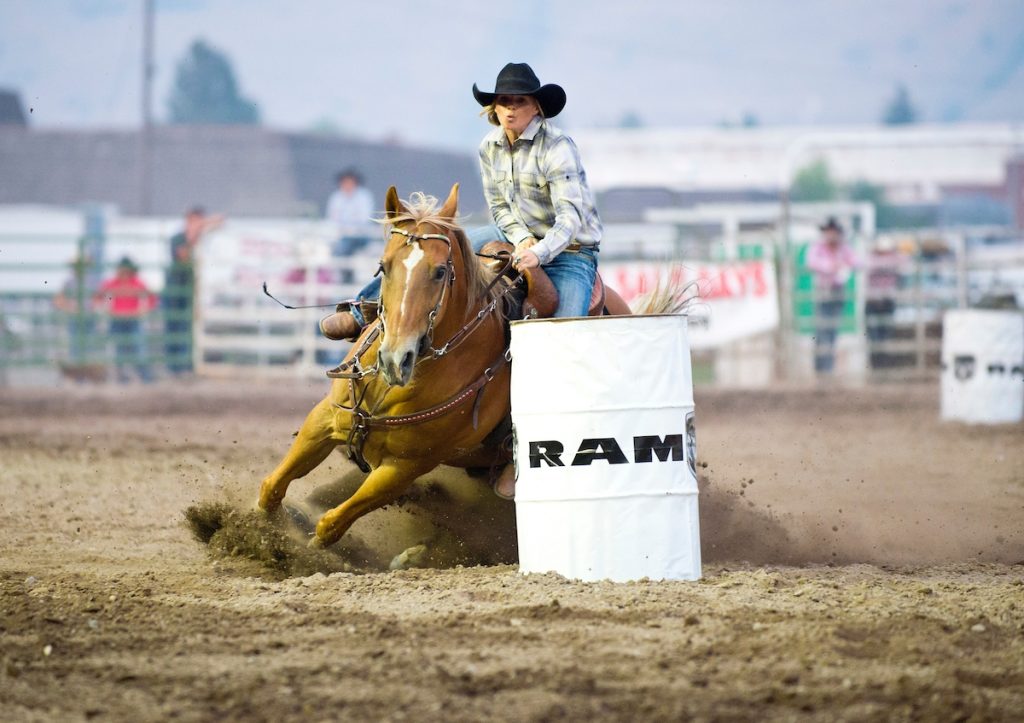 BRONC RIDING
Originally based on the necessity of training wild horses, bronc riding is one of the wildest rodeo events and bound to get your adrenaline pumping. Bronc riding can either be bareback bronc riding or saddle bronc riding. The goal of this event is for a rider to stay on the back of an untamed horse (often bred for strength, agility and bucking ability) for eight seconds, using only one hand to hold on while the horse tries to buck him off. Half of a rider's score is based on his or her performance, the other half on the horse's bucking, diving and twisting.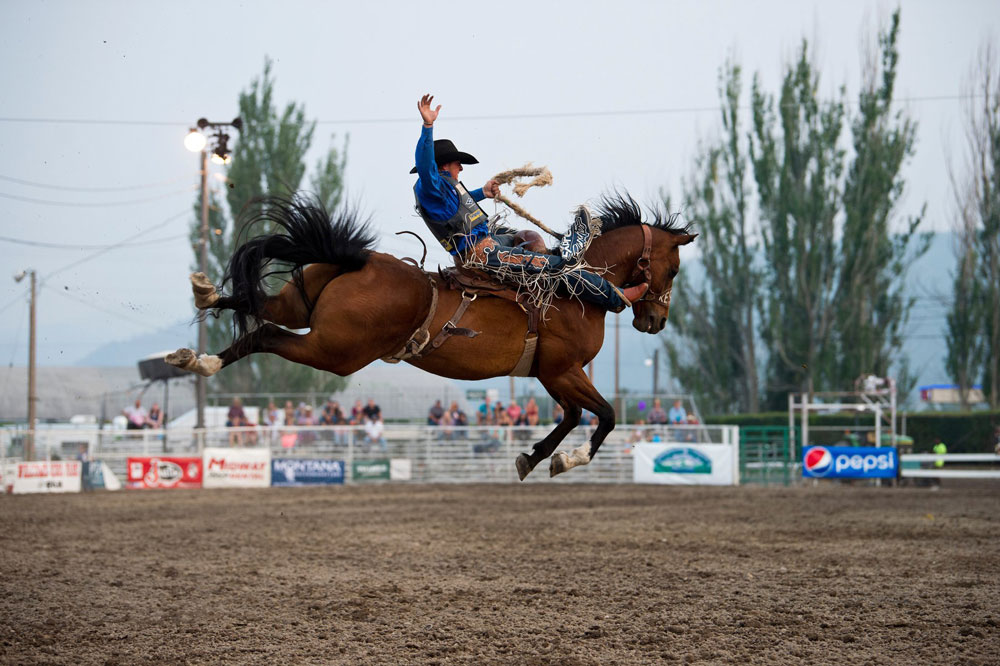 LIVESTOCK SHOWING
A livestock show is not a rodeo event, but often the two events are paired together. At a livestock show, pigs, cattle, sheep and other animals are judged in an arena on certain breed traits such as muscle, frame size and balance. The animals are judged, then awarded ribbons or trophies for Best of Breed, then owners have the option to sell their rated livestock. Teenagers often show livestock through clubs like FFA (Future Farmers of America) and 4-H, and children participating in these clubs can raise and show rabbits, or chickens—which are also judged.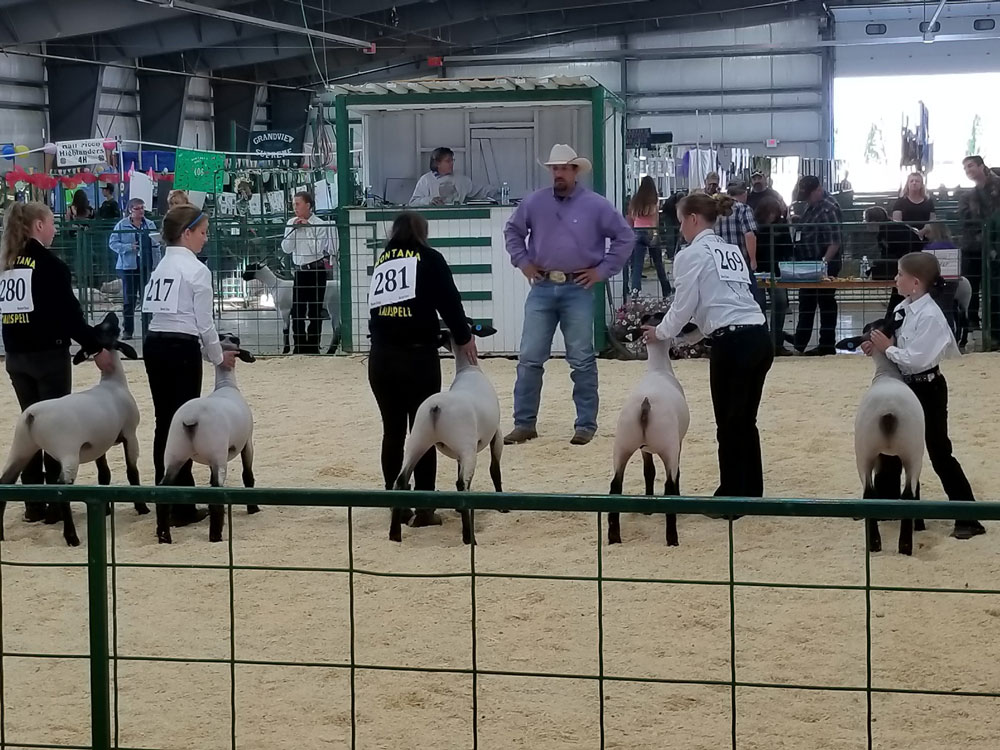 WESTERN MONTANA FAIR
Often, a rodeo will take place with a local fair. Many of our charming communities have a local fair, where you can expect games, rides and delicious fair food. Sampling the fare at the fair is not to be missed, as fair food consists of local favorites like fried cheese curds, kettle corn, elephant ears and famous vikings (a meatball on a stick, seasoned in batter and deep fried). The largest fair in Glacier Country is the Western Montana Fair in Missoula, which boasts a petting zoo, rodeo, livestock showing, art and baking competitions, monster truck show, and many rides and games.
UPCOMING RODEOS
For more upcoming events, visit glaciermt.com/events.
July 29, 2019
Related: Columbia Falls, Eureka, Events, Family Fun, Hamilton, Kalispell, Missoula, Montana, Rodeos, Ronan, Summer Fun, Superior