Imagine you're waterskiing, but you're being pulled by a horse and rider through the snow. That's how many participants describe skijoring, an outrageously entertaining winter activity that's rapidly gaining in popularity in Western Montana's Glacier Country.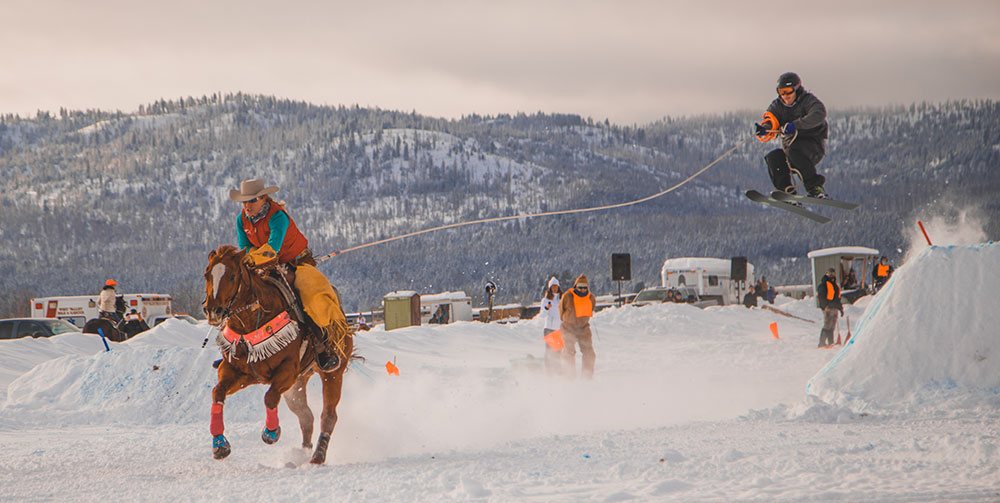 The word skijoring comes from the Norwegian skijøring, which means "ski driving," a testament to the fact that it originated in Scandinavia as a form of transportation. This once practical mode of travel has morphed into an exciting—and usually pretty rowdy—competitive sport. Here's a quick guide to the action:
Each team consists of a horse and rider pulling a skier by a 30- to 50-foot-long rope. The skier sails over jumps, speeds through slalom gates and captures rings. Skiers may hit speeds of up to 60 mph during acceleration. Each team takes two runs through the course, which may be straight, U-, J- or L-shaped, and ranges from 600 to 1,000 feet long. The skier must cross the finish line in an upright position, on at least one ski and holding the rope. Both run times are combined to get the team's final score, minus time penalties for missing jumps, gates and rings.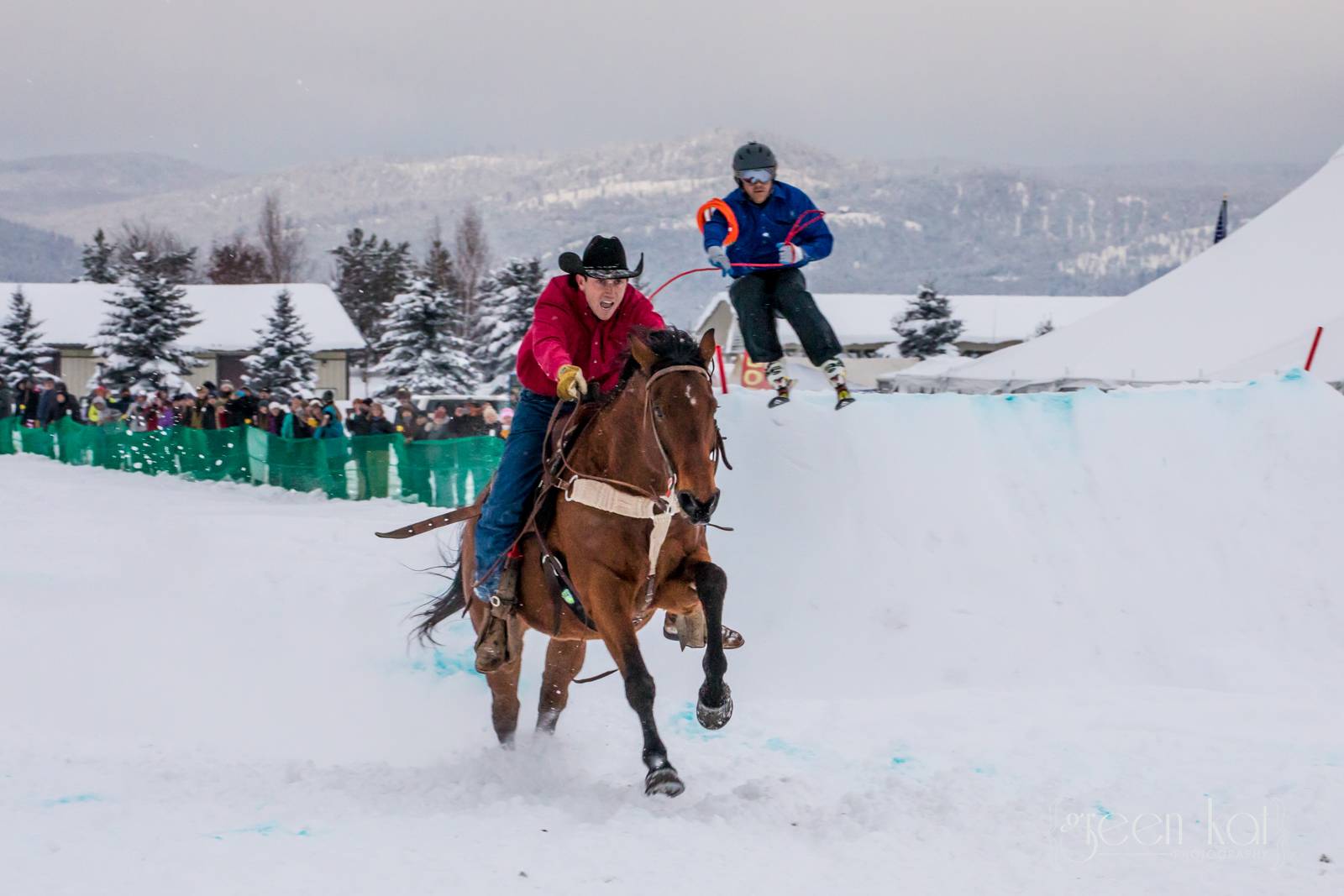 Races take place throughout Glacier Country from December through February, so put on your long underwear, stuff some hand warmers in your pockets and go watch—or even try your own hand at—one of winter's wildest competitions alongside die-hard skijoring fans.
Rebecca Farm in Kalispell, best known for its annual July equestrian extravaganza of dressage, cross country and showjumping, is a natural fit to host a major skijoring event. Eighty teams and thousands of spectators made their inaugural race in 2017 a roaring success. Held the last weekend in December, skijoring at Rebecca Farm kicks off the Skijoring America racing season. It's also a great way to spend the last weekend of the year. Downtown Kalispell is a short 5.5 miles away from the event, making lodging, dining and shopping a breeze.
Whitefish Winter Carnival's two-day skijoring competition in late January ranks as the oldest and most storied of Montana's skijoring competitions. In the 1960s, skijorers raced through downtown Whitefish. Legend has it that one competitor almost went through a store window, and spectators had to watch out for runaway horses. Times have definitely changed. Nowadays, the event takes place at Big Mountain Ranch, a working cattle operation with gorgeous views of Big Mountain. The J-shaped track is great for spectators, and the costume division is particularly entertaining. The ranch is just 3 miles from town, so plan to eat, shop and overnight in Whitefish. You could also tack on an extra day or two to ski fresh powder on the slopes at Whitefish Mountain Resort.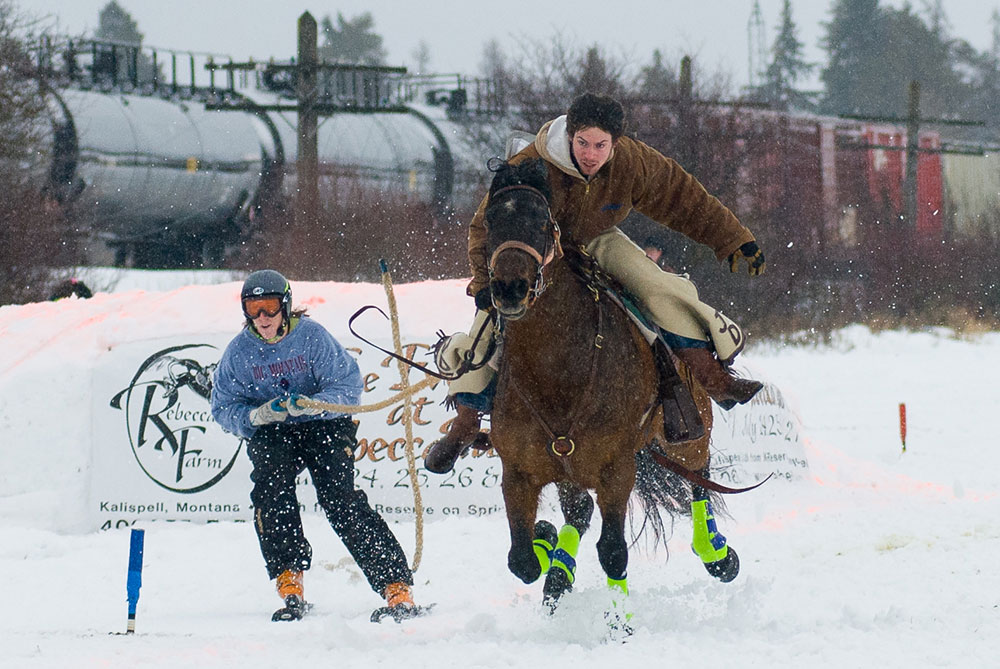 The Wilderness Club, a luxury ranch in Eureka, will hold its first-ever skijoring competition in early January. Close to the Canadian border and Lake Koocanusa, Eureka will be in breathtaking winter wonderland mode. After the races are over, settle in fireside at the Wilderness Club Lodge, or warm up in the hot tub.
Mid-February will bring Skijor Columbia Falls' inaugural "Soldiers, Saddles and Skis: The Race for Valor," a fundraiser for Valor Equine Therapy. Combine your support for the skijorers and their noble cause with a trip to nearby Glacier National Park for an even more unforgettable weekend of alpine adventures.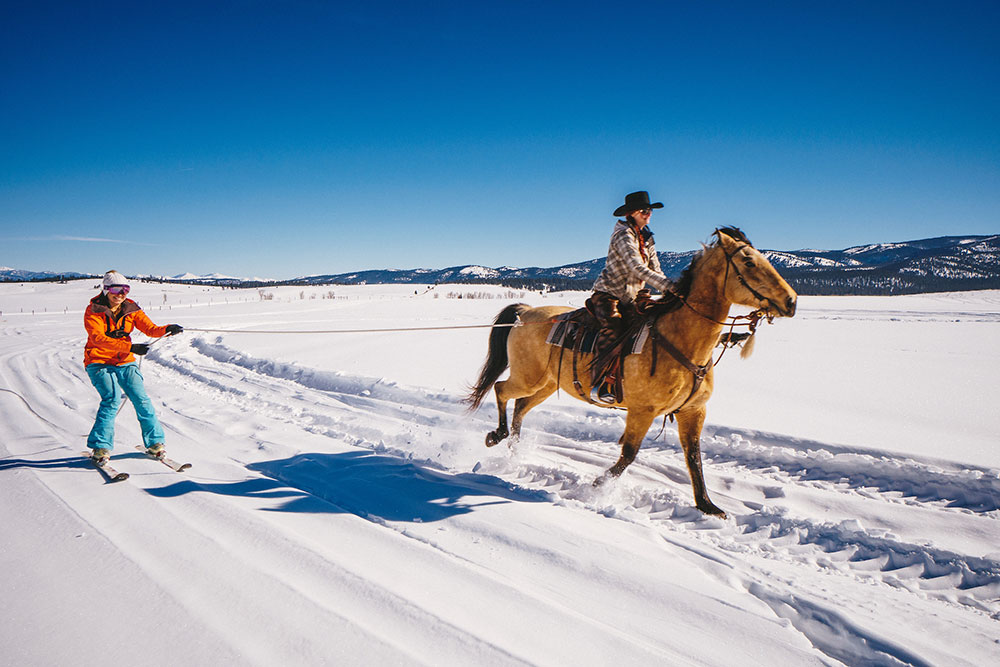 Not content to sit on the sidelines? Book a stay at The Wilderness Club in Eureka, The Resort at Paws Up in Greenough or Triple Creek Ranch in Darby. Along with top-notch accommodations, they all include skijoring on their lists of guest activities. If you've already got other lodging planned, both The Wilderness Club and The Resort at Paws Up offer skijoring activities to the public.
December 10, 2018
Related: Columbia Falls, Darby, Eureka, Events, Flathead Corridor, Greenough, Kalispell, Montana, Outdoor Fun, Skijoring, Whitefish, Winter Fun