Glacier Country is a year-round playground, and winter does not disappoint. You can take full advantage of our snowy landscape, but keep in mind that it's important to play it safe. Here's how to recreate responsibly this winter in Western Montana.
Winter Driving
Be prepared for winter driving conditions.
Check weather and road reports before you head out. You can find weather information, travel conditions and alerts on the Montana Department of Transportation's website, and review their Travel Map for up-to-date weather and road conditions.
Take it slow. Stay safe by minding your speed, and enjoy the winter scenery while you're at it. Be prepared and cautious, expect ice on bridges and shady spots, don't use cruise control, and always buckle up. Avoid backroads this time of year.
Watch for wildlife. Stay alert and keep your eyes peeled for wildlife crossing the road, especially around dawn and dusk.
Check your vehicle. Make sure your headlights, taillights and windshield wipers work, you're topped off on coolant and washer fluid, and your tire pressure is normal. Think twice before you head out in winter conditions without four-wheel drive, all-wheel drive or snow tires. Gas up when you can; in some areas, gas stations can be few and far between.
When renting a car, know what kind of car you need. For instance, if you're planning on going skiing, make sure the car you rent is appropriate to drive to a ski area, which will likely have wintry road conditions.  
Avalanche Safety
Avalanche safety should always be top of mind when you're headed into the backcountry via ski, snowboard, snowshoe or snowmobile. Proper gear and know-how are everything.
Know before you go. Check Avalanche forecasts before you head out into the backcountry. Visit avalanche.org for conditions and warnings. For local Western Montana avalanche conditions, advisories and information, visit Missoula Avalanche and the Flathead Avalanche Center.
Carry the right gear. Find the beacon, shovel, probe and airbag pack that are right for you, and know how to use them.
Get educated. Take a course in avalanche safety, which will teach you the basics of avalanche safety gear, snow testing, avalanche awareness and avalanche rescue. Visit avalanche.org for more information on courses.
Know your snow. Learn to recognize the red flags of an unstable snowpack, which indicate avalanche danger.
Stay in bounds at ski resorts. Don't ski or sled the backcountry on your own unless it is permitted AND you are up-to-date on the avalanche forecast, own and know how to use the right avalanche safety gear, and have adequate training.
Exercise Safety
It's safe to exercise outdoors year-round here, but there are some important precautions to take while exercising in cold weather. Know the temperature and forecast before you head out—wind chill extremes can make exercising outdoors unsafe even with warm clothing. Dress in layers, protecting your head, hands, feet and ears. Know the signs of frostbite and hypothermia. Remember your safety gear—like bicycle lights and shoes with enough traction for snowy and icy conditions. Lastly, and as always, drink plenty of fluids.
Ice and Water Safety
Whether ice fishing, ice skating, snowmobiling, snowshoeing, hunting or just taking a walk, please play it safe on and near Montana's frozen and ice-cold waterways. Read more here about ice safety.
Guided Tours
When in doubt, go with a guide. Play it safe with a backcountry ski, snowshoe, or snowmobile tour. Guides know best when it comes to equipment and safety, and where and when to go.
Read more about recreating responsibly, and learn more from our friends at Tread Lightly! about engaging in backcountry snowsports responsibly.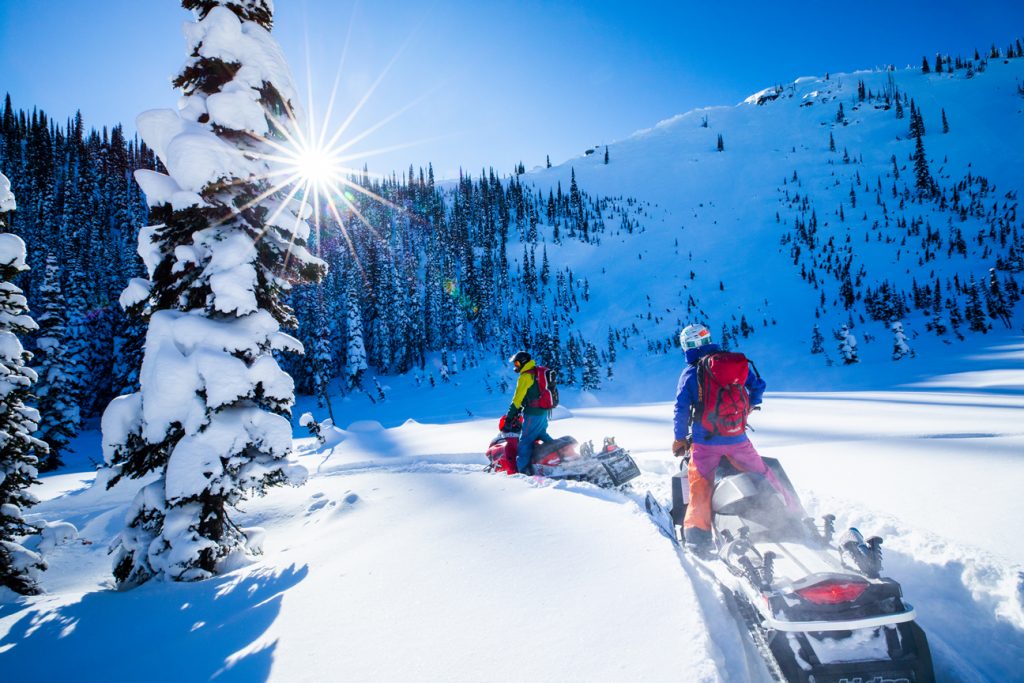 Please note: We ask that all our visitors and residents Recreate Responsibly by being mindful of the following: know before you go; plan ahead; play it safe; leave no trace; tread lightly; and help build an inclusive outdoors.
December 19, 2022
Related: Downhill Skiing, Montana, Nordic Skiing, Outdoor Fun, Recreate Responsibly, Road Trips, Snowmobiling, Snowshoeing, Vacation, Winter Fun