Western Montana is home to more than 75 charming communities, all worth exploring. We often boast about the vibrant downtowns in the hearts of these communities, but you'll find a treasure trove of quirky, unique and delightful shops tucked into little spots off the beaten path all over the region. Find Montana-made items, one-of-a-kind goods, and authentic antiques in these hidden-gem shops, and discover your new favorite thing about Glacier Country.
Flathead Lake Corridor
Great Gray Gifts is a must-stop shop when driving through Charlo between Missoula and Flathead Lake. This little boutique may be small, but it packs a punch with a fantastic selection of jewelry, clothing, baby clothes and household items—many of them made in Montana. Bonus: Grab an espresso while shopping. Another store with exclusively Montana-made items is Hand-Made Montana in Polson. Selling a collection of exquisitely crafted goods from over 65 local artists, it's a place where you can easily lose track of time as you explore art, jewelry, clothing and pottery made by local artisans.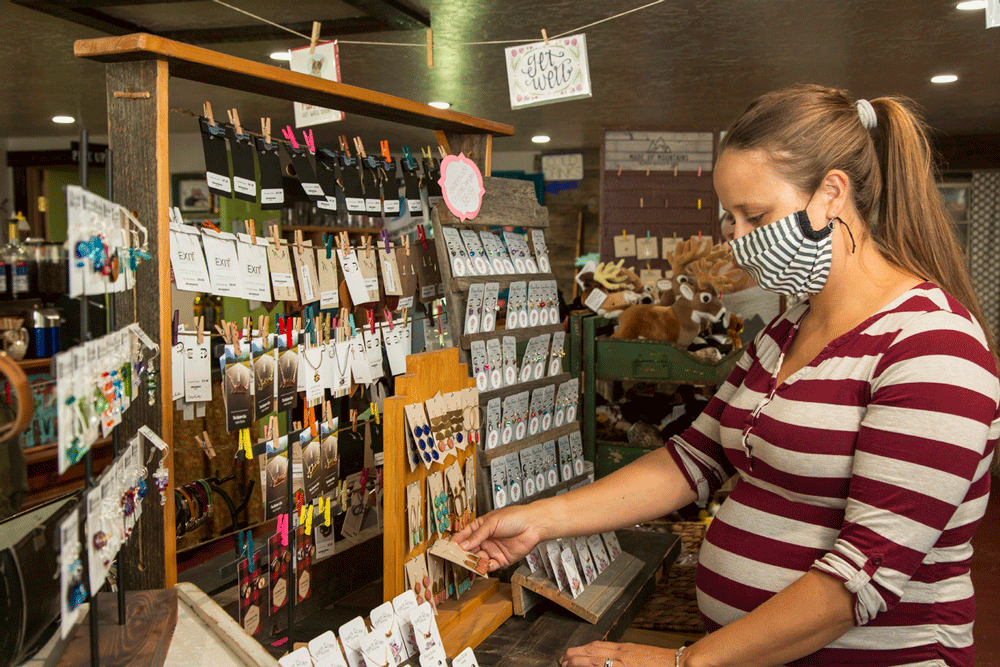 East Glacier Corridor
In Browning, celebrate Montana's cultural heritage with an American Indian-made gift. At Faught's Blackfeet Trading Post traditional pieces of beadwork and American Indian-made crafts and books pay homage to the First Nations that have called the plains and mountains of Montana home for millennia. Or find beautifully arranged flowers and gifts at Rose Petal Floral, Cafe and Supplies in Cut Bank and Columbia Falls. Whether you're looking for candles, lotions or an extra special card, they make it easy to take home a piece of Montana.
Bitterroot Corridor
The Bitterroot Valley is a haven for antiquers. In Stevensville, the first pioneer settlement in Montana, drop in to the Creamery Antique Mall to discover collectables big and small. Outside you'll find carriages, farming equipment and other Western memorabilia. Inside is an assortment of everything, from family photos taken in the early 20th century to a collection of vintage motorcycles. Take a step back in time in Darby at The Old West Antiques & Candy Store. Have fun picking through the diverse antique collection of vintage toys, western memorabilia, cookware and farm gear. Don't pass up the opportunity to stock up on old-fashioned candy and house-made fudge before you leave.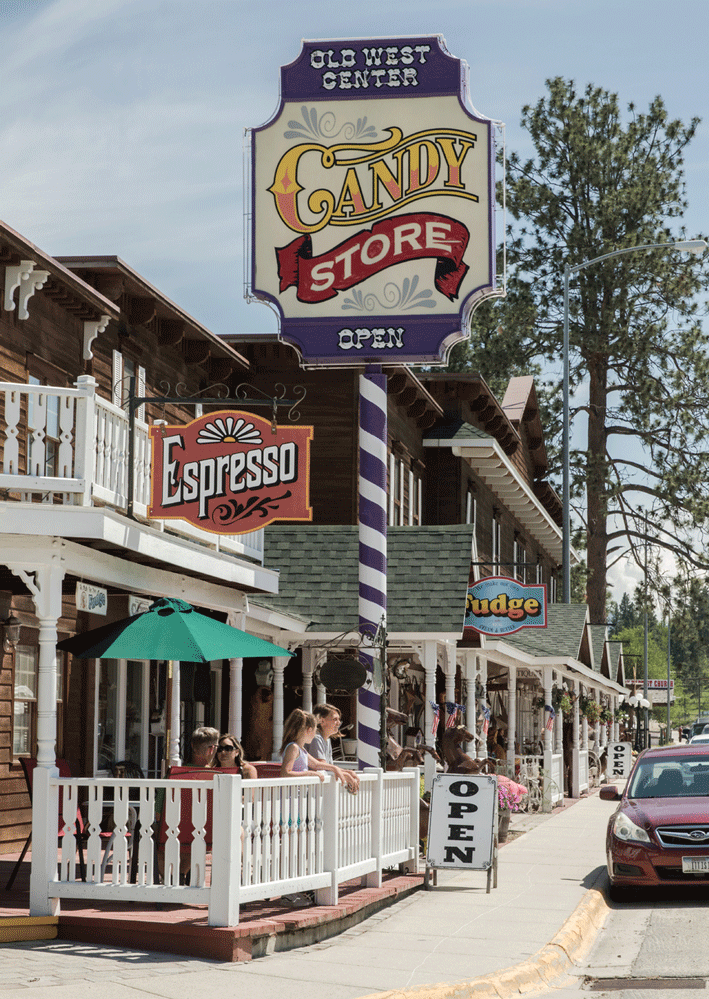 Glacier National Park Surrounding Area
One of the best-known places on our list is the Crown of the Continent Discovery Center in West Glacier, but we had to mention it as it's simply a must-stop. Inside are interactive geology displays and the best huckleberry shakes around, plus souvenirs, gifts, and gear for your Glacier National Park adventure. Also near the park's northwest entrance, stop at the world-famous Polebridge Mercantile and Bakery. Their huckleberry bearclaws are what draw many visitors in, but the store is not to be missed. A one-stop shop outfitting you for your park excursion, you'll find an assortment of things like gauze, Spam, parachute cord, and maps, alongside gifts, clothing and souvenirs. Both the Crown of the Continent Discovery Center and Polebridge Mercantile and Bakery are open during the summer season only; please plan ahead.
I-90 Corridor
Treat yourself, stock up on essentials and shop for gifts at the St. Regis Travel Center. A convenience store and gift shop, plus a grill and ice cream bar—known for their huckleberry shakes—and trout aquarium make up this all-in-one stop. Myriad huckleberry goods can be found alongside Montana-made jewelry and clothing. The large selection of gifts makes it easy to find a Montana souvenir for yourself and anyone else on your list. Another unique gift store, off Interstate Highway 90 near Haugan, is the 50,000 Silver Dollar. There are literally 50,000 silver dollars inside, hence the name. The gift shop is an assortment of eclectic goods, including coin-collection items.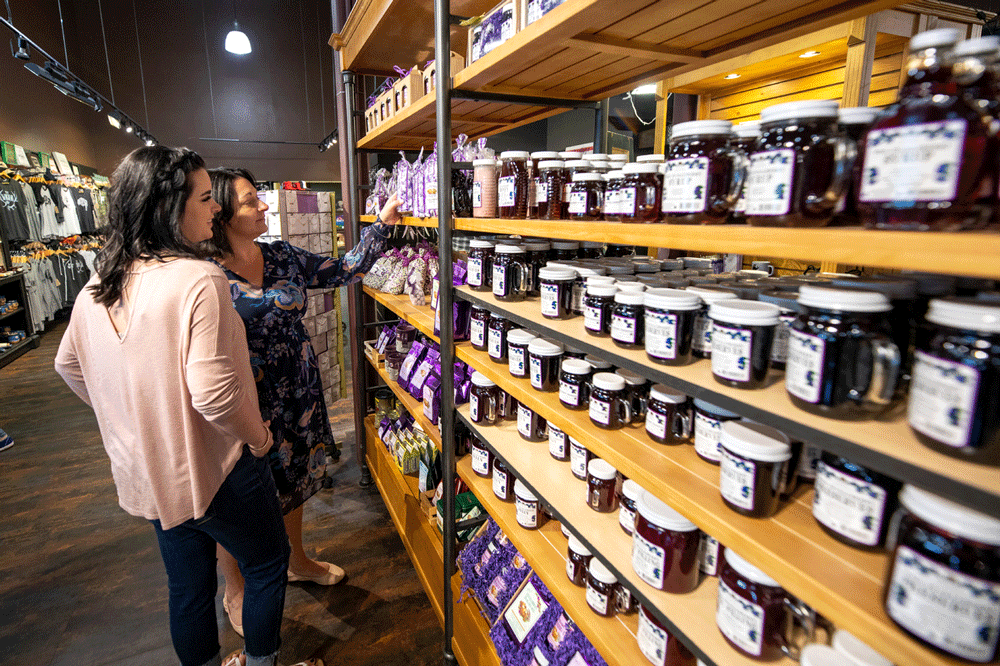 Northwest Corridor
Capture your Montana moment with artwork and wall hangings made from local artists at Real Art Works in Troy. This co-op has an assortment of artwork, stained glass, photography, textiles and more on display. Staffed by the artists themselves, you can hear about their inspirations and sometimes commission custom pieces. Another co-op selling only Montana-made items is Montana Gallery USA in Libby. Fun-finds await as you explore the large selection of handmade goods including children's toys and clothing, bath and body products, quilt work and wall hangings.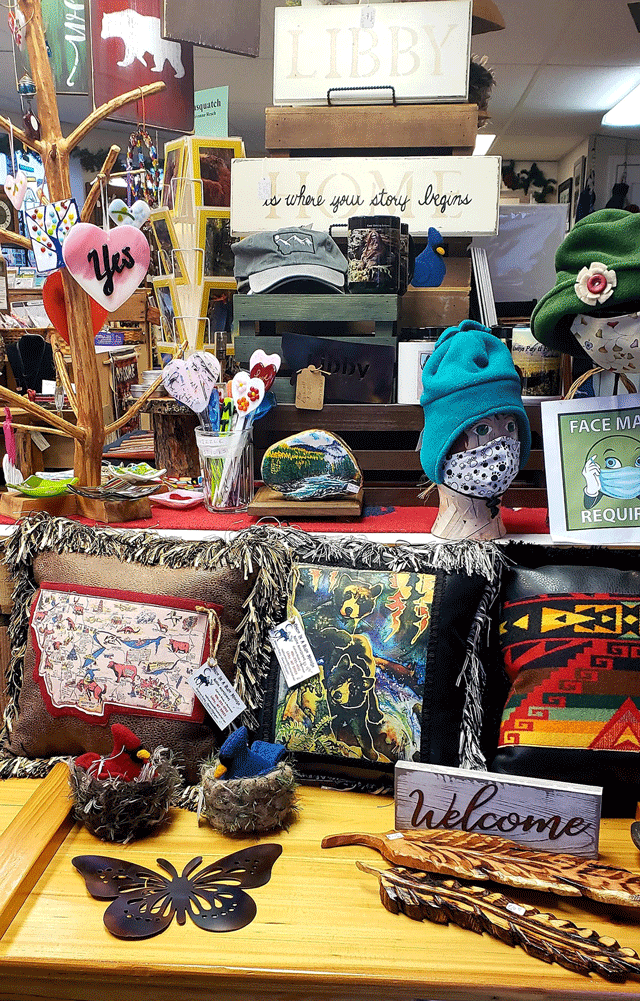 Seeley Swan Corridor
In the charming town of Seeley Lake when you're ready to take a break from playing outdoors, the eclectic stores that line the main street, U.S. Highway 83, are ready to welcome you in. At Blue River Station you'll find household necessities displayed alongside huckleberry gifts, jewelry, pottery and antiques. It's also a great place to swing by for an espresso and baked goods. Another must-stop on the main street is Grizzly Claw Trading Co. It's a quirky shop to spend some time in poring over the assortment of odds and ends, beadwork, hides and furs, crystals, pottery and more.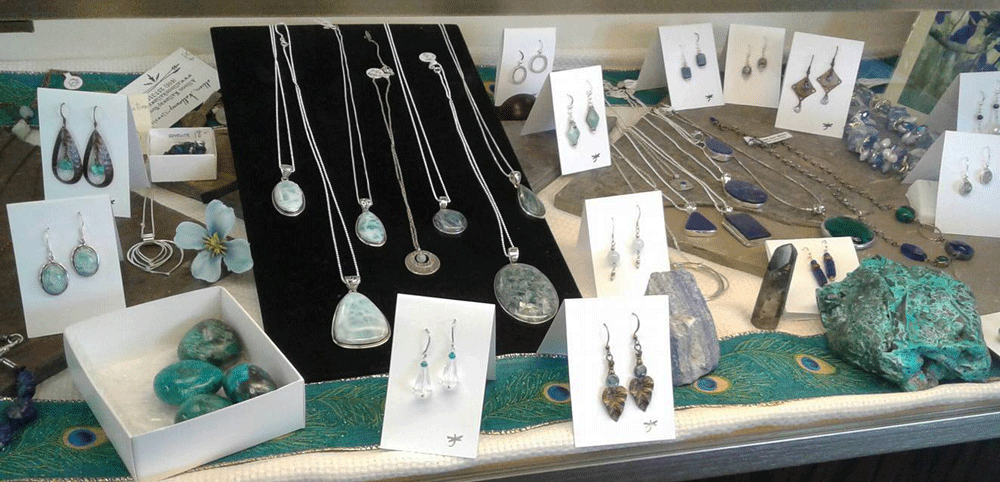 Tour 200
Many of our small towns have a mercantile—a one-stop shop for groceries, general supplies, tackle and bait, clothing, gifts, jewelry and sometimes a bakery and/or deli. Each mercantile has its own flair, with items unique to the community. In Hot Springs, Camas Organic Market is well known for their delicious baked goods, breakfast, lunch and organic groceries—making it easy to take home a taste of Montana. Grab a cup of coffee or opt for ice cream at the Noxon Mercantile & Cafe while perusing made-in-Montana books, pottery, clothing and even deer antler artwork and jewelry.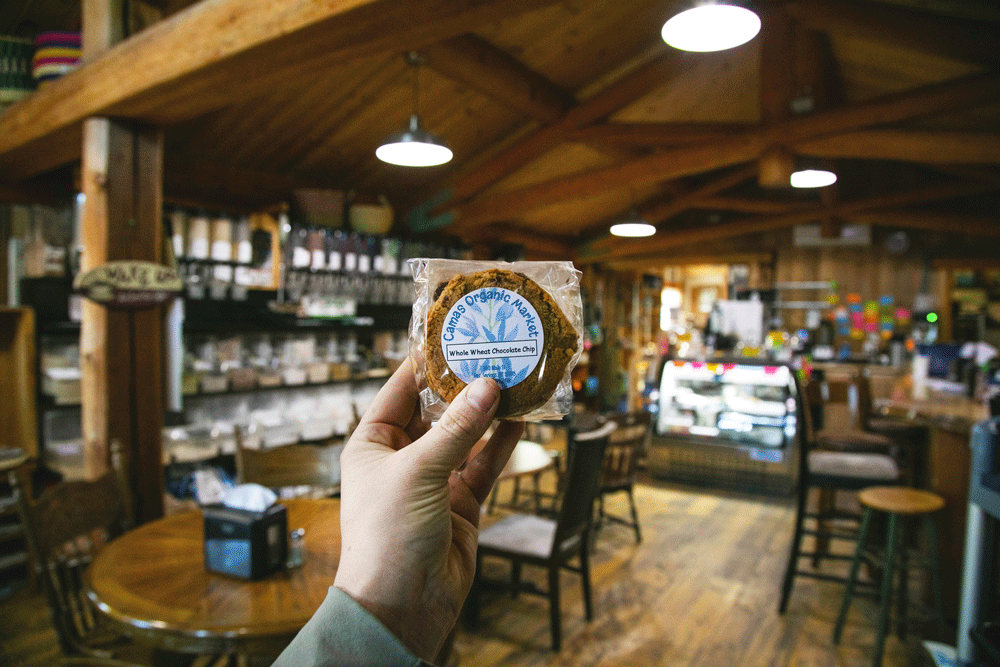 Please note: Social distancing is required to help reduce the spread of COVID-19. Thankfully, we've got plenty of space for social distancing activities and recreation in Western Montana. It's vital, however, to maintain a 6-foot distance from others, even outdoors. Please be mindful of our communities and small businesses, which have had to adapt to the change and may face limitations this year—always call ahead. We're all in this together. Take the Tourism Pledge to travel responsibly in Glacier Country.
March 8, 2021
Related: American Indian, Arts and Culture, Browning, Cut Bank, Darby, Family Fun, Haugan, Hot Springs (town), Indoor Fun, Libby, Montana, Noxon, Polebridge, Polson, Seeley Lake, Shopping, St. Regis, Stevensville, Troy, Uncategorized, West Glacier