Winter is one of our absolute favorite seasons. That's because, in a place like Western Montana, winter isn't in the way, it is the way—the way to adventure. We gear up and get out, and you should too. Glacier Country boasts 300 inches of snow yearly, rendering the landscape a winter wonderland and offering endless winter activities for the whole family. Plus, our small towns are always at the ready with warm welcomes and cozy lodging.
Downhill Skiing
Nothing says classic winter getaway like a family ski vacation in Western Montana. And with seven downhill ski areas, there's space to spread out. Glacier Country makes it easy to get the entire family on the slopes, with affordable lift tickets and rentals plus short to no lift lines. Make sure you plan ahead this year in terms of safety protocols and limitations since all ski areas have had to adapt to the pandemic. Being prepared will ensure a seamless Montana ski experience you'll never forget.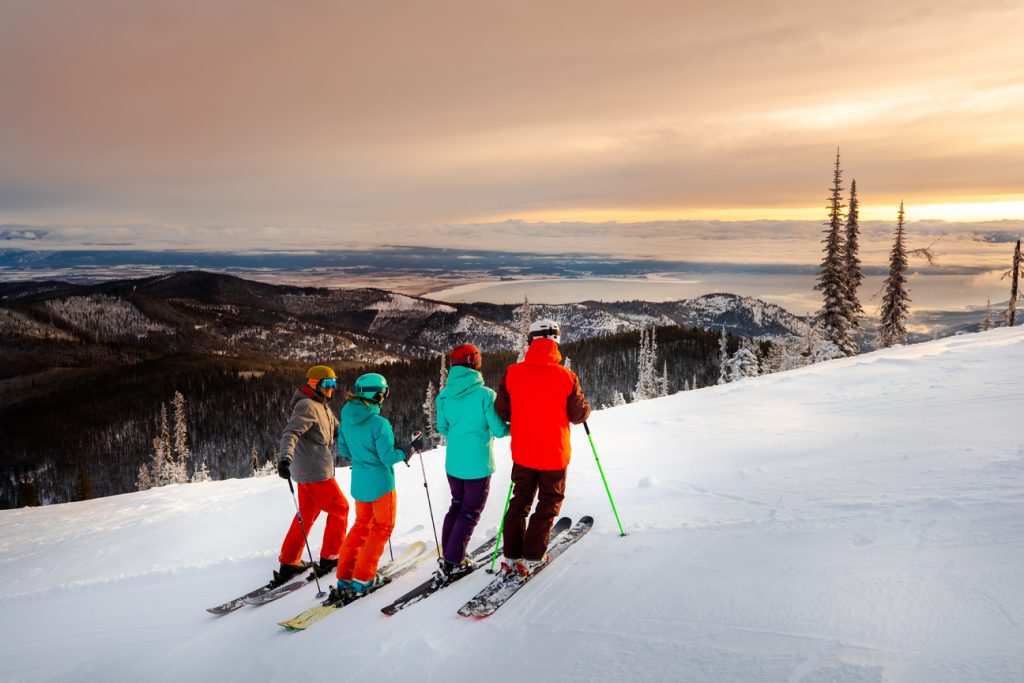 Cross-Country Skiing
Slow things down with a Nordic adventure. Cross-country skiing is a winter favorite here in Western Montana. Groomed trails crisscross the landscape all over Glacier Country, leading to places you might not otherwise be able to access when the ground's covered in a blanket of snow, like Garnet Ghost Town. Consider a stay at the Izaak Walton Inn in Essex, where you'll find 20 miles of trails winding through lush, forested terrain with unbelievable views of Glacier National Park. For an off-the-beaten-path adventure, hit the trails in the Bitterroot, Lolo, Kootenai and Flathead national forests.
Dog Sledding
Dog sledding may not be top of mind when you think of winter family fun, but here's why it should be—it's a unique and memorable experience, and wildly fun. The adrenaline rush of mushing your own team of Inuit sled dogs through miles of fresh powder and across frozen lakes is surreal. You can take a guided half-day tour or even book a multinight excursion. Contact our friends at Base Camp Bigfork and they'll be glad to show you the way.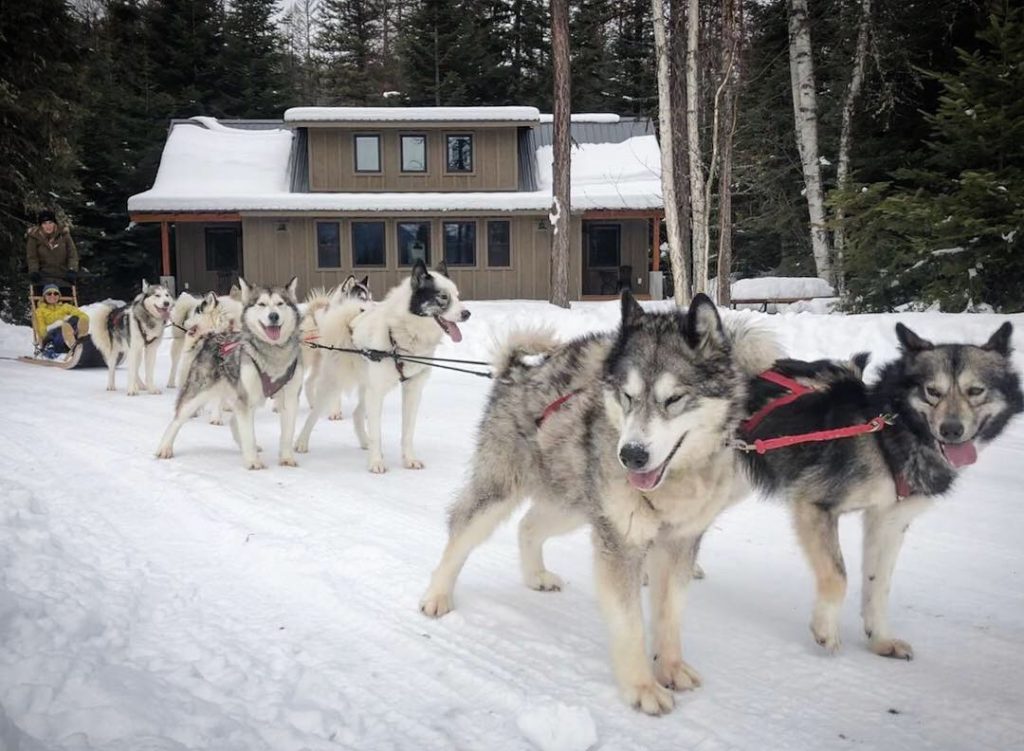 Snowshoeing
We don't stop hiking when the snow flies—we strap on our snowshoes. Walking in a winter wonderland is peaceful, and one of the easiest ways to explore Western Montana this time of year. You can snowshoe throughout the region, but Glacier National Park is one of our favorite places to explore in the winter. Popular spots include the famously gorgeous Going-to-the-Sun Road and trails at Marias Pass and Lake McDonald.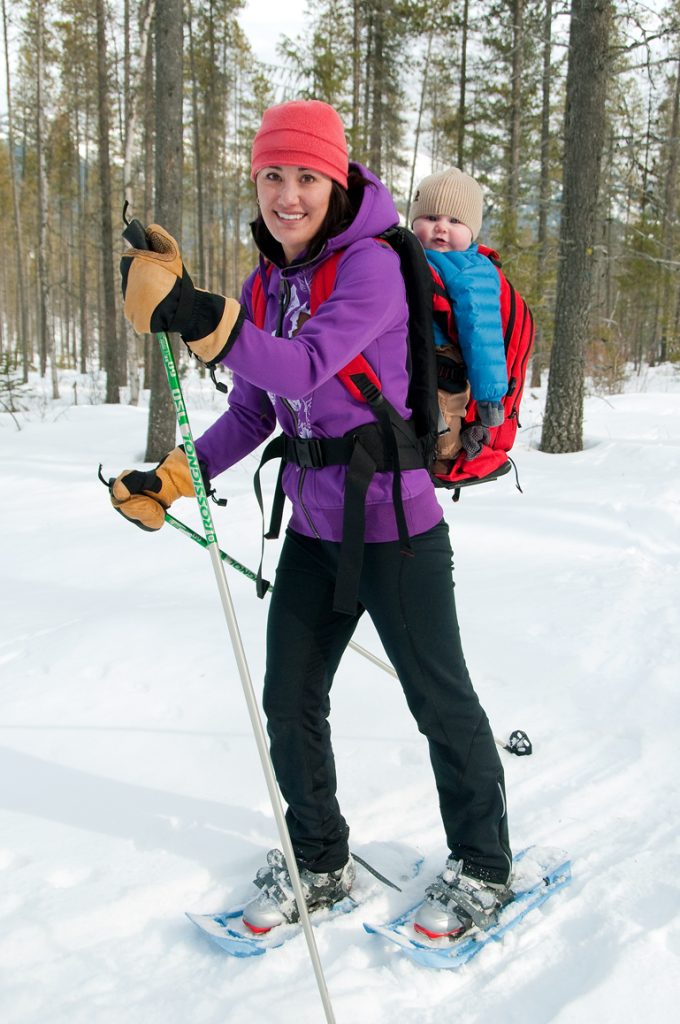 Sleigh Rides
Dashing through the snow in a horse-drawn sleigh? Yes please! It doesn't get much more enchanting than that. Bundle up and wind down on a relaxing, super-cozy sleigh ride, offering wintry vistas by day and starry skies by night. Book a sleigh ride with Bar W Guest Ranch in Whitefish, Double Arrow Lodge in Seeley Lake, or Cripple Creek Horse Ranch in Trego.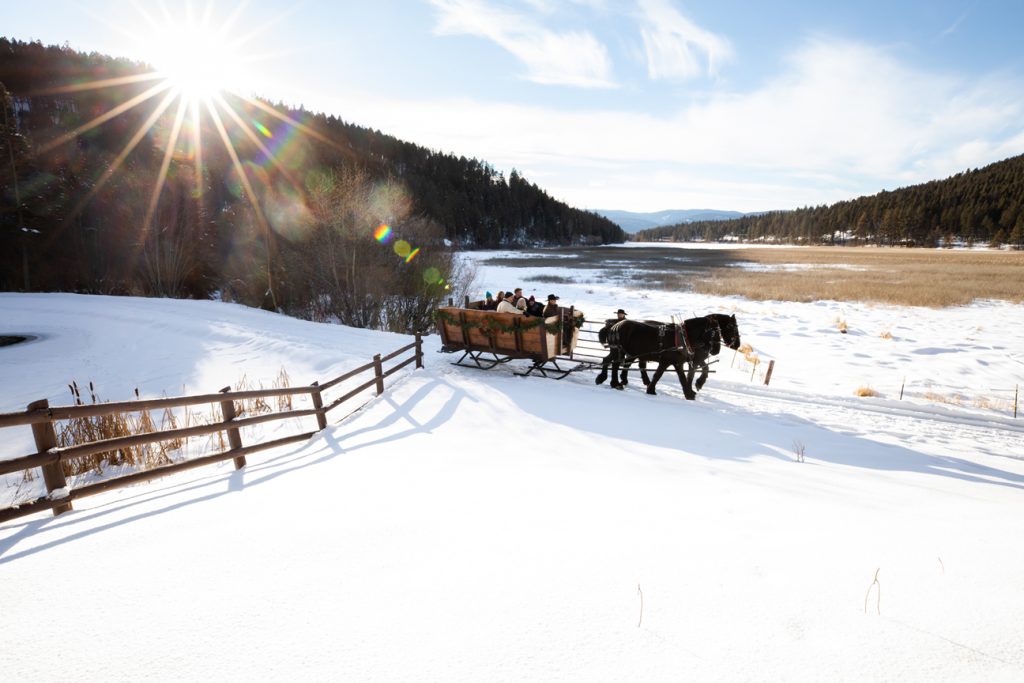 Fat Biking
Fat biking is SO. MUCH. FUN. Fat bikes are regular bikes equipped with fat tires that make it easy to ride on top of packed snow. If you can ride a bike, you can ride a fat bike. You'll find groomed trails and snow-packed roads throughout the region. We recommend a stay at the Whitefish Bike Retreat where guests can access the Whitefish Trail. Plan ahead—though fat bike rentals are usually available at the Whitefish Bike Retreat, they're not renting bikes during the COVID-19 pandemic. However, you can find rentals at one of the friendly bike or gear shops in the area.
Sledding
Grab your sleds, toboggans or tubes and head for the hills! The quintessential winter pastime is all the more enjoyable in a place as magical as Western Montana, with fresh mountain air and sweeping landscapes. If you're staying at a resort, ask about the best places to sled on-site, or head out and explore the myriad options throughout the region. One of our favorite sledding spots is Polson Riverside Park in the breathtaking Flathead Valley.
Hot Springs
After a day in the snow, hit up some hot springs for some much-needed, post-adventure relaxation. These healing mineral waters are enjoyed by adults and kids alike, especially after carving turns down the mountain. Consider making a place like Quinn's Hot Springs Resort in Paradise your home base for Western Montana adventure. Due to the COVID-19 pandemic, their pools are currently open to overnight guests only, but they are hoping to offer walk-in swimming in the near future. They've got new pools opening soon—here's a sneak peek!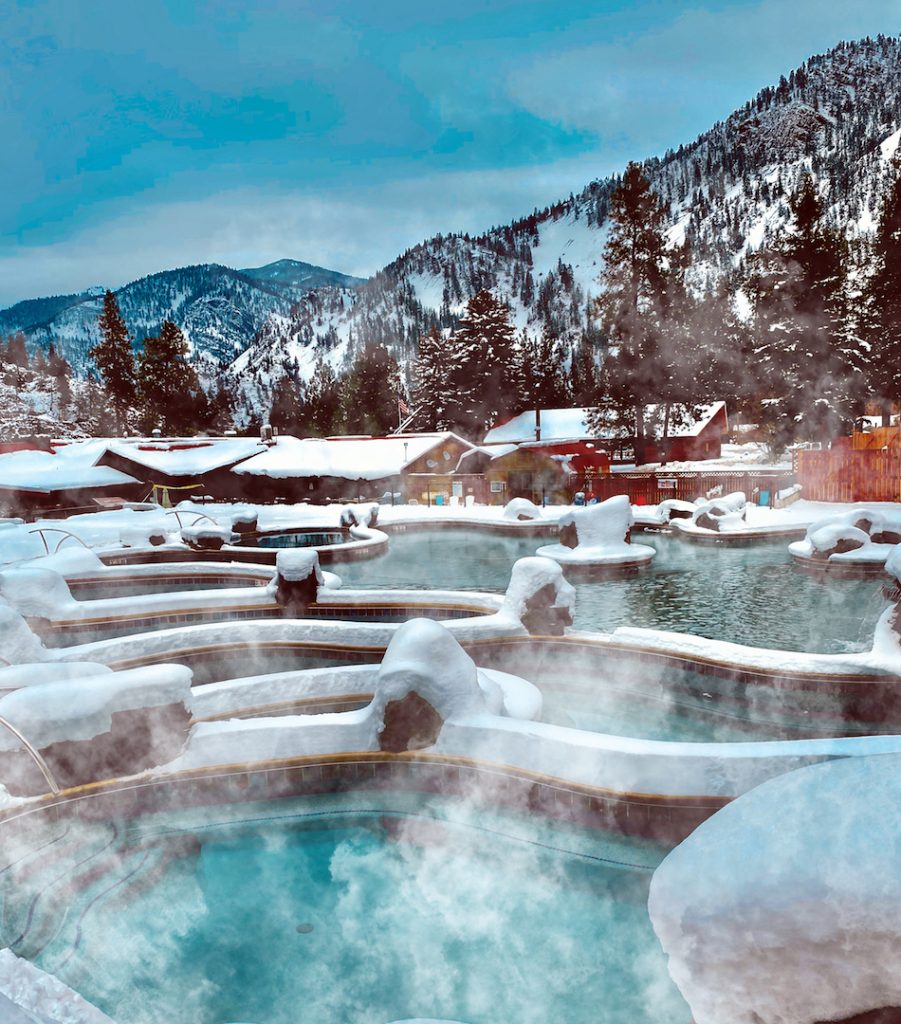 Please note: Face coverings are required indoors or when social distancing in groups is not possible outside. Social distancing is required to help reduce the spread of COVID-19. Thankfully, we've got plenty of space for social distancing activities and recreation in Western Montana. It's vital, however, to maintain a 6-foot distance from others, even outdoors. Please be mindful of our communities, ski resorts, guides and outfitters, and small businesses, which have all had to adapt to the change and may face limitations this year—always call ahead. We're all in this together. Take the Tourism Pledge to travel responsibly in Glacier Country.
January 18, 2021
Related: Bigfork, Dog Sledding, Downhill Skiing, Essex, Family Fun, Fat Biking, Flathead Corridor, Garnet Ghost Town, Glacier National Park, Hot Springs, Montana, Nordic Skiing, Paradise, Polson, Seeley Lake, Snowshoeing, Trego, Vacation, Whitefish, Winter Fun