Montana is known for legendary rivers and epic fly-fishing, the Golden Stone hatch included—though this stonefly tends to fly under the radar. Often in the shadow of Montana's famous Salmonfly hatch, we're here to tell you the Golden Stone is not to be overlooked, offering consistently good fly-fishing all summer long. Our advice? Go with the gold. These stoneflies attract fish until late July, and from late July all the way into September they hatch with enough consistency for reliable Montana fishing. Golden stone patterns are your go-to nymphs.
In Western Montana's Glacier Country, Rock Creek—one of Montana's finest blue-ribbon trout streams—is known far and wide as a wade-fishing paradise. The Blackfoot, Clark Fork and Bitterroot rivers—good for both wading and raft fishing—also see excellent Golden Stone action, and the Blackfoot boasts larger than average trout. Goldens like warmer weather, so your best bet is to head out between late morning through late afternoon.
Our other piece of advice is to go with a guide. Fly-fishing guides in Montana offer half-day, full-day or multiday float trips and wade-fishing trips with some of the friendliest and most enthusiastic experts on the river. Beginning anglers will benefit from learning basic casting and mending techniques from guides. Experienced anglers will learn subtle but significant techniques that could result in more or bigger fish when shown the right places to cast a line.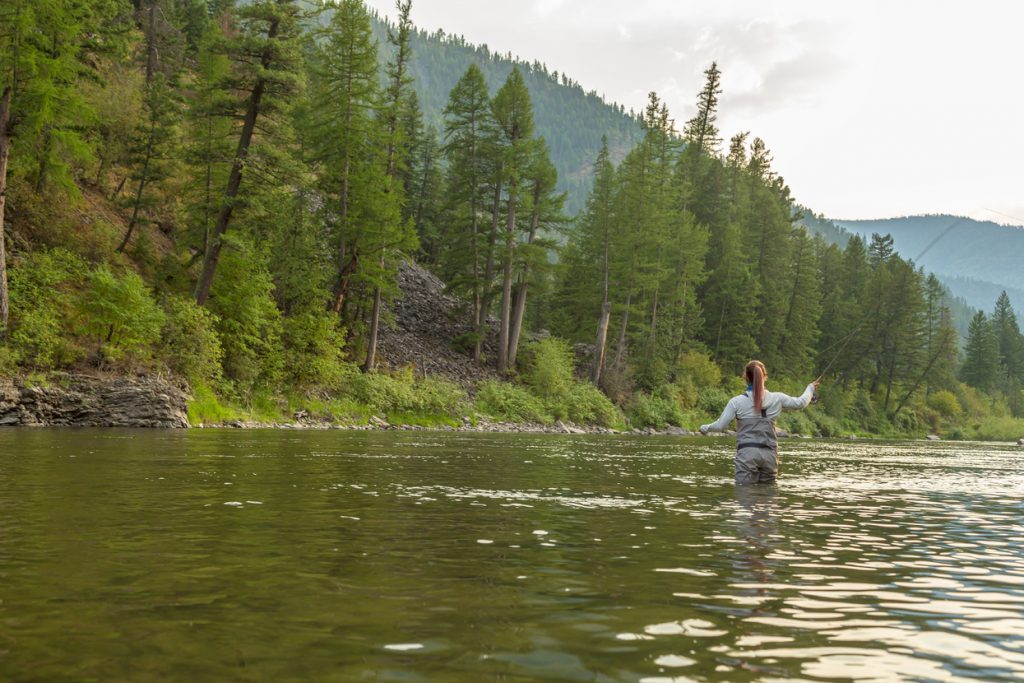 Fly-Fishing Guides + Outfitters in Western Montana
John Perry's Montana Fly Fishing
If you're an experienced angler and don't plan to use a guide, you might find this river map helpful for planning your angling adventure. Just click individual river access points or lakes to find out more about facilities, location and activities. Or, use the search to find all of a particular river's access points. Our river map is also helpful if you're on a road trip and looking for a spot to take a break by the water.
Fishing Regulations, Licenses and Permits
To fish Montana's waters, you'll need a fishing license, a Conservation License and an Angler Aquatic Invasive Species Prevention Pass. Learn more about that, as well as fish species and boating regulations, from Montana Fish, Wildlife & Parks.
Please note, if you're fishing with friends, a spouse, or kids over 12 who don't plan to fish but just recreate or float, beginning July 1, 2023, all types of recreational users, including floaters, will be required to have a Conservation License when accessing state trust lands and fishing access sites.
Parts of Western Montana are experiencing ongoing drought conditions. In these areas waterbody restrictions may be implemented, including fishing closures and hoot owl restrictions, to minimize environmental impact. The Hoot Owl Fishing Restriction prohibits fishing between 2 p.m. and midnight daily, aiming to protect vulnerable fish populations. Read more, and find affected locations, here. 
Aquatic Invasive Species (AIS)
Part of recreating responsibly is protecting our waters from AIS, which are a real threat to not only our aquatic environment but to our state as a whole. In addition to securing an Angler Aquatic Invasive Species Prevention Pass, all non-boating anglers and boaters of motorized and non-motorized watercraft must adhere to CLEAN. DRAIN. DRY. methods and mandatory watercraft inspections.
Please note: We ask that all our visitors and residents Recreate Responsibly by being mindful of the following: know before you go; plan ahead; play it safe; leave no trace; tread lightly; and help build an inclusive outdoors.
July 31, 2023
Related: Blackfoot Corridor, Fishing, Montana, Outdoor Fun, Outfitters, Recreate Responsibly, Vacation, Water Fun