The American bison has long been one of the most important animals in American Indian cultures. Tribes have relied on the majestic bison for thousands of years, using every part of the animal for survival and welfare, including meat for food, bones and horns for tools, and hide for clothing and shelter, as well as for jewelry and ceremonial purposes.
Millions of bison roamed North America in prehistoric times, but during the westward expansion in the 1800s European settlers decimated them to near extinction. By 1884, only 325 bison remained in the United States, though numbers began to improve in the early 20th century through conservation efforts.
Today, numbers continue to increase through partnerships with national parks and organizations like the Intertribal Buffalo Council. Bison remain central to American Indian ways of life, and tribes are succeeding in their efforts to bring this sacred creature back.
Confederated Salish and Kootenai Tribes – Bison Range
In the late 1800s, in an effort to restore bison to their homeland, Confederated Salish and Kootenai Tribe (CSKT) members moved some of the country's last remaining wild bison across the Continental Divide to start a bison herd (later known as the Pablo-Allard herd) on the Flathead Indian Reservation. When their land was unlawfully taken by the United States in 1908–1909, the National Bison Range was established. Extensive efforts by the CSKT to regain management of the herd and land resulted in it eventually being incorporated into the Montana Water Rights Protection Act in 2020, and in 2022 it was officially restored to the Confederated Salish & Kootenai Tribes.
The CSKT Bison Range is located in Moiese, Montana, and consists of more than 18,000 pristine acres where approximately 350 bison roam alongside deer, elk, pronghorn, bears, native birds and more, all against the backdrop of the stunning Mission Mountains. Visitors can take a self-directed driving tour featuring two scenic drives (one of which is seasonal and includes walking trails).
Wildlife Safety: View wildlife from the safety of your car or from the recommended distance. Stay at least 100 yards away from bears and at least 25 yards away from other large animals, like bison. Never approach, touch or feed wildlife, even when an animal does not seem to be threatened by your presence.
Blackfeet Buffalo Program
In 2009, the Blackfeet Buffalo Program (known as the Iinnii Initiative) was launched by the four-tribe Blackfoot Confederacy to conserve traditional lands, protect Blackfeet culture and create a home for the bison to return to. Today, the Blackfeet Nation has 800 bison and counting in its herd, which roams 10,000+ acres in the southeast end of the Blackfeet Reservation.

The Blackfeet Buffalo Program is vital to its community, distributing bison meat for elders, members in need and food banks. This essential program also donates bison for ceremonial purposes, and the tribe sells bison meat at the Glacier Family Foods grocery store in Browning at an affordable price.
Learn more about the reintroduction of the American Bison by the Blackfeet in the new film "Jane Goodall – Reasons of Hope." You can watch this inspiring film at The Roxy Theater in Missoula on Monday, June 19 at 7:30 p.m. and at Glacier Cinemas in Cut Bank from Friday, September 15 through Thursday, September 21. Showtimes for the film will vary, refer to their website for showtimes.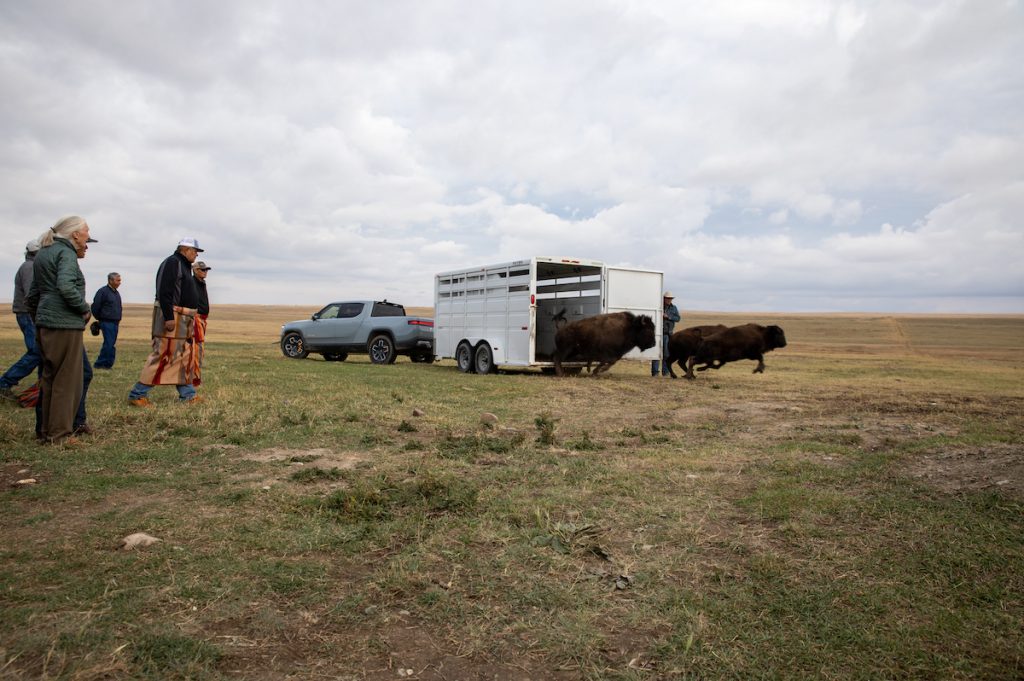 Did you know? Today there are 500,000+ bison in the United States, and, in 2016, the American bison was named the national mammal of the United States.
Please note: We ask that all our visitors and residents Recreate Responsibly by being mindful of the following: know before you go; plan ahead; play it safe; leave no trace; tread lightly; and help build an inclusive outdoors.
June 5, 2023
Related: American Indian, Arts and Culture, Blackfeet Indian Reservation, Browning, Flathead Indian Reservation, Moiese, Wildlife