Western Montana is currently experiencing drought conditions, including extremely dry forest fuels, high temperatures and wind, low humidity and minimal precipitation. That's why Western Montana's Glacier Country is currently under Stage 2 fire restrictions. The goal of these fire restrictions is to reduce fire risk and prevent wildland fires during periods of high to extreme danger. Along with following fire restrictions, taking a few simple steps while you're visiting can help prevent Montana wildfires.
Fire Restrictions
Flathead, Glacier, Lake, Lincoln, Mineral, Missoula, Ravalli and Sanders counties, Glacier National Park, Flathead National Forest and Kootenai National Forest have Stage 2 restrictions in effect until further notice.
Under Stage 2 restrictions, the following acts are prohibited:
+ Building, maintaining, attending or using a fire or campfire.
+ Smoking, except within an enclosed vehicle or building, a developed recreation site, or while stopped in an area at least three feet in diameter that is barren or cleared of all flammable materials. (Note: Dispose of used cigarettes properly, not on the ground!)
+ Operating motorized vehicles off designated roads and trails.
The following acts are prohibited from 1 p.m. to 1 a.m.:
+ Operating any internal combustion engine.
+ Welding or operating acetylene or other torches with an open flame.
+ Using explosives. (Note, fireworks are prohibited on public lands.)
All Montana Department of Fish, Wildlife & Parks campsites, parks and fishing access sites also follow the Stage 2 restrictions.
For more information on current fire restrictions, visit Montana Wildland Fire Restriction Info.
In the event that Western Montana's fire danger lessens, and areas move to Stage 1 restrictions, know that under Stage 1 restrictions campfires are only permitted in developed recreation areas within concrete or metal fire rings (rock rings are not allowed). Smoking is only allowed in an enclosed vehicle, building or developed recreation site.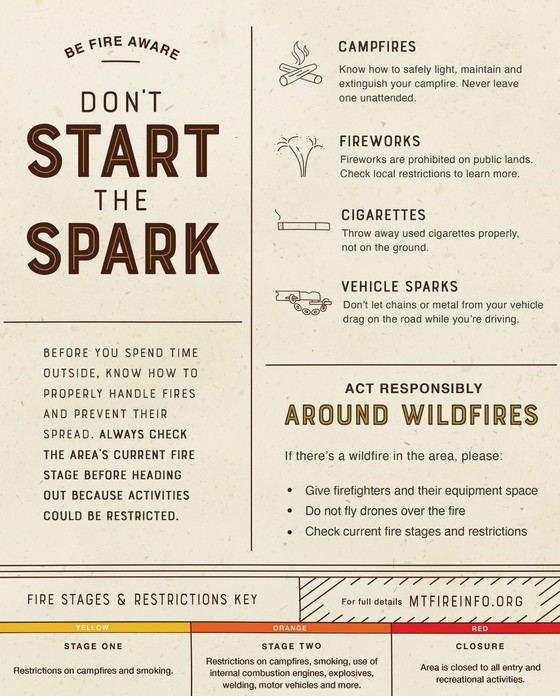 Vehicle Safety and Wildland Fire
Did you know that many wildland fires start from vehicle use? Remembering these hot tips will help you #RecreateResponsibly this summer:
+ Exhaust can reach temperatures of 1,000+ degrees, so avoid driving in or around dry grass.
+ Unmaintained vehicles shoot hot particles. Make sure your car, truck or OHV is maintained and suited for off-road adventures. Brakes worn too thin may cause metal-to-metal contact, which can cause a spark.
+ OHVs should have a spark arrestor. Drivers should pack a shovel and a bucket.
+ Practice safe towing. Dragging chains throw sparks. Use appropriate safety pins and hitch ball to secure chains. Make sure your vehicle is properly maintained, with nothing dragging on the ground.
Campfire Alternatives
Following Leave No Trace principles, you can still have fun while camping with these alternatives to campfires. Use a camp stove to cook, bring layers and a good sleeping bag to stay warm, and light your way with a headlamp and lanterns. It's the perfect time to tell stories by lanternlight, play cards, or stargaze up at Western Montana's exquisite night sky. Keep critters at bay the usual way…with proper food storage.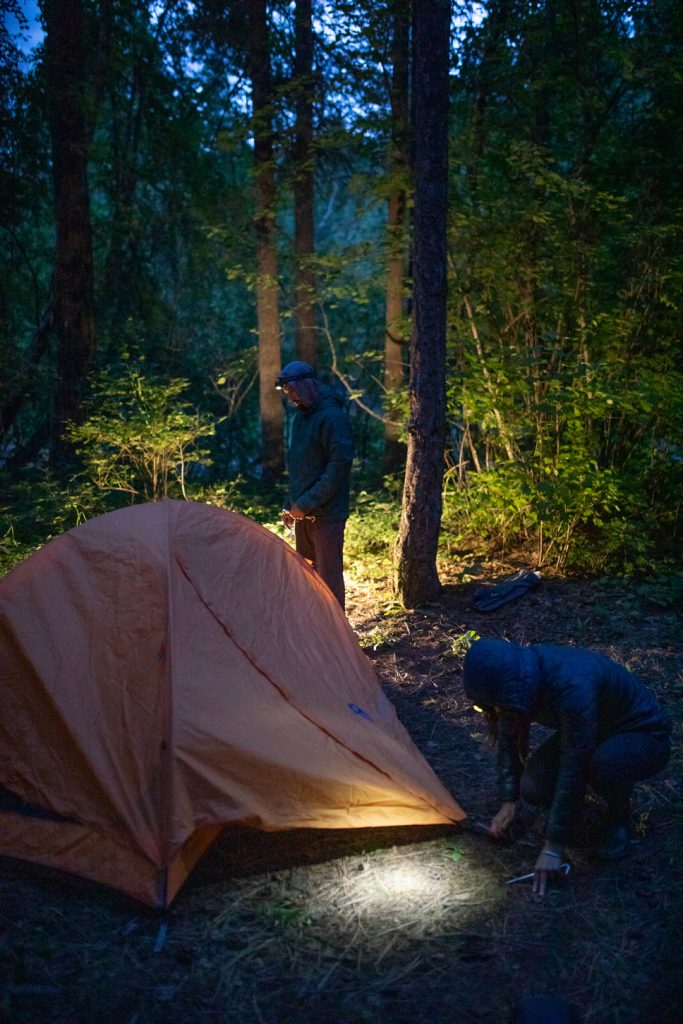 Act Responsibly Around Wildfires
If there's a wildland fire in the region where you are, give firefighters and their equipment space. Drones are not permitted in wildland fire areas. Check the current fire stages and restrictions, and leave if an area becomes closed.
It's imperative to recreate responsibly in Western Montana, especially when it comes to wildland fire safety.
Please note, we ask that all our visitors and residents recreate responsibly by being mindful of the following: practice physical distancing; know before you go; plan ahead; play it safe; leave no trace and build an inclusive outdoors. Take the Tourism Pledge to travel responsibly in Glacier Country.
August 9, 2021
Related: Camping/RVing, Montana, Outdoor Fun, Recreate Responsibly, Road Trips, Summer Fun, Vacation