Good company, good times and good drinks are part of the Montana experience, and that's why you'll find a bar not far from wherever you are in Glacier Country. If you're looking for some post-adventure libations, live music, local vibes and great food, it's all here in our swanky bars serving up craft cocktails, our local watering holes, our neighborhood hangouts and our legendary dive bars. Here's where to experience some true Montana spirit, from A to Z.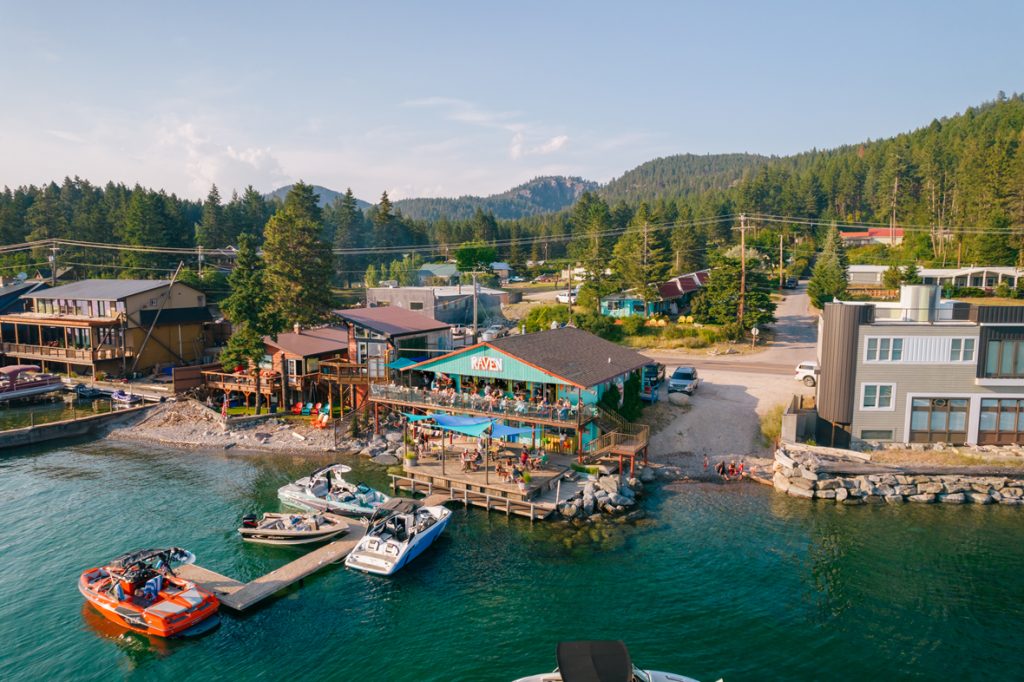 Alcan Bar & Grill. Head over to this rustic Frenchtown bar for good eats, poker nights and free pool.
Babb Bar/Cattle Baron Supper Club. This historic, Blackfeet-owned bar boasts "Maxim Magazine's 2009 Food Awards-Fastest Disappearing Steak."
Chuck Wagon Bar & Grill. If you're looking for a place where everybody knows your name, it's here in Dayton along with beer, bingo and Taco Tuesdays.
Dixon Bar. The only bar in Dixon is famous for being poet Richard's Hugo's hangout, and he wrote a poem about it called, naturally, "The Only Bar in Dixon."
Evaro Bar & Casino. Get your karaoke on at this hometown bar, serving up good food and live tunes.
Fin's Tap House. Head down to this "taphouse with a view" in Corvallis with patio seating, Pizza Thursdays, live music on the weekends, and gorgeous views of the Bitterroot Mountains.
Great Northern Bar & Grill. This Whitefish hot spot touts homemade food and homegrown live music, plus an impressive sign collection covering nearly every square inch of their walls.
Halfway House Bar & Grill. Spend a day on the water at Bull Lake followed by a bite and a beer at one of the friendliest spots in Troy.
Iron Horse Brew Pub. A Missoula icon and downtown local's hangout, choose your own adventure with main bar or patio seating, the 501 Lounge and the Sunset Deck.
The Jack Saloon. This legendary, historic lumberjack saloon nestled in the Lolo National Forest offers great food and live music, horseshoes and cornhole, plus rentals, RV parking and tent camping.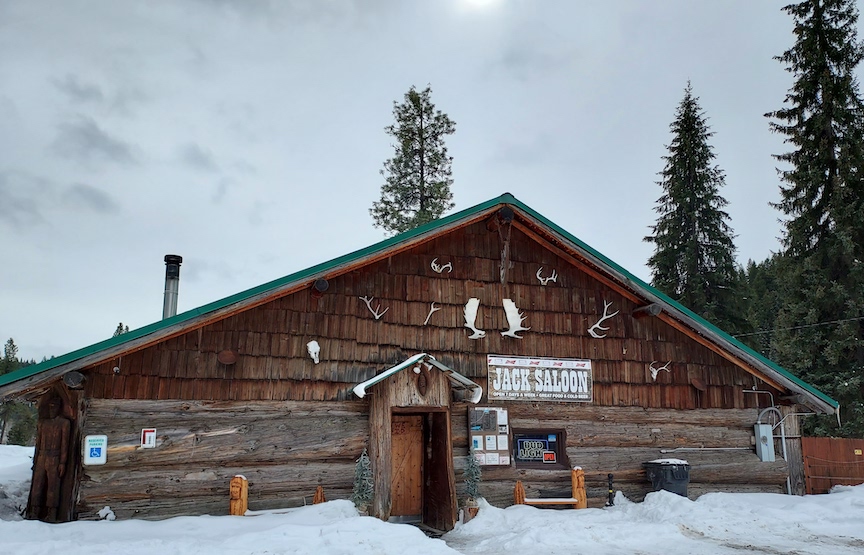 Kelly's Casino. Located right downtown in the storybook village of Bigfork, Kelly's is the spot for good drinks, a great meal, live music and a fun game of trivia or poker.
Lonesome Dove Saloon & Casino. Rub elbows with the locals and enjoy some of the best BBQ in Montana at this neighborhood sports bar in Stevensville.
Montana Bar. The legendary Montana Bar in Hot Springs serves up "great bloody marys and cheap drinks," and you don't want to miss their Taco Tuesdays.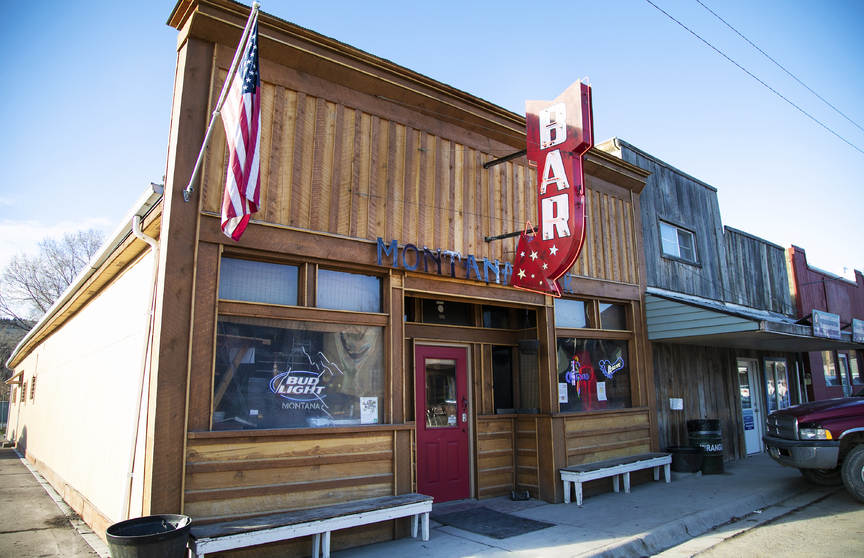 Naughty Pine Saloon. Pull your boat up to the Naughty Pine Saloon dock on Noxon Reservoir in Trout Creek and grab a drink on the outdoor patio or by the firepit.
Old Montana Bar. Just a few miles from Lookout Pass ski area, this is the kind of hometown bar with snowmobiles and ATVs in the parking lot.
Pigasus Bar. This local, family-friendly Arlee bar and restaurant is the perfect place to take the kids for pizza.
Quinn's Tavern. After a soak at Quinn's Hot Springs Resort in Paradise, mosey on over to the tavern for dinner, drinks and a game of pool.
The Raven. Dock your boat and enjoy craft cocktails, live music, breathtaking views and waterfront dining in a Caribbean-Style atmosphere on Flathead Lake.
The Shoe. Epic Flathead Lake views are also on tap at the Shoe just outside Polson, featuring Wine Wednesdays, Live Music + Bison Special Thursdays, Prime Rib Fridays and Supper Club Saturdays.
Trixi's Antler Saloon. Ovando's best known landmark, Trixi's diner and bar is named after the former trick rider, roper and show girl who bought it in the 1950s.
Union Club Bar & Grill. Get your swing on or just dance to the beat of whatever they're drumming at this Missoula gem where live music is the main event.
VFW Post Canteen & Casino 6786. If you're going to have a nice, cold beer and a conversation to remember, it's going to be with the local you pull a barstool up next to at the VFW in Eureka.
World Famous Dirty Shame Saloon. Way up in the remote northwest corner of Montana in Yaak, this infamous bar allegedly got its name when world champion boxer Joe Louis tried to order a scotch, was turned down, and responded "Well, that's a dirty shame."
eXit 16 off I-90: The 50,000 Silver Dollar. If you haven't been to the 50,000 Silver Dollar Bar in Haugan for drinks and souvenirs, have you really been to Montana? That's debatable.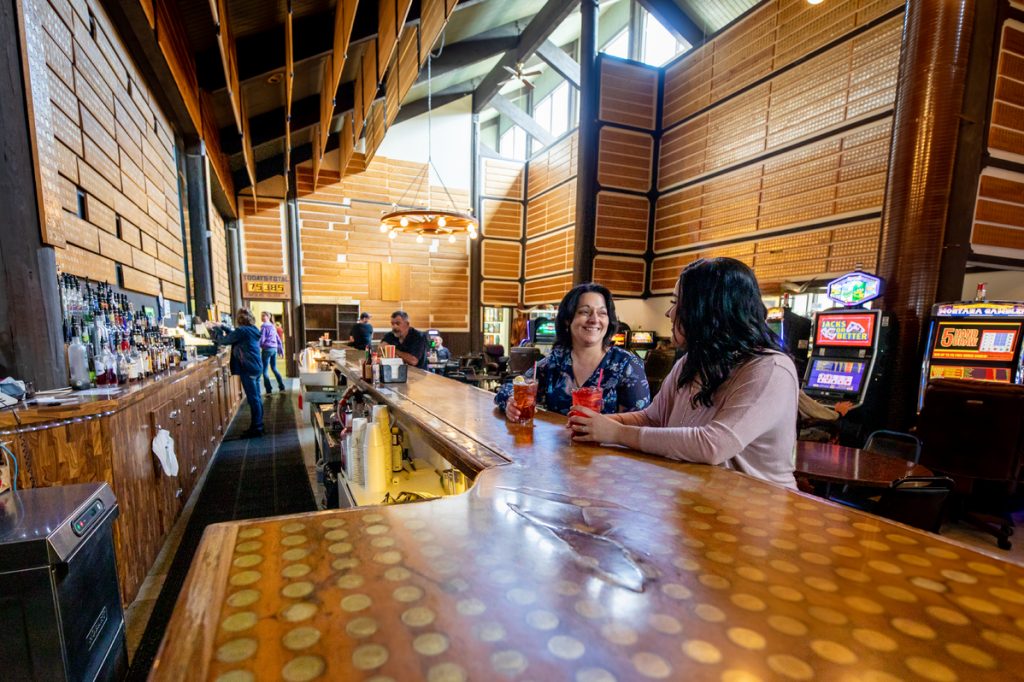 Yaak River Tavern and Mercantile. This little tavern offers a cozy Montana experience in one of the most remote parts of the state.
Zoo Thai Restaurant & Cocktail Bar. Thai street food with our beer? Yes please!
Please drink responsibly, never drive impaired, and plan ahead to have a sober ride.
Please note: We ask that all our visitors and residents Recreate Responsibly by being mindful of the following: know before you go; plan ahead; play it safe; leave no trace; tread lightly; and help build an inclusive outdoors.
April 17, 2023
Related: Arlee, Babb, Bigfork, Corvallis, Dayton, Dixon, Eureka, Frenchtown, Haugan, Hot Springs (town), Lolo, Missoula, Ovando, Paradise, Polson, Saltese, Stevensville, Trout Creek, Troy, Whitefish, Yaak