Western Montana is unique in many ways, including the landscape, wildlife, friendly locals, and number of breweries per capita. The remarkable and uncommon can also be found among Glacier Country accommodations. An extraordinary stay can be an adventure on its own, making your trip even more memorable. Here's a roundup of nine incredible, striking and eccentric lodging options.
CHEWING BLACK BONES CAMPGROUND
Set up camp in a teepee on the Blackfeet Reservation near Glacier National Park. Chewing Black Bones Campground is located on the shore of St. Mary Lake and pays homage to the cultural and historic importance of teepees to Tribal Nations by offering teepee stays. Not only is this a historic place to rest for the night, but it's a great base camp to explore the Blackfeet Reservation and east side of Glacier National Park.
CLARK FARM SILOS
In Kalispell, stay in a renovated grain silo with panoramic views at Clark Farm Silos. Ideal for couples, each silo has a well-thought-out design with stylish and retro Montana vibes. You won't regret staying in this atypical accommodation where you can start the day sipping coffee inside a tin can and end the day fireside on the outdoor patio.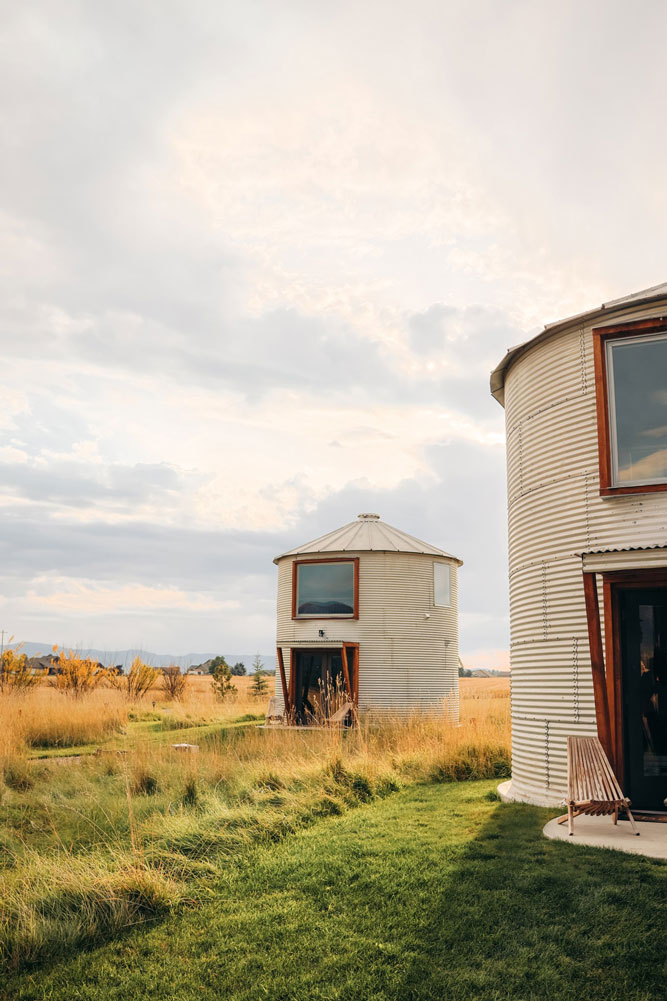 MONTANA TREEHOUSE RETREAT
Make a treehouse retreat your home base while exploring the Flathead Valley. Montana Treehouse Retreat is a one-of-a-kind treehouse experience with two different tree homes to choose from. The Raven's Nest Treehouse is an elevated, classic A-frame with two bedrooms and mountain modern decor, perfect for families. The Meadowlark Treehouse is a whimsical creation that's gained national attention for its fantastical design. Montana Treehouse Retreat is perfect for a romantic getaway.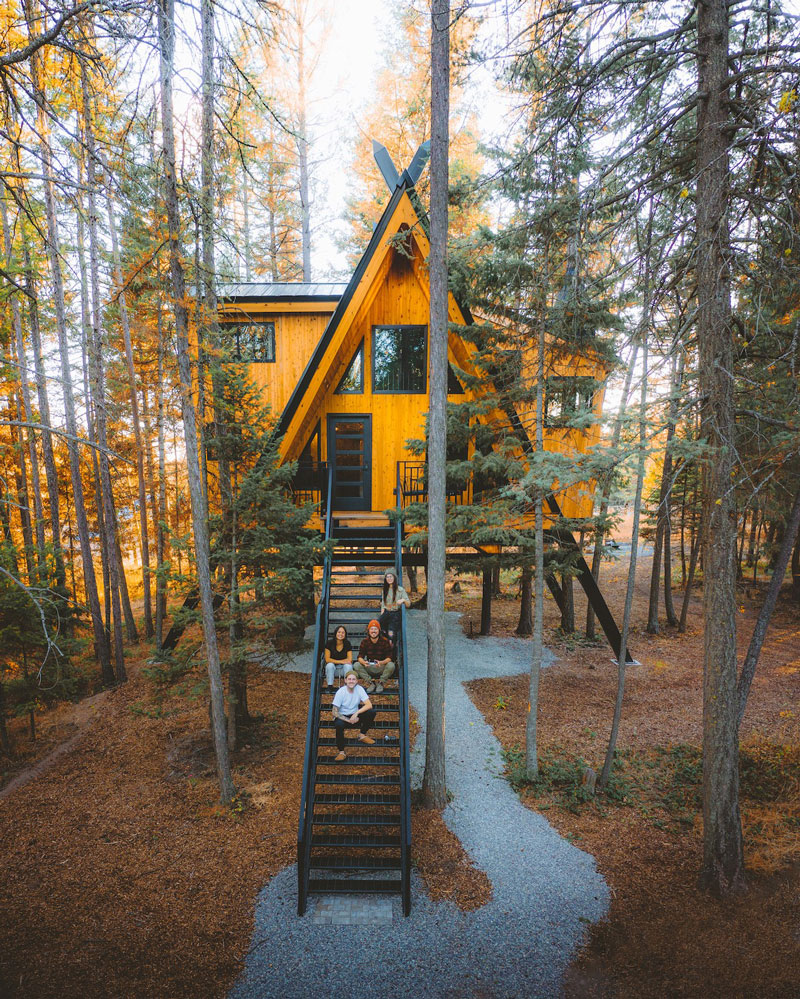 ROAM BEYOND
Nestled in the woods outside Columbia Falls, ROAM Beyond provides an adventurous twist on traditional accommodations with cabin-inspired tiny homes on wheels. Ideal for anyone looking to disconnect without giving up the comforts of a cozy bed, warm shower and indoor toilet—this glamping experience has been created in a sustainable way. The shared community space is great for mingling with like-minded individuals.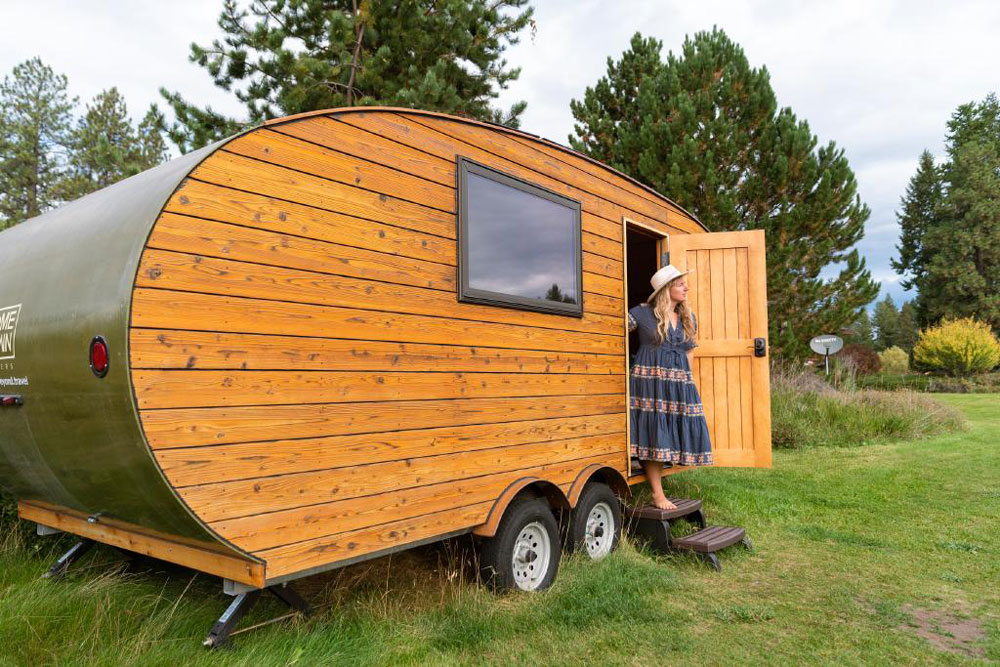 SLEEPING CHILD HOT SPRINGS
In Hamilton, gather your greatest friends or plan a family reunion at Sleeping Child Hot Springs. This 25,000 square foot lodge has 9 bedrooms, 17 bathrooms, 3 kitchens, a bar, game room, dance floor, a solarium ideal for stargazing and, most importantly, a private, natural hot spring pool.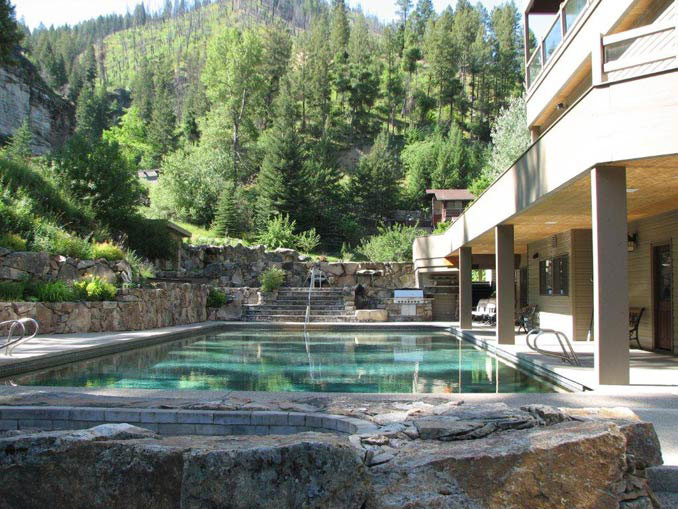 SNOW BEAR CHALETS
Sleep on the slopes of Whitefish Mountain Resort at Snow Bear Chalets. Offering a true ski-in/ski-out experience, the chalets are a terrific, year-round location for Whitefish Mountain Resort activities, or to explore the beautiful Flathead Valley and Glacier National Park. Luxury amenities include private hot tubs and elegant fireplaces, stunning architecture, outdoor decks with gorgeous treetop views and top-floor turret retreat rooms.
TOBACCO RIVER RANCH GLAMPING
If you're looking to connect by disconnecting, plan a weekend getaway at Tobacco River Ranch Glamping. In Eureka's Tobacco Valley, glamp out riverside in a renovated historic forest service cabin, vintage Airstream camper or A-frame cabin with a wall that lifts for indoor/outdoor living. Sitting on 450+ acres, you'll encounter wildlife and can partake in stargazing, birding, hiking, biking and tubing on-site and nearby.
THE SHIRE OF MONTANA
In Trout Creek, The Shire of Montana is a complete fantasy experience. Fashioned after the houses from "The Hobbit," the shire offers a one-of-a-kind lodging experience full of magic and imagination that transports you to Middle Earth. This adults-only shire is landscaped with numerous fairy houses and hobbit holes along short, winding paths. Inside, the fantasy continues with master craftmanship details, as well as on-theme props and decor.
UNDER CANVAS
In West Glacier, Under Canvas brings glamping back to its origins with upscale outdoor living in spacious canvas tents. The luxurious accommodations include West Elm furnishings, en suite bathrooms and wood-burning stoves. On-site is a casual dining restaurant, fire pit with nightly s'mores, and complimentary activities, like live music, morning yoga and kids activities.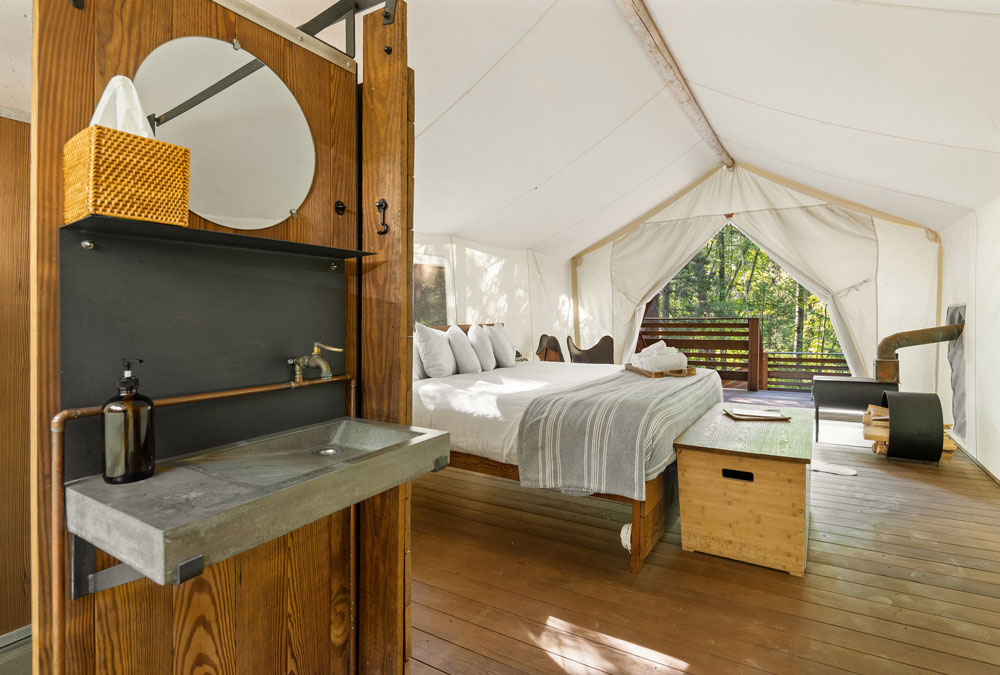 Please note: We ask that all our visitors and residents Recreate Responsibly by being mindful of the following: practice physical distancing; know before you go; plan ahead; play it safe; leave no trace; tread lightly; and help build an inclusive outdoors.
April 10, 2023
Related: About, American Indian, Blackfeet Nation, Columbia Falls, Eureka, Hamilton, Hot Springs, Indoor Fun, Kalispell, Montana, St. Mary, Stay, Trout Creek, Vacation, West Glacier, Whitefish