It's no secret that we're serious Griz fans here in Western Montana. The college-football community of Missoula boasts mountains of pride for the Division 1 Montana Grizzlies. Every football season Griz fans flock to the University of Montana's Washington-Grizzly Stadium to cheer on our beloved team.
Missoula's population jumps by more than 30 percent on these days! It's not just the game we love, but the energy and excitement of 24,000 feet stomping to "We Will Rock You" by Queen, the boom of a cannon fired at every touchdown, and the halftime shows by the Grizzly Marching Band, featuring songs from artists like The Beatles and Pentatonix.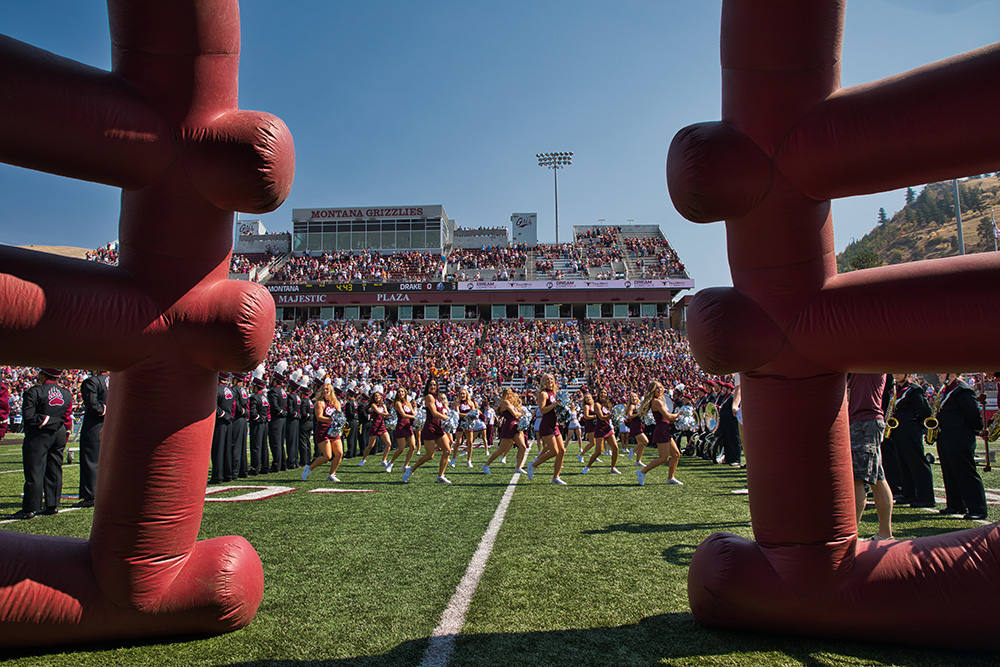 The game-time spirit is palpable and unwavering. Eager tailgaters set up as soon as possible and the grounds around the stadium are transformed into a celebration of food trucks, vendors and die-hard fans.
With three home games left this season, come immerse yourself in one of Western Montana's most prized events and explore the idyllic mountain town of Missoula—a Glacier Country arts, culture and recreation hot spot full of charm.
1. AUTHENTIC MONTANA LODGING + HOSPITALITY
Missoula boasts almost 70 hotels, motels and inns, from national chains to locally-owned establishments, and the warmest western hospitality around. Take note and plan ahead: Missoula hotels fill up fast for home games. If you don't score one in time don't fret—Missoula has plenty of VRBO and Airbnb rentals.
2. FOOD + DRINK FUN
We love to eat and drink, and we always want the best of both. From fine dining to cafés, and everything in between—including epic tailgate fare—there's literally something for everyone in this community of creative, sustainable and delicious local cuisine. With 10 breweries, three distilleries, two wineries and a new cidery in a town of 75,000 people, it's pretty obvious we're serious about crafting beverages. We're not lacking for good coffee shops here, either. Seasonal flavors abound this time of year, so it's an excellent opportunity to savor a taste of Montana.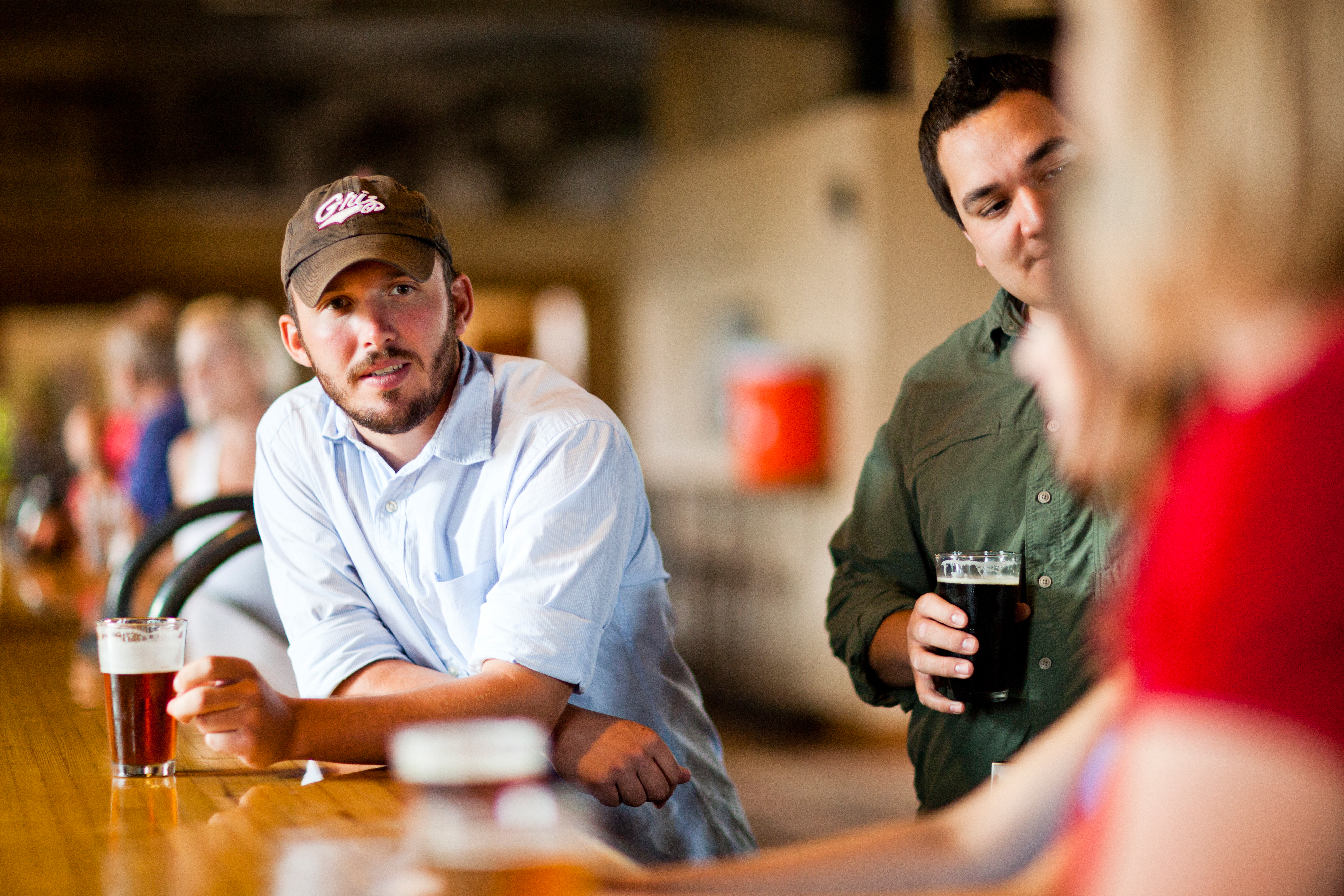 3. ENDLESS THINGS TO DO IN MISSOULA
This is one Montana town that bustles year-round. Pack adventure onto either side of the Griz Game festivities. Missoula has a fast-growing renowned live music scene, museums, art galleries and unique shopping options, plus three rivers and an endless system of wilderness trails, so there's plenty of outdoor recreation to be found here as well.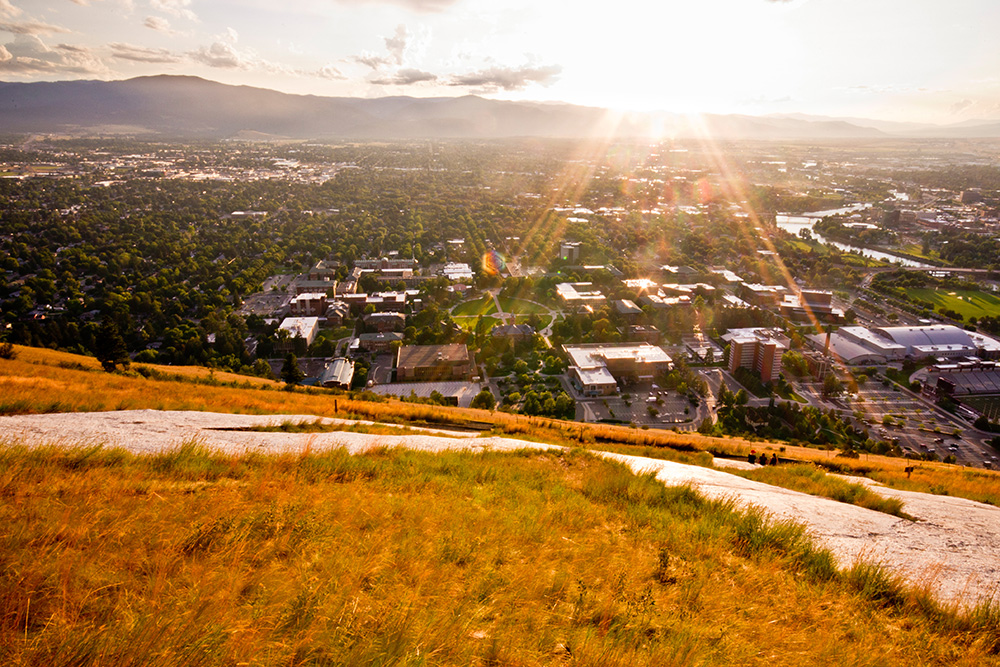 4. LOCAL EVENTS LIVEN UP TOWN YEAR-ROUND
Here's what Missoula's got on tap during the next three Grizzly home games.
OCTOBER 6 – GRIZ vs. PORTLAND STATE VIKINGS
It's Grizzly Homecoming Weekend!
Land on Friday and catch a Montana Film Festival show at the Roxy, then stop by Montgomery Distilling for a tour and tasting before taking part in First Friday Gallery Night (don't miss the Radius Gallery). While downtown, grab dinner at any one of downtown Missoula's eateries—you can't go wrong.
Saturday, wake up and head downtown for the Homecoming Parade, featuring music performances, dancers, the Shriners, and more. Then it's game time. After the game, follow the crowd to a local pub for post-game festivities.
Sunday, grab brunch at Draught Works Brewery and then head to Turner Farms Annual Pumpkin Fest for harvest fun. End the weekend at The Top Hat for a unique five-course Cider Dinner in partnership with Western Cider.
OCTOBER 27 – GRIZ vs. UC DAVIS AGGIES
Join in on the pre-Halloween fun that's sure to take over Missoula this weekend.
Friday night enjoy the casual atmosphere and contemporary Asian cuisine at the Mustard Seed Asian Café or try Missoula's new dine-in movie theater.
Saturday morning grab coffee and freshly-baked pastries at the Missoula Farmers Market (voted best of the West),  and the Clark Fork Market. Hike to the M and then head to the game early for some tailgating—hit the GAS Tailgate Party to purchase food and drinks, watch the pregame show, and listen to live music (or a DJ). After the game, make your way to the county fairgrounds for Missoula's Haunted House.
On Sunday, grab Biers + Brunch at Bayern Brewing and then head to the University of Montana for costumed revelry at the Skeleton Skedaddle 5k & 1k races.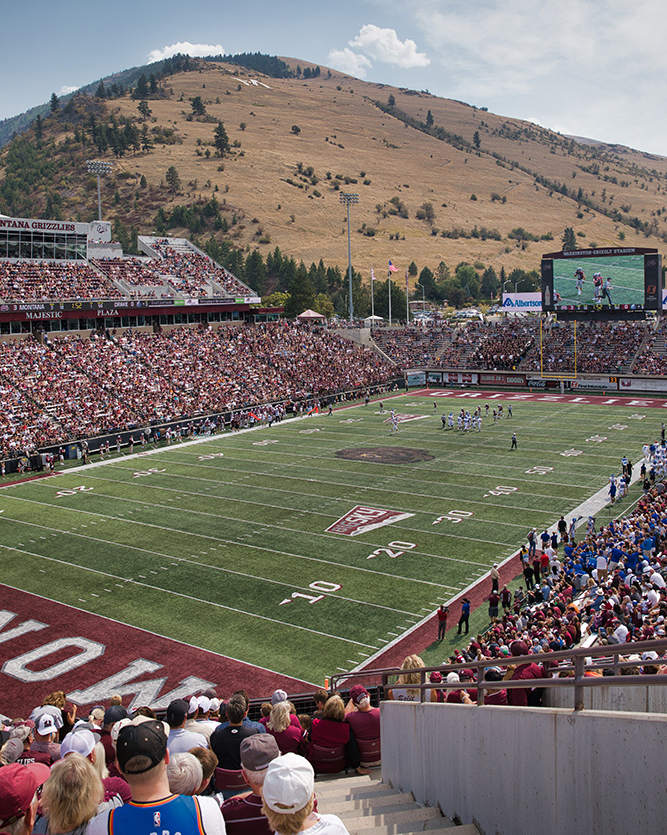 NOVEMBER 17 – GRIZ vs. MONTANA STATE BOBCATS  
You've got two concert options for Friday night in Missoula: The Devil Makes Three takes the stage at 8 p.m. at the historic Wilma theater, and Jeffrey Foucault plays the Top Hat at 9 p.m.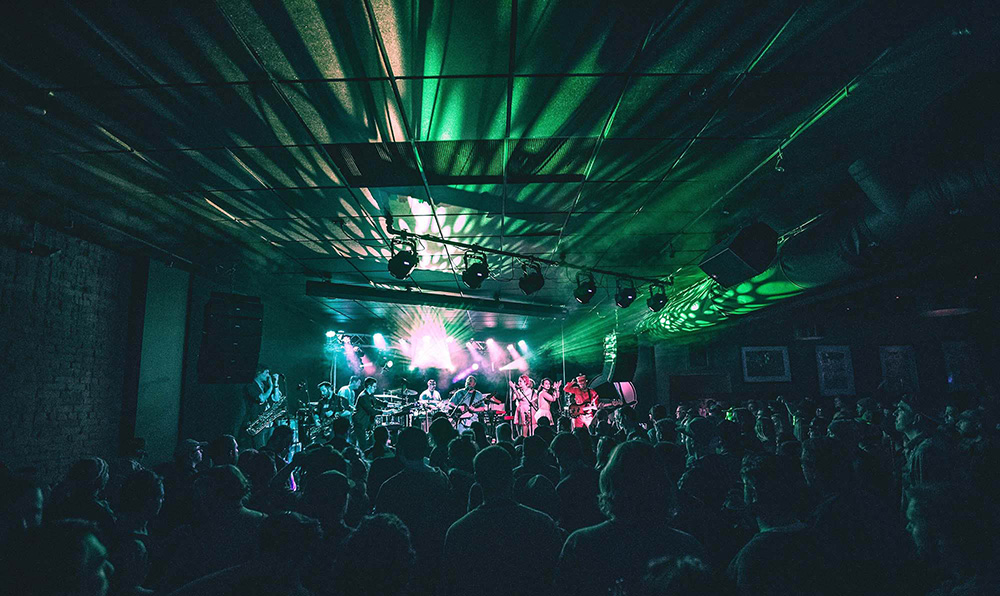 Saturday before the game, stroll the Missoula Valley Winter Market—a local farmers market—for coffee, fresh baked goods, home-grown produce, and local arts and crafts (perfect for Montana souvenirs). Then, walk along the river trail to the game.
Sunday, grab breakfast at The Catalyst Café & Espresso Bar and then hit the streets for some early holiday shopping in Missoula's downtown galleries and shops. Start at the north end of Higgins Avenue and make your way across the bridge (over Caras Park and the scenic Clark Fork River) to Missoula's Hip Strip. Grab a sweet treat from Bernice's Bakery or Le Petit Outre.
5. MISSOULA IS SURROUNDED BY DAY-TRIP-WORTHY ATTRACTIONS
From Missoula you could venture out in any direction and find an authentic Montana adventure. Epic day trips are a dime a dozen here.
Take a scenic drive down the Bitterroot Valley exploring several charming towns along the way. A short way from Stevensville is the Lee Metcalf National Wildlife Refuge, home to various types of wildlife. If you visit in October, you are likely to see large flocks of Canadian Geese resting from migration on the ponds.
Or, start early and drive north through the stunning Mission Valley and stop near Moiese at the Bison Range where you can witness 350 – 500 head of bison; if you're visiting during the fall rut you may even hear the bugle of a bull elk.
6. INSIDER TIPS + TRICKS TO MAKE THE ADVENTURE EVEN BETTER
Pre-Game Like a Griz Fan: When it comes to tailgating, a Griz fan's game is strong. Get in on the action and mingle with the locals before the game.
Ask a Local: We're known for being some of the friendliest folks around, so if you're looking for the inside scoop on where to eat, drink, or play, just ask us.
7. GETTING TO AND AROUND MISSOULA IS EASY
Flying into the Missoula International Airport (MSO) is pretty convenient, serviced by multiple major airlines with direct flights regularly arriving from 11 cities across the U.S. Once you land, car rentals are easy. Or, leave the driving to someone else and call Uber or Lyft, both of which are available in Missoula.
Pro-Tip: Park your car downtown and walk the Kim Williams Trail along the Clark Fork River directly to the University of Montana.
October 1, 2018
Related: Arts and Culture, Bison Range, Bitterroot Valley, Direct Flights, Events, Fall Fun, Family Fun, Farmers Market, Food, Getting Around, Missoula, Moiese, Montana, Outdoor Fun, Road Trips, Stay, Stevensville, Vacation, Wildlife