Western Montana's winter wonderland is waiting to be explored. Nordic skiing is a quiet, magical and intimate way to get backcountry and tour the terrain. Glacier Country has superb cross-country skiing throughout the region, from exploring the magnificent solitude of Glacier National Park to discovering a hidden ghost town. Here, we've rounded up six of our favorite unique areas to Nordic ski.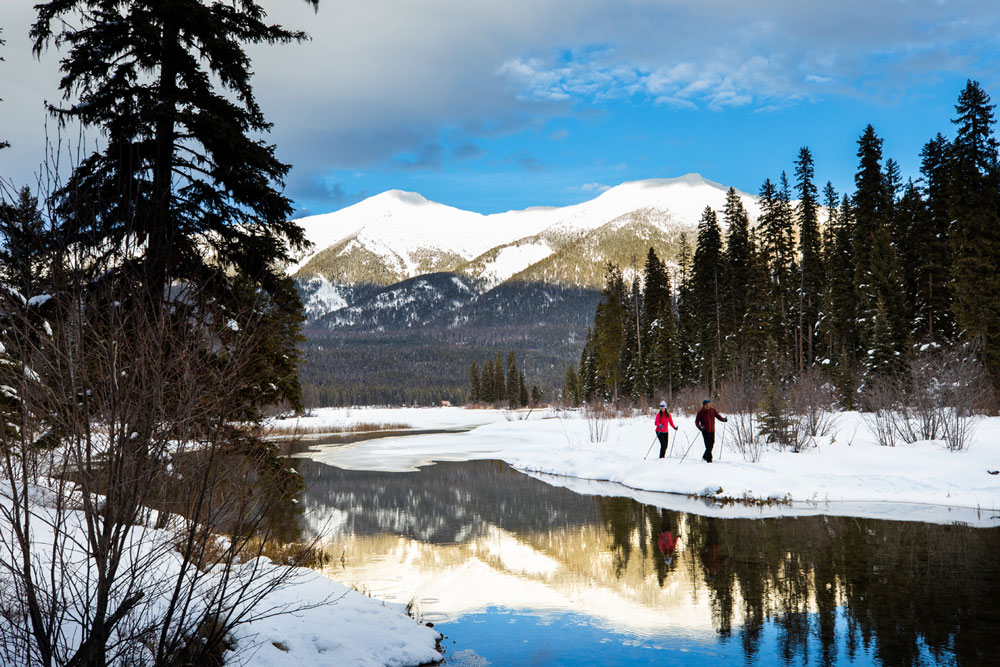 LOLO PASS
Lolo Pass, along the Montana-Idaho border, is a winter recreation hot spot for many adventurers. Snowmobilers, backcountry skiers and Nordic skiers come to find some of the most reliable snowfall in the region. Take to your skis and glide through the Lolo National Forest trails groomed for classic and skate skiing. When you're done, take a break in the warming hut or stop in at Lolo Pass Visitors Center. Along the trail you'll pass the historic Glade Creek area where Lewis and Clark camped.
Length: 13 km
LUBRECHT EXPERIMENTAL FOREST
In the Greenough area, a short distance from Missoula, the Lubrecht Experimental Forest serves as an "outdoor classroom" for research students from the University of Montana. This series of mostly loop trails winds through pristine meadows and forested terrain. Trails are groomed weekly as snow permits and the inner loops are beginner friendly.
Length: 20 km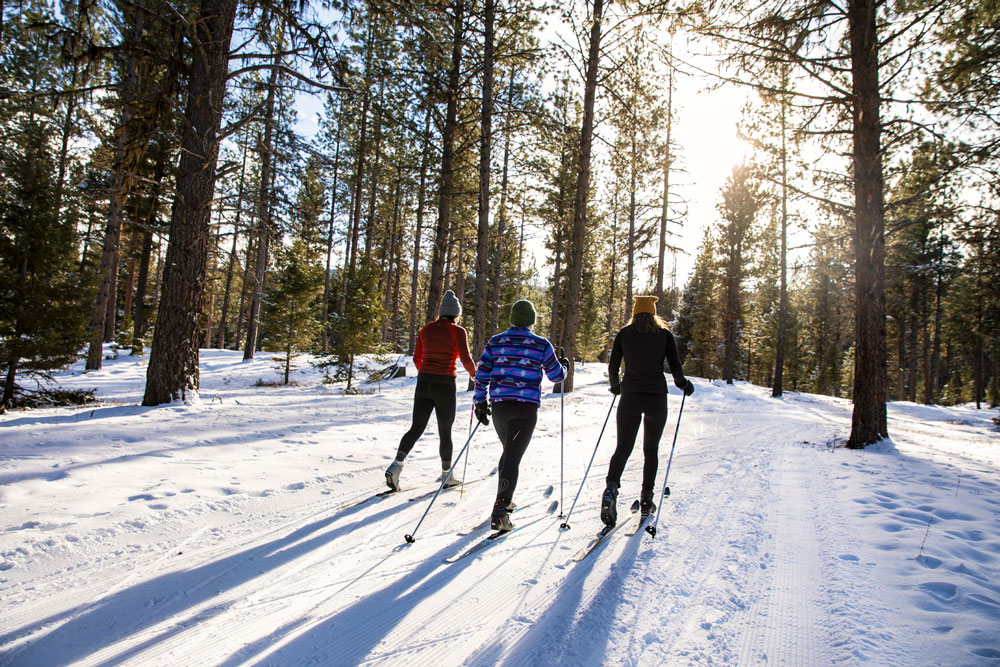 GARNET SKI TRAILS
Just south of Greenough is Garnet Ghost Town. Only accessible in winter by snowmobile, snowshoes or skis, it's one of the most surreal times to visit this once-thriving mining town. This vast trail system includes the 51 km Garnet National Winter Recreation Trails through the peaceful Garnet Mountain range. Some of the trails are groomed frequently, while others are not. You can obtain a trail map from the BLM, Missoula Field Office.
Length: 186+ km
SEELEY LAKE NORDIC TRAILS
In the stunning Seeley Swan Valley, the Seeley Creek Nordic Trails were redesigned in 1990 through a partnership with USFS and Olympian Jon Elliott. The trail system offers classic and skate ski trails for all skill levels. One of the best-kept secrets in the region, the area gets reliable snow, the trails are groomed frequently, and each trail was designed to be a loop offering 3 km, 5 km, 7 km, and 10 km distances. Also, there's a warming hut near the parking lot.
Length: 18 km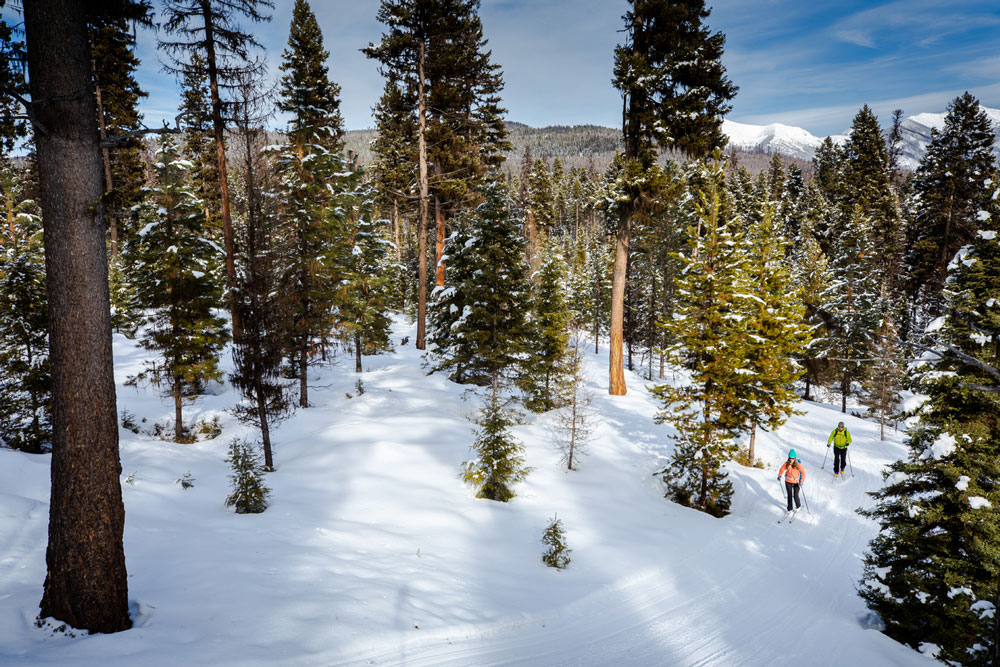 GLACIER NATIONAL PARK
During winter of 2022-2023 the west side of the Going-to-the-Sun Road is closed (beginning at Apgar) to recreation through May 15, 2023, due to construction. You can still find jaw-dropping views and excellent recreation on the west side of Lake McDonald and in the Camas Road area. The east side of the Going-to-the-Sun Road offers a sight to behold and is a favorite for ski and snowshoe access. Plus, there are many additional places to get out and Nordic ski the wild and wonderful areas of Glacier National Park besides the Going-to-the-Sun Road.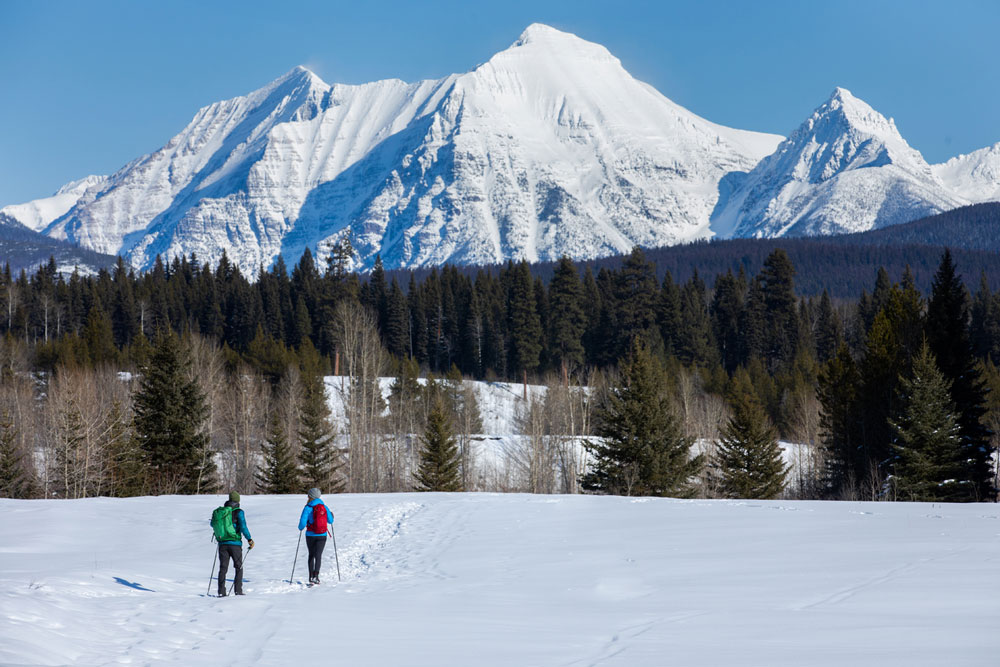 Polebridge Area
There are multiple trails that begin at the Polebridge Ranger Station serving up unparalleled views of Glacier National Park, the North Fork of the Flathead River, and Bowman Lake. Access to the area is via county road 486, running north from Columbia Falls, which is infrequently plowed. Please plan ahead and check road conditions before you depart. Park on the east side of the North Fork Bridge at Polebridge Ranger Station.
Length: Big Prairie: 6.4 km round trip; Bowman Lake: 19.3 km round trip; Covey Meadow: 4.8 km loop trail; Lone Pine Prairie: 9.6 km round trip
Two Medicine Valley
Two Medicine Road provides easy access to jaw-dropping Nordic ski trails around Glacier National Park. Start skiing at the end of the plowed road (6.4 km north of East Glacier Park) near the junction of U.S. Highway 49 and Two Medicine Road. Choose between visiting Two Medicine Lake, Running Eagle Falls or the park's boundary.
Length: Glacier National Park boundary: 9.6 km round trip; Running Eagle Falls: 16 km round trip; and Two Medicine Lake: a strenuous and hilly 25.7 km round trip.
BE RESPECTFUL AND WILDLIFE WISE, AND RECREATE RESPONSIBLY
General trail etiquette and rules on Nordic ski trails include the following: Move off the trail whenever you stop; know the trail map and direction, then go the right direction moving with the flow of traffic; give the right-of-way to people traveling downhill—they are likely moving fast and its harder for them to stop; fix your divot if you fall; know the rules regarding dogs on the trail; and, of course, please recreate in the way the trails are designed for—in the winter months on groomed trails do not hike, snowshoe, fat bike or snowmobile on Nordic ski trails.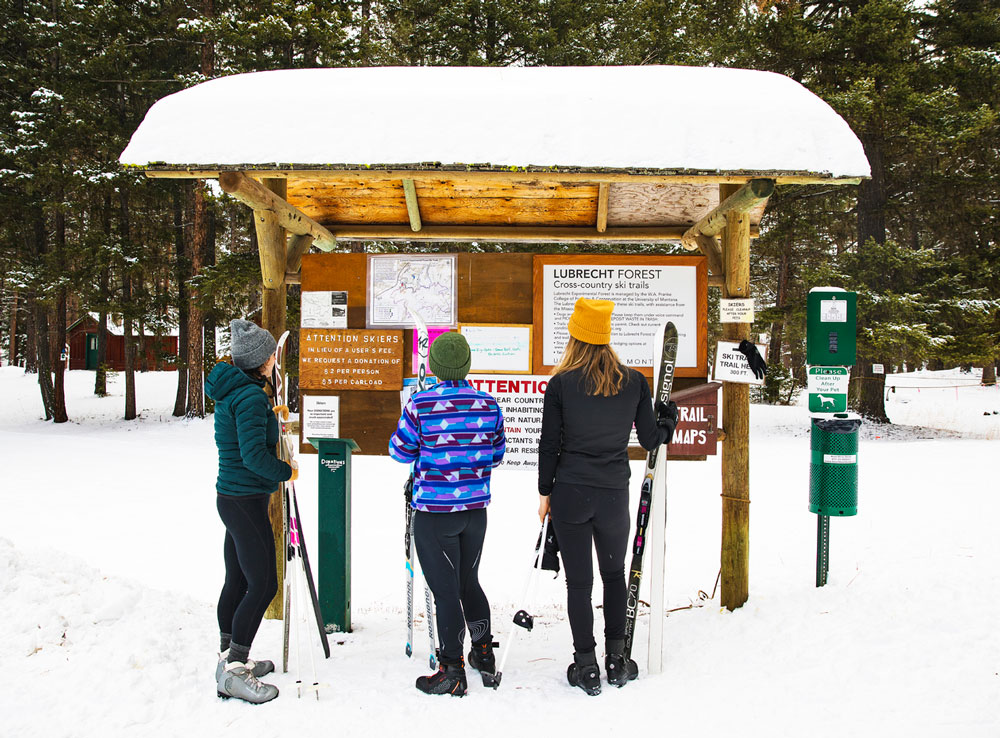 Winter can be an ideal time to sight wildlife, but, while spotting a moose, elk or fox may be on your bucket list, remember to stay at least 25 yards from all wildlife. Never approach, touch or feed wildlife, even when an animal does not seem to be threatened by your presence.
Avalanche safety should always be top of mind when you're headed into the snow. Carry avalanche safety gear, know the red flags of an unstable snowpack, check the avalanche forecast and get educated in avalanche safety. Learn more about responsible winter recreation here.
Please note: We ask that all our visitors and residents Recreate Responsibly by being mindful of the following: practice physical distancing; know before you go; plan ahead; play it safe; leave no trace; tread lightly; and help build an inclusive outdoors.
January 30, 2023
Related: Garnet Ghost Town, Glacier National Park, Greenough, Lolo, Montana, Outdoor Fun, Seeley Lake, Seeley-Swan Corridor, Vacation, Winter Fun