Winter is a magical time in Glacier National Park. There's almost more wildlife than visitors, and the snowy landscape in unbelievable. But this year, due to a staffing shortage, previously offered amenities in the park may not be available. If you plan to visit, it's important that you know before you go, so you can plan accordingly.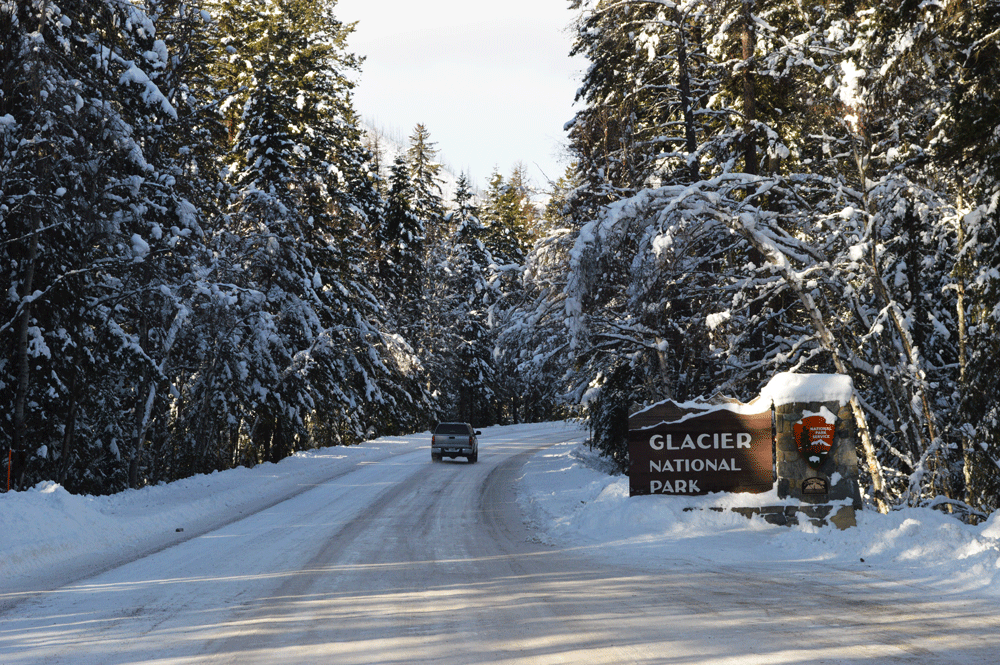 Access to the Park
Snow falls early and often in Glacier National Park, causing some of the park's roads to close. The Going-to-the-Sun Road from West Glacier to Lake McDonald Lodge will be plowed and open, weather permitting. While the Apgar Visitor Center is closed, the restrooms are available and drinking water can be found here. Be aware that cell service is limited or nonexistent in the park.
Lodging + Camping
As lodging in the park is closed during the winter months, you'll want to look beyond the park to Glacier Country's charming small towns that make up the Glacier National Park Surrounding Area. If stargazing is on your itinerary, and you're an experienced winter camper, Loop "B" of the Apgar Campground is available for primitive camping. Note: The campground has a vault toilet, no running water, and availability is first-come, first-served. A permit is required for backcountry camping.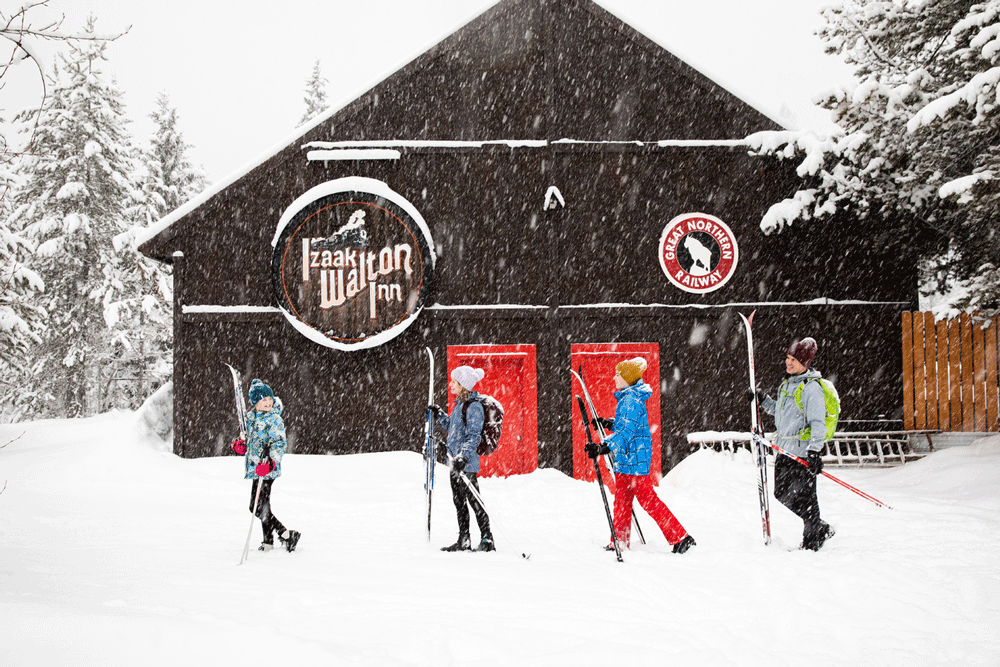 Recreating in the Park
Check the weather before you go and prepare for snow, and dress for rapidly changing conditions. Plan to be self-sufficient and bring any gear, food and necessities for your activity.
Nordic skiing and snowshoeing are popular winter activities in Glacier National Park, specifically with the draw of trekking the unplowed section of the Going-to-the-Sun Road. Here's the NPS map of additional popular trails throughout the park.
Avalanche safety should always be top of mind when you're headed into the deep stuff. Carry avalanche safety gear, know the red flags of an unstable snowpack, check the avalanche forecast, and get educated in avalanche safety.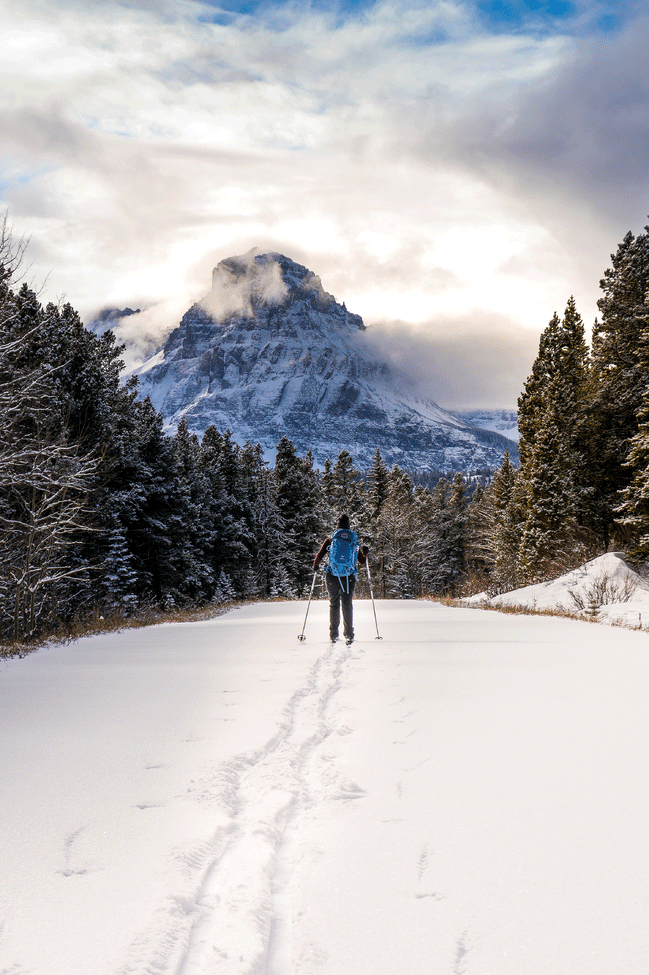 Guided Options
Previously offered ranger-led snowshoe tours will not be offered due to staffing and public safety concerns in winter 2021 – 2022. Whitefish Outfitters & Tours offers a variety of guided experiences in and around the park, including a scenic drive to Lake McDonald Lodge, plus Nordic skiing and snowshoe tours.
Be Wildlife Wise
When the park is quieter, the likelihood of spotting wildlife increases. While spotting a moose, elk or fox may be on your bucket list, remember to stay at least 25 yards from all wildlife. Never approach, touch or feed wildlife, even when an animal does not seem to be threatened by your presence.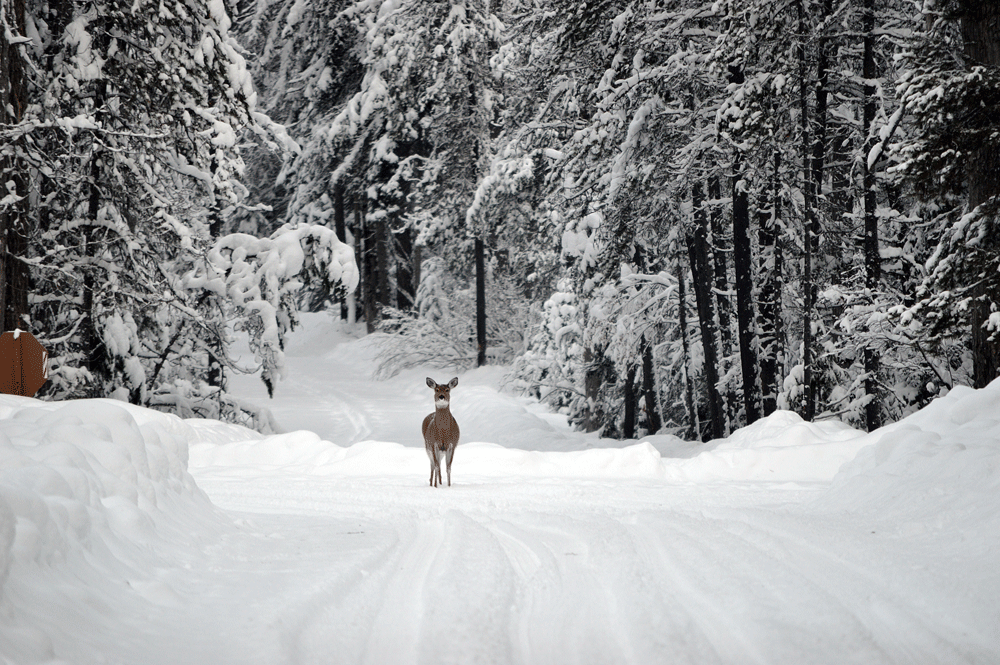 Please note: We ask that all our visitors and residents Recreate Responsibly by being mindful of the following: practice physical distancing; know before you go; plan ahead; play it safe; leave no trace; tread lightly, and build an inclusive outdoors. Travel responsibly by reviewing Western Montana COVID-19 information and guidelines at SafetyFirstMT.com.
November 15, 2021
Related: About, Glacier National Park, Montana, Nordic Skiing, Outdoor Fun, Recreate Responsibly, Snowshoeing, Vacation, West Glacier, Winter Fun