Western Montana is a sledder's paradise. Powering through winter here is easy, with miles of steep climbs and flat trails, and acres of backcountry playgrounds, as well as logging and seasonal forest service roads. A handy way to recreate responsibly is with the onX Offroad app. The Offroad app provides real-time GPS positioning even in areas without cell service, plus everything you need to know—from landowner details, to trail open dates, to weather and avalanche forecasts. Glacier Country Tourism has partnered with onX Offroad to provide visitors with a one-month free trial of the snowmobile mapping app to use during your visit, or buy it for 20% off.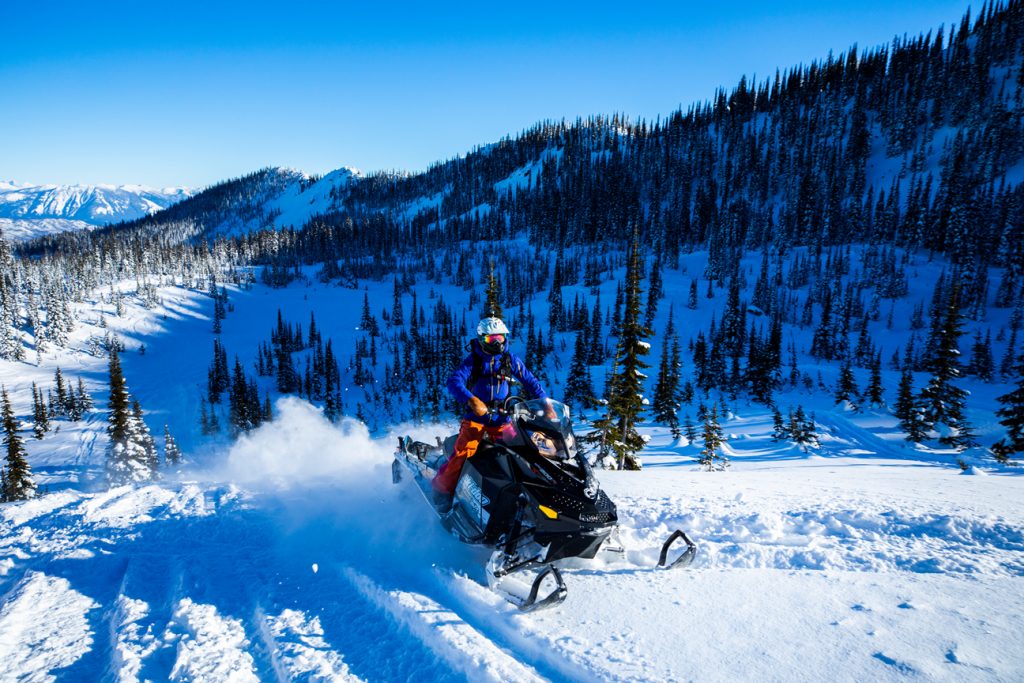 Top 8 Snowmobiling Trail Systems in Western Montana
Cut Bank
Test your mettle at northwest Montana's Marias Pass Trail Complex. Straddling the Continental Divide, these trails are rugged and remote. A wide range of riding is available, from intermediate to expert, on 45 miles of groomed trails and another 35 miles of ungroomed trails. Guides are advisable on some trails. Popular trails originating at Marias Pass are Two Medicine, Skyland and Pike Creek. Take note: Steep slopes and sudden storms make for extreme weather conditions.
Flathead Valley
The Flathead Valley boasts over 200 miles of groomed snowmobile trails, with nearly 2,000 miles of Forest Service roads that take you into great hill climbing, powder play areas, wildlife viewing and spectacular views of Glacier National Park and the Canadian Rockies.
Use the onX Offroad app to discover Flathead Valley snowmobile trails, plan and track your trip, and get home safely. Offroad gives you real-time GPS positioning, avalanche forecasts, and everything you need to know about the land/terrain in that area.
Haugan
Haugan combines vast riding possibilities with a family atmosphere. Trails begin right off Interstate Highway 90. You'll find trailside stops in Haugan, De Borgia and Saltese, with designated trails, open meadows and scenic views. Popular groomed trails include Ford Hill/Old Mullan Pass, Packer Creek/Randolph Creek, Milwaukee/Dominion, Big Creek, Deer Creek/Up Up Lookout and Taft Summit. These are easy to intermediate trails that follow travel routes and provide loop tours.
Kootenai Country
Several groomed trails are available throughout Northwest Montana around Troy, Eureka and Libby. Of special note is the rugged Keeler-Rattle Trail System, giving views of the Cabinet Mountains Wilderness and the proposed Scotchman Peaks Wilderness; the 60 miles of loop trails in the Purcell Mountains; and the Pete Creek Trail traveling into mountain bowls and alpine lakes. The Grave Creek/Ten Lakes Trail begins at the Birch Creek Recreation Site parking facility and leads into the northeast corner of Kootenai Country.
Lolo Pass
Beginning at either Lolo Hot Springs or Lolo Pass, snowmobilers can power through 250 miles of groomed, connecting trails in the Lolo and Clearwater national forests. A parking pass is required at Lolo Pass, which can be purchased on site or at The Trailhead in Missoula. A series of interconnecting loop trails straddle two national forests on the Montana-Idaho border. East Fork, Lost Park System, Elk Meadows and Moose Ridge are just some of the trails that lead deep into the heart of the Bitterroot Range, with lots of meadows and play areas along the way.
Mission Mountains
Snowmobile in one of Montana's most scenic ranges—the Mission Mountains. The Boulder Trails start just off State Highway 35 near Finley Point on Flathead Lake. The first 10 miles are groomed to the top of the range, where the trail connects with nearly 60 miles of ungroomed trails through forest openings. The ungroomed Jocko Lake Trail provides a 35-mile ride over the Missions that connects with groomed trails on the Seeley Lake side. Take note: Snowmobilers need a Tribal Conservation Permit to recreate in this area. You must purchase an initial permit in person. Subsequent permits may be purchased online.
Seeley Lake
One of Western Montana's most popular recreation areas and a prime snowmobiling destination, Seeley Lake offers 350 miles of groomed trails. Starting from town, snowmobilers can fan out in nearly every direction to scenic lookouts, cozy lodges, cafes and backcountry lakes for ice fishing. Popular trails include Double Arrow Lookout (with views of the Swan Range and Clearwater Valley), Elsina Lake, Seeley Lake-Ovando, and Marshall Lake (a scenic 15-mile loop).
Plan your Seeley Lake snowmobile trip with the help of the onX Offroad app. Offroad provides real-time GPS positioning so you can track your location even when there's no cell service. Plus you'll get vital information about the area, including land ownership and weather and avalanche forecasts.
Hamilton/Skalkaho
One of Montana's least-traveled snowmobile areas is one of the most scenic. Closed to automobile traffic in winter, the Skalkaho Highway from Hamilton to Georgetown Lake allows views of frozen Skalkaho Falls, tall peaks and deep canyons. Skalkaho Pass Area offers 26 miles of groomed trails. From there, open areas and ungroomed trails offer a wide variety of terrain for all skill levels. The Skalkaho-Sleeping Child-Rye Creek Area has 32 miles of groomed trails, looping through higher elevations, through a burned area and back to the head of Rye Creek. The loop can also be entered from Rye Creek, south of Darby.
Planning Tips
Plan your trip wisely according to snowpack.
Navigate by saving offline maps on the onX Offroad app.
Plan your access point in advance and have a backup plan if it's too busy.
Book accommodations in advance.
Secure permits in advance.
Let someone know where you're headed and text your location coordinates/waypoints.
Map out non-ethanol gas stations ahead of time.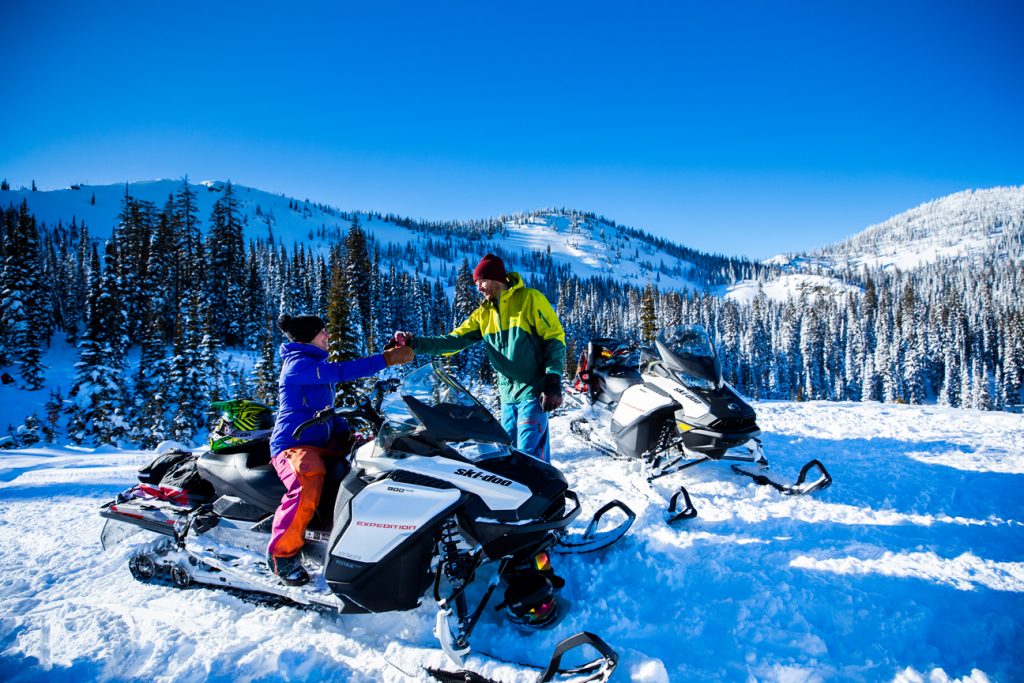 Snowmobiling Permits
A nonresident snowmobiler who plans to ride their snowmobile in Montana must purchase a nonresident temporary snowmobile use permit. Permits are available from Montana Fish, Wildlife & Parks (FWP), some snowmobile equipment retail businesses, hotels and motels and other business serving snowmobilers. For more information, visit FWP.
Snowmobile Rentals and Tour Operators
If you are not traveling with your own machine, you can rent a snowmobile in Glacier Country or leave everything to the experts and book a guided snowmobile tour. We recommend Action Rentals in Whitefish, Northwest Montana Adventures/Winter Wonderland Sports in Olney, and Seeley Adventures in Seeley Lake.
Expand Your Trip Beyond Glacier Country
Sled the best of the West on a glacier to geysers snowmobile tour. Find more information about the 4,000 miles of snowmobile trails between Glacier and Yellowstone national parks and order a free map here.
Additional References
For more helpful information from onX, read Snowmobiling for Beginners and What to Pack and Where to Go.
Please note: We ask that all our visitors and residents Recreate Responsibly by being mindful of the following: know before you go; plan ahead; play it safe; leave no trace; tread lightly; and help build an inclusive outdoors.
February 6, 2023
Related: Bitterroot Valley, Cut Bank, Eureka, Flathead Corridor, Hamilton, Haugan, Libby, Lolo, Montana, Northwest Corridor, Olney, Outdoor Fun, Recreate Responsibly, Seeley Lake, Seeley-Swan Corridor, Snowmobiling, Troy, Vacation, Whitefish, Winter Fun