Getting off the beaten path in Western Montana's Glacier Country sometimes literally means getting off the road and onto trails made for all-terrain vehicles (ATVs) and other (off-highway vehicles) OHVs, like four-wheelers and utility terrain vehicles (UTVs) like side-by-sides. An off-road adventure is also a wildly fun way to experience Montana's incredible backcountry and high country. Here's how and where to do it.
Tread Lightly
Be a responsible rider for your own safety as well as the safety of those around you, and also to protect the landscape. Get educated on off-roading Recreate Responsibly and safety practices.
Travel only in areas open to OHVs.
Drive over, not around, obstacles to avoid widening the trail.
Don't mix riding with alcohol or drugs.
Buddy up with two or three drivers. Driving solo can leave you vulnerable if you have an accident or breakdown. Designate meeting areas in case of separation.
Respect the rights of others, including private property owners, recreational trail users, campers and others so they can enjoy their recreational activities undisturbed.
Avoid sensitive areas such as meadows, lakeshores, wetlands and streams. Stay on designated routes.
Do your part by modeling appropriate behavior, leaving the area better than you found it, properly disposing of waste, minimizing the use of fire, avoiding the spread of invasive species and restoring degraded areas.
Learn more about important Tread Lightly principles here.
Know Before You Go
To ride your OHV on public land or trails in Montana, it must be registered in your home state. A decal for off-road use must be displayed in a conspicuous location on your OHV. Nonresidents using their OHVs in Montana must purchase an annual Nonresident Temporary Use Permit. For information on OHV registration and trail passes, for residents and nonresidents, visit Montana Fish, Wildlife & Parks. For information on road designations, conditions and closures, and off-roading laws, visit Montana State Parks.
OHV Rentals
You can rent off-road vehicles at various outfitters throughout the region, and some outfitters also offer guided rides. Always make sure you wear protective gear, including a helmet, while off-roading, which you should be able to rent with your vehicle—but call ahead to make sure. Also note that rental shops are great sources of information. You can ask them all about terrain and trails, including which are best for your experience level. Note that most rentals come with digital GPS trail maps that allow people to enjoy the ride and not worry about getting lost.
If you're renting an OHV from a local outfitter or rental company, here are a few we recommend: Action Rentals, Flathead Off-Road Rentals and Seeley Adventures.
Garnet Backcountry Byway
Open: Year-round (weather dependent)
Northeast of Missoula near Greenough, the Garnet Backcountry Byway provides a 12-mile ride through the Garnet Mountains. Enjoy outstanding views of the Blackfoot River Valley, the Swan Range, the Mission Mountains and the Bob Marshall Wilderness, and visit Garnet Ghost Town—one of the best preserved ghost towns in Montana.
Garnet Range Road is accessible from Highway 200 about 30 miles east of Missoula. The route ends at its junction with another BLM service road at Elk Creek. The Garnet Range Road is closed from January 1 through March 31 except for all forms of over-snow transportation. Driving time usually takes 45 minutes.
Seeley Lake Area Trails
Open: Year-round (weather dependent)
Ride east from Seeley Lake in the Lolo National Forest on Cottonwood Lakes Road and Rice Ridge Road all the way to Frenchtown. Both winding Forest Service roads offering exceptional views of one of the region's most beautiful destinations.
Both roads are accessible from State Highway 83.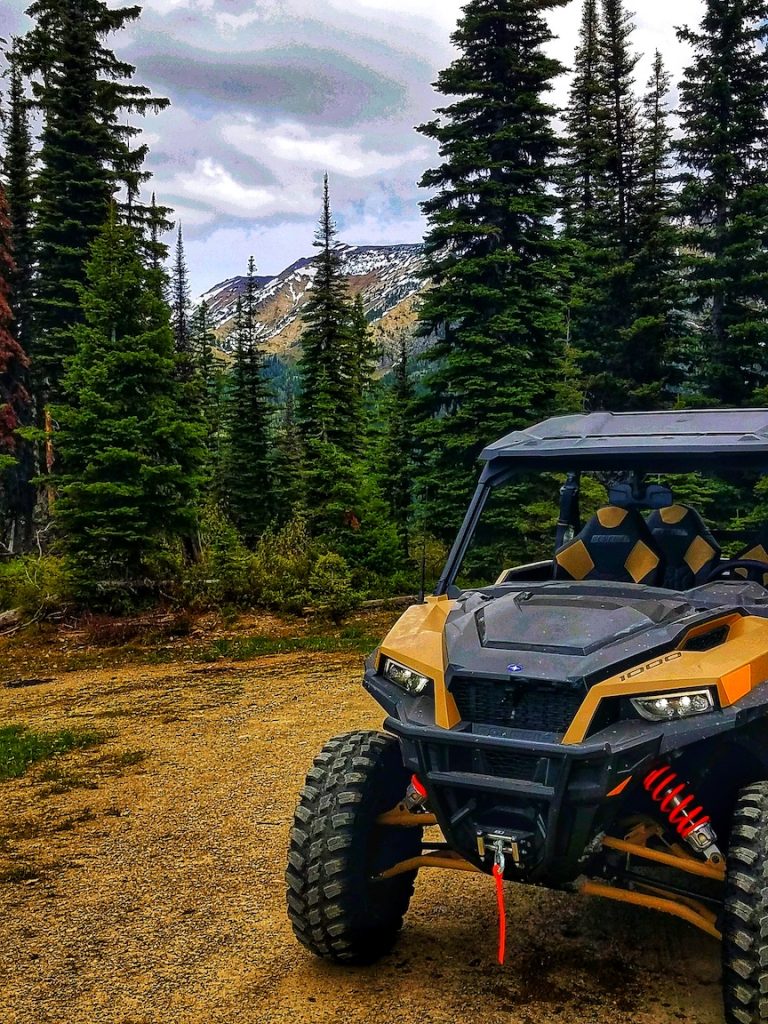 Blacktail Wild Bill OHV Trail
Open: Year-round (weather dependent)
Choose-your-own adventure: This 10-mile trail near Lakeside offers bypasses on all of its challenging features, so take your pick of obstacles. Enjoy scenic vistas of Flathead Lake and the surrounding mountains. There are three trailheads to access the Blacktail OHV system.
Trail #917: From U.S. Highway 93 near Lakeside, turn west onto Blacktail Road (after turning, turn left immediately, before the hardware store). Continue up Blacktail Road, which turns into Forest Service Road #917 for about 12 miles. The trailhead is on the left.
Trail #918: This trail can be accessed from the north off of Highway 2 or from Lakeside.
Trail #919: From State Highway 2, turn onto Kila Road for about 1.8 miles; going through Kila, turn left onto Smith Lake Road (2/10mile), turn right onto Browns Meadow Road (1 mile), turn left onto Truman Creek Road (2.3 miles), turn right onto Wild Bill Road after the pavement ends, continue up this road about 2.7 miles, and turn left down a seemingly private driveway for 1/10 of a mile. The trailhead is on the right. There is wooden three-rail fencing on the left side of the drive. If you pass a road on the left (#9662) with an open field on the right, you've gone just a little too far.
Ashley Lake ATV Trail #812
Open: June – October
This local favorite west of Kalispell is popular in the summertime, but if you're looking for a quieter ride, venture over in the late spring or early fall before big-game hunting season begins. The trail—just north of Ashley Lake—offers 7 miles of scenic ATV terrain, and the lake itself provides off-trail recreation like swimming, fishing and camping.
From Kalispell, take U.S. Highway 2 west for 4 miles, turn onto Ashley Lake Road (Forest Service Road #912) for 15 miles, then turn onto Forest Service Road #10236 for about 4 miles. The trailhead is marked with signs.
Koocanusa Sand Dunes and Trail System
Open: Year-round (weather dependent)
Mix things up in the dunes and play pits of this large, open area at the northeast corner of the Koocanusa Reservoir, best accessed late March through late June when the water levels are low. You'll also find 20 miles of trails that lead into the woods surrounding the reservoir. This area is actually the original site of the city of Rexford. Please note, there are American Indian burial grounds in the area. They are well marked and closed to riding—please be respectful.
From Eureka, take U.S. Highway 93 north for 5 miles to State Route 37. Take a left on MT-37 for 2.2 miles, then veer right onto Douglas Hill Road for half a mile, turn right onto Sophie Lake Road for 1 mile, veer left onto Iowa Flats Road for .1 miles, and then turn right onto Sophie Lake Road for 3.5 miles toward the lake.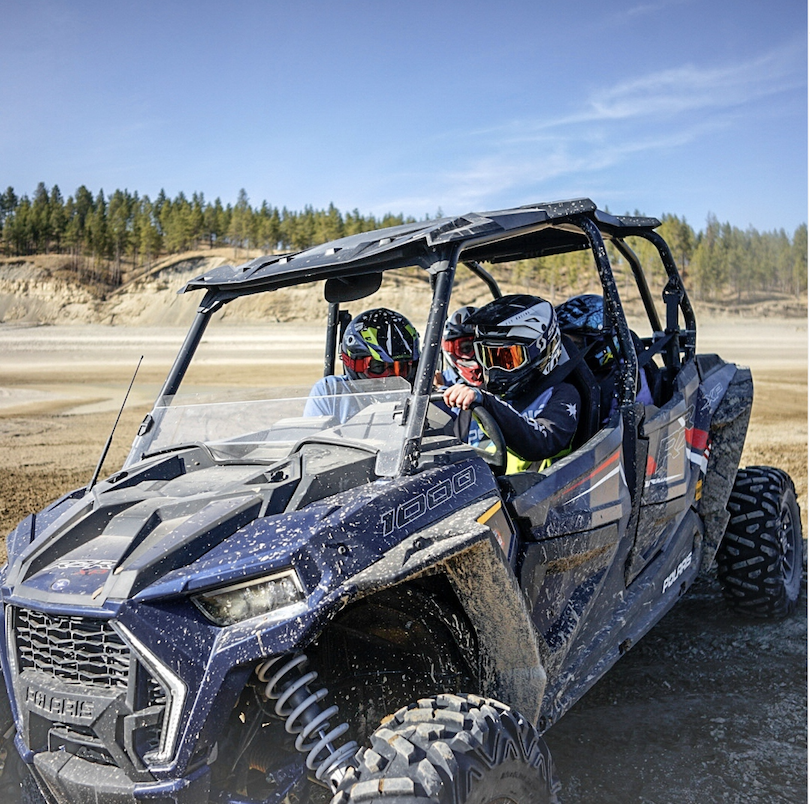 Darby Trails – Bitterroot National Forest
Open: Year-round (weather dependent)
The Bitterroot National Forest has 50 miles of trails open to ATVs, including two loops—#1, a 28-mile loop, and #2, a 15-mile loop—on the old Darby Lumber Lands, also south of Darby. This trail system is popular with beginner and intermediate riders, and the views are spectacular.
From Darby, head south on U.S. Highway 93 for about 4 miles and take a left on Rye Creek Road. For Loop #1, take Rye Creek Road for 4 miles to North Fork Rye Creek Road/North Fork Road, where you'll take a left and drive for about 6 miles until you reach Road #1127 and the trailhead. For Loop #2, take Rye Creek Road for 6 miles. Before the Rock Creek Road divide, you'll see a parking area on the left with signage for Loop #2.
Please note: We ask that all our visitors and residents Recreate Responsibly by being mindful of the following: know before you go; plan ahead; play it safe; leave no trace; tread lightly; and build an inclusive outdoors.
August 1, 2022
Related: Darby, Greenough, Kalispell, Lakeside, Montana, Off Roading, Outdoor Fun, Recreate Responsibly, Rexford, Seeley Lake, Vacation