Just 30 minutes from Missoula, step back in time at the Ninemile Remount Depot and Ranger Station, located on the Ninemile Ranger District compound in Huson, Montana. Here you'll get a captivating glimpse of early firefighting days in the rugged and roadless wilderness of the Rocky Mountain West.
From 1930 to 1953 the depot supplied packers and their animals (horses and mules) for wildland firefighting operations, transporting critical supplies and equipment to firefighting crews, as well as backcountry work projects. At its height, the station hosted 1,500 animals and their packers.
While smokejumpers and improved road access have since minimized the need for these pack animals in firefighting efforts, horses and mules are still used today to transport workers and equipment down backcountry trails for wilderness projects. Thus, Ninemile continues their dedicated tradition by hosting more than 200 Forest Service horses and mules (known as the Northern Regional Pack Train) every winter from all across Montana, northern Idaho and Wyoming. The station also hosts the Ninemile Wildlands Training Center, which offers horsemanship and packing clinics plus wildlands training and backcountry skills courses.
This historic gem was built in Cape Cod architectural style modeled after U.S. Army Cavalry remount depots and is listed on the National Register of Historic Places. Stop by for an educational experience in a beautiful mountain landscape. This modern ranger station and working ranch sit on 5,000 acres with 10 pastures and a blacksmith shop, a saddle shop and two barns. Self-guided tours are available all year long, and the visitor center is open Memorial Day to Labor Day. Stay safe and keep those around you safe by staying on the tour trail and following the horseshoe path, keeping a safe distance from active operations and from the horses and mules, and keeping in mind that no pets are allowed. Download the Self-Guided History Tour Brochure for more information.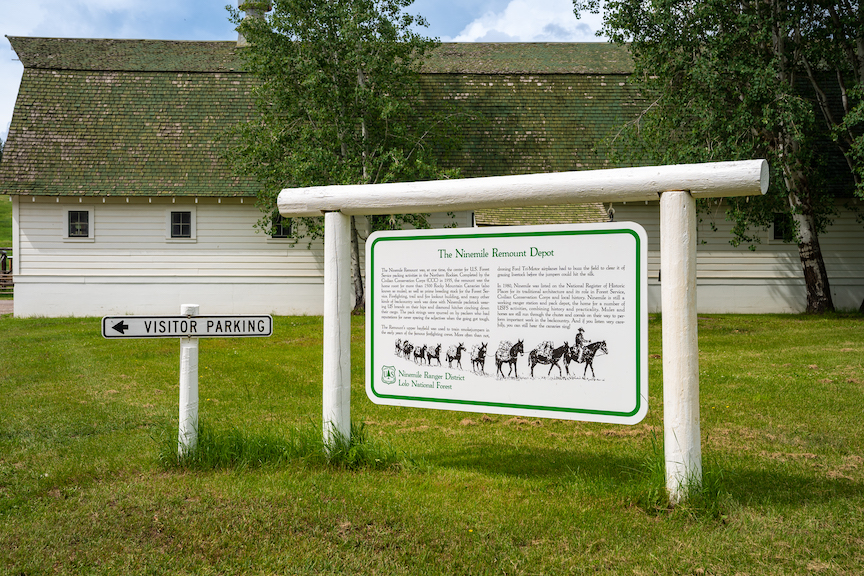 Please note: We ask that all our visitors and residents Recreate Responsibly by being mindful of the following: know before you go; plan ahead; play it safe; leave no trace; tread lightly; and help build an inclusive outdoors.
June 19, 2023
Related: Arts and Culture, Family Fun, Huson, I-90 Corridor, Montana, Summer Fun, Vacation