November is Native American Heritage Month, and here in Glacier Country—the traditional, ancestral territory of the Amskapi Piikani, Kootenai, Séliš, and Ql̓ispé people—we honor the significant contributions, unique traditions and diverse cultures of the tribes and Indigenous people who live here today. Here's how you can, too.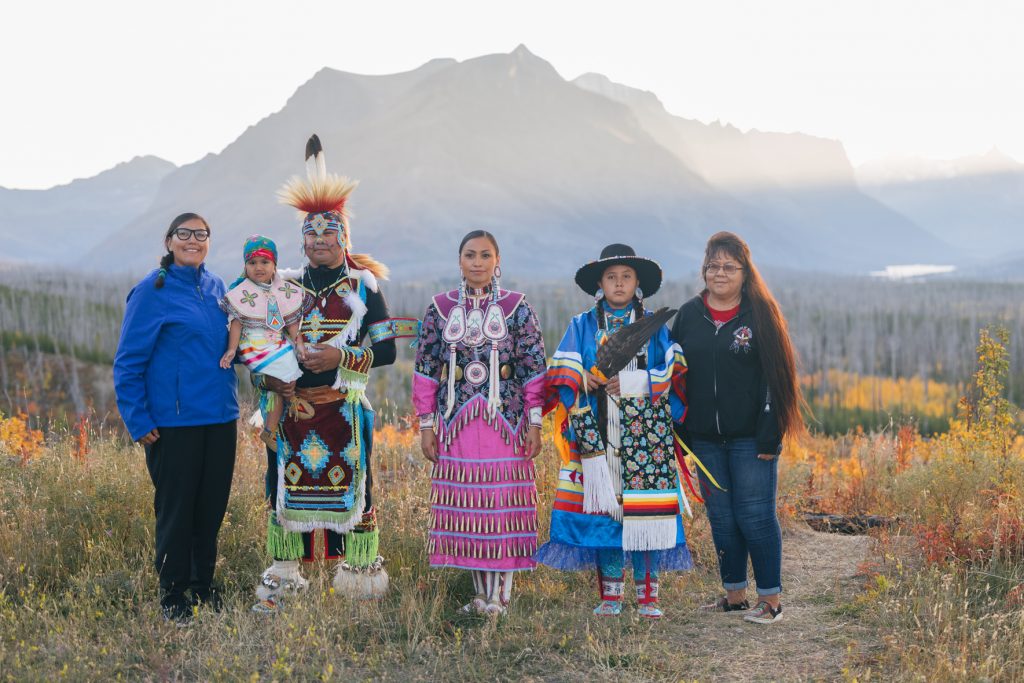 1. Visit an Indian Reservation
Montana is home to seven Indian reservations and the federally recognized Little Shell Tribe of Chippewa Indians, all rich strongholds of American Indian heritage and places where tradition is revered, landscapes are sacred and annual gatherings offer glimpses into traditional ways of life of Indigenous peoples. In Western Montana, you'll find the Confederated Salish and Kootenai Tribes (CSKT) of the Flathead Reservation and the Blackfeet Tribe of the Blackfeet Reservation. Please be respectful when visiting. Read more and find itineraries here.
The Flathead Reservation encompasses 1.317 million acres in northwest Montana. The southern half of Flathead Lake and the Bison Range are located within the reservation's boundaries, as are the communities of Arlee, Big Arm, Camas, Charlo, Dayton, Dixon, Elmo, Evaro, Hot Springs, Polson, Ravalli, Ronan and St. Ignatius.
The Blackfeet Reservation sits along the eastern edge of Glacier National Park, encompassing nearly 1.5 million acres of rolling plains and the Rocky Mountain Front. Located within reservation boundaries are the communities of Babb, Browning, East Glacier Park—including the Eastern Entrance into Glacier National Park—Heart Butte and St. Mary.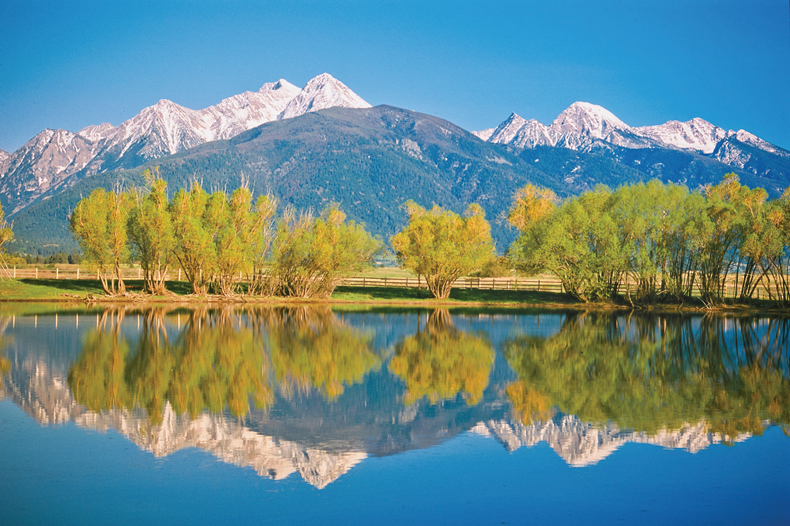 2. Take an American Indian Educational Tour or Workshop
Based out of East Glacier Park, Sun Tours provides an authentic glimpse of Blackfeet culture and heritage via interpretive tours throughout Blackfeet Country and their original ancestral territory, including the jaw-dropping Going-to-the-Sun Road in Glacier National Park. Tours are seasonal.
Every summer in Glacier National Park, Blackfeet, Salish, Kootenai and Pend d'Oreille tribal members share their knowledge of their histories and cultures with park visitors as part of the Native America Speaks program. Don't miss this important opportunity to learn more about American Indian culture in Montana.
Take an American Indian Cultural Workshop Hike and Presentation with Iron Shield Creative. Join them on public lands around Montana and hear the cultural and historic stories of the landscapes. They offer a variety of seasonal day-hike workshops, all based around Indigenous stories.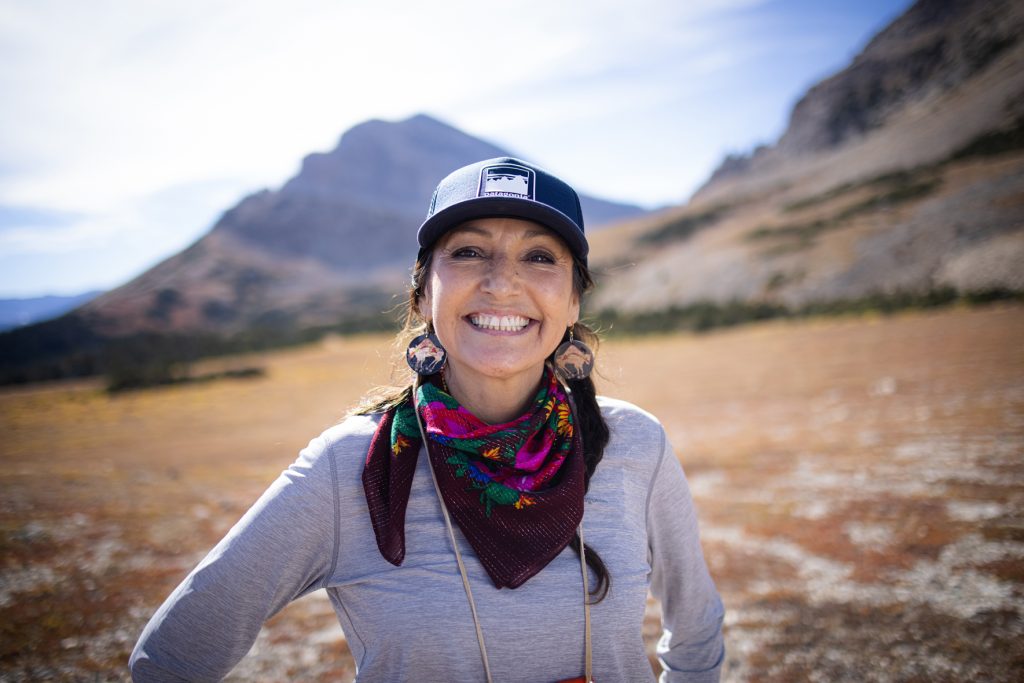 3. Visit a Museum, Gallery or Cultural Center
In addition to multiple year-round tribal events, you'll find museums, galleries and organizations dedicated to preserving American Indian histories and ways of life with compelling exhibits and artifacts, and authentic arts and crafts.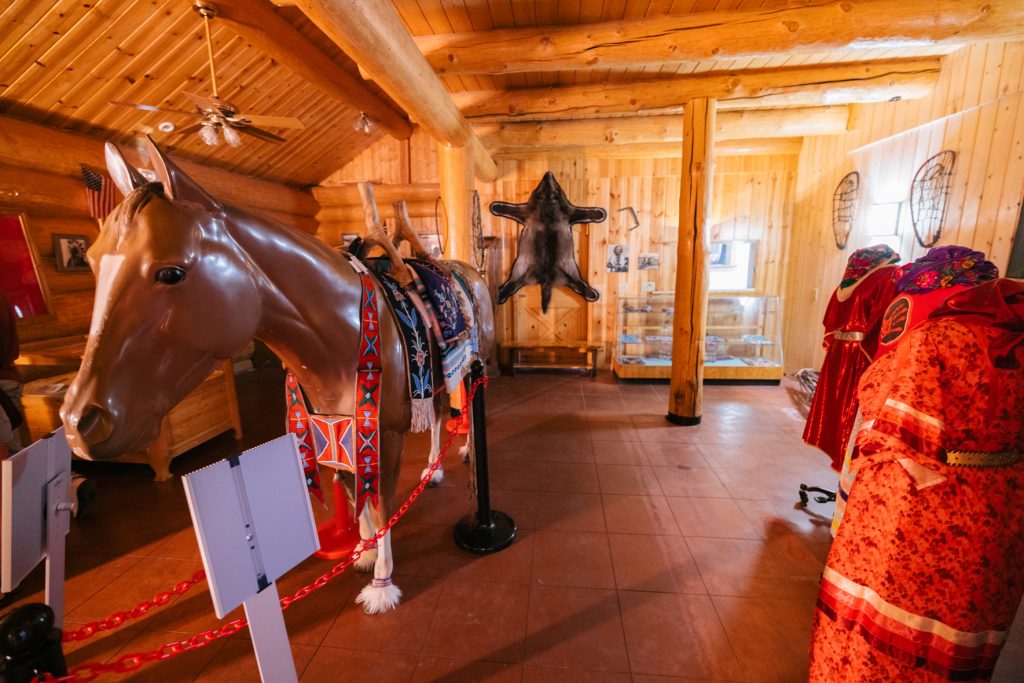 4. Buy Native American Made in Montana/Visit a Tribal-Owned Shop
While visiting Tribal Nations in Western Montana, purchasing authentic American Indian arts and crafts contributes to tribal communities and helps preserve traditions. When you see the Native American Made in Montana sticker, it means the product was made, created or enhanced in Montana by an enrolled member of a tribe. Read more here for important information about buying authentic America Indian art and craftwork (rather than misrepresentations) from certified American Indian artisans in Montana
Set foot in the oldest continually operated trading post in Montana at the Four Winds Indian Trading Post in St. Ignatius, where you'll find beads, face paint, headdresses, animal hides, genuine sinew, and other authentic American Indian supplies.
Don't miss the popular visitor stop of Faught's Blackfeet Trading Post, a full-service clothing store supporting local tribal artists and craftspeople through the sale of specialty Native-made crafts, books, lotions, gifts, souvenirs and beading supplies.
The gift shop at the Three Chiefs Cultural Center in St. Ignatius (mentioned above) offers a beautiful collection of Native American arts and Native American made crafts.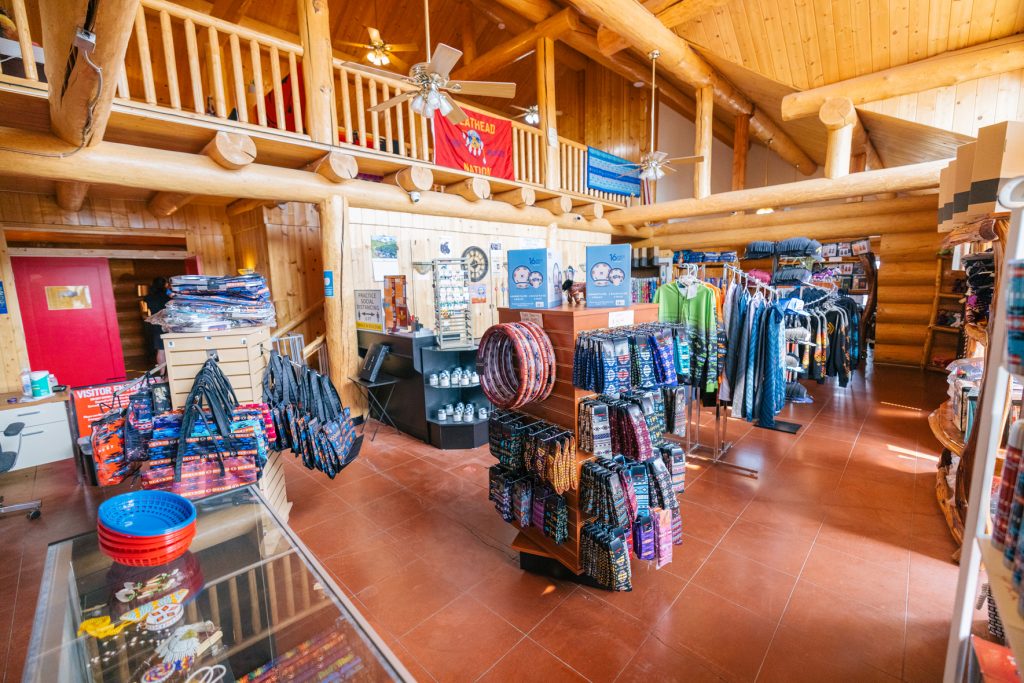 5. Recreate Responsibly on Tribal Lands
There are things to be aware of when you are on tribal lands. While many tribal communities are welcoming to respectful visitors, these are not public lands and there are sacred places that must not be disturbed. It's also important to be mindful and respectful of a tribe's unique culture, history and traditions. Make sure you "know before you go" in terms of permits and policies that may be different from Montana law.
Tribal Permits: If you plan to recreate (camp, fish, hunt, hike, boat) on tribal land, you will need a permit from the appropriate Tribal Nation. Visit Blackfeet Reservation and Flathead Reservation for more information.
Pow wows: If you plan to attend a pow wow, please be aware of pow wow etiquette as not to disrespect the tribe. Read more here.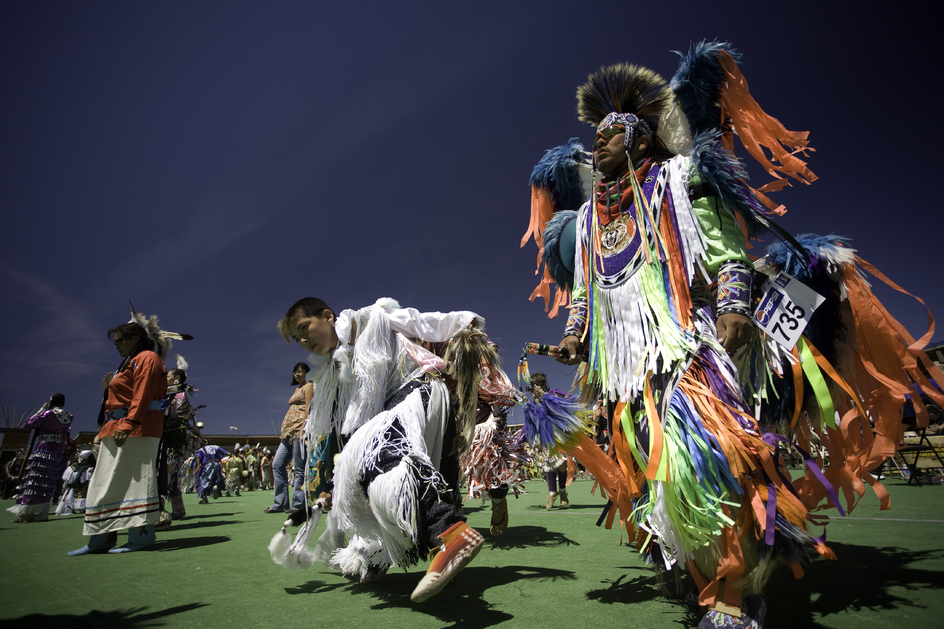 6. Explore Works by American Indian Authors
Louise Erdrich, author of novels, poetry, and children's books featuring American Indian characters and settings and an enrolled member of the Turtle Mountain Band of Chippewa Indians.
Adrian L. Jawort, Northern Cheyenne novelist and poet. Writer of "Off the Path: An Anthology of 21st Century Montana American Indian Writers, Vol. 1" presenting nine short stories by five writers—Cinnamon Spear, Luella N. Brien, Eric Leland Bigman Brien, Sterling HolyWhiteMountain, and Jawort himself.
Leo Killsback, winner of the 2021 Stubbendieck Great Plains Distinguished Book Prize for his two-volume history of the Cheyenne Nation: "A Sacred People: Indigenous Governance, Traditional Leadership and the Warriors of the Cheyenne Nation" and "A Sovereign People: Indigenous Nationhood, Traditional Law and the Covenants of the Cheyenne Nation."
Rosalyn R. LaPier, award-winning Indigenous writer, environmental historian and ethnobotanist. LaPier has written two award-winning books, two Blackfeet language lexicons, and dozens of articles and commentaries.
M.L. Smoker, poet and a member of the Sioux and Assiniboine tribes and poet Laureate of Montana 2019 – 2020. Smoker composes free-verse poems that focus on personal struggle and identity and engage American Indian history, language, and culture. Her latest book, "Thunderous," (co-authored with writer Natalie Peeterse) is "an incredible Lakota Adventure" about an Indigenous teen.
James Welch was a prominent American Indian (Blackfeet and Gros-Ventre) author of novels and poetry featuring the American West and is considered a founding author of the Native American Renaissance.
Please note: We ask that all our visitors and residents Recreate Responsibly by being mindful of the following: know before you go; plan ahead; play it safe; leave no trace; tread lightly; and help build an inclusive outdoors.
November 7, 2022
Related: American Indian, Arts and Culture, Blackfeet Indian Reservation, Blackfeet Nation, Browning, Charlo, East Glacier Corridor, Flathead Corridor, Flathead Indian Reservation, Glacier National Park, Missoula, Montana, Museums, Polson, Shopping, St. Ignatius, Vacation